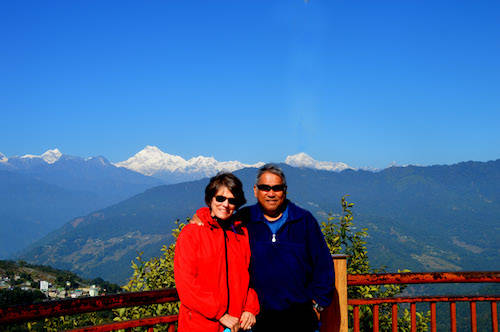 Ask Ron and Diane Dizon where in the world they've traveled, and they'll supply a list of places they haven't visited yet. It's shorter, they say.
A photo exhibition of the couple's travels, "Suitcase Full of Memories," is set to be on display through Sept. 24 at the Windmill Library, 7060 W. Windmill Lane. It features photos taken by Ron of the North Las Vegas couple's travels in Afghanistan, India, Nepal, Myanmar, Bhutan, Thailand and the Philippines.
Some of the photos date to when Ron and Diane met in the Peace Corps in Afghanistan in the early 1970s. The two served as a part of the Rural Public Works and Food for Work program. They later served in Operation Help, a joint effort between the Peace Corps and the United States Agency for International Development to help feed Afghan people suffering from starvation and disease after a severe drought.
"My job was to travel around the country, trying to figure out how to feed these people," Ron said. He said he spent much of his time traveling with the nomadic Kuchi tribe and organizing projects to help develop the area.
Many of the roads were undeveloped and difficult, if not impossible, to traverse. The tools to build infrastructure such as roads and irrigation ditches were limited. There are no estimates on how many died from the famine.
Many of Ron's images focus on the locals he lived with, examining the hardships and joys of everyday life.
"Death on the Darzak Plateau," one of the images in the exhibit, portrays an elderly woman wrapped in a black cloak, grasping a tall, wooden staff and standing above a cliff edge. The woman died shortly after, Ron said.
"Fortunately for our program, Ron always had a camera around his neck," said Tim McCormack, a fellow Peace Corps and Operation Help volunteer. "He shot a lot of black and white in those days … For the several months we worked together he was constantly snapping photos."
Other images in the exhibition are from Diane and Ron's travels after returning from Afghanistan. Once they were back in the U.S., they still had the travel bug. The two married in Barbados (they celebrated their 42nd anniversary June 27) and fit in as much traveling as they could in between working and raising their two sons.
The family then settled in Fremont, California, a San Francisco Bay Area city that's home to the largest population of Afghan Americans in the United States, Ron said.
"We encouraged our kids to travel," Ron said. "I wanted to show them all the historical places — whether it's taking them to Crete and learning about the Minotaur or going to Gallipoli" to learn about World War I.
"You see the history," Ron said. "That's why we travel."
Another image in the gallery shows an elderly woman in Darjeeling, India, clutching a prayer wheel and looking at the camera questioningly. A photo taken in the streets of Bhutan shows a girl, no older than 5, standing in a shop window surrounding by colorful toys.
"She was trying to sell me something," Ron said. "I did end up buying something from her."
One of Diane's favorite images is of the Taktsang Monastery, known as the Tiger's Nest, in Paro, Bhutan.
"I saw this in a geography textbook in fourth grade and I thought, 'I'm going to go there and I'm going to get there in my life," Diane said. Now in retirement, the couple takes trips once or twice a year for about a month at a time.
The couple have their tickets booked for a trip to China, Vietnam, Laos and Cambodia this fall. They're dreaming of a trip to Botswana next, and then maybe Cuba.
Before they take off for Asia, they'll head to San Diego in October for a reunion with fellow Peace Corps veterans. At the reunion, Ron and Diane will share photos from recent travels.
"What we do is try and share these photographs with some of our friends who can't travel anymore. I'm 71," Ron said.
Diane added, "Hip replacements, knee replacements. They're not going to be hiking up to Tiger's Nest."
"That's why I'm doing this," Ron said. "It's to share a lot of the images we see with people who might be able to travel to these sites. There's a whole different world out there."
Contact Madelyn Reese at mreese@viewnews.com or 702-383-0497. Follow @MadelynGReese on Twitter.
IF YOU GO
What: Opening reception for "Suitcase Full of Memories"
When: 5-6:30 p.m. July 13
Where: Windmill Library Art Gallery, 7060 W. Windmill Lane
7060 W Windmill Ln, Las Vegas, NV 89113