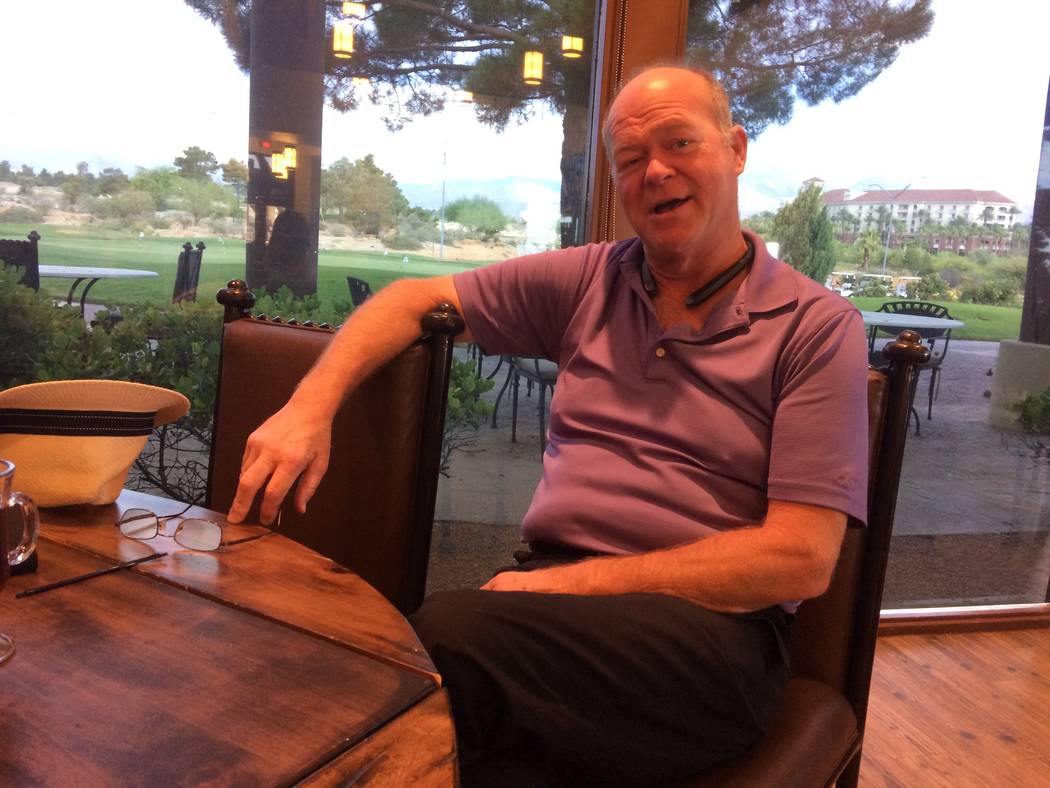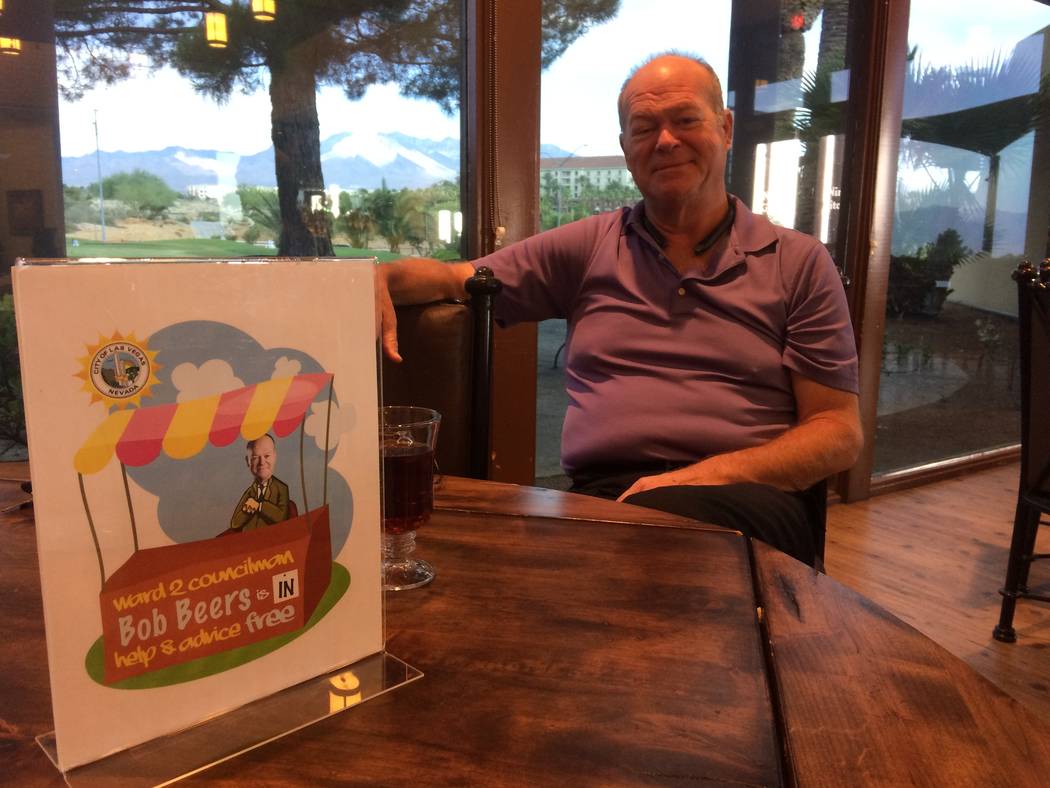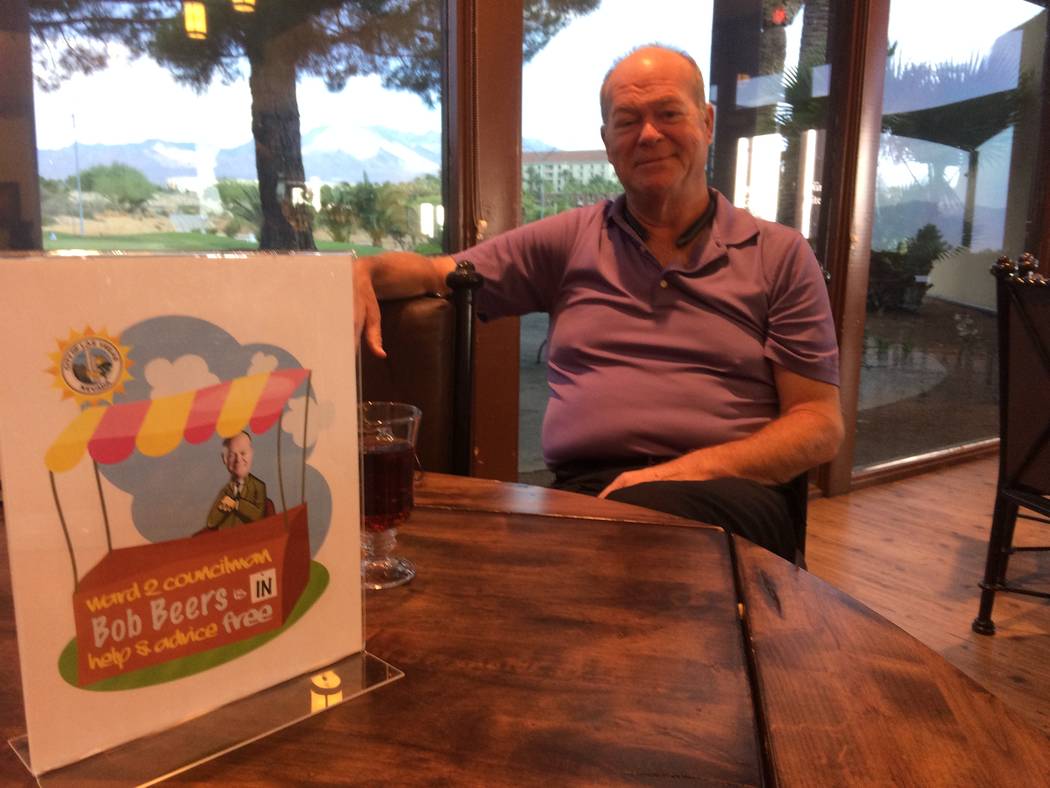 No one but friends and well-wishers showed up during the first two hours that View attended Bob Beers' final Coffee with the Councilman, held July 7 at Angel Park Golf Course.
Beers, a former state lawmaker and a certified public accountant, had hoped to keep his seat for a second full term on the Las Vegas City Council. But Steve Seroka, a retired Air Force colonel, won the Ward 2 seat and took over the position July 19. The four-year term comes with a salary of nearly $78,000 a year.
Beers had held the office since April 4, 2012, and hosted the meet-and-greets every month, using the tongue-in-cheek name Beers with Beers for ones held in the evening. As many as 50 people would show up to speak with him one on one.
"He got the idea from (City Councilman) Ricki Barlow, but I think he was more consistent," said John Bear, assistant to Beers, who added that Beers kept an office in Summerlin at Veterans Memorial Leisure Center to be closer to people. "He did this job 24/7. He'd meet people out here, in coffee shops, wherever. That's the thing about him. He never hides."
Beers attended events such as the opening of Desert Gymcats' 18,100-square-foot gymnasium and a groundbreaking on updates to Village Square shopping center at Fort Apache Road and Sahara Avenue. He would contact Las Vegas Metropolitan Police when neighbors were alarmed about speeding.
"There's a lot he did, and he isn't big on tooting his own horn," said Vicky Skilbred, special assistant to Beers.
View asked Beers to reflect on his years in office.
Question: Of what are you most proud?
Answer: "Stopping the (Major League Soccer) stadium in Symphony Park and creating 26 new parks, most of them in the inner-city wards. The (stadium) was not a wise expenditure of taxpayer funds. I've been a CPA for 30 years, and it probably is a built-in part of the way I look at bureaucratic proposals."
Question: What project was nearest and dearest to your heart?
Answer: "Not a big one, but lots and lots of little ones. I was the first councilman to point out to city management that the window where law-abiding citizens go to bail out their children or siblings didn't have any shade cover. So people were standing out in the sun, a south-facing building, for hours. Within six months, they put a shade cover up. So there were little things like that that improved, in small ways, people's lives."
Question: Was there something the city was working on that you wanted to see through?
Answer: "It's a city. There are many processes that (last) longer than council members. It has processes that are longer than 30-year tenured employees on occasion. It's a city, so my role was far more steering the city out of bad ideas. (The city's) good ideas involve making sure there are no potholes, when you turn the spigot on in the morning that clean water comes out, when you flush the privy, all the dirty water goes away, and when you call 911, someone comes to help. When a city is properly prioritized, those things happen fast and almost invisibly. That's what a city is supposed to do."
Question: What do you see as the biggest challenge for the city?
Answer: "Ongoing attempts to funnel taxpayer dollars from here in the suburbs to downtown corridor. There's not been a discussion about the extent to which the high-property-valued suburbs should subsidize the low-property-value city in forever, and just the fact that that is happening without that discussion is a concern."
Question: What do you want people to know about your time in office?
Answer: "I'm more concerned that people look forward and pay attention to the doings of the city on an ongoing basis than spend time looking back. In a city government, forward is the only direction that's important."
Question: What's next?
Answer: "A family reunion in two weeks in Iowa, and after that I'll figure out what to do."
Question: Any words of wisdom for your replacement?
Answer: "Good luck and pay attention. It's easy to get caught up in all the hoopla."
Contact Jan Hogan at jhogan@reviewjournal.com or 702-387-2949.