New park back on track for northwest Las Vegas community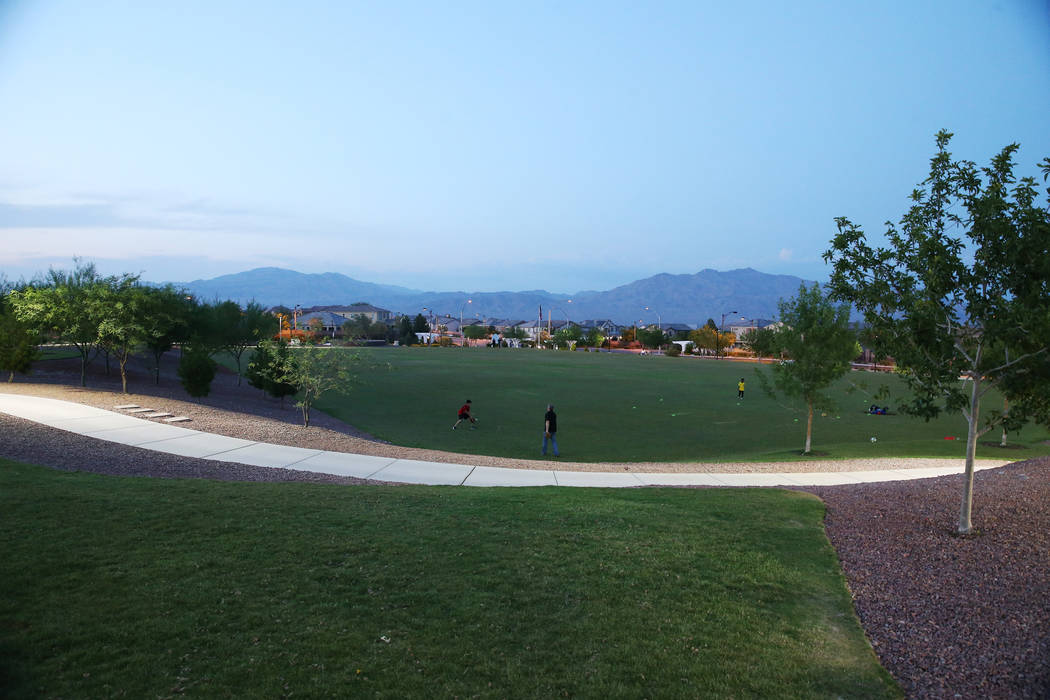 A year from now the people of Providence could have a new place to play.
For nearly three years, residents of the master-planned community in the northwest valley have been stuck with a half-finished park because the community's developer, Focus Property Group, was obligated to only spend $2.2 million on it.
After months of work with the city of Las Vegas, the Providence Master Homeowners Association is poised to complete Huckleberry Park at Farm Road and Egan Crest Drive, on the north end of the community.
"I cannot express highly enough how exciting a time it is for us," HOA President Walt Dittrich said.
For years, homebuyers in Providence have paid a residential tax of 36 cents per square foot to fund construction of the 14-acre park, which was named after the Mark Twain classic "The Adventures of Huckleberry Finn."
Focus developed 7 acres of the park. Today, Huckleberry Park consists of a large, open field; a dog park; a swing set; and a basketball court. Residents expected much more. So in late 2016, the HOA asked the city for help.
A few months later, the City Council voted to spend $1.9 million in residential construction tax funds to complete the park. The city also agreed to take over plans for finishing it, saving the HOA money. The group hopes to put the project out to bid in November and complete it by August 2019.
"I'm happy to see the design of the second phase of this park moving forward," said Councilwoman Michele Fiore, whose ward includes Providence.
Plans remain unfinished, pending bidding, but a drawing shows an ambitious design for the final half of Huckleberry Park. The HOA plans a tennis court, a fire pit, two play structures, two slides, three large barbecues, a "meandering river" splash pad and an expanded dog park, among other amenities.
HOA officials drew the initial plans with input from residents and tried to add features not included in the community's other park on the south side, Knickerbocker, which is kid-friendly with a splash pad and a baseball field.
The initial plans for expanding Huckleberry include a bocce ball court and a horseshoe pit, amenities that appeal to adults.
"It's fantastic. With the bocce ball and the horseshoe pit it's more like your home, like backyard games," said Brian Phares, 32, who has lived with his family in Providence since 2014.
Contact Brian Joseph at bjoseph@reviewjournal.com or 702-387-5208. Follow @bjoseph1 on Twitter.