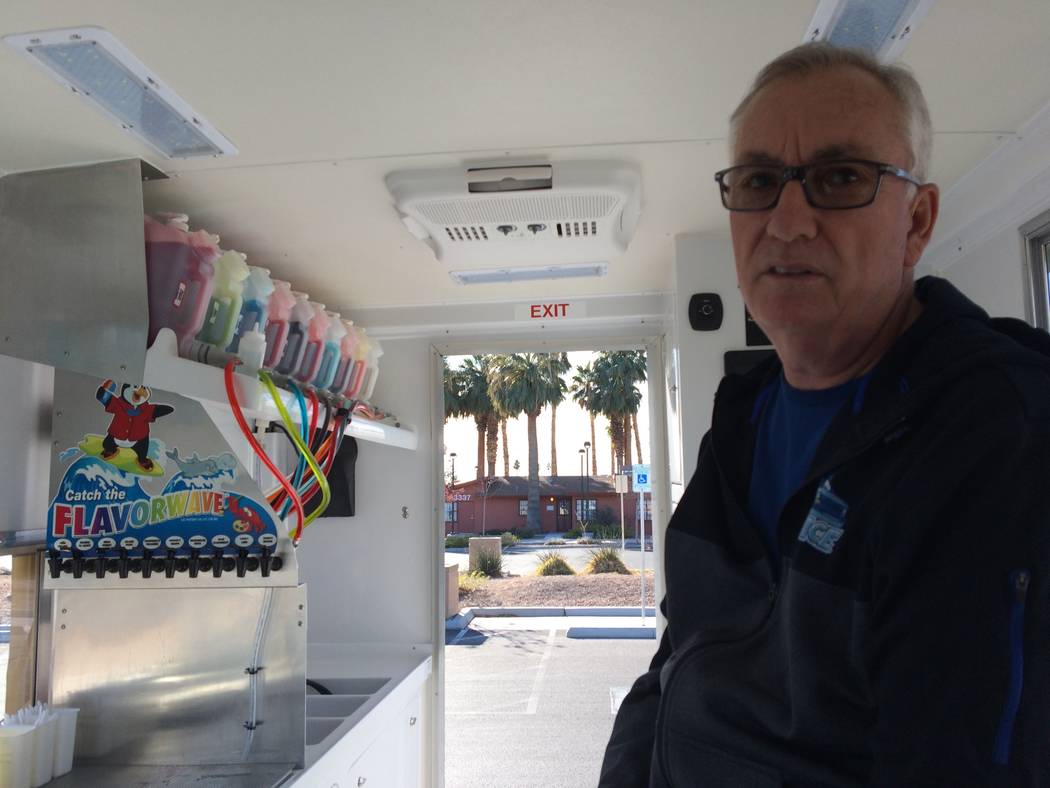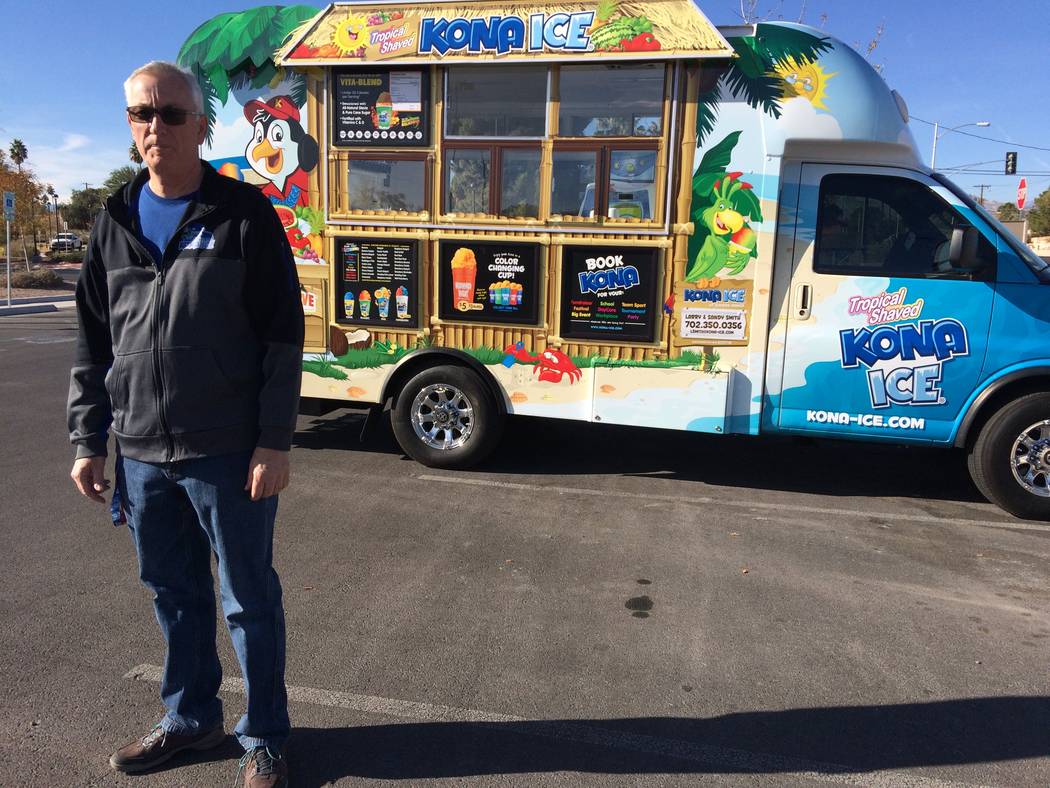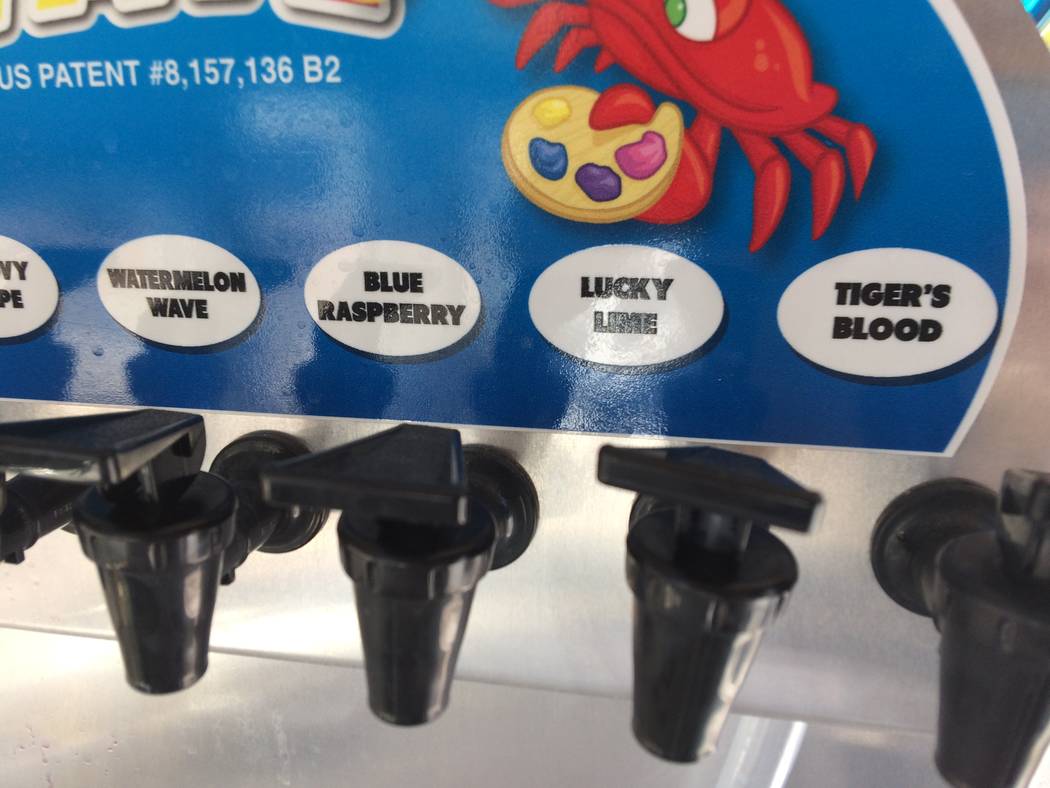 He won't read you your rights, bring you in for questioning or book you into jail. He will, however, serve you up a treat. Call him Detective Snow Cone.
Larry Smith, 60, retired in 2012 from the Las Vegas Metropolitan Police Department after nearly 25 years. He and his wife, Sandy, who retired from a desk job at Metro, operate a new Kona Ice franchise.
"It's totally nothing to do with police work. I'm past that," he said of his days on the force. "I don't have to deal with attorneys anymore."
Smith already had business experience, drawing from his cyber-crimes experience at Metro. He also established a computer forensics company, Nevada Digital Forensics, but said he is looking to pull back from that business.
Another officer suggested the franchise opportunity. One concern was how cold weather would affect sales, but Smith's most recent event was a Christmas party for Nevada Beverage Co.
"It was kind of warm, but these trucks seem to thrive even in Ohio and Minnesota," Smith said. "(Another franchisee) posted how it's 42 degrees and he's having a great turnout. So I'm like, 'Hmmm, how many months a year can I (sell) in Vegas?'"
He and Sandy signed on and traveled to the company's headquarters in Florence, Kentucky, near Cincinnati, for three days of training. Its tongue-in-cheek name: Kona Kollege.
There, he got his truck, covered with palm fronds and the company mascots: the happy crab named Crabbington, Kona the penguin, Splish and Splash the dolphins, Squaksworth the parrot and Soloman the sun.
Inside, the truck contains freezers, a tiny sink and gallon jugs of flavors such as pina colada, lemon lime-a-licious, wild watermelon and blue raspberry.
The colorful 20-foot truck cost him $135,000. It had to be driven from Kentucky to Las Vegas. Its maximum speed is 60 mph, and the broad sides mean wind gusts can make for dicey handling. The truck gets 11 miles per gallon, and the trip was roughly 1,942 miles — meaning it required about 175 gallons of gasoline.
Smith said he liked that the Kona Ice business model gives 20 percent of sales to whichever school or nonprofit booked his truck for a visit.
"We write the check right then and there," he said.
One time, he had to pay his helpers (read: his grown son Shane,35, and his grandson, Jordan,13). After paying them, he'd only made $11.
"I wasn't going to write a check for $11," Smith said. "So I made it out for $50. It's all about the schools."
Another time, he increased the check amount to an even $100, making up the difference out of his pocket.
His franchise allows him to contact groups and schools within two ZIP codes: 89156 and 89110.
"Nobody had laid claim to those (ZIP codes) and besides, I was born and raised over there," he said. "Plus, I used to patrol over there."
Most of his events are school events. His first two weeks on October saw him at Smalley, Herr, Hickey/cq//, Hoggard Math/Science Magnet, Martin Luther King Jr.and Mountain View elementary schools. A total of $642 was given to those schools in those two weeks, Smith said.
Diamond Kelly, office manager of Hickey Elementary, booked his Kona Ice truck for a Trunk or Treat event.
"To have different things like that on our campus, it allows our children to experience different things," she said. "It was a very refreshing idea. I referred him out to other schools. Our families can't always afford things like this for their kids, so he discounted his rate. It's something different, and he cut the check that day."
Call 702-350-0356 or visit lsmith@kona-ice.com.
Contact Jan Hogan at jhogan@reviewjournal.com or 702-387-2949.