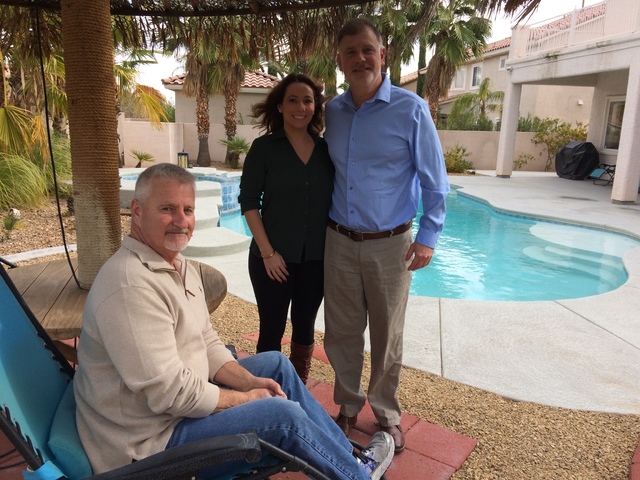 A new, evidence-based recovery facility in southwest Las Vegas is aimed at providing an alternative to traditional programs for people looking to kick an addiction.
Key to the Higher Path Living program is that the two principals in the effort are both recoverees, having dealt with alcoholism. The program covers addictions to alcohol and drugs but is open to addressing other addictions, such as those involving gambling and sex.
"We don't use the term 'addict' or 'alcoholic.' We're simply people who have substance abuse," said Dennis Hofmaier, who established the 5,000-square-foot home late last year. "It focuses on today. Guilt and shame serve no purpose other than to lead you to a relapse."
He knows what it's like to be in that position. Hofmaier's struggles with alcohol began when he was in his early 30s. Hofmaier said that after a long day at work, he'd buy a bottle of wine, pour his wife a glass and then drink the remainder of the bottle's contents.
"For 10 years I drank socially, but then it became daily drinking," he said.
He would enter a 12-step program and do better, then relapse. Hofmaier said 12-step programs emphasized reliance on a higher power, and that wasn't enough. He investigated other methods of recovery and learned about research-based programs. One that stood out was Self-Management And Recovery Training, or SMART.
"It's based on cognitive behavioral therapy and rational emotional behavior therapy. So, I became involved in that," he said.
Higher Path Living uses research from the U.S. Substance Abuse and Mental Health Services Administration. It addresses emotional, spiritual and physical health and looks at how one's childhood may have affected his or her psyche and self-esteem.
The approach worked so well for him, Hofmaier became certified as a SMART facilitator.
"The epiphany moment for me was learning that there was a different way," he said, adding, "SMART recovery is a program of choice. I believe I have the choice to use or not to use, to drink or not to drink. I'm 'in' my power when I choose not to drink."
One of Higher Path Living's clients is Nate Grumbo, 36. He said he had been using drugs for six years and needed a support program after undergoing detox. His doctor told him about Higher Path, and he arrived a couple of weeks before Christmas and enrolled in the 30-day program.
Grumbo called it "an amazing experience from the get-go. The fact that you didn't have four guys in one small bedroom was a big deal because I'm a little antisocial and the program, with all the different (facets), I was able to pull positive things from each one and fill in the blanks for me. Nothing was forced down my throat."
One of the program requirements is working out at the gym.
Joseph Perroni oversees the workouts and serves as Higher Path's clinical therapist. Also on board is Veronia Scala, a former detox technician now certified as a recovery coach with SMART Recovery.
"It's nice to see a place that focuses on the underlying causes of the addictions, not just getting someone clean," she said.
Steve Appel, another recovery coach, leads yoga classes.
"It's amazing how many people relate to it," Appel said of yoga. "We thought that would be the least-looked-at aspect, but it's turned out to be the most popular."
Higher Path requires people to live at the home for 30 or 60 days. During that time, if they work locally, they can commute from the home. If they are not employed, they are immersed in meetings, support discussions and programs.
"Recovery is a lifetime process," Hofmaier said. "Coming in for a week or two will not save them."
To reach Summerlin Area View reporter Jan Hogan, email jhogan@viewnews.com or call 702-387-2949.
HIGHER PATH LIVING
What: Addiction-recovery program that doesn't involve a 12-step approach
Where: Southwest Las Vegas; the address is withheld for privacy reasons
More information: 800-891-9767 or hpliving.com.