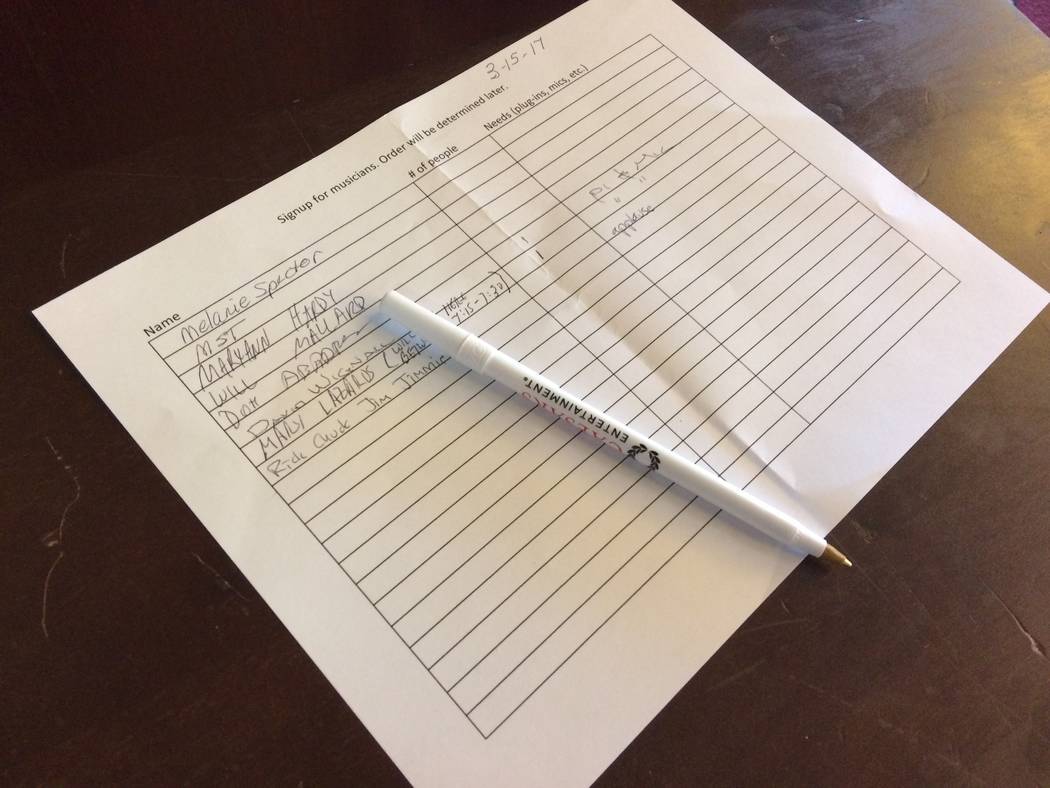 America's got talent, yes, but so does Sun City Summerlin.
Its free open mic night is held on the third Wednesday of each month, bringing an eclectic mix of performers to the Summit, the eatery next to Starbright Theatre at 2215 Thomas W. Ryan Blvd. Open mic began in December 2013.
"I thought it would be a nice thing for the community for local people, to come hear their talents and enjoy a night of free music," said Melanie Spector, organizer and host. "… At first we'd get about 100 people. We were turning them away."
The evening has seen anywhere from three to a dozen acts — folk, rock, country, jazz, blues and classical piano. About half of those who perform are Sun City residents; the rest are from outside the community. No Strip performers have ever come, the organizer said.
"Every time is different. It's a surprise," Spector said.
Rosemary Dee of Sun City was there with her daughter, Maureen, for a girls' night out. They'd heard about it from friends.
"They said it's very entertaining and there's usually a long line to get in," she said.
Linda Genovese has been a longtime supporter.
"My husband's home sick, but I said, 'I've got to go.' We missed last month,'" she said.
There was no stage, per se. People performed at the front of the room, where oversized windows overlook a golf course. The music tends to be from the 1960s and 1970s, the founder noted. Musicians of any persuasion are welcome.
Spector and her band, the Melanie Spector Trio, started things out with an obscure folk song. Spector, Jim Damele and Jimmy Schuppel have been performing as a trio since 2013. They've performed at restaurants, bars, farmers markets, festivals, club events, dances, house parties, meetings and conferences. In 2015, the trio was invited to perform at a hootenanny for the Mount Charleston Fall Festival.
The trio did two more songs: "Strawberry Wine" and "Nothing But a Heartache." Audience members tapped their toes to the beat.
Will Mallard waited his turn. He has been playing piano for 20 years. It was his third time on stage at Open mic. He said he had no aspirations to be seen anywhere but that he'd be open to playing at parties in people's homes.
"Performing is new to me, the whole stagefright thing," he said. "I can usually play when I'm half-drunk in front of strangers, but then I quit drinking, so it's like starting all over. … Now, I shut my eyes."
Don Abramson, who sings operettas, said that when he began performing at Open Mic two years ago, the event was very popular.
Now, "if there's not enough people, I won't bother singing," he said. "I sing outside anyway at an Italian restaurant."
He used recorded tracks for backup and said the audience was not especially critical.
There have been changes. Food was added recently. A piano cast off from the Starbright Theatre was added to The Summit in January, drawing more performers, Spector said. This night saw about 55 in the audience.
Snowbirds and the weather are factors in attendance, she added.
Open Mic has the room for two hours. Performers generally get 10 to 15 minutes.
The most memorable act involved a former beauty pageant contestant who did a song and a dance, Spector said. Others were less than stage-worthy, she said, adding that no one is booed off the stage.
"I encourage people in the audience to show their appreciation for the performers," Spector told the crowd.
Abramson took the mic.
"If you don't like it, you get your money back," he quipped before launching into "Danny Boy" and Tom Jones' "Delilah."
Doug Darby, who is new to Sun City, was a backup guitarist for country bands before retiring. He appreciated that the community had an open mic where he could play. He said the caliber of performers was "pretty good from what I've seen."
Contact Jan Hogan at jhogan@reviewjournal.com or 702-387-2949.
Open mic night
When: 6 p.m. the third Wednesday of each month
Where: The Summit, next to Starbright Theatre, 2251 Thomas W. Ryan Blvd.
Admission: Free
Information: 702-254-5369
Reporter's notebook
When I told my husband what I was covering, he made a rolling-eyes face.
"What?" I said. "It could be fun."
He said he would stay home and watch golf.
I arrived early. A band was tuning up at the front of the room. Only a handful of people were in the audience, and they were standing around as though unsure where best to sit. Not me. I grabbed a seat up front.
When Melanie Spector picked up her guitar, I steeled myself, half expecting the equivalent of a wannabe singer who'd missed her chance. Surprise! It wasn't like that. Her voice was solid, strong and never once off-key, and she didn't push the high notes. Only professionals sing that way.
After Spector and her trio did three songs, Will Mallard took the piano and gave a fun, frenetic rendition of Randy Newman's "You've Got a Friend in Me." It was as much talked as it was sung. He did, indeed, perform with his eyes closed, not once opening them to refer to the lyrics propped up before him. They were scribbled in a school notebook that was held open with a neon green clothespin. After three songs, the audience was still humming when he was done. No need for stagefright here.
David Wignall did folk music with lyrics that could be inspiration for my next book: "They told me I was breaking through, I was breaking down/By the time I learned the difference they had long left town." The moments when his voice went slightly off-key only seemed to add to his style.
Of all the performers, Maryann Hardy showed what years of lessons could do. She put the piano through its full-throated paces with a professional rendition of "You Are So Beautiful (to Me)."
Did I regret spending my evening with strangers at Open Mic? Not a chance.
Jan Hogan/View
2251 Thomas W. Ryan Blvd.