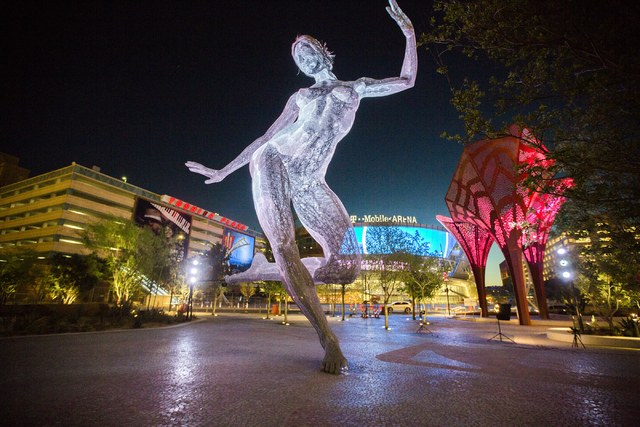 The Park, a Strip space designed as a pedestrian gateway, will arrive this week along with the $375 million T-Mobile Arena.
At 5.5 acres, The Park, sandwiched between New York-New York and Monte Carlo, will offer a transition point between the Strip and the 20,000-seat venue. MGM Resorts is spending $100 million on The Park, including the cost of renovating the New York-New York and Monte Carlo plazas.
"All great cities have wonderful public gathering spaces. This was an opportunity for us to do something different on the Strip — create a public space where people could gather to enjoy entertainment, beautiful surroundings, fun dining, take in the majesty of desert landscaping, public art, and enjoy meeting new people or possibly Vegas' best pastime, people-watching," said Don Thrasher, president of The Park, which opens Monday.
Instead of mobile vendors, The Park will have retail kiosks owned and operated by MGM Resorts. The space will offer culinary variety from Bruxie Gourmet Waffle Sandwiches, a fast casual brand new to Las Vegas; Beerhaus, an MGM Resorts-owned beer venue; California Pizza Kitchen; and Sake Rok, part Japanese restaurant, part karaoke club.
"The connectivity of Monte Carlo, New York-New York and the new T-Mobile Arena ultimately gave us the ideal opportunity for pulling all of it together in a neighborhood environment," Thrasher said. "The Park, Toshiba Plaza and T-Mobile Arena will all flow as a single neighborhood, and feel to the visitors like a seamless environment."
Pedestrians will follow an 800-foot paved walkway and stroll on marble cobblestones to reach Toshiba Plaza, another gathering space, from The Park. MGM Resorts and its arena partner, Los Angeles-based Anschutz Entertainment Group, are sharing building costs for Toshiba Plaza.
Shade structures, a misting system and 200 trees — acacia, honey mesquite and palo verde — are expected to reduce The Park's temperature by 10 degrees and offer respite from the Strip's heat.
There will be no grass. But there will be pink hesperaloes, damianitas and purple salvias.
"All the vegetation selected is indigenous to the southwest and lends itself to significant water conservation, which is not only good for the environment, but will help keep cost down," Thrasher said. "We think that visitors will be surprised and delighted by just how beautiful desert landscaping can be."
Building The Park fits MGM Resorts' strategy of developing outdoor entertainment venues such as Rock in Rio to better serve guests.
"There has been a major shift in how the visitor enjoys Las Vegas. No longer do our guests stay indoors at a single resort everywhere," Thrasher said. "They want to get outside, explore The Strip, have varied experiences and post pictures of them everywhere."
T-Mobile Arena will host more than 100 events a year; The Park might stage its own, too.
"We're exploring everything from art shows and classic auto shows, to wine events and culinary programs. Visitors will also enjoy a variety of daily entertainment that includes musicians, artists and specialty acts," Thrasher said.
"We may even have special events like basketball tournaments in The Park but we're still working out what those details will be there."