Las Vegas Strip shooter targeted aviation fuel tanks, source says
October 4, 2017 - 6:27 pm
Updated October 4, 2017 - 9:46 pm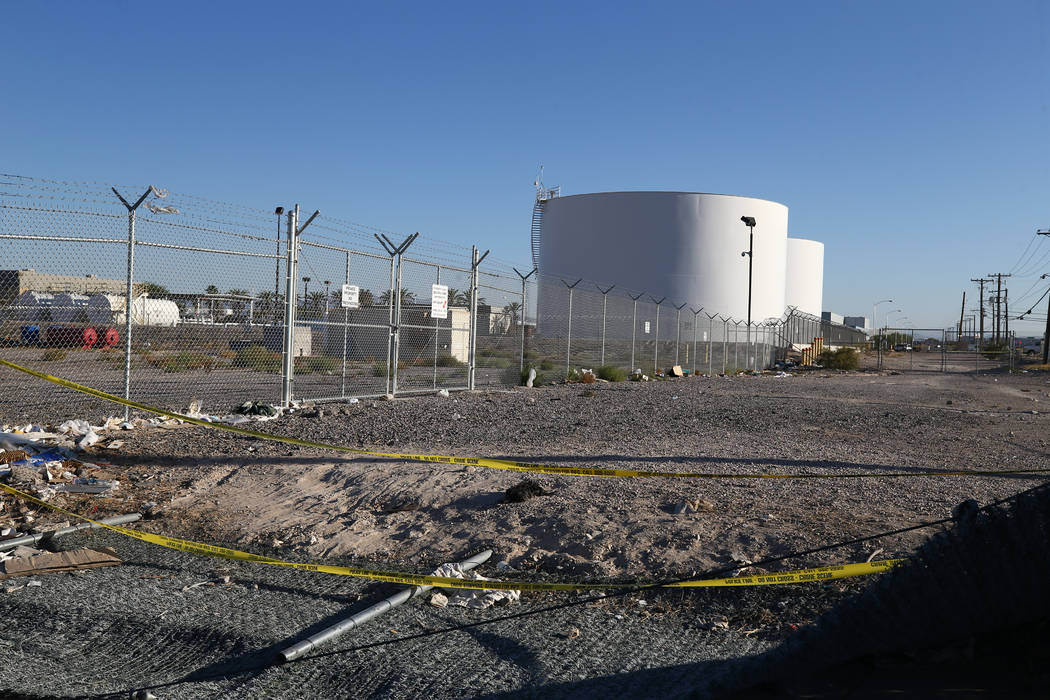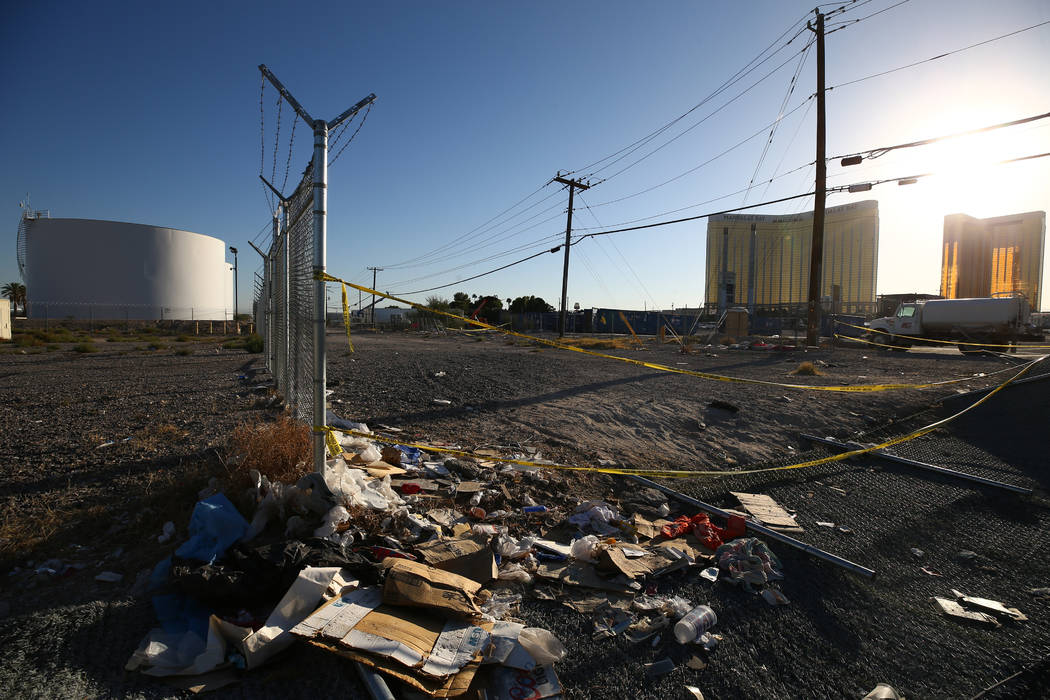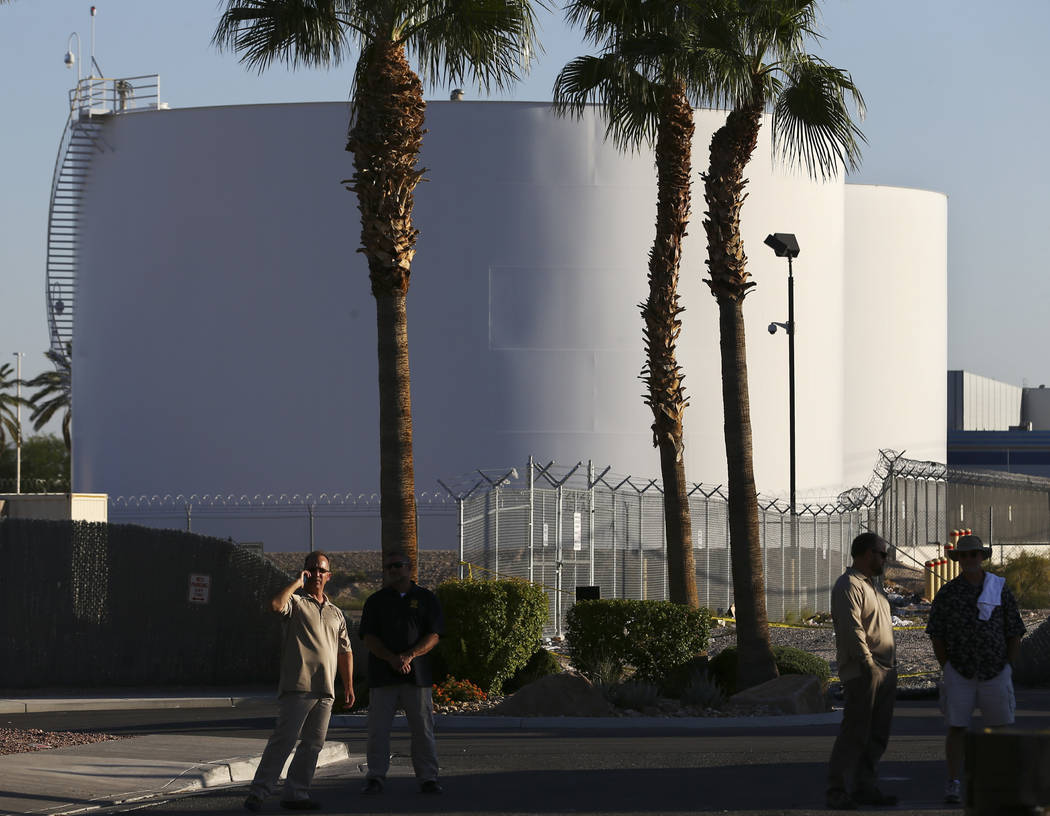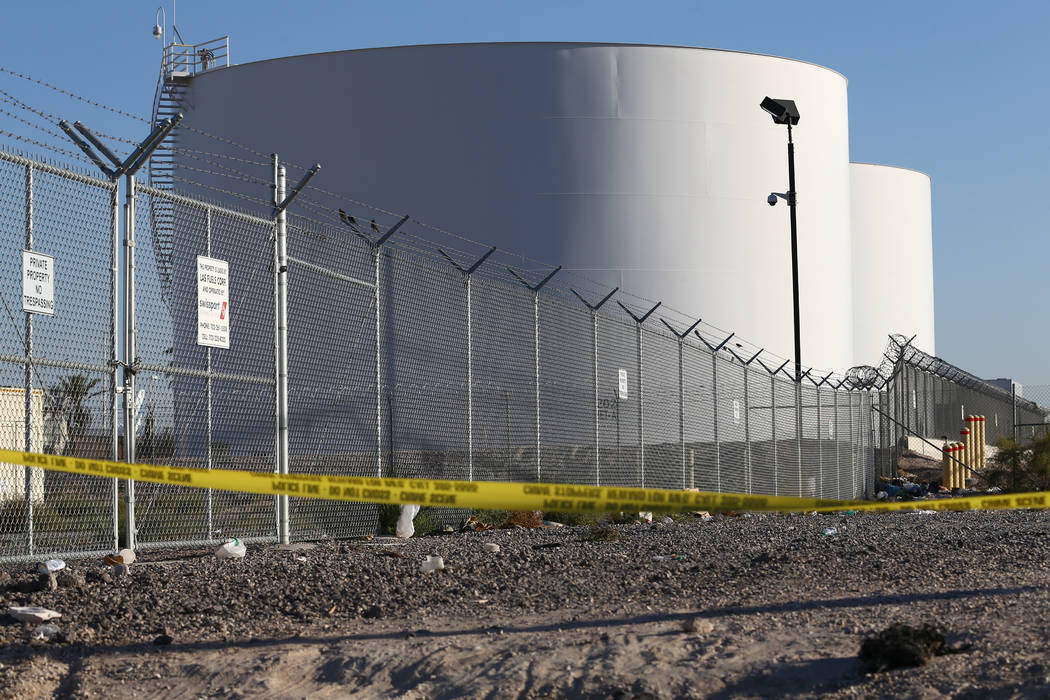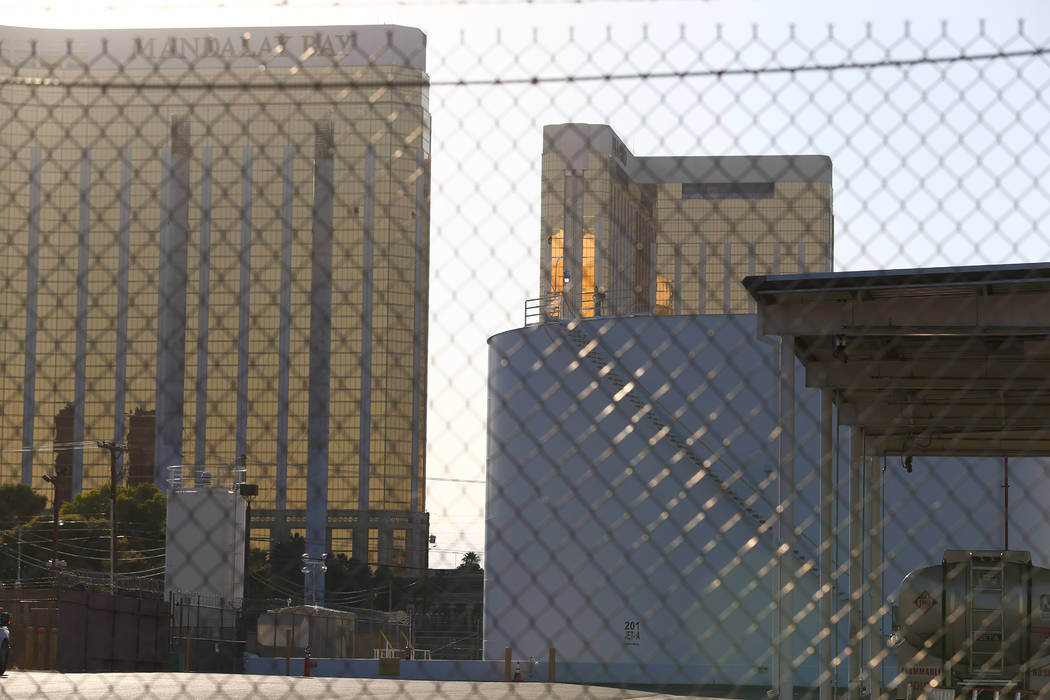 Las Vegas Strip mass murderer Stephen Paddock used his Mandalay Bay hotel room to fire bullets at jet fuel tanks Sunday night, a knowledgeable source told the Las Vegas Review-Journal.
The bullets left two holes in one of two circular white tanks. One of the bullets penetrated the tank, but did not cause a fire or explosion near the Route 91 Harvest country music festival, another knowledgeable source said late Wednesday.
The tanks are roughly 1,100 feet from the concert site, where Paddock killed 58 people and wounded almost 500. Several airplane hangars belonging to prominent corporations are also near the tanks.
Within the past couple of days, a construction crew repaired the holes, and FBI agents inspected the tanks and took measurements of the line of fire from Mandalay Bay, the sources said.
Paddock, a 64-year-old Mesquite resident, had broken two windows in his 32nd-floor suite — one in line with the concert site and the other with a direct view of the fuel tanks, one source said.
The bases of private aircraft companies are also close to the tanks, which sit on property owned by McCarran International Airport.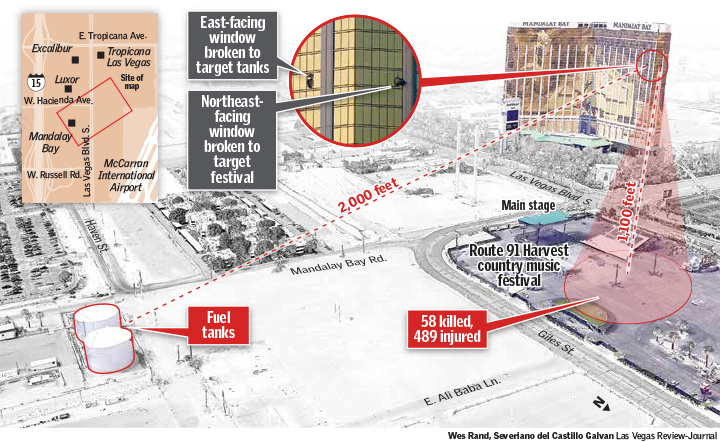 "Airport fueling has not been compromised," McCarran spokesman Chris Jones said late Wednesday. "It's functional."
The tanks are operated by Swissport, the company that runs the fueling operations for the airport, according to McCarran spokeswoman Christine Crews. They primarily are used to provide fuel to the private aircraft operators.
A Swissport official could not be reached for comment.
FBI spokeswoman Sandra Breault declined to comment. "We can't comment on an ongoing investigation," she said.
A source knowledgeable about airport operations said jet fuel is hard to ignite and tanks like those across from Mandalay Bay have mechanisms in place to prevent fires.
Mike Boyd, a Colorado-based aviation consultant, echoed those words.
"A machine gun is not going to blow up a tank of fuel," Boyd said. "Jet fuel itself sitting there in a big wet pile is very hard to ignite. You have to be a very amateur terrorist to think anything like that."
Paddock's shooting rampage was the deadliest in modern U.S. history. He killed himself as Las Vegas police closed in on his room.
His brother Eric Paddock, 55, who lives in Orlando, Florida, has expressed shock at his deadly actions.
Paddock was a retired accountant who had no criminal background and a passion for video poker. He lived in Mesquite with his girlfriend, Marilou Danley, and regularly came to the Las Vegas Strip to gamble.
Danley left Las Vegas for the Philippines a couple of weeks before the deadly mass shootings and returned to the country late Tuesday. She was interviewed by FBI agents in Los Angeles.
In a statement released by her Los Angeles lawyer, she said she had no warning about his plans and pledged to cooperate with investigators.
Contact Jeff German at jgerman@reviewjournal.com or 702-380-4564. Follow @JGermanRJ on Twitter.
Update
McCarran airport confirms Las Vegas gunman shot at fuel tanks