Las Vegas Strip will soon get a new safety feature
Updated June 6, 2017 - 11:11 pm
Clark County commissioners on Tuesday told their staff to begin taking bids for the installation of hundreds of steel posts between the street and sidewalks along the Las Vegas Strip.
"This one is really a matter of life or death," Commission Chairman Steve Sisolak said. "We're going to have an event, whether it's a medical episode or a DUI, where a car could get up onto that sidewalk."
County public works director Denis Cederburg said the initial project will entail installation of 700 posts on intermittent segments of Las Vegas Boulevard between Spring Mountain Road and Tropicana Avenue.
Altogether, the posts will shield about 3,200 feet of sidewalk from vehicles coming off the road. That will include areas in front of the Bellagio fountains, Harrah's and the Paris Las Vegas.
The project could be completed as soon as Dec. 1. Cederburg said the county has discussed installing another 500 posts if it identifies areas of need.
The posts, called bollards, will reach 15 to 18 inches beneath the ground and be anchored by interconnected, underground steel frames. The bollards will be 3 to 4 feet tall and strong enough to stop a flatbed truck traveling 55 mph, Cederburg said.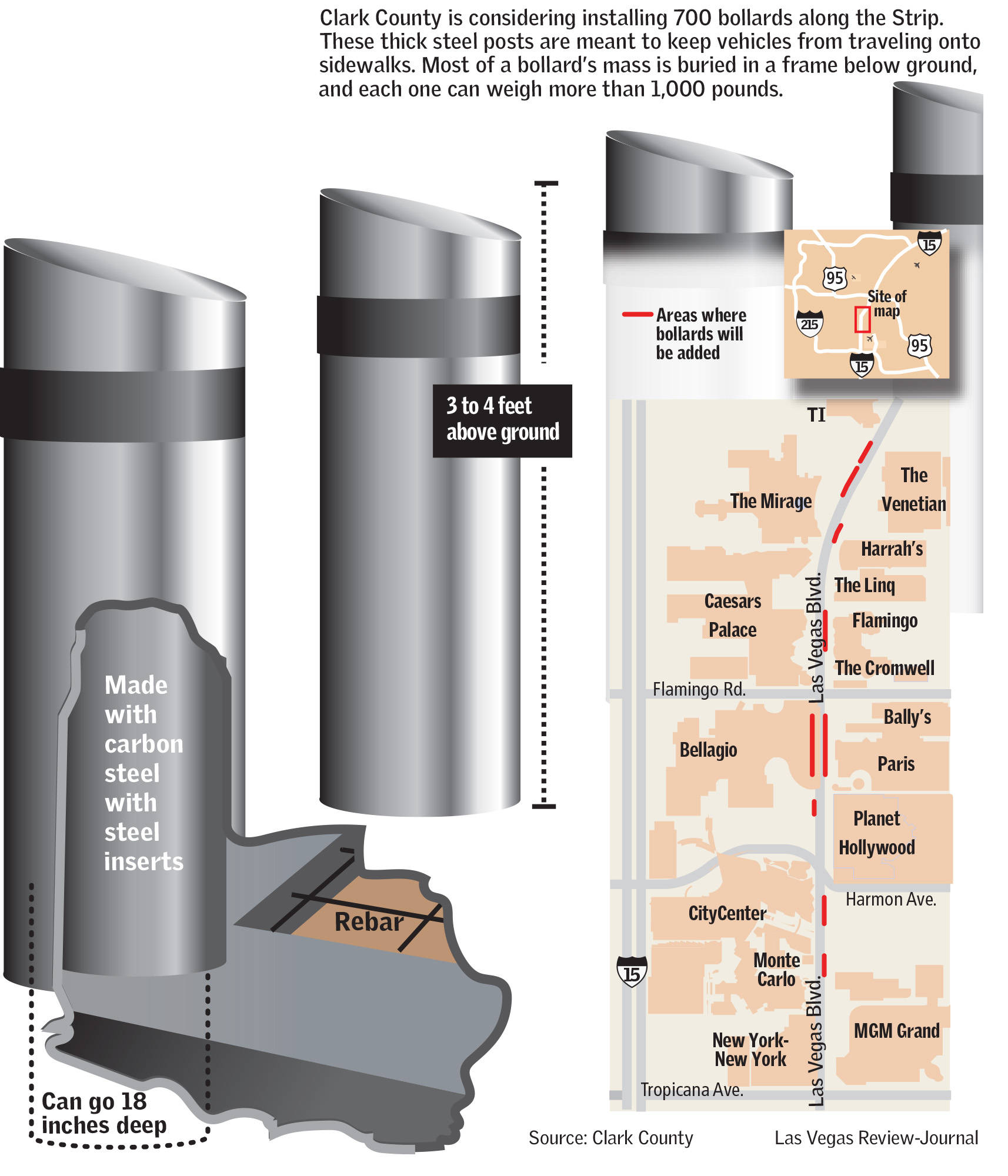 The Strip's sidewalk will be a bit more crowded when the bollards are installed.
"It's going to reduce it by a foot-and-a-half," Cederburg said.
Several commissioners also wanted to know more about the bollards' appearance, noting that the Strip's different resorts had specific architectural themes. Decorative sleeves could be placed over the bollards.
"I think it would be up to each property to determine if they wanted to provide the sleeve," Nevada Resort Association President Virginia Valentine said. "I don't think it would be strange to see a different sleeve at every property like you see a different facade at every property."
The project will be opened to bidding on June 26. Commissioners expect to select a firm to complete the project at their regular July 18 meeting.
Each bollard is expected to cost between $2,600 and $3,600, with the cost of the project estimated at about $5 million. It will be funded through revenue from an existing 1 percent hotel room tax for roadway improvement projects.
Commissioner Larry Brown, who also chairs the Regional Transportation Commission of Southern Nevada, said the commission would discuss the bollards at its Thursday meeting.
Contact Michael Scott Davidson at sdavidson@reviewjournal.com or 702-477-3861. Follow @davidsonlvrj on Twitter. The Associated Press contributed to this report.