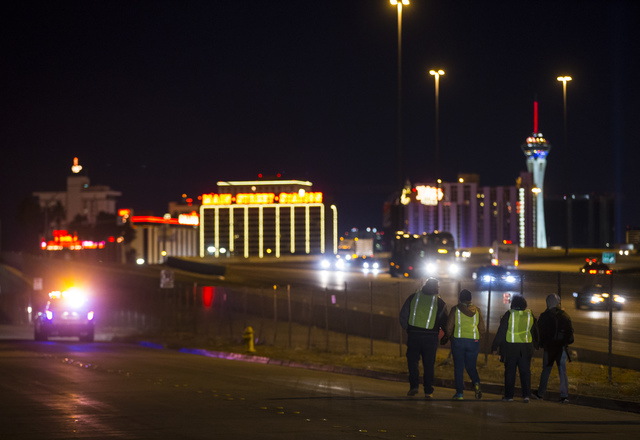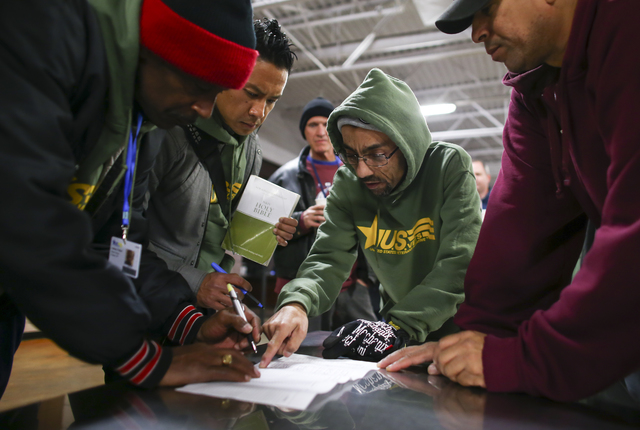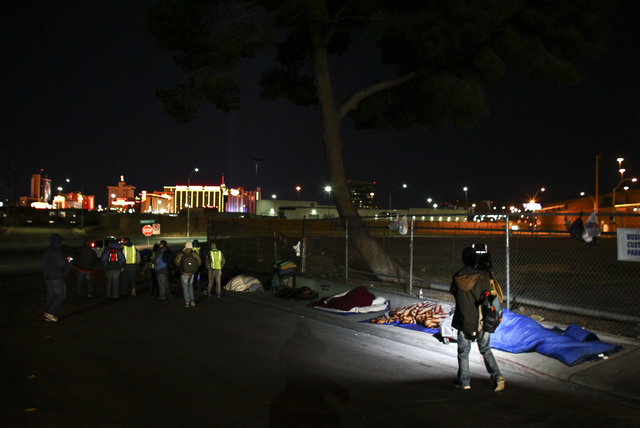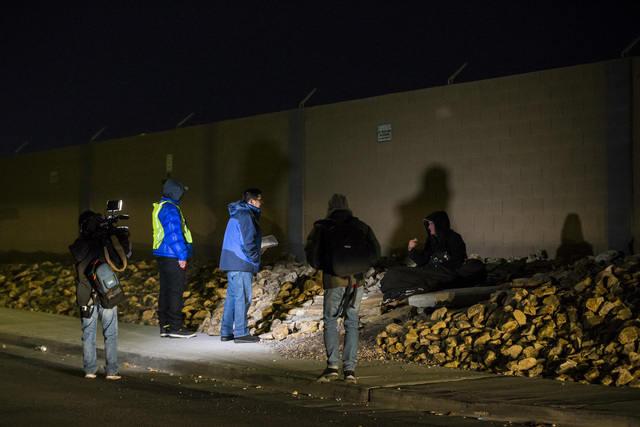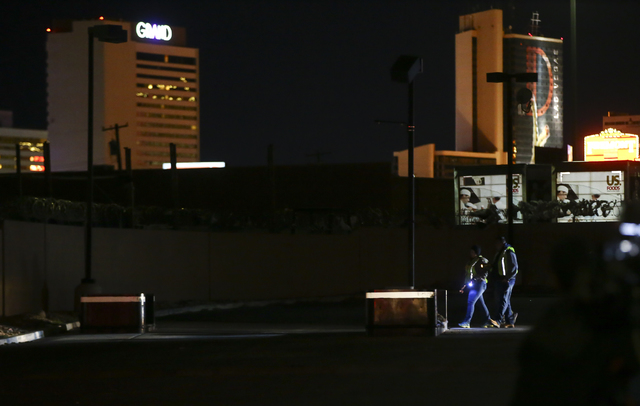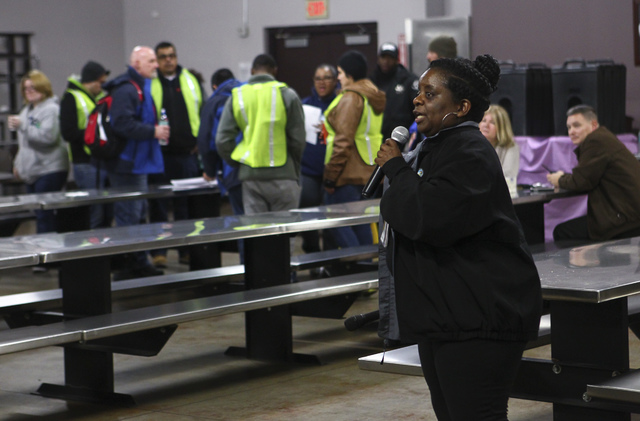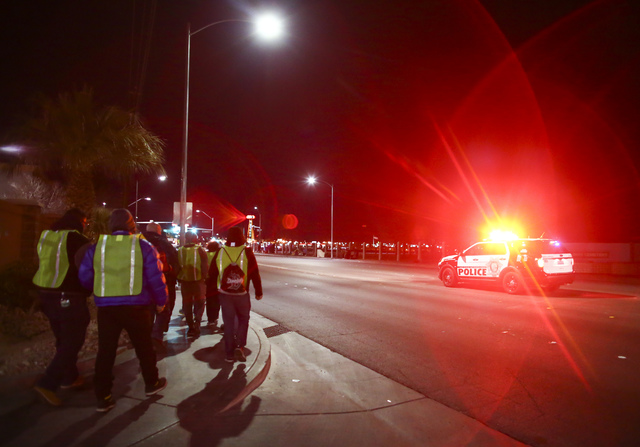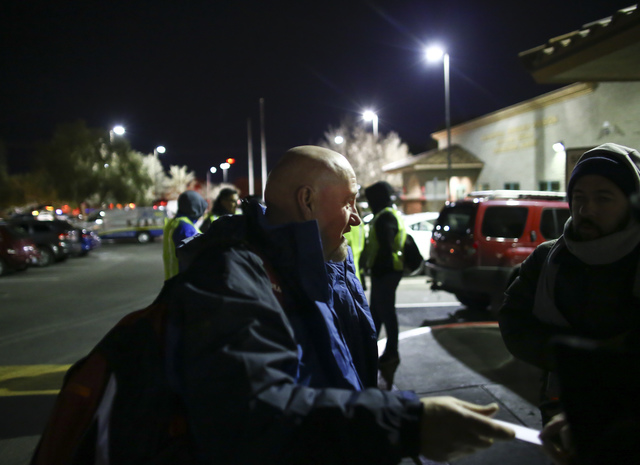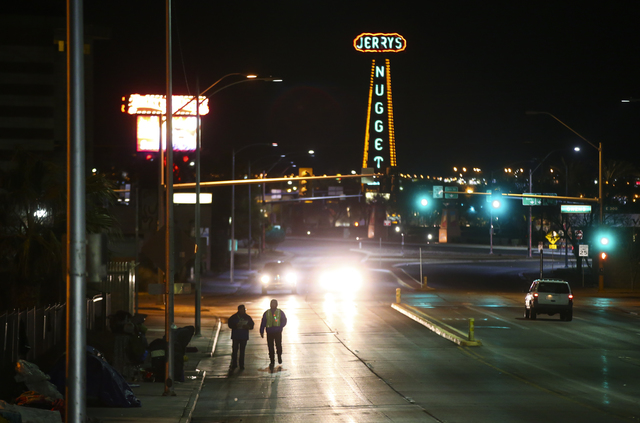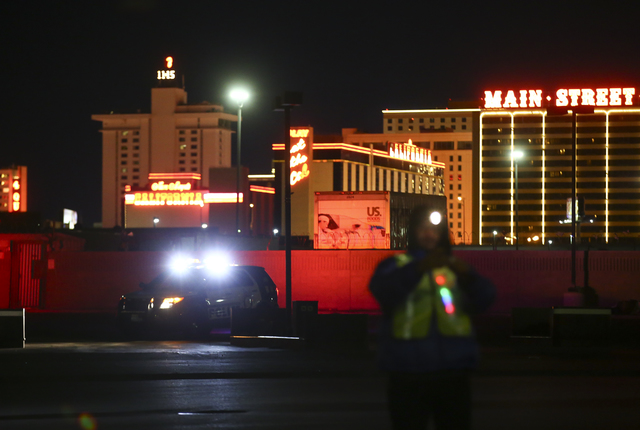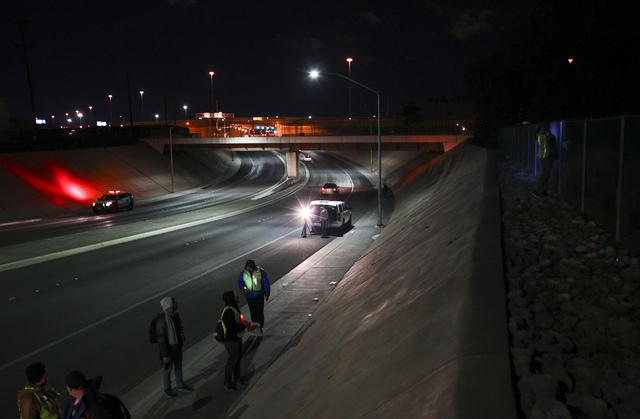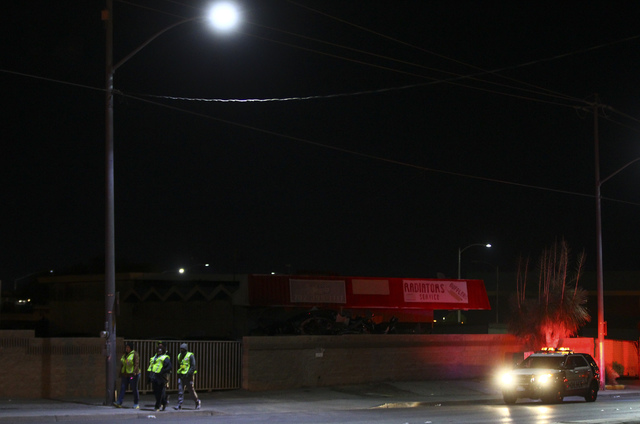 Covered in a floral-print blanket, a red suitcase at his or her head, a homeless person slept — or tried to sleep — Tuesday night in near-freezing temperatures on a sidewalk in downtown Las Vegas.
Whether shivering or unconscious, the person appeared to be unaware that he or she had just been added to the annual Southern Nevada Homeless Census in Clark County, part of a national tally that takes place in late January in locales large and small across the United States.
Clipboard in hand, David Fragoso kept the master list for an eight-member team from The Salvation Army counting the homeless on and near A Street from late Tuesday night through early Wednesday.
"You never realize how many people are homeless," he said. "You always see them out on the streets, but you never realize how many people are out there until you're actually looking for them."
His group was among the roughly 200 volunteers who joined county and city social services workers to fan out across Las Vegas, Henderson, North Las Vegas and other parts of Clark County to conduct the local count from 10 p.m. Tuesday to 4 a.m. Wednesday. That was to be followed by a separate daytime count of homeless youth on Wednesday, then countywide surveys in the coming weeks.
The overnight count also includes people who live in shelters, and it takes place at night, organizers said, to avoid duplication between those who stay in shelters and those who live on the street, often near places like The Salvation Army and Catholic Charities of Southern Nevada that can give them a place to stay.
"Shelter is just a couple hundred feet away," said Phillip Hollon, director of social services for The Salvation Army's 6-acre Social Services Campus at 35 W. Owens Ave. in North Las Vegas.
There's a constant effort, he said, to educate the homeless and determine what barriers prevent them, especially on a night like Tuesday, from coming in from the cold.
After compiling the census count data, the county will report the annual figure in the spring.
The number that emerges is important, as it determines how much the county and cities receive in federal funds "that support housing, job training and other programs that can help move folks out of homelessness," Clark County spokesman Dan Kulin said. Last year, those funds amounted to more than $12 million.
At one point, Fragoso's tally included two males 18 to 24, five males 25 and older, one female 18 to 24, two people of unknown gender 18 to 25 and five tents, each of which will be factored into the final total.
The number of homeless in the Las Vegas Valley has trended downward since 2009. The 2016 total was 6,208, down 17.3 percent from the previous year.
That is just a small slice of the 549,928 people "who were experiencing homelessness in the United States," according to the 2016 Annual Homeless Assessment Report to Congress.
One of the formerly homeless people who participated in this year's census was Giovanni Lomagno, now outreach coordinator for the Las Vegas chapter of the United States Veterans Initiative. A veteran of Desert Storm and a former addict, he said the U.S. Vets program saved his life.
"I wanted to be clean and turn my life around," he said. "I just didn't know how to go about doing it until they found me."
They found him one day in 2004 while he was eating lunch at Catholic Charities of Southern Nevada. Now, Lomagno dedicates his life to assisting other homeless people. This, he said, was his fourth census count, and for him, the ultimate goal is to get everybody help.
"That's what it's all about," he said. "Nobody should be homeless."
That includes the person under the floral-print blanket who had hunkered down against the cold along with several others in their own bundles in front of the Day Labor Office.
Signs loomed behind them that said, "Job Seeker Parking" and "Job Seeker Entrance." Up the street and over the hill, Main Street Station's neon lights beckoned from afar.
Contact Lucy Hood at lhood@reviewjournal.com or 702 387-2904, Follow @lucyahood on Twitter.
RELATED
2016 marked the ninth person-by-person count
The count held for 2014 showed a minimal increase from