Expect windy, cooler conditions after wet Wednesday
Updated September 20, 2023 - 7:37 pm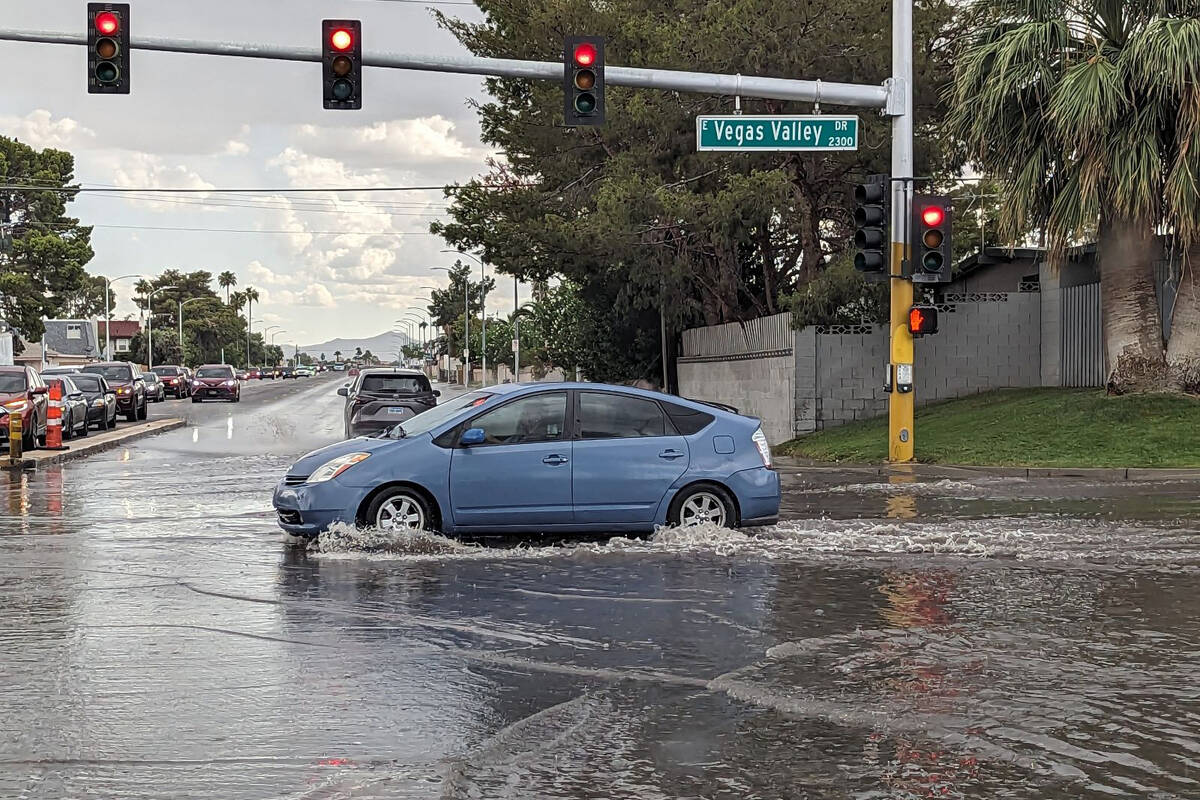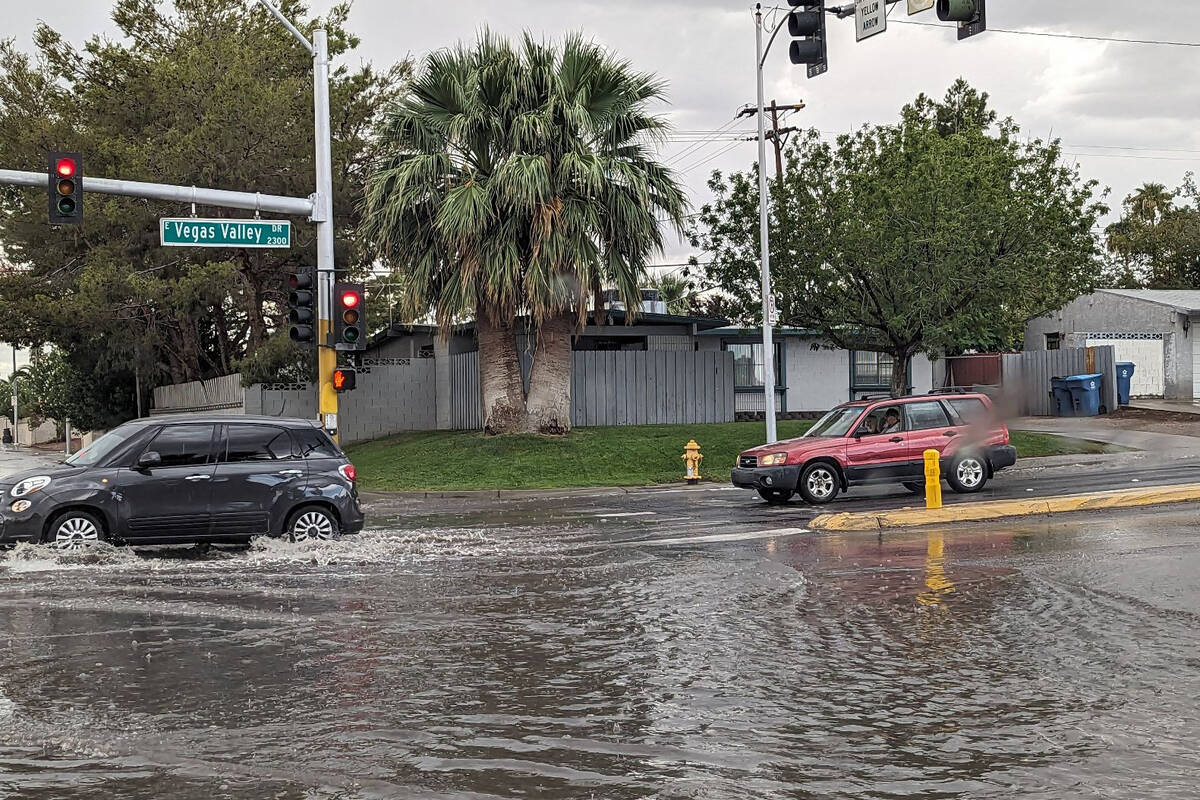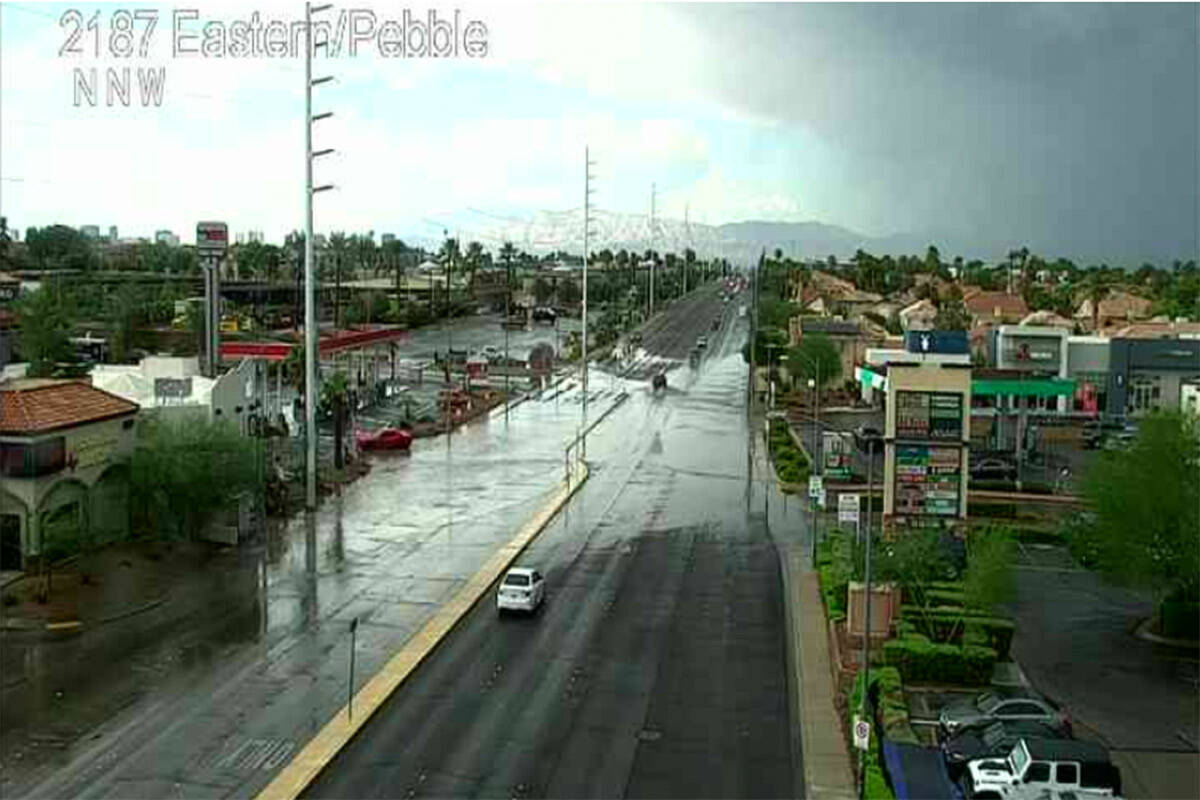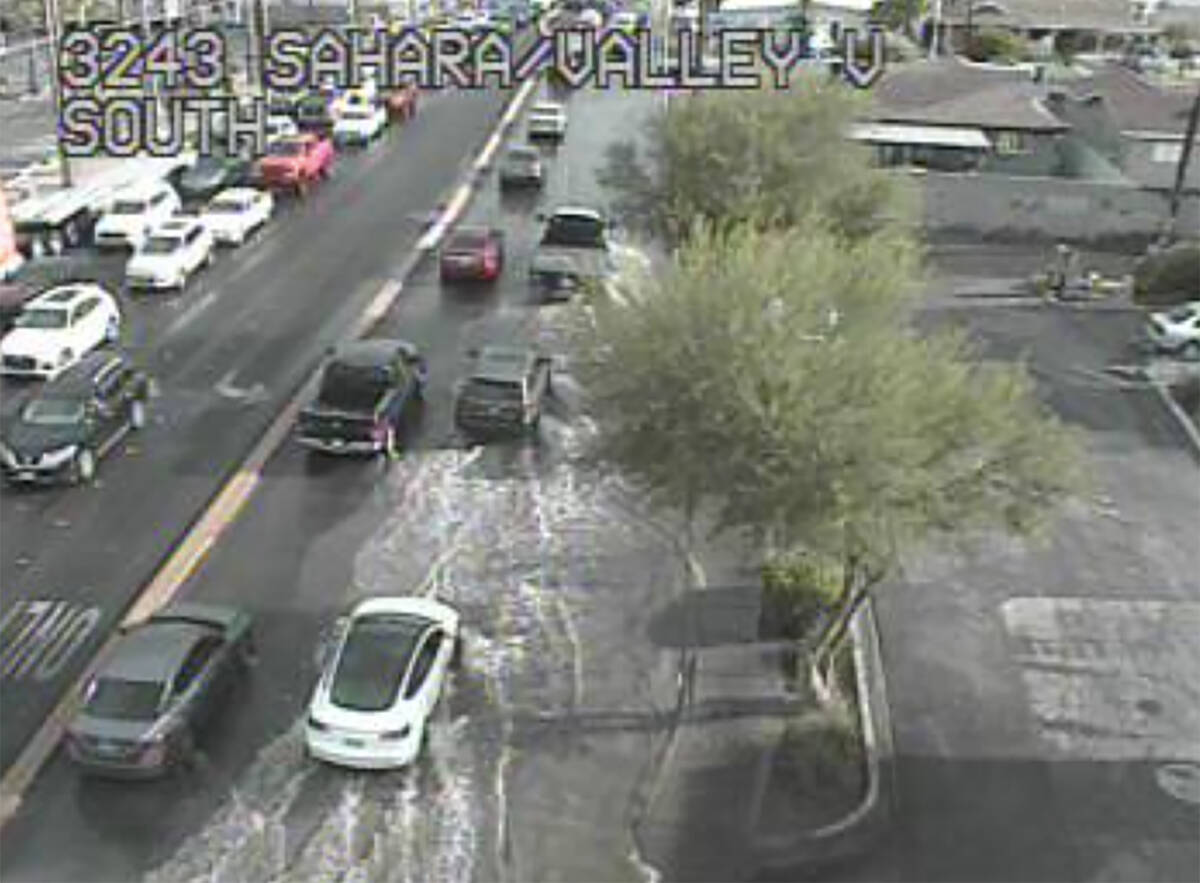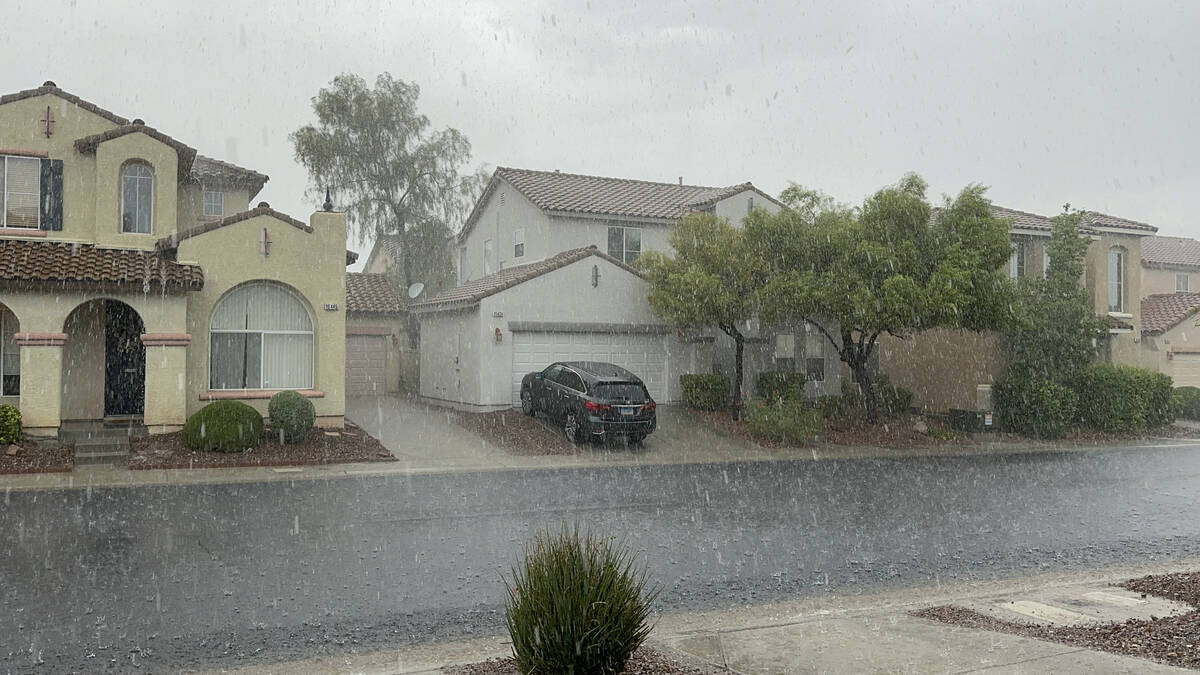 A low pressure system centered right over Las Vegas produced widespread rain, thunderstorms, some hail and flash flooding Wednesday afternoon.
A flooding advisory concluded at 6 p.m. for much of the valley, and a flood warning that was effective for the Silverado Ranch/Henderson area expired at the same time.
Brighter skies greeted commuters around 5 p.m. as most of the storm clouds moved northeast of the valley near Mesquite. By 6:30 p.m. the valley was clear of rain.
A trough of colder air that moved from the Pacific Northwest toward Las Vegas, bringing the low pressure, will develop into windy conditions Thursday.
It's been quite an afternoon for #Vegas weather! #nvwx #vegasweather https://t.co/drYYJzd9zH

— NWS Las Vegas (@NWSVegas) September 20, 2023
More than 1.38 inches of rain fell at a gauge behind a shopping center at Eastern Avenue and the 215 Beltway. The Regional Transportation Commission reported heavy flooding in the area. A few retail stores in the area were temporarily closed to deal with flooding.
The storm began shortly after noon Wednesday and the National Weather Service said it was expected to move northeast of the valley quickly, but rain persisted and expanded with light to moderate showers across most of the valley.
Regional Flood Control District gauges showed 1.10 inches at the Pittman Wash, a half mile east of Eastern on Wigwam Avenue as of 4 p.m.
A gauge near Sunset Park logged .83 of an inch as of 4 p.m. Earlier, hail was reported at the Raiders practice facility in Henderson as well as Eastern Avenue and the 215 Beltway. A gauge near Eastern Avenue and the 215 Beltway and farther south on Eastern near Horizon Ridge Parkway recorded over an inch of rain within two hours as of 4:45 p.m.
Rain totals were lesser across much of the valley, but precipitation covered a wide area.
📡Radar Update 1:40 PM PDT

⛈A thunderstorm has developed over the south and east side of Las Vegas. This storm is producing brief heavy rainfall and frequent lightning. Gusty winds and small hail are also possible.

When thunder roars, go indoors! #NVwx #vegasweather pic.twitter.com/cJ4uVYQu4y

— NWS Las Vegas (@NWSVegas) September 20, 2023
The quick storm activity dropped the temperature at Harry Reid International Airport 15 degrees in 40 minutes from 90 to 75. Winds also gusted to 22 mph.
The cooling trend of the past few days will continue through the end of the week with temperatures dropping to 10 degrees below normal by Friday. The system responsible for these cooler temps will also bring gusty southwesterly winds to the region on Thursday. #NVwx #CAwx #AZwx pic.twitter.com/JCAAJ3Rb42

— NWS Las Vegas (@NWSVegas) September 19, 2023
The Thursday low will be around 66 while windy conditions will ramp up with morning south-southwest winds of 9-14 mph rising to 18-23 mph in the afternoon and gusts to 31 mph. The high should reach about 87.
A lake wind advisory runs from 11 a.m. to 7 p.m. Thursday for Lakes Mead and Mohave. Winds could gust to 40 mph, says the weather service. Waves could be a major problem for small craft.
Brisk conditions will continue into Thursday evening with some blowing dust likely. Gusts could reach 26 mph.
The Friday low will be near 63 before rising to around 86. Winds are forecast to be much lighter, at 6-10 mph.
Contact Marvin Clemons at mclemons@reviewjournal.com.