Flash flood watch issued for most of Clark County for Labor Day weekend
Updated September 2, 2023 - 8:50 am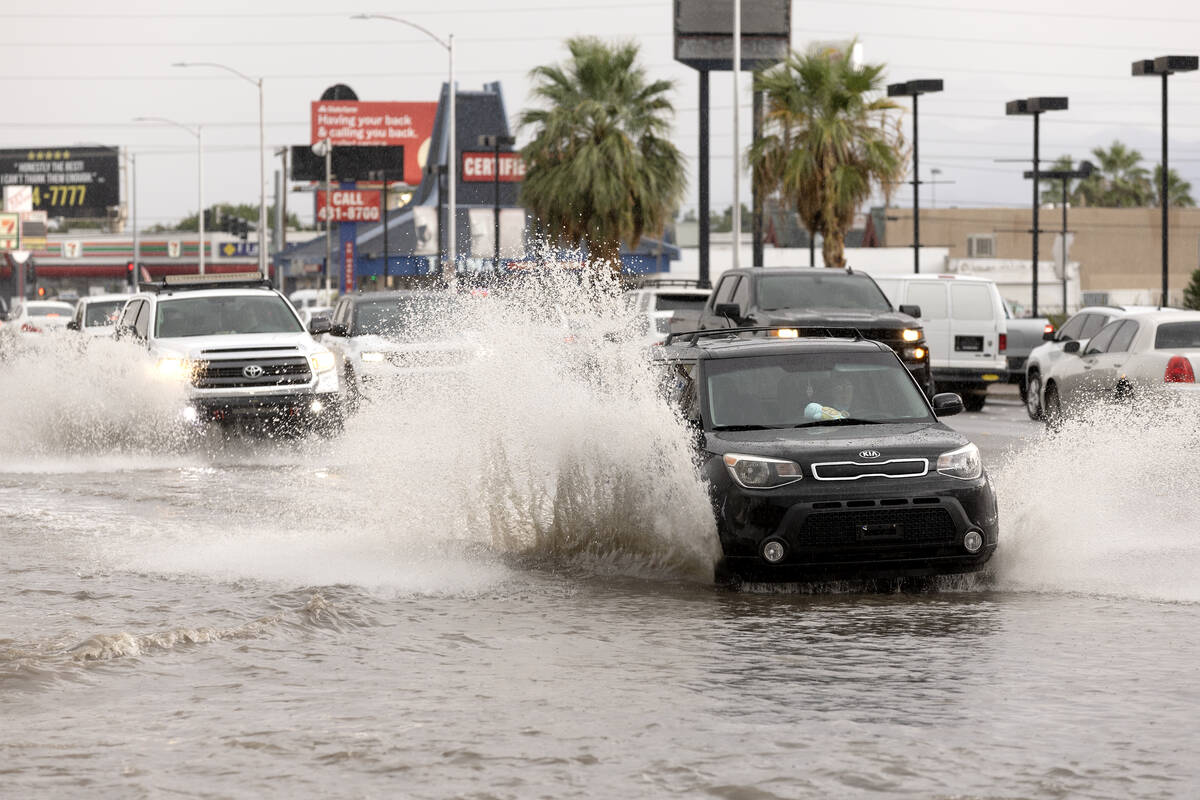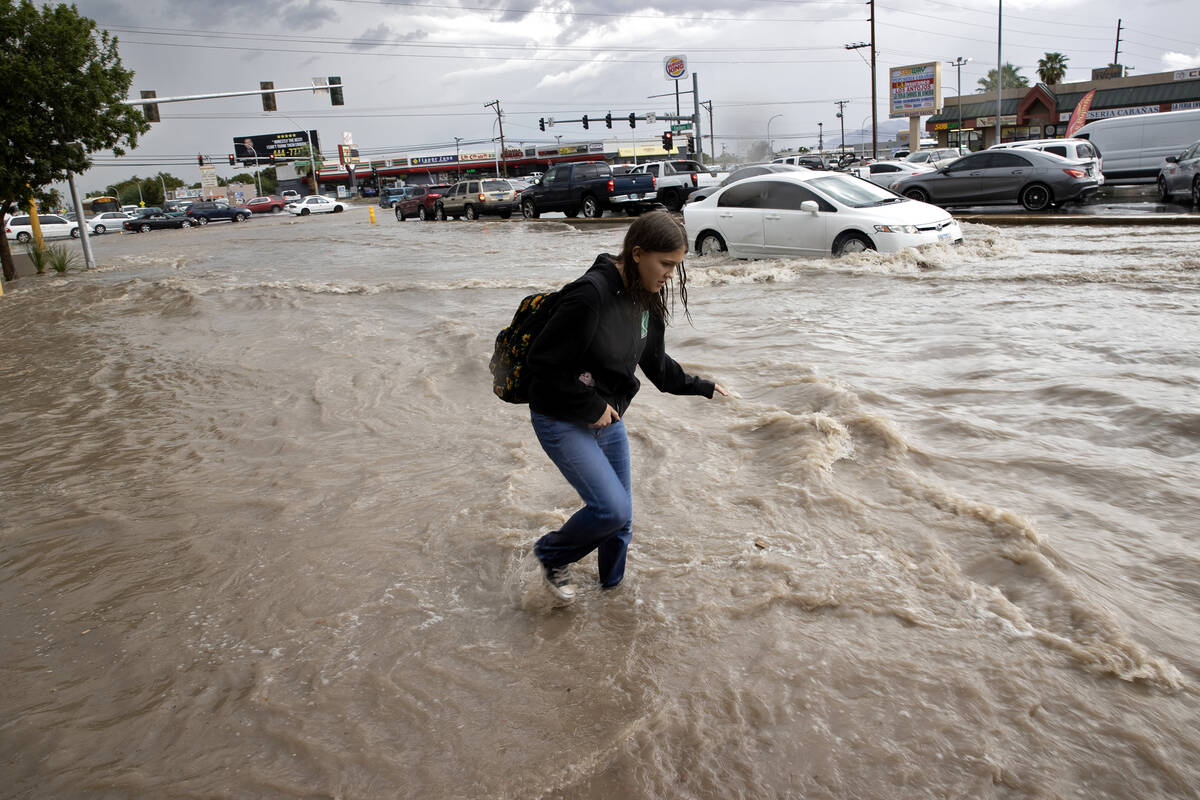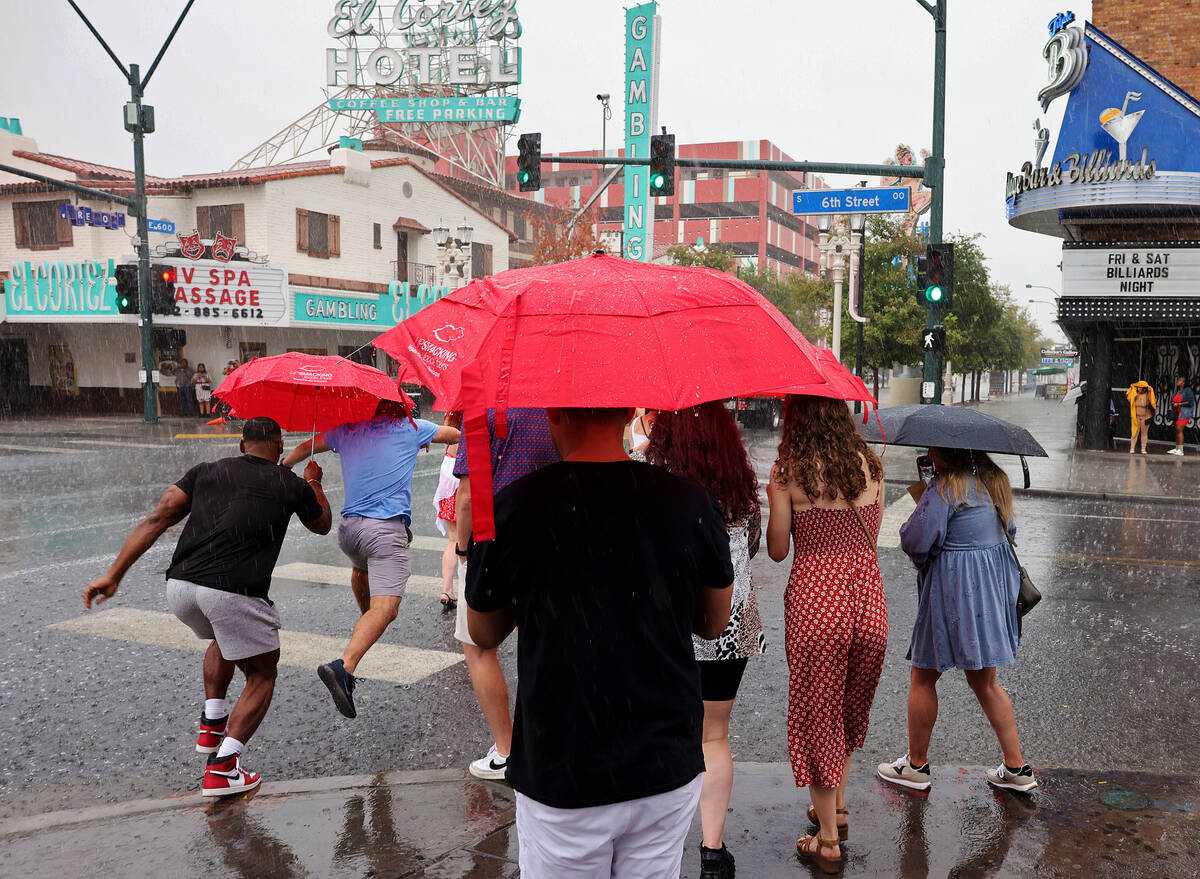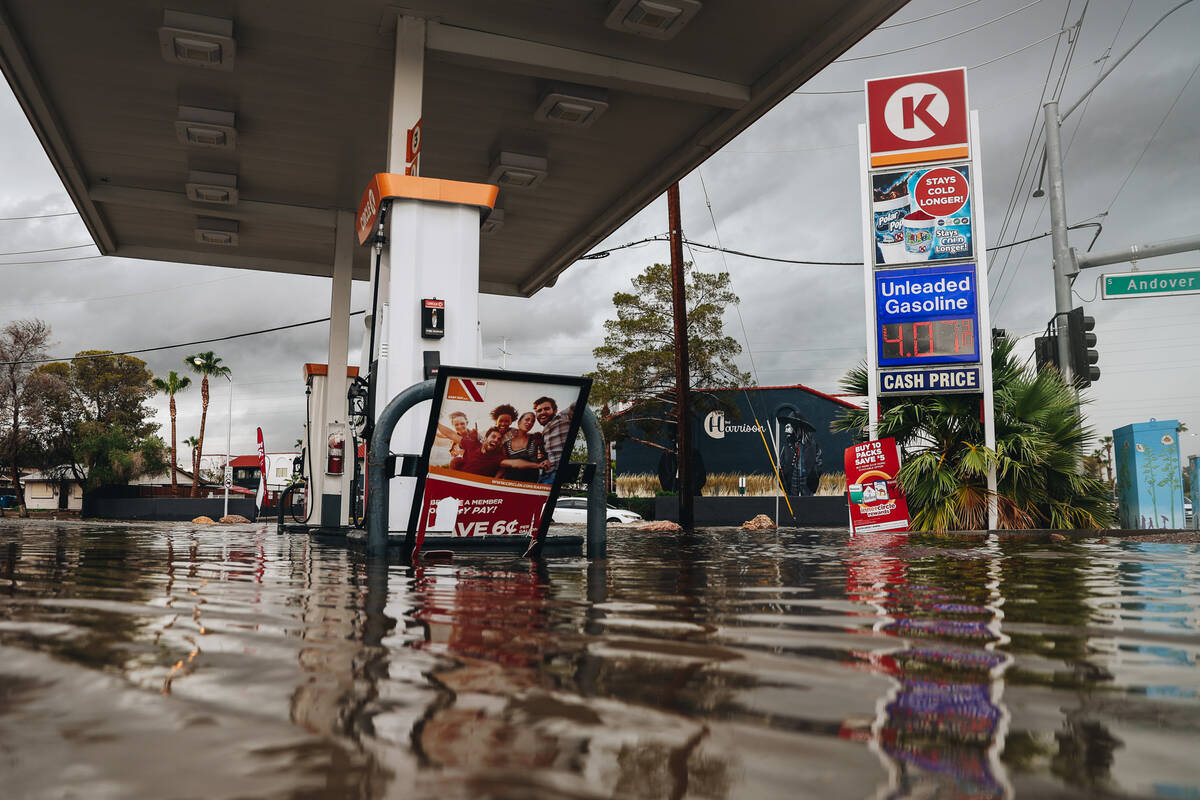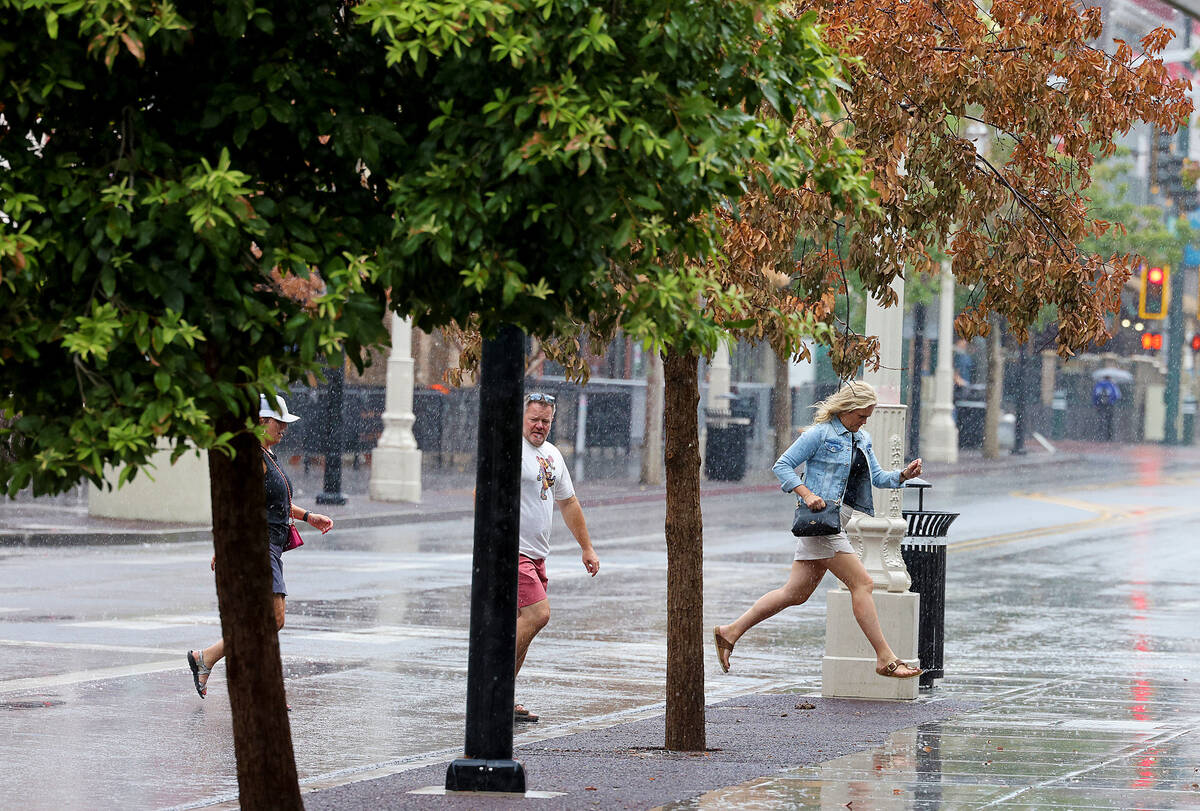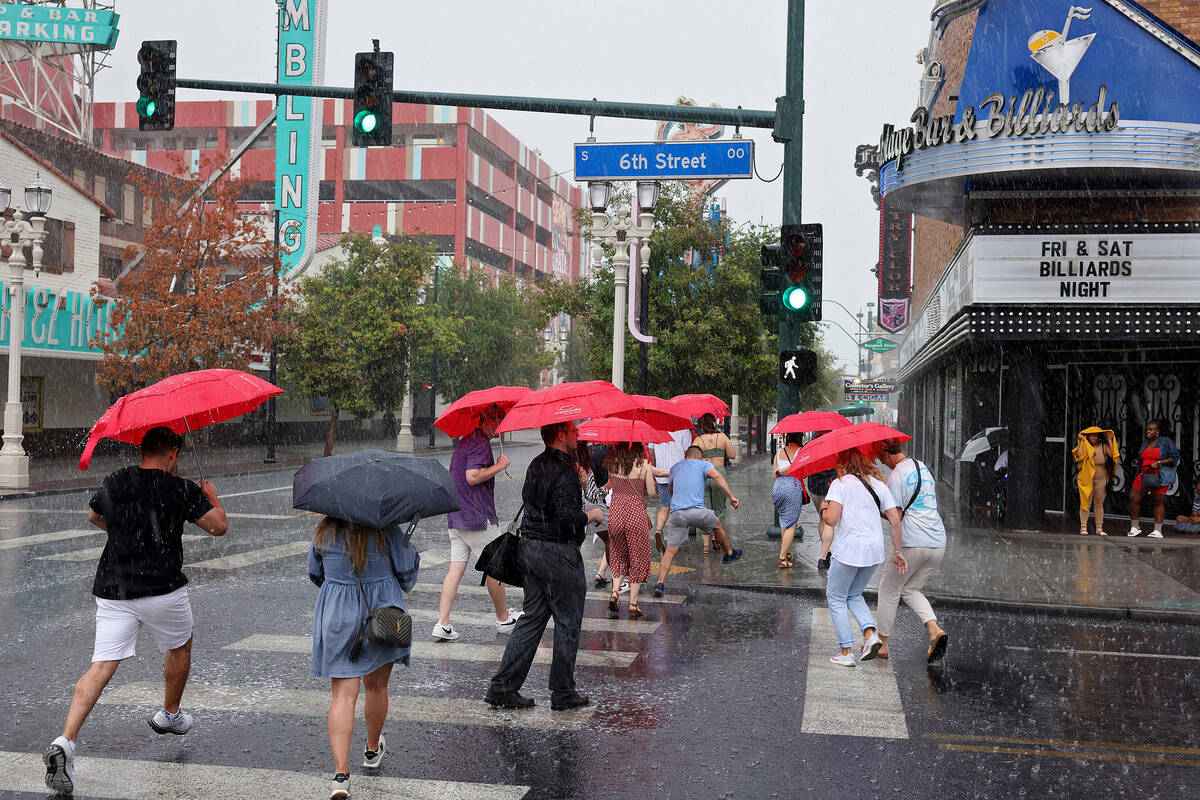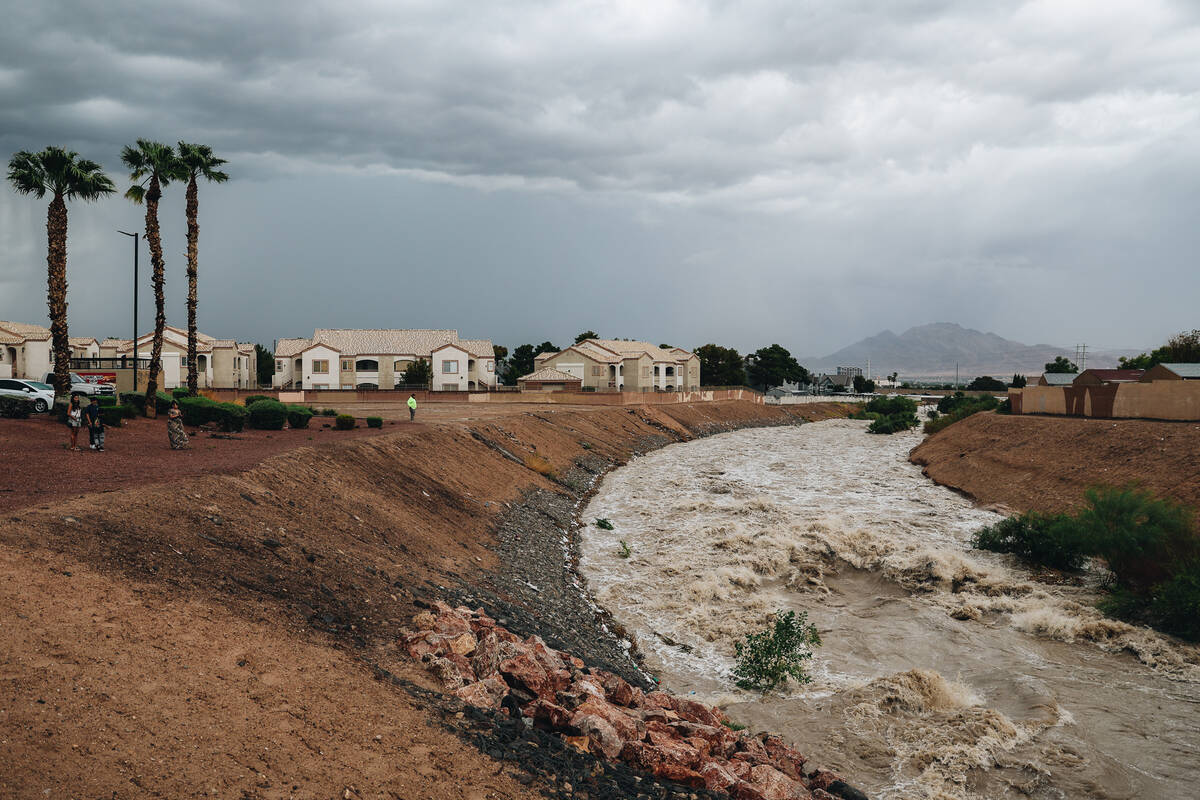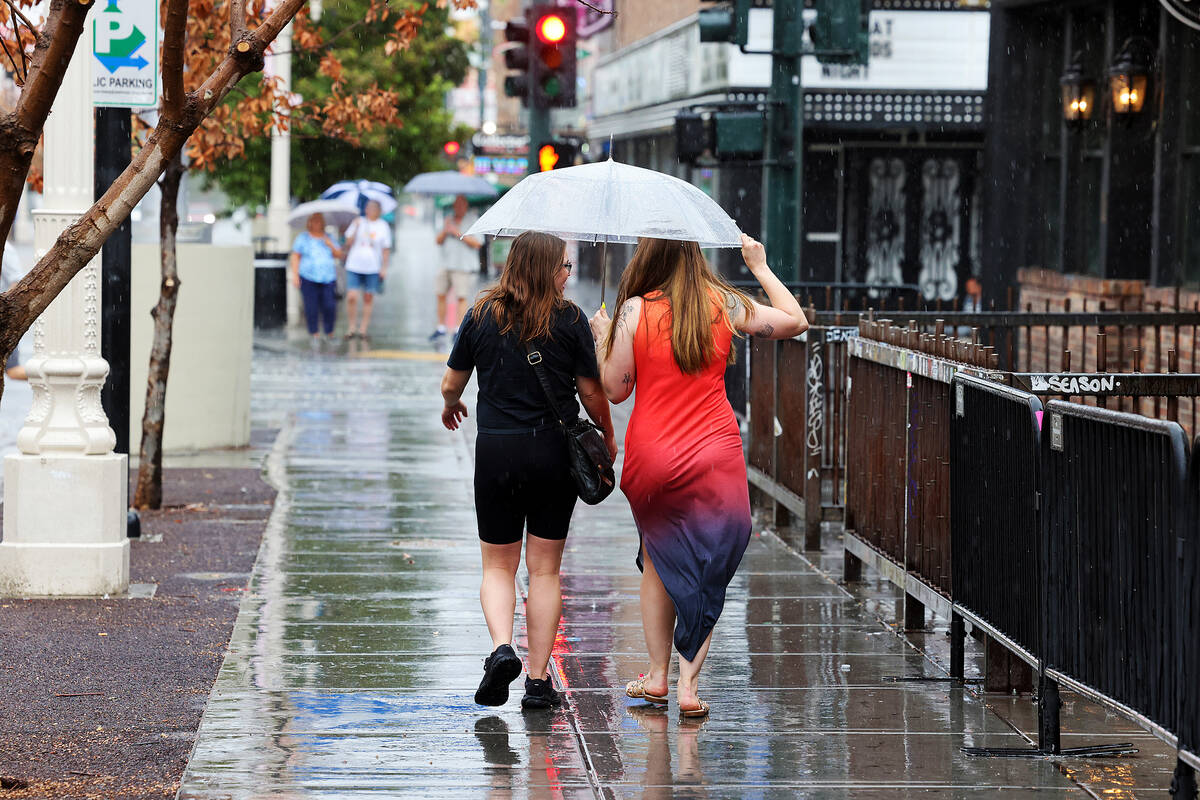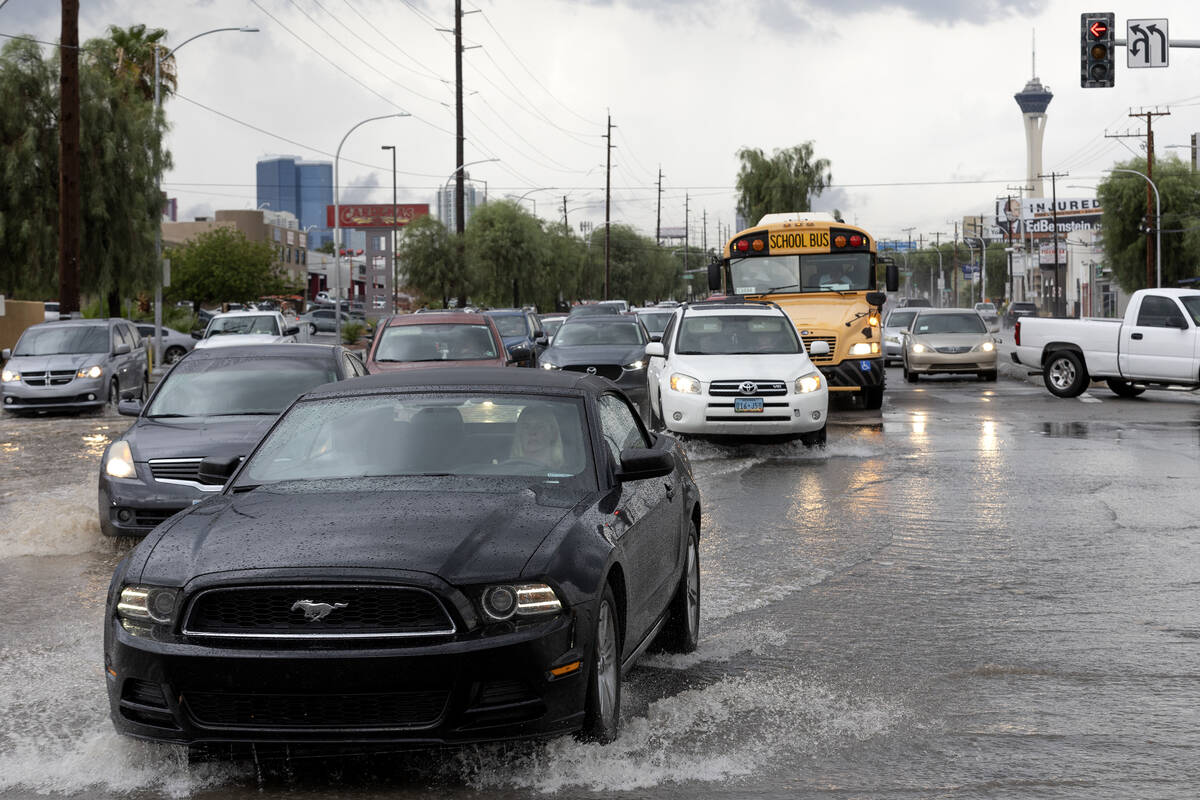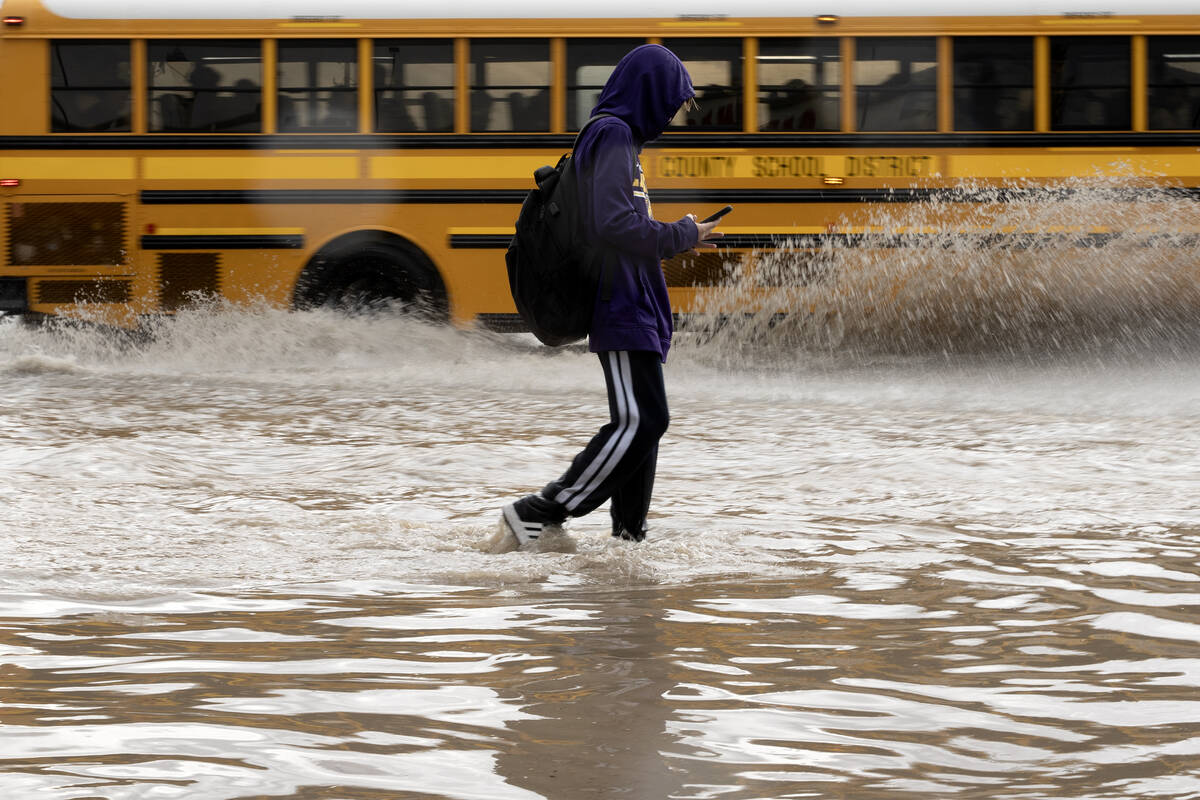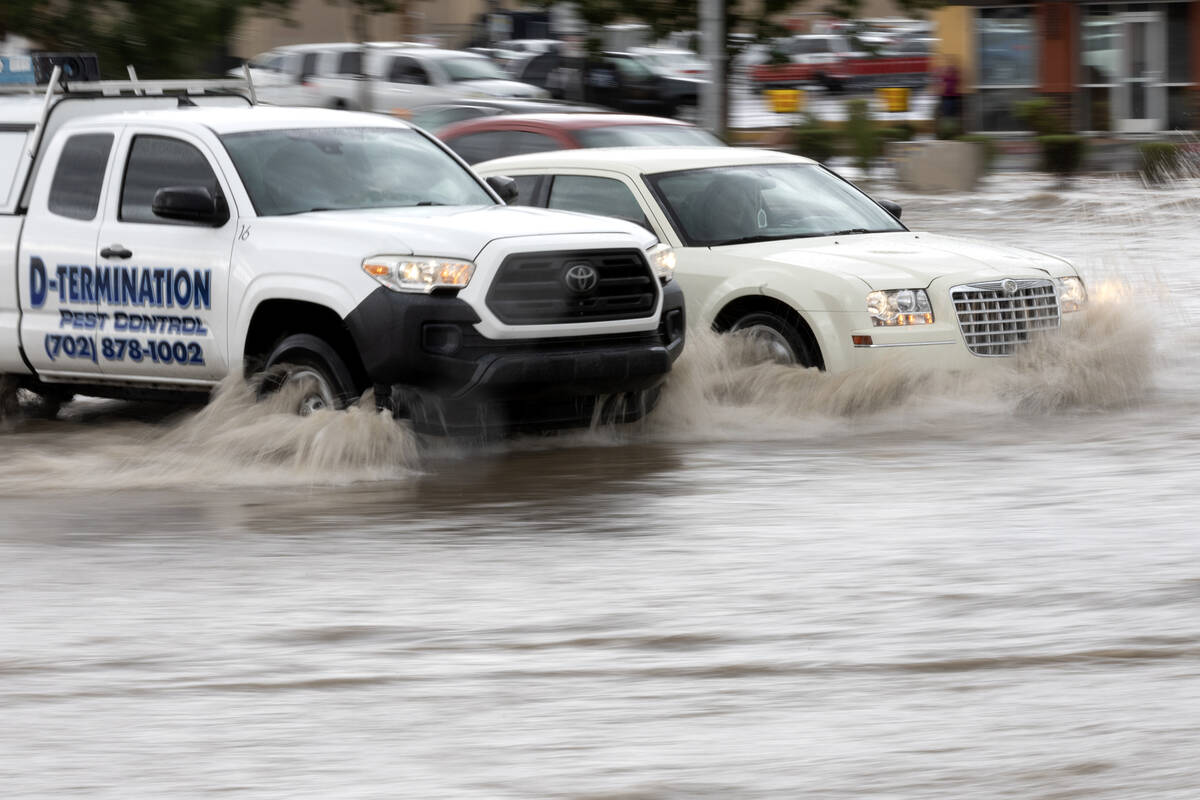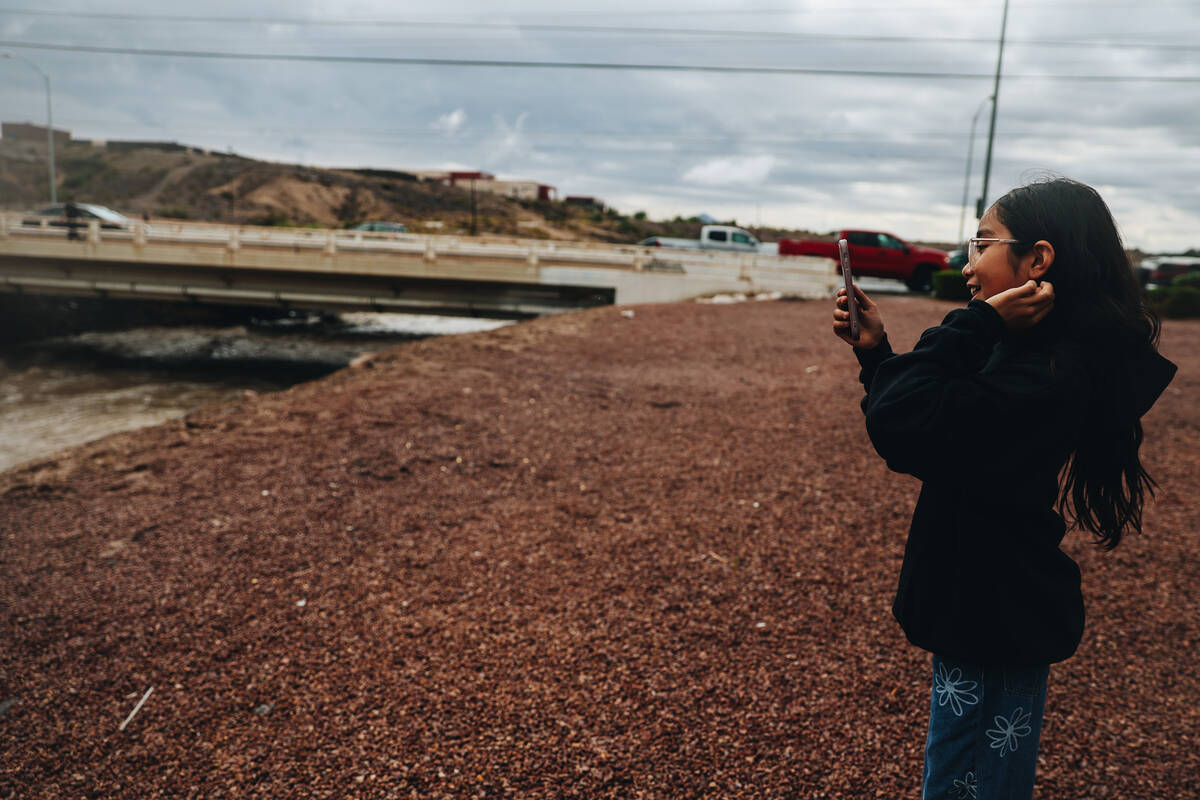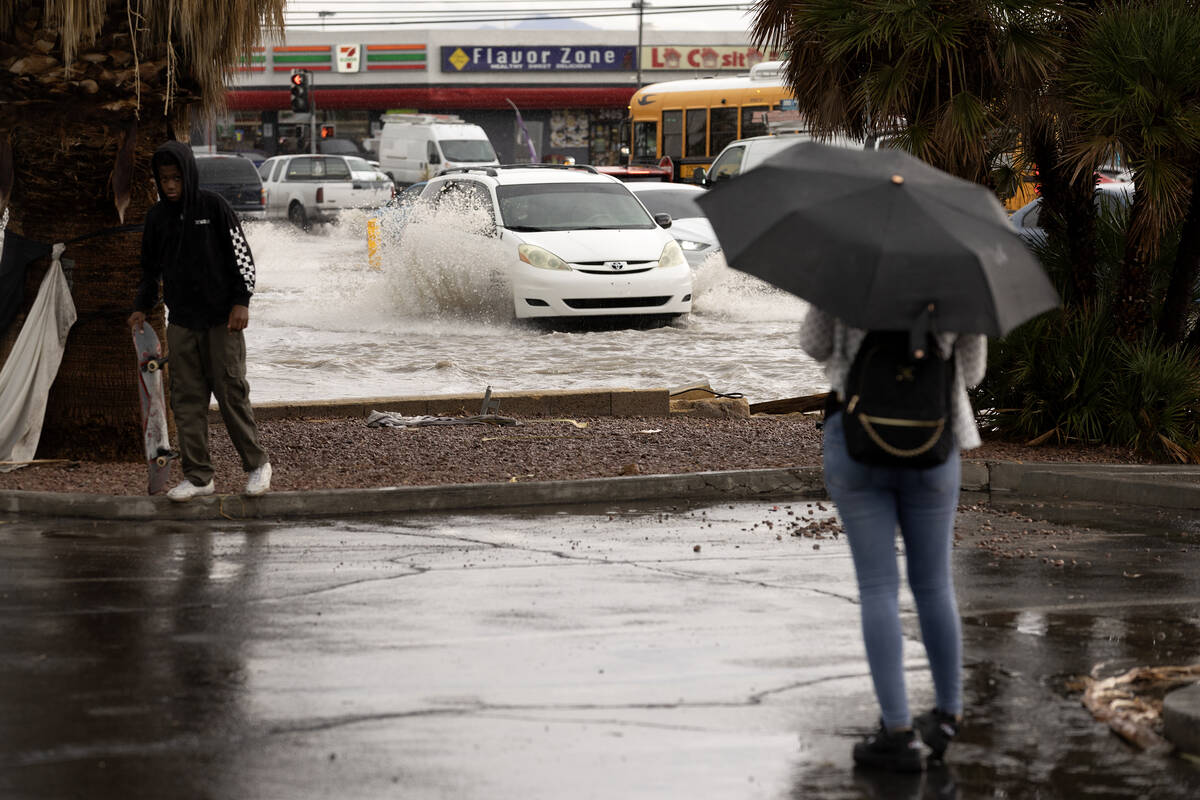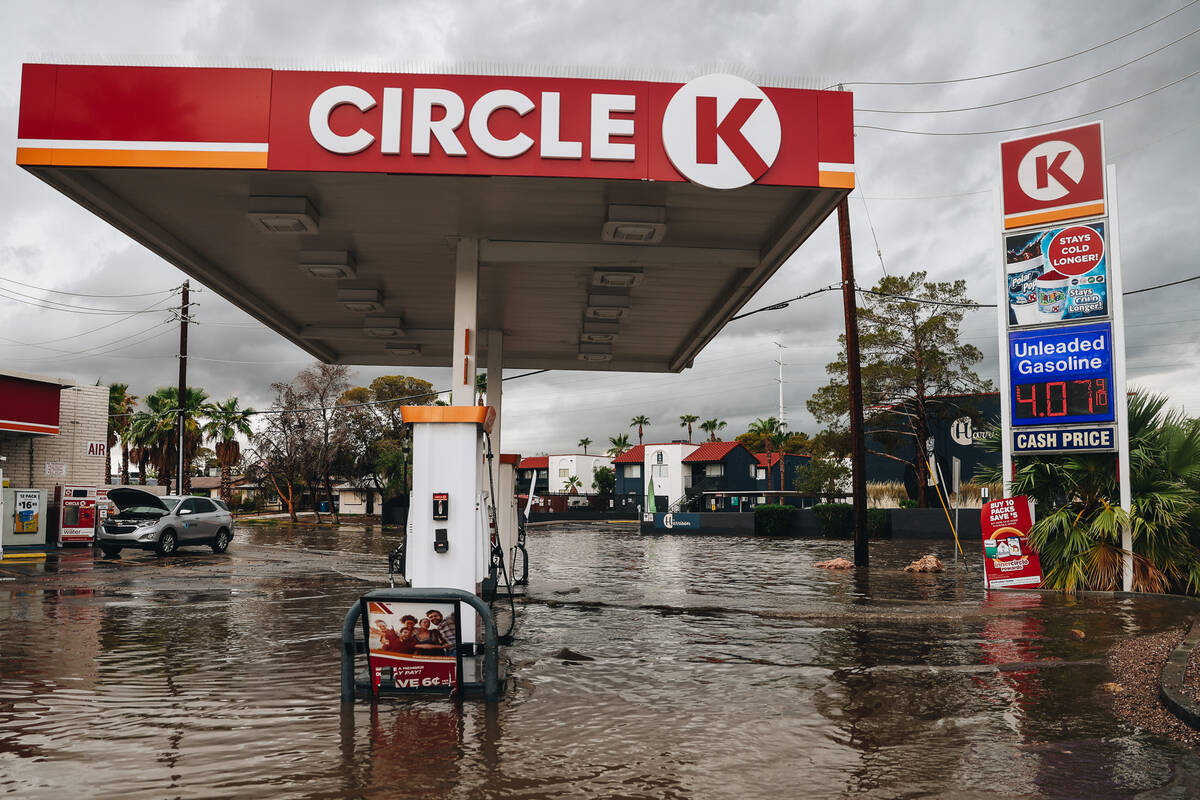 Thunderstorms and showers on Friday sent floodwaters onto roads and intersections in the Las Vegas Valley, delaying hundreds of airline flights at the start of the Labor Day weekend and knocking out power to thousands of utility customers.
In the southwest valley, water basins were nearly full because of the excessive Friday rainfall, according to a Clark County news release sent late Friday.
Motorists are being urged to find alternative routes because of the high water, the county said in the release.
"Water levels in the Tropicana Detention Basin have continued to rise with the storms today; motorists and people are strongly urged to use caution and find alternate routes if possible in the areas surrounding Allegiant Stadium, Tropicana and I-15 to the west to Tropicana and Decatur to the south to Russell and Decatur and Russell and I-15."
Earlier Friday, the National Weather Service issued a flash flood watch for most of Clark County to last through Saturday night and into early Sunday with storms expected to bring from a quarter-inch to more than 2 inches of rain.
More serious flash flood warnings were announced on Friday afternoon for western Clark County for the Goodsprings-Sandy Valley-Mount Potosi area with heavy rain and winds of 40 mph or stronger forecast for the area, the weather service reported.
The southeast side of the valley, including Henderson, east Las Vegas and Sam Boyd Stadium, was also under a flash flood warning Friday.
The on-going flash flood watch for Saturday and early Sunday covers the recently flood-ravaged Mount Charleston area, but it is hard to know "where the storms end up developing and where the strong ones are — hard to see out that far in advance," said Stan Czyzyk, a weather service meteorologist in Las Vegas.
Rainfall from storms early Friday produced flooding, as much as a foot deep, on streets across all across the valley. Parts of eastbound Flamingo Road at northbound Interstate 515, as well as East Cheyenne Avenue at Las Vegas Boulevard North, were closed to traffic, the Nevada Department of Transportation reported.
Flood water flows were also reported on South Rainbow Boulevard and Blue Diamond Road and at The Linq Hotel at 3535 Las Vegas Blvd. South on the Strip near Flamingo. A car appeared to be stuck in water at the intersection of Sahara Avenue and Decatur Boulevard.
The intersection of Alexander Road and Puebla Street was closed Friday and rainfall from the overnight storm caused an 8-foot-by-10-foot sinkhole to open in the northbound lane of Jones Boulevard and Gunderson Avenue in the Spring Valley area, according to county spokesperson Stacey Welling.
The hole exposed a Southwest Gas Co. line, and crews from the county Department of Public Works filled the gap with sand, dirt and rock, and put an asphalt patch over it, but the lane will be closed over the weekend as more rain is expected, Welling said.
'Ground delay for quite a while'
A ground stop had been ordered for flights at Harry Reid International Airport until 5:15 p.m. Friday. Flight delays were averaging 183 minutes.
The three-hour temporary flight halt at Reid affected 353 flights, or 45 percent of its scheduled takeoffs, and 33 flights were canceled, at the start of the busy Labor Day holiday weekend as of about 3 p.m., according to the flight news website FlightAware.
"We had a ground delay for quite a while," said Reid spokesperson Heidi Hayes. As of 8 p.m., 72 outgoing flights and 65 incoming flights were canceled, according to FlightAware.
Meanwhile, the rainstorm led to 52 power outages affecting more than 6,o00 NV Energy customers as of 4 p.m. and then 54 outages affecting 2,555 people at about 5:30 p.m., the utility reported.
The storm also caused or disrupted several events.
The monthly First Friday event in the downtown Arts District was canceled. The Las Vegas Aviators had their first rained-out game in the team's history at Las Vegas Ballpark. The weather also affected high school football across the valley.
Bishop Gorman, the No. 2-ranked team in the country, had its highly anticipated game against No. 6 Miami Central (Florida) pushed back from 7 p.m. until finally kicking off shortly after 8:30. Las Vegas High and Rancho High had their game stopped by a lightning delay early in the second quarter before resuming.
Stronger in some spots
Czyzyk said that some sections of the county will experience from a quarter to one half-inch of rain from Friday to Saturday evening and into Sunday morning, but that "many places will see quite a bit more than that."
Harris Springs and Grapevine Springs, located not far from Mount Charleston, received 2.24 and 3.31 inches of rain respectively, according to National Weather Service meteorologist Brian Planz.
But the town of Mount Charleston was spared from Friday's heavier downpours, getting only 0.59 inches of rain as of 8:3o p.m., Planz said.
Just 10 days earlier, Mount Charleston received between 6 and 9 inches of rain from Tropical Storm Hilary, causing massive road destruction as well as other structural and water system damage to the area.
Likely to be spared
Death Valley National Park, which is closed because of damaging floods from rains brought by Tropical Storm Hilary last month, is not part of the current flood watch because it is not as likely to see heavy rains, he said.
The upper northwest section of the county also is not within the flood watch area, according to Czyzyk.
The weather service forecast for Las Vegas on Saturday called for a 70 percent chance of heavy rain on Saturday and 10 percent Saturday night, with temperatures from 74 to 89 degrees.
"It looks like the heaviest part of the rain for this evening has decreased here in the valley; it seems like the heaviest has shifted off to the north," Planz said just after 8:15 p.m. Friday night. "There's a chance we'll see some rainfall tomorrow afternoon, but it won't be quite as heavy or as widespread as we had today."
Only a slight likelihood of rain is expected on Sunday, and sunny conditions are predicted for Labor Day and clear for the evening, with a projected high of 89 and low of 68.
The weather system emerging in the county comes from the flow of air pushing moisture-filled clouds from the southwest and south, Czyzyk said. "We have a strong trough off the West Coast that's enlarging that flow," he said.
The monsoon weather conditions typical for the season have sent an unusually high amount of rain to the county this year, he said.
Flash flood watches are issued "when conditions are favorable for flooding" and floods are possible, while flash flood warnings are announced "when flooding is imminent or occurring," according to the weather service's website.
Contact Jeff Burbank at jburbank@reviewjournal.com or 702-383-0382. Follow @JeffBurbank2 on X. Review-Journal staff writers Marvin Clemons and Mark Credico contributed to this report.