Heat, humidity build cells that drop light rain on the valley
Updated September 3, 2023 - 5:44 pm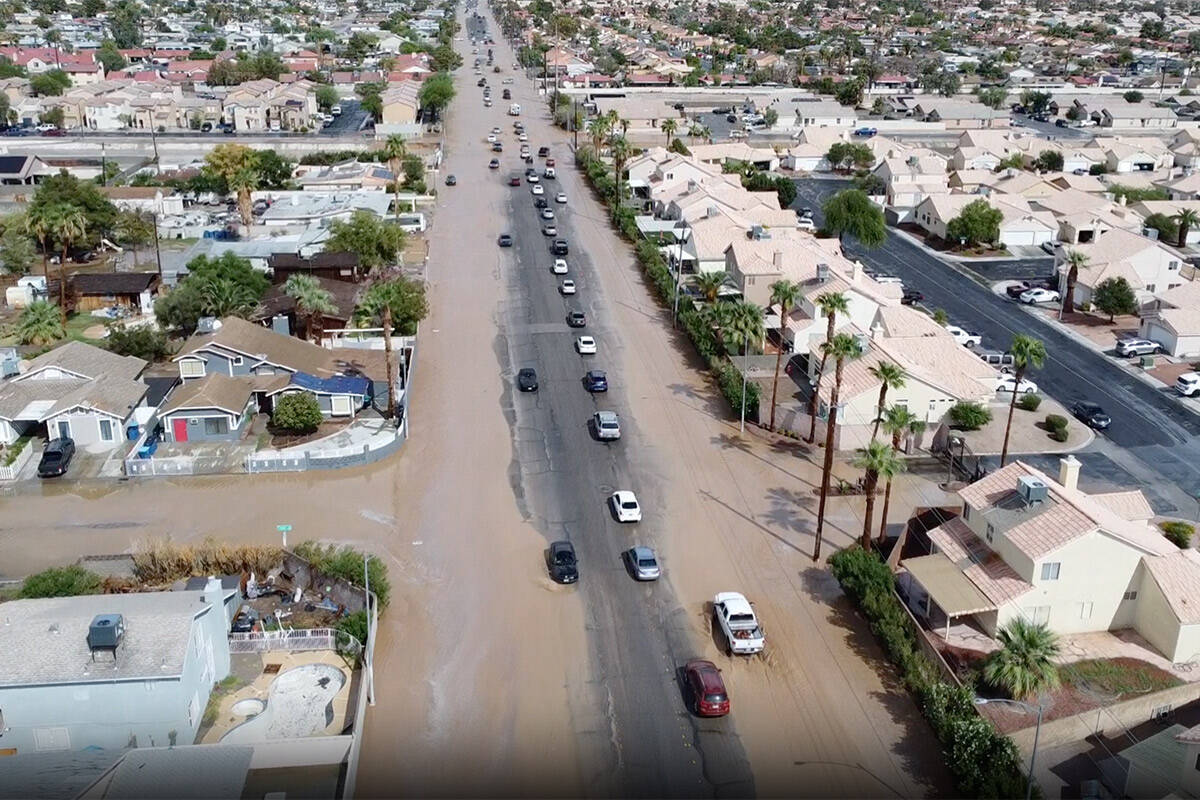 Storm cells are moving briskly across the Las Vegas Valley early Sunday evening.
Heat and humidity helped the storms develop late in the afternoon.
"They should clear out pretty quick and it should be clear after that," National Weather Service meteorologist Jenn Varian said.
The cells moving southwest to northeast dropped light rain with some gauges mainly across the southern half of the valley showing less than .05 of an inch.
The coming week should be dry, according to the weather service.
With one final day of storm activity, watch out for a few stronger storms today – especially across Lincoln county an eastern Clark County. Strong winds and hail will be possible in these areas as our weather system departs the area. #nvwx #azwx pic.twitter.com/zZoNsEd8fV

— NWS Las Vegas (@NWSVegas) September 3, 2023
Valley recovers from heavy rain
Interstate 15 reopened after a 7-hour closure early Sunday morning after heavy flooding made travel on the southbound lanes impossible.
This is I-15 near Jean and Primm. The southbound lane is impassable. That is all water. 👀 pic.twitter.com/XjKQ1KK9rN

— NWS Las Vegas (@NWSVegas) September 3, 2023
As of Sunday morning, the interstate was open in both directions, though debris and water lingered on the shoulders in both directions.
Jean saw over 3 inches of rain in 2 hours Saturday afternoon, according to data from the Clark County Regional Flood Control District.
Flamingo Road near U.S. Highway 95 also experienced flooding that closed lanes Saturday night, but the road reopened around 1 a.m. Sunday. Flamingo Road near Nellis Boulevard was also closed for an hour from flooding Saturday night but reopened around 9 p.m.
No major roads or highways were closed from flooding Sunday morning, according to traffic data from the Nevada Department of Transportation.
Spring Mountains residents still recovering from heavy rainfall from Tropical Storm Hilary that caused major damage to Kyle Canyon, Lee Canyon and Deer Creek roads. A Regional Flood Control District rain gauge showed Mount Charleston received more than two inches of rain between 7 a.m. Friday and 7 a.m. Sunday.
The 2.55" of monsoon precipitation measured at the airport doesn't always tell the full story for the Las Vegas Valley.

Monsoon rainfall often has a lot of spatial variation, so here are the monsoon totals across the valley!

Data courtesy of @RegionalFlood #vegasweather #nvwx https://t.co/9D3380YNhr pic.twitter.com/j0mhCeBMbX

— NWS Las Vegas (@NWSVegas) September 3, 2023
The weather service said Sunday that Las Vegas is on track to have a wetter monsoon season this year than Phoenix. Las Vegas has received 2.42 inches more monsoon rainfall than Phoenix.
Las Vegas has only beaten Phoenix in monsoon rainfall 14 times since 1937, when weather service records began, the weather service said in a post.
Monsoon season runs until Sept. 30.
Contact Marvin Clemons at mclemons@reviewjournal.com. Follow @Marv_in_Vegas on X.
NWS: Seeing soem cells a few over rain less than .05. Moving had a small chacne of osilated and related.
Should clear out
Jenn Varian.