FIELDER'S CHOICES: Naysayers, be quiet: Gorman deserves to win title
October 5, 2016 - 10:10 pm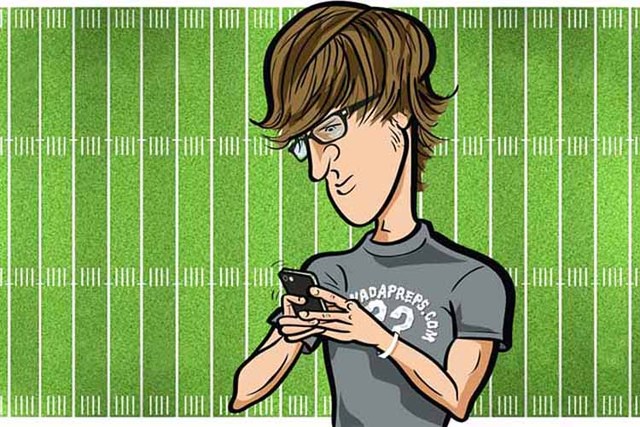 I feel obligated to join the debate about whether Bishop Gorman should be crowned mythical national champions for a third consecutive season.
It seems some prep football fans suddenly want to discredit the Gaels' schedule because Cedar Hill (Texas) isn't as good as people originally thought and St. Thomas Aquinas (Florida) also has two losses.
It's a valid argument. And I totally disagree.
Look, there's no way to accurately determine the nation's best high school team. But as long as we're handing out No. 1 rankings, then the Gaels deserve it.
Maybe Gorman didn't play the best team in California, or the best team in Florida, or the best team in Texas. But the Gaels played more good teams than anybody else, and that's all that matters when it comes to prep football rankings.
I don't know how much longer Gorman's dynasty will continue, so do yourself a favor and watch the Gaels play at least once this season. It's not often you get to see the No. 1 team in Las Vegas. Fifteen years from now, you'll thank me.
My picks haven't been worthy of a No. 1 ranking lately, but I feel good about this week's schedule.
■ Canyon Springs at Las Vegas — My friends at Nevada Preps do a brief preview of the top games each week and wrote that this "figures to be the Northeast League title game." I'll go one step further. This absolutely, positively, categorically, unquestionably, without a doubt is the Northeast League title game.
Canyon Springs been better than I expected under first-year coach Gus "Air" McNair and is undefeated against in-state competition. The Wildcats haven't beaten a team with a winning record, and they won't this week, either. … Canyon Springs by 3.
■ Arbor View at Centennial — Someone needs to sort out the Aggies' rivalries, because I'm confused. Arbor View and the Bulldogs are rivals, but the Aggies also play Legacy in the "Battle of the Bulls" and have a neighborhood beef with Shadow Ridge, too. The whole situation is very Kardashian.
This "rivalry" took on an extra layer of intrigue during the offseason when standout defensive lineman Greg Rogers transferred from Centennial to Arbor View. The Bulldogs' defense is struggling without him. … Arbor View by 17.
■ Silverado at Green Valley — An 0-2 start would pretty much spell doom in the ultra-competitive Southeast League, so this is a must-win game for both teams if they hope to reach the postseason.
The Gators will have to make plays through the air to move the ball against Silverado, which is allowing 39.2 rushing yards per game and 1.8 yards per carry. Green Valley quarterback Kalyja Waialae is my boy, but I'll ride the road team. … Silverado by 2.
■ Legacy at Faith Lutheran — It's still too early to start figuring out which teams can clinch a playoff spot. But three league wins almost certainly would be enough for the Longhorns, so I'll say they are "unofficially" in the postseason with a victory.
The Crusaders have allowed nearly 1,000 rushing yards in their past three games combined and now face Legacy running back Samuel Turner, who went for more than three bills last week against Centennial. Bad timing. … Legacy by 8½.
■ Liberty at Foothill — I have to include this game since both teams are tied for first place in the Southeast League, but I don't expect the Falcons to pull the upset. Or even keep it close.
Foothill has been led this season by running back Blake Wilson and quarterback Jordan Wilson. Throw in one more Wilson, and the Falcons could be like The Beach Boys. They're an old singing group. Ask your grandparents. … Liberty by 23.
■ Cheyenne at Desert Pines — The winner is all but assured of earning the top seed for the playoffs from the Class 3A Sunset League.
The Desert Shields enter on a three-game winning streak and appear to have found some balance on offense. Quarterback Matthew LaBonte threw for 222 yards and three touchdowns last week after Corwin Bush and Deriontae Green combined for 232 rushing yards and two TDs the week before.
Let's be honest, though. The Jaguars are the much better team. … Desert Pines by 25.
■ Sunrise Mountain at Pahrump Valley — This is the start of a difficult closing stretch for the Miners, who are tied with Cheyenne and Desert Pines atop the 3A Sunset League standings.
Sunrise Mountain made the difficult trip to Pahrump last season and came away with a win. There's no reason to believe the Miners can't do it again. … Sunrise Mountain by 4.
■ Mojave at Western — One of these teams is going to get its first win of the season. I'm rooting for the Warriors, but I can't pick against the Rattlers' stout defense. … Mojave by 9.
■ Tonopah at Pahranagat Valley — I decided to throw in some bonus eight-man action this week since the Muckers and Panthers square off with first place in the Class 1A Southern League at stake.
Tonopah averages more than 400 yards rushing per game and hasn't scored fewer than 52 points in a game this season. Could we see the end of The Streak? Nah. … Pahranagat Valley by 15.
Last week: 6-2, 4-4 (with points)
Season: 36-12, 32-16 (with points)
Contact Fielder at Fielder@nevadapreps.com. Follow him: @FielderNVP