Friday's high school scores, top performances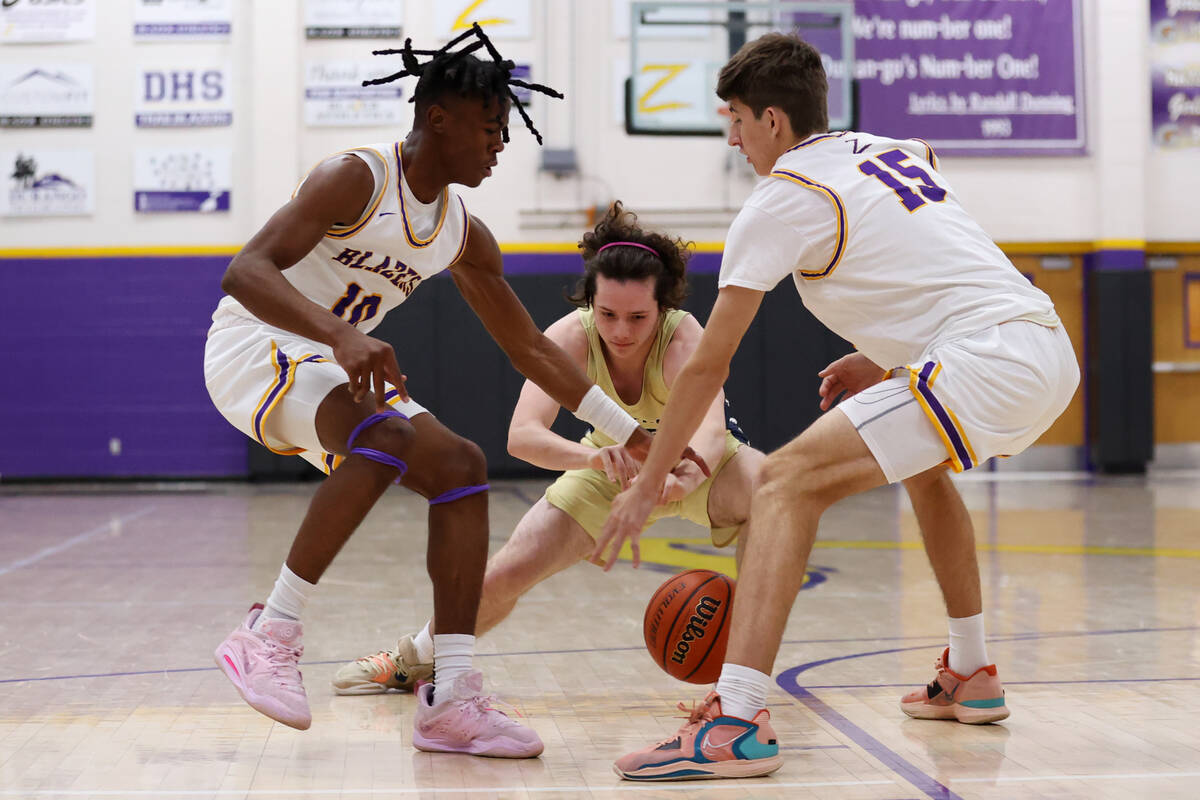 Friday's top high school basketball performances:
Boys
Zak Abdalla, Foothill: The sophomore guard logged a game-high 28 points in the Falcons' 69-54 loss to Durango.
Osvaldo Biebrich, Spring Valley: The senior posted 15 points and 10 rebounds in the Grizzlies' 67-58 win over Faith Lutheran.
Emmanuel Jefferies, Sloan Canyon: The senior scored 22 points to help the Pirates edge Boulder City 57-53.
Tylen Riley, Durango: The senior guard scored 22 points to help the Trailblazers defeat Foothill 69-54.
Jelani Wilks, Western: The senior finished with 23 points and 11 rebounds to help the Warriors cruise to a 74-26 win over Sunrise Mountain.
Girls
Sanai Branch, Arbor View: The freshman forward poured in 38 points to lead the Aggies to an 82-34 victory over Sunrise Mountain.
Dazani Graham, Cimarron-Memorial: The junior guard collected 12 points, eight steals, seven rebounds and seven assists while leading the Spartans to a 53-35 victory over Cheyenne.
Kailani Martinez, Pahrump Valley: The junior scored 18 points to help lift the Trojans to a 39-26 win over Moapa Valley.
Halle McKnight, Palo Verde: The senior finished with 12 points, five assists and five steals to lead the Panthers past Green Valley 53-28.
Arlene Olivares, Sierra Vista: The junior guard had 10 points to help the Mountain Lions beat Western 48-21.
Scores
Boys
Sloan Canyon 57, Boulder City 53
Somerset-Losee 66, Cadence 24
Canyon Springs 76, Basic 41
Spring Mountain 62, Mountain View 17
Durango 69, Foothill 54
Sky Pointe 45, Tech 24
SLAM Nevada 51, Virgin Valley 38
Spring Valley 67, Faith Lutheran 58
Western 74, Sunrise Mountain 26
Mineral County 53, Beatty 42
Girls
Arbor View 82, Sunrise Mountain 34
Somerset-Losee 58, Cadence 22
Cimarron-Memorial 53, Cheyenne 35
Sandy Valley 30, Mountain View 24
Pahrump Valley 39, Moapa Valley 26
Palo Verde 53, Green Valley 28
Sierra Vista 48, Western 21
Lincoln County 58, Awaken Christian 27