Proposal would make 5A basketball for Southern schools only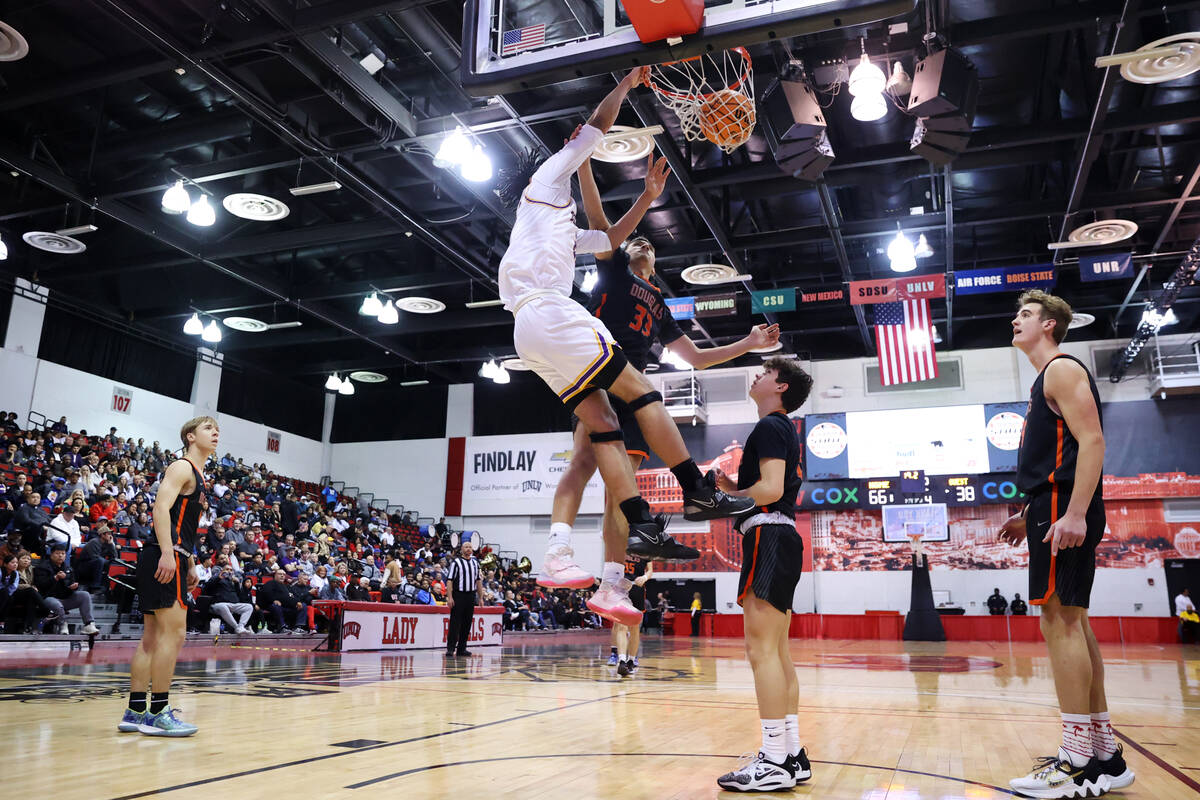 Big changes are on the way for Nevada high school basketball.
The Nevada Interscholastic Activities Association Realignment Committee gave preliminary approval Tuesday for Class 5A boys and girls basketball to be made up of only Southern teams for the upcoming two-year cycle.
Class 5A Northern boys and girls basketball teams would drop down to 4A and play against 4A Southern teams for state championships. The decision came at an NIAA Realignment Committee meeting in Reno that began the realignment process for winter sports, which would go into effect next school year.
Based on the NIAA's rubric points system, 11 boys basketball teams will make up 5A: Bishop Gorman, Liberty, Durango, Coronado, Mojave, Las Vegas High, Desert Pines, Spring Valley, Arbor View, Silverado and Foothill.
Mojave, Las Vegas High, Spring Valley and Silverado would move up from 4A to 5A. Centennial, Canyon Springs, Palo Verde, Clark and Faith Lutheran would drop from 5A to 4A.
Class 5A Southern boys basketball teams are 11-1 in matchups against 5A Northern teams over the last two years. Of the 12 matchups, only two were decided by 12 points or fewer.
In girls basketball, 13 teams would make up 5A: Centennial, Liberty, Coronado, Spring Valley, Bishop Gorman, Desert Oasis, Faith Lutheran, Shadow Ridge, Las Vegas High, Desert Pines, Clark, Palo Verde and Arbor View.
Las Vegas High, Desert Pines, Clark, Palo Verde and Arbor View would move up from 4A to 5A. Legacy, Foothill, Green Valley and Canyon Springs would drop down to 4A from 5A.
At last month's 5A state tournament, all four Southern teams won their semifinal games against Northern teams by an average margin of 28.5 points.
A Northern boys basketball team hasn't won a state title in the top division since 2008, and a Northern girls team hasn't won since 2014.
The committee approved realignment placements for the other winter sports — wrestling, flag football and boys and girls bowling — and playoff tournament formats for all winter sports.
Under the 5A basketball postseason format, eight teams would qualify for the playoffs.
In 4A, 12 teams would qualify for the Southern League playoffs. Two 4A Southern teams would qualify for the state tournament when it is held up North, as it will be next year. Three 4A Southern teams will qualify when the state tournament is in the South.
Schools will have a chance to appeal their winter sports placements at a meeting March 15. The proposed realignment is still pending final approval from the NIAA Board of Control, whose next meetings are April 12-13.
Less than a week ago, the NIAA approved a high school football realignment that would separate Class 5A into three divisions and add two state championships. The top division, Class 5A Division I, is made up of only Southern schools.
Postseason formats for boys and girls cross country, girls golf, boys and girls soccer, boys and girls tennis and girls volleyball were also approved at the meeting.
Contact Alex Wright at awright@reviewjournal.com. Follow @AlexWright1028 on Twitter.