Recruiting Notebook: State's top prospect considering UNLV
Updated May 8, 2023 - 3:39 pm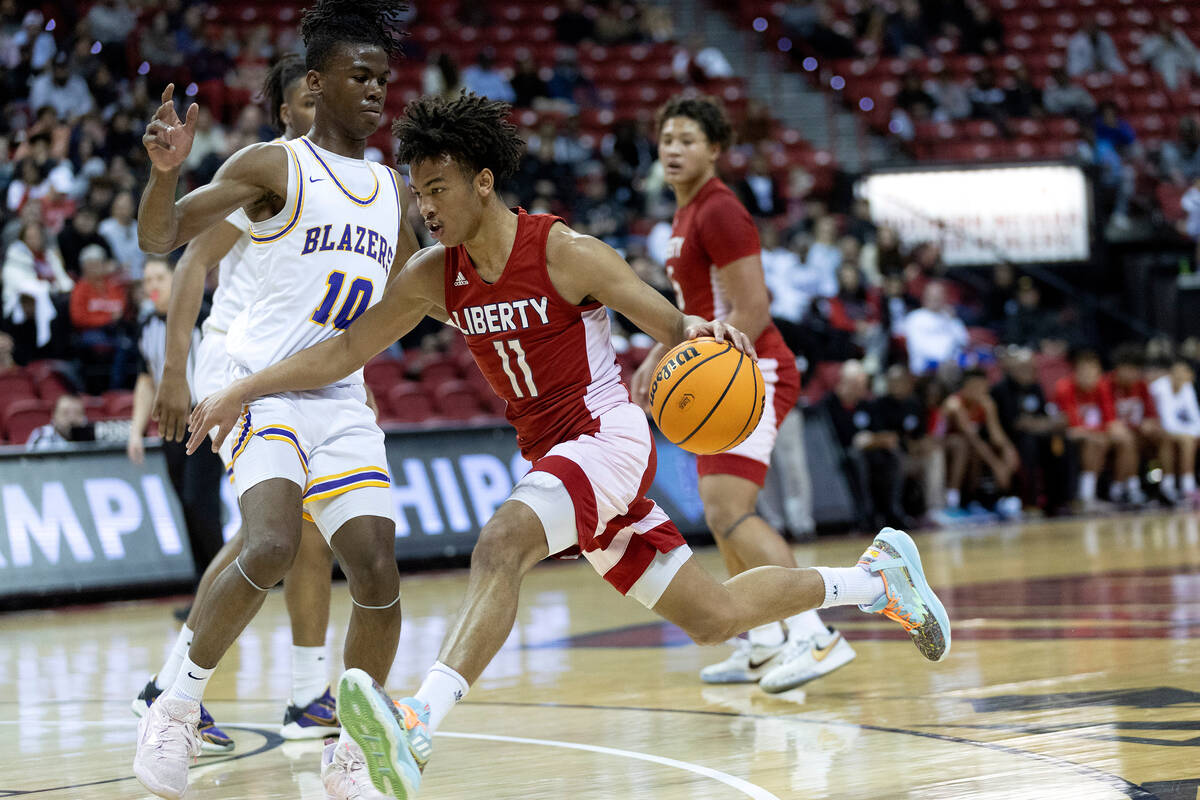 Liberty point guard Dedan Thomas Jr. has a pair of important decisions to make.
Thomas, a four-star Class of 2024 prospect by 247Sports and the top high school basketball recruit in Nevada, is still deciding where he'll commit to college.
He's also pondering if he'll reclassify to the Class of 2023 and graduate from high school a year early.
"I just have to make sure it's the right situation," Thomas said. "I just have to make sure it's the best fit for me in the best situation for my future."
He said the wait for his decision won't be long. "It's coming soon," Thomas said.
Thomas announced his top six schools last year: UNLV, Gonzaga, Houston, Arizona, Florida and UCLA. Though he recently received an offer from Alabama, Thomas said he was focused on his top six.
UNLV coach Kevin Kruger and his assistants have been present at several of Liberty's games. Thomas said he's developed a "great relationship" with Kruger and his staff.
He believes he could have a good connection with Kruger at UNLV. He cited Kruger's experience as a point guard when he was a player at the school.
"They're starting to build something over there (at UNLV)," Thomas said. "They'd like me to be a part of it. They just have really great people over there. I feel like what they're building is special."
Thomas hasn't taken any recent visits or is planning to make any more soon. He said he's focused on coming to a decision.
Thomas' dad, Dedan Sr., was a former standout player at UNLV. The younger Thomas said his father has reminded him throughout the recruiting process to do what would make him happy.
"I just want to be somewhere where I feel comfortable," Thomas said. "Where I can be myself and I have people around me that I can trust and be myself."
Thomas, who recently played with his AAU team, Dream Vision, said he's working on getting stronger and more explosive.
"It's just showcasing how much better I've gotten since the school season ended and showing people that I'm able to score the ball because people think I'm just the point guard," Thomas said.
Gaels rule NFL draft
Bishop Gorman's football dominance reached last week's NFL draft. The NFL announced that Gorman had the most players drafted (three) of any high school.
Wide receiver Cedric Tillman was drafted by Cleveland in the third round where he will join quarterback Dorian Thompson-Robinson, who Cleveland drafted in the fifth round. Baltimore drafted defensive back Kyu Blu Kelly in the fifth round.
In total, four Las Vegas high schools had players drafted.
Desert Pines had two — tight end Darnell Washington (Pittsburgh, third round) and defensive back Jordan Howden (New Orleans, fifth round).
Faith Lutheran tight end Dalton Kincaid (Buffalo, first round), and Liberty offensive lineman Malaesala Aumavae-Laulu (Baltimore, sixth round), were also drafted.
Thatcher adds offers
Arbor View sophomore linebacker Christian Thatcher's offer list continues to grow.
Thatcher, a four-star prospect by 247Sports, added offers from Southern California, West Virginia and Colorado last week.
A 6-foot-2-inch, 195-pounder, Thatcher led the state in tackles (133) last season and has 17 Division-I offers.
Thatcher has offers from other high-profile programs, including Oklahoma, Texas A&M, Missouri, Arizona and Utah.
Degourville's interest growing
After helping lead Durango to a state title, Taj Degourville's stock continues to rise.
Degourville received offers from Southern California, Oklahoma and Iowa last week.
A three-star prospect by 247Sports, the 6-foot, 4-inch junior has 16 Division-I offers. Other schools interested in him include California, San Diego State, UNLV and UNR.
Contact Alex Wright at awright@reviewjournal.com. Follow @AlexWright1028 on Twitter.