Amended gay marriage bill approved in Nevada Senate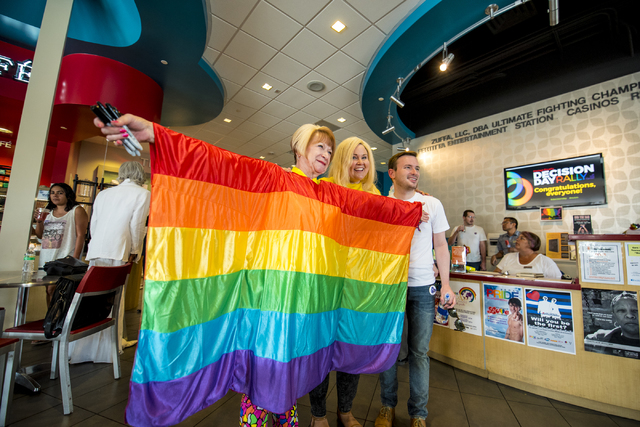 CARSON CITY — The Nevada Senate on Monday approved a proposed constitutional amendment recognizing same-sex marriage, a preemptive move to protect gay marriage should the U.S. Supreme Court overturn its previous ruling.
Assembly Joint Resolution 2 passed 19-2 after it was amended to include an exemption stipulating religious organizations and clergy could not be forced to solemnize gay marriages.
Republican Sens. Joe Hardy of Boulder City and Don Gustavson of Sparks voted no.
It now goes back to the Assembly to concur with the Senate's amendment. It was approved earlier in the Assembly 27-14, with Republican Lisa Krasner of Reno in support. The resolution would have to be approved by the Legislature again in 2019 before it is sent to voters for ratification in 2020.
Introduced by Assemblyman Nelson Araujo, D-Las Vegas, AJR2 also would repeal a constitutional provision passed by voters in 2002 that defined marriage as between one man and one woman.
The U.S. Supreme Court legalized gay marriage in June 2015. But there are concerns about the future legality of gay marriage in the U.S. under Republican President Donald Trump and potential vacancies on the high court under his administration.
A similar constitutional amended in Nevada was approved by the Democrat-controlled Legislature in 2013, but died two years later when the chambers flipped to GOP control.
Speaking Monday on the floor of the Senate, Sen. Tick Segerblom, D-Las Vegas, called marriage equality "the last civil rights issue in our country." He said language in the constitution defining marriage as between a man and a woman is "a black mark on the state of Nevada" and legitimizes discrimination.
Sen. Scott Hammond, a Las Vegas Republican who voted against the 2013 proposal, said the vote was difficult for him in some respects because he holds dear the sanctity of marriage in a religious context. But he praised sponsors for their willingness to include "a very important religious exemption," and said he respects the Supreme Court ruling that legalized gay marriage, and the beliefs of his gay and lesbian friends.
"I do know that it was meaningful for them to have their love recognized and their relationships recognized by society," Hammond said before urging his colleagues to support the resolution.
Contact Sandra Chereb at schereb@reviewjournal.com or 775-461-3821. Follow @SandraChereb on Twitter.