Dealings continue at Nevada Legislature in battle to fund ESAs
Updated May 26, 2017 - 3:28 pm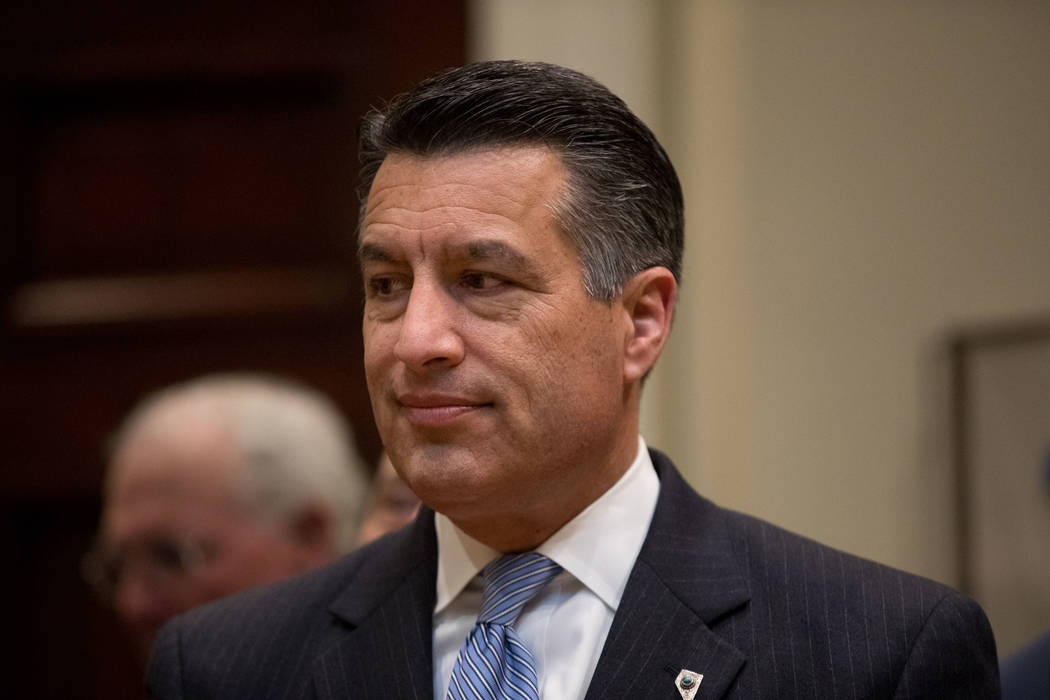 In an effort to ensure their priority bills avoid the veto hammer, Democrats likely must approve a program they abhor.
Nevada's education savings account program sits in limbo as Democrats and Republicans try to find middle ground on funding with days remaining in the 2017 legislative session. Democrats have the majority in both the Assembly and Senate, but not the two-thirds supermajority needed to override a veto.
Sources with knowledge of the negotiations say they expect Democrats to settle on an ESA funding measure of $20 million to $30 million — a fraction of the $60 million Gov. Brian Sandoval requested. And they say the program will likely have a more restrictive application system, something akin to a sliding scale based on family income rather than the current open-application process.
GOP caucus leaders have indicated the governor is willing to press on the throat of the issue to make sure his landmark program gets funded.
"We are not leaving until that happens, " Senate Minority Whip Scott Hammond, R-Las Vegas, told Nevada Newsmakers in a recent interview.
Republicans have threatened to vote against any budget that doesn't include funding for the program.
"No ESA funding … No Budget," Senate Minority Leader Sen. Michael Roberson said in January.
But to get funding, Sandoval will likely have to sign off on Democratic priorities such as minimum wage, workers' rights and criminal justice reform.
Sandoval said both Assembly Speaker Jason Frierson and Senate Majority Leader Aaron Ford have been willing to work with him to amend measures they want passed so he will consider signing them into law.
"This has been an ongoing conversation on a variety of issues," he said. "Nothing happens in a vacuum."
With 10 days remaining in the Legislature, time for dealing is dwindling. And how those deals play out over the final days is anyone's guess.
Negotiations
Created in 2015, the ESA program would give parents a portion of the state per-pupil funding allow parents to spend that money on private or religious school tuition. The state Supreme Court ruled the program is legal, but funding cannot come out of the state's public education budget.
Democrats have uniformly opposed the program, saying they disagree with using public tax money to pay for private schools.
"I do think it's inappropriate to ask for public money on the one hand and not want to comply with our anti-discrimination laws on the other hand," Ford said in a hearing Thursday about an amended bill to exempt private schools from anti-bullying training.
But Ford may have to approve an ESA funding plan so Sandoval does not veto Democratic priorities.
For most of the session, the two sides could not have been further apart on a deal. But as the Legislature nears its finale, the sides inch closer to a deal.
In March, Ford vowed that Senate Bill 359, to fund education savings accounts, would not be heard. But state Sen. Joyce Woodhouse, D-Henderson, who leads the finance committee, told reporters this month that the governor's funding bill — identical to SB 359 — would get a hearing.
Sandoval also appears to softening on some issues.
One of Ford's top priorities has been raising minimum wage from $7.25 an hour up to $11 or $12 depending on if the employer offers health insurance. Sandoval has repeatedly stated his opposition to any increase, but he told The Associated Press last week that for the first time in his seven years in office, he will consider raising the minimum.
Sandoval also said he is working with Frierson, D-Las Vegas, on a bill that would restore voting rights to felons.
Last-ditch campaigns
Lawmakers may be working towards a deal, but advocates on either side of the ESA fight are gearing up for a bitter political fight to end the legislative session.
The political arm for the American Federation for Children has run digital ads throughout the session promoting ESAs. And digital video ads from the group are planned to run next week featuring testimonials supporting the program.
The Nevada State Education Association, the state's teachers union, has mailed fliers throughout the session trying to sway public opinion against the program.
What happens next
Both houses suspended their procedural rules for the Legislature's final weeks, which is not uncommon at the end of a session. Bill hearings no longer have to be posted before they can be heard.
That means an ESA funding bill, be it Sandoval's Senate Bill 506 or a yet-to-be-seen emergency bill, could be brought up at anytime, heard and voted on at an instant's notice.
That likely won't happen until that compromise is reached and Republicans know they have enough votes to pass the bill. And getting the Democratic votes needed to pass an ESA funding bill could be difficult.
In the Senate, two non-Republicans would need to vote for it. State Sen. Patricia Farley, now an independent, voted for the ESAs in 2015 as a Republican. The road in the Assembly might be bumpier. Republicans will need to flip seven Democrats and keep every Republican on board.
Denise Lasher, a senior adviser with American Federation for Children spent two days in Carson City with a group of Southern Nevadan pastors lobbying Democrats for their support.
Some Democrats openly shared their distaste for ESAs, Lasher said, but she believes a few Democrats might be coming around to the idea.
"I was really impressed that so many of them were going to keep an open mind on it," Lasher said. "They didn't say "No, absolutely not.'"
Sean Whaley contributed to this report. Contact Colton Lochhead at clochhead@reviewjournal.com or 702-383-4638. Follow @ColtonLochhead on Twitter.
Related
Thorny issue of ESA funding looms as clock ticks for Nevada Legislature
Panel signs off on major spending plan for Nevada schools
Legislature moves leave ESA funding bill homeless
Nevada GOP leader vows no vote on budget without ESA money
Nevada Democratic leaders giving little thought to Sandoval's ESA bill