Gov. Sandoval rules out special session of Nevada Legislature
Updated June 2, 2017 - 7:47 pm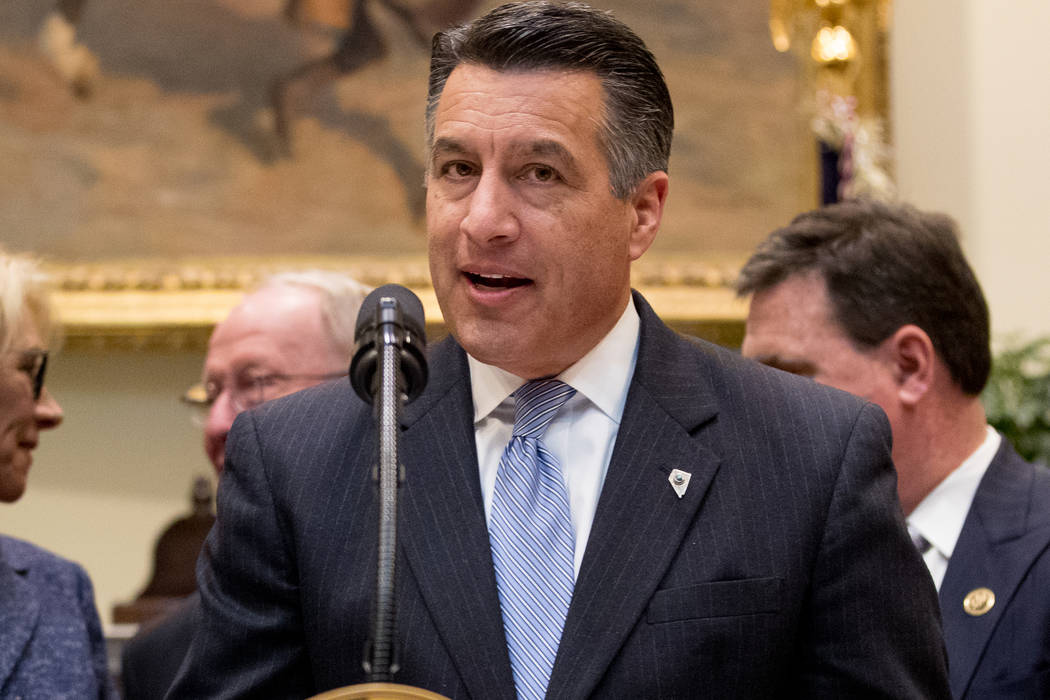 CARSON CITY — Gov. Brian Sandoval said Friday there will be no special session of the Nevada Legislature but didn't comment further on a partisan blowup over education savings accounts that disrupted the session's final days.
"Here's news for you," Sandoval told a handful of reporters who gathered in his office to get a list of bills he signed late Thursday. "No special session. The session will end Monday midnight."
The two-term Republican took no questions and did not comment further before heading into his office with Chief of Staff Mike Willden.
Only the governor can call a special session to give legislators more time to deal with issues he thinks are important. Otherwise, the Legislature by law must adjourn sine die — or indefinitely — by midnight Monday.
With just days to go, politics erupted Thursday over negotiations to implement a Republican priority establishing education savings accounts, or ESAs. The voucher-like program would allow parents to tap taxpayer dollars to send their children to private school or pay for other alternative education programs.
Republicans, who are in the minority in both the Senate and Assembly, pledged before the session began that they would oppose passing a budget unless ESAs are funded. Democrats have maintained their resolve that public dollars should be spent on Nevada's public education system.
Later Friday, Sandoval spent about 10 minutes taking questions from reporters. Sandoval didn't say whether he would sign a budget without ESAs.
"Waiting to see what happens," he said. "It's too early to answer that question."
The divide exploded on the Senate floor Thursday, when Republicans twice blocked passage of a proposed 10 percent tax on recreational marijuana, leaving an estimated $70 million funding gap in the education budget.
Nine Republican senators then left the floor, and Democrats moved to amend the budget by removing $60 million Sandoval had proposed for ESA implementation.
They then passed the K-12 funding bill, Senate Bill 544, on a 12-0 vote with Republicans absent.
On Friday, the Assembly followed suit, passing the bill on a party-line 27-15 vote, sending the bill to Sandoval for his signature or veto.
Assembly Minority Leader Paul Anderson, R-Las Vegas, argued during debate on the measure that the Education Savings Accounts funding was part of an overall plan approved by lawmakers in 2015 to "move the needle" and improve the state's bottom-of-the-barrel education performance.
When the funding mechanism was deemed unconstitutional, Gov. Brian Sandoval and Republicans pursued funding for the program this session.
But ESAs are not in the budget, Anderson said.
As a result, Anderson said he cannot vote for the bill. His 14 GOP colleagues joined him.
Assemblywoman Olivia Diaz, D-North Las Vegas, argued in support of the measure, saying devastating cuts were forced on Nevada's public schools a decade ago.
"We must invest in public education in this state," she said.
The budget provides almost $164 million more for public education, Diaz said.
GOP vote against veterans home blasted
The rancor was also on display Friday as Democratic lawmakers gathered in front of the Legislative Building to denounce a vote on Thursday in which Republican senators defeated the capital improvements budget proposal, Senate Bill 546, as part of their backlash over the ESA impasse. The bill included $33 million for a 96-bed veterans home in Sparks. The bill, which needed 14 votes to pass, was defeated by a 12-9 party-line vote.
Three lawmakers, all veterans, called the vote political posturing that hurts a project that would help aging veterans who made sacrifices for their country. They were joined by Graham Stafford, 71, a Navy veteran from Reno.
There was "absolutely no good reason," for the vote, said Sen. David Parks, D-Las Vegas, an Air Force veteran.
"It's time to stop the nonsense of partisan political games and it's time now for the Republicans to give our veterans the home that they deserve and pass this bill," said Sen. Pat Spearman, D-North Las Vegas, a retired Army officer.
Lawmakers pointed out that the drive to build a veterans home in Northern Nevada had previously been a bipartisan effort that the Legislature pumped $14 million into in 2015.
"It hasn't ever been caught up in any of the stuff that happens around here when tempers get hot so I never thought that we'd ever be in this situation," said Assemblyman Elliot Anderson, D-Las Vegas.
"Things that happen in this building have serious consequences to the outside world," said Anderson, a Marine Corps veteran. "Sometimes it can be hard to understand that in the heat of the moment but I think as policymakers we need to remember that people count on us for what happens here and we can't let this get caught up in partisan games and I think it's just important to get this done."
Sandoval's disappointment
Sandoval said the veterans home is an important effort in the capital improvement projects bill, among other projects. He said conversations with legislative leadership will continue about the issue, though he declined to elaborate on the substance of the talks at this point.
Sandoval expressed a mixture of disappointment that the ESA bill was defeated, but optimism that an ESA bill is possible.
"We worked hard for the last several weeks to try to come up with something," Sandoval said. "I thought we'd reached an agreement and then we didn't, so I was really disappointed."
The governor said he was surprised and doesn't know why the proposal faltered.
"I honestly don't know," he said. "I thought we had an agreement and I was looking forward to closing this session down."
Yet Sandoval isn't writing off an ESA bill.
"No I have not," Sandoval said, when asked if he's given up hope for a bill. "I'm always optimistic."
But a special session doesn't appear to be in Sandoval's playbook, which means he's got three more days.
"We need to be done," Sandoval said. "We need to be finished. There's no reason to call a special session."
Pressed on whether he'd call a special session for ESAs, Sandoval said: "I won't call a special session. We should be able to get our business done."
At the same time, Sandoval said he won't veto bills as a means of getting ESAs through. He noted his vetoes of bills have detailed, thoughtful veto messages with them.
"I don't just say 'veto,'" Sandoval said, adding he's signed Democrat-sponsored bills passed with partisan votes.
Ever an optimist, the governor is holding out hope for an ESA deal.
"I'm hopeful the Democrats may have a change of mind," he said.
This is a developing story. Check back for updates.
Review-Journal Capital Bureau reporter Sean Whaley contributed to this story.
Contact Ben Botkin at bbotkin@reviewjournal.com or 702-387-2904. Follow @BenBotkin on Twitter. Contact Sandra Chereb at schereb@reviewjournal.com or 775-461-3821. Follow @SandraChereb on Twitter.
Governor controls special sessions
Under the state Constitution, the Nevada Legislature meets only in odd-numbered years.
Sessions begin on the first Monday in February and are limited to 120 calendar days. The 2017 Legislature must end by midnight June 5. Any bill left hanging will die.
The governor can call a special session to give legislators more time on issues he thinks are important. The governor sets the agenda for a special session, dictating what legislators can consider and act upon.
Legislators can call themselves into special session with a petition signed by two-thirds of members in both the Assembly and Senate.