More jobs boost economic forecast for Nevada legislative budget
Updated May 1, 2017 - 3:20 pm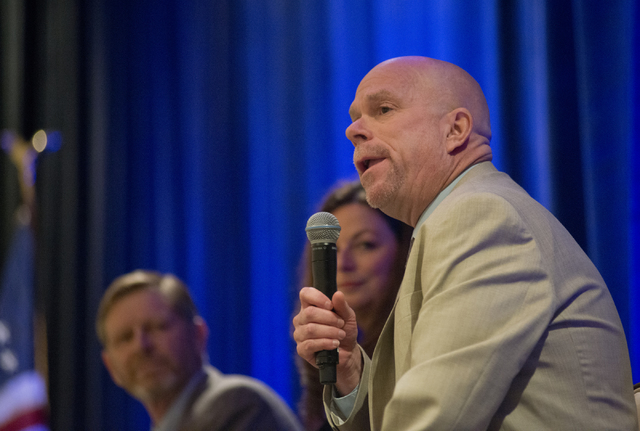 CARSON CITY — It was Christmas in May in the Nevada Legislative Building on Monday as a panel of fiscal experts determined that state tax revenues will be higher than projected in December — to the tune of about $96 million.
It was not as much as state lawmakers would have liked, but it is the first time in years that there may be additional money to spend on their priorities. The revenue projections of just under $8 billion set by the Economic Forum are the final piece of the puzzle needed for the Legislature to approve a new two-year budget and finish its work by June 5.
At least some of the additional revenue will likely be allocated by lawmakers to their budget priorities, or to special funding measures contained in dozens of bills awaiting potential action in the Senate Finance and Assembly Ways and Means committees.
The revenue estimate, combined with a 10 percent retail tax on recreational marijuana proposed by Gov. Brian Sandoval along with some other minor budget changes, would put the state general fund budget at about $8.2 billion for fiscal years 2018 and 2019. The new budget will take effect July 1.
The current two-year budget is $7.3 billion.
Sandoval, lawmakers weigh in
Sandoval said he was encouraged by the new projections as proof of a strong state economy, but he noted that there are unanticipated demands for the additional revenue, including in corrections and emergency response.
But Sandoval said he would like to see the bulk of the new funding go to public education needs.
"I introduced the weighted student funding formula last session, and this additional money provides a unique opportunity to invest directly in students who are economically disadvantaged, English learners, gifted and talented and in special education," he said. "This is a student-first formula where funding follows a student and is based on their specific needs."
Democratic leaders in the Senate and Assembly said the new projections are encouraging for the state, despite falling short of need.
"While these newly projected revenues will not be enough to fully meet our needs in public education, mental health, job training, and other vital services, we are committed to putting our tax dollars to work for the hardworking Nevadans who still feel left behind," said Assembly Speaker Jason Frierson and Senate Majority Leader Aaron Ford, both Las Vegas Democrats, in a joint statement.
Improved economy, more jobs
Forum members were given good economic news at their meeting, including Nevada's job growth.
Bill Anderson, chief economist for the state Department of Employment, Training and Rehabilitation, said the economic and jobs pictures for Nevada have improved since projections were made last December, which justifies a bump in tax revenues.
Anderson's report shows that 212,300 jobs have been added in Nevada since the recession, a recovery from the 185,700 jobs lost during the economic slowdown. Nevada has the fourth-fastest private sector job growth in the country, and the unemployment rate is down almost 9 percentage points from the recession, he said.
But forum Chairman Ken Wiles noted that the projections are subject to uncertainties coming from Washington, D.C., including health care and regulatory stimulus, among many other issues.
Where will it go?
Nevada lawmakers won't likely have as much money to allocate to their priorities as the new tax revenue numbers might suggest, however.
On Monday, the legislative website posted dozens of new bills requested for drafting that are needed to close the budget. Several are supplemental appropriations for shortfalls in various budgets that will consume some of the revenue. But the forum projected $44 million more in tax revenue this fiscal year, which will help with these unanticipated needs.
Several requests would cover unexpected costs to state agencies dealing with the flooding in Northern Nevada this year. Another would cover the cost of unexpected enrollment increases in public education in the current budget.
Another measure sets aside funding for an official portrait of Sandoval when he leaves office in early 2019.
Contact Sean Whaley at swhaley@reviewjournal.com or 775-461-3820. Follow @seanw801 on Twitter.