Yucca Mountain resolution deemed vital, Nevada assemblyman says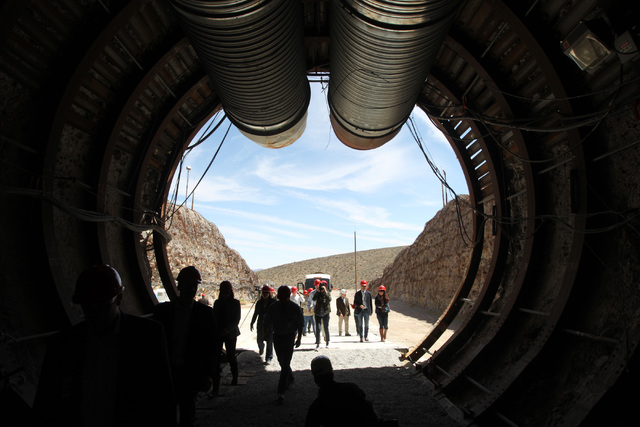 CARSON CITY — State senators are moving closer to formally voicing objections to storing spent nuclear fuel and radioactive waste at Yucca Mountain.
Assembly Joint Resolution 10 protests any attempt Congress makes to move forward with the repository and asks President Donald Trump to veto legislation that would bring nuclear waste into Nevada. The Senate Commerce, Labor and Energy Committee heard the resolution, sponsored by Assemblyman Chris Brooks, on Monday.
"Congress needs to understand the severity of the situation," Brooks, D-Las Vegas, told lawmakers, adding that storing nuclear waste at Yucca Mountain would be "catastrophic for Nevada's tourism economy."
The concerns about Yucca Mountain come amid a push to permanently store the 77,000 metric tons of waste in nuclear reactors across the country. In his budget for fiscal year 2018, which begins Oct. 1, Trump called for $120 million to revive construction of the Yucca Mountain site, as well as development of an interim nuclear waste storage program.
Nevada's entire congressional delegation opposes opening the mothballed Yucca Mountain project. Several rural counties surrounding the Nye County site support reopening Yucca Mountain, which was defunded in 2012.
Yucca Mountain, about 100 miles northwest of Las Vegas, is the only site federal scientists have studied in-depth for burying used nuclear fuel assemblies from nuclear power plants nationwide.
Bob Halstead, executive director of the Nevada Agency for Nuclear Projects, gave lawmakers a presentation about the history of Yucca Mountain, including recent developments and efforts in Washington to restart it.
"It's critically important that Nevada send a message to the rest of the country," he said.
If efforts to store nuclear waste in Yucca Mountain progress, he said, "we intend to defeat them in licensing."
"The licensing is where the law and the facts come together," he said.
Representatives for the Nevada Conservation League and the Las Vegas Metro Chamber of Commerce testified in support of the resolution. No one opposed the measure.
The Senate committee didn't act on ARJ10 on Monday. The legislation passed the Assembly with a 32-6 vote.
What exists at Yucca Mountain now
A 5-mile exploratory tunnel is at the site. It cannot be used for storage or disposal.
More than 40 additional miles would be necessary to operate the site.
Source: Nevada Agency for Nuclear Projects.
Contact Ben Botkin at bbotkin@reviewjournal.com or 775-461-0661. Follow @BenBotkin1 on Twitter.
RELATED
Nevada's proposed Yucca Mountain nuclear waste repository may be gaining momentum under President Trump
Yucca Mountain not included in federal spending bill
Nevada officials face challenge stopping revival of Yucca Mountain