Bonaventura-Collins recording raises larger questions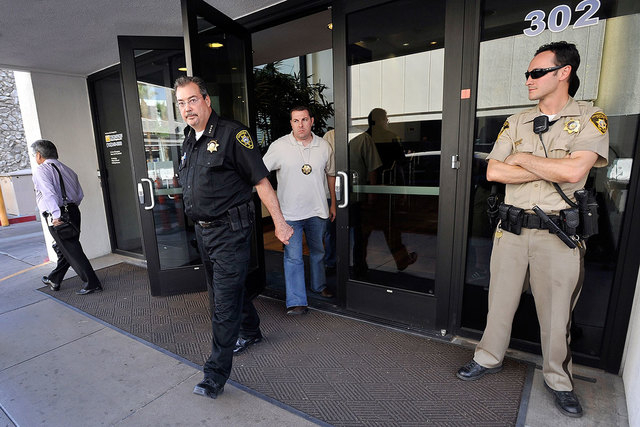 Las Vegas Township Constable John Bonaventura and Clark County Commissioner Tom Collins have unintentionally provided so many punch lines during their political careers that it would be easy to write off their latest episode as just another bit of tired lounge comedy.
Martin and Lewis, they aren't. Nor are they Chip and Dale. After Collins' tirade during the Cliven Bundy circus and Bonaventura's mismanagement of the constable's office, Heckle and Jeckle come to mind.
You couldn't be blamed for reading the names, wincing and turning the page — especially after the Review-Journal's recent stories about a salty, surreptitious recording involving both men, one that should have embarrassed Collins and has put Bonaventura under investigation by Metro detectives. If Collins was unaware he was being recorded — and it sure appears he was — then someone might be guilty of a felony. At least in theory, Bonaventura could have some explaining to do.
But you might find yourself asking, who really cares?
Bonaventura was such an embarrassment that the county euthanized the constable's office last year like a sway-backed Shetland pony.
For his part, Bonaventura's coup attempt against Commissioner Mary Beth Scow in the June primary fizzled like a wet lady finger. Although he has enjoyed a remarkably resilient political life, he at last appears to be done breaking things — including the public trust.
Compared with everything else, an illegally recorded phone call would seem like a pretty petty infraction.
But what if there's more to it than that?
Bonaventura has shown he has no intention of giving up the constable's office without a fight. In fact, he filed a lawsuit through attorney Robert Pool claiming the commission erred when it voted in 2013 to abolish the position.
Collins was present at the Feb. 19 and March 5 meetings in which the constable's office troubles were discussed. On March 19, the issue came to a vote of the commission, and the vote was unanimous. Every commissioner agreed getting rid of the constable's office was the right thing to do.
How much longer after those votes were taken, I wonder, was the Collins recording made?
It would be intriguing to know because Collins earlier this year reversed his position on the issue. In fact, he signed an affidavit that Bonaventura attempted to use to his benefit in his litigation.
It reads in part: "I was present at the March 19, 2013 Board of County Commissioners meeting when the agenda item was set for public hearing and voted on by the Board of County Commissioners.
"The agenda item was never based on any objective 'finding' other than the predetermined effort by the Board to keep John Bonaventura off the ballot and from running for re-election.
"There was never any true factual finding as required by the statute that the Office of the Las Vegas Township Constable was unnecessary. In fact, the office is very necessary and serves a vital role in Las Vegas Township and Clark County.
"The plan was that after the election and a period of time had passed, the ordinance would be rescinded and the Office reinstated."
The Collins affidavit was signed April 18, 2014.
Not only did it represent a 180-degree shift of position on the commissioner's part, but it was so opposed to his previous vote that it raises a number of troubling questions.
For now, these will suffice:
Was the conversation that captured Collins vilifying commission colleagues Scow, Susan Brager and Chairman Steve Sisolak recorded prior to his jaw-dropping affidavit?
I suspect it was.
Did Collins hear the recording before it surfaced in the media?
Was he asked to sign that affidavit after hearing the recording?
That being the case, Metro detectives could be working a lot more than an illegal phone recording matter.
Might they also be investigating a possible extortion of a public official?
And that, despite the reputations of the key players involved, is no laughing matter.
John L. Smith's column appears Sunday, Tuesday, Wednesday, Thursday and Friday. E-mail him at jsmith@reviewjournal.com or call 702-383-0295.