Memo alleges government misconduct in Bunkerville standoff case
December 15, 2017 - 7:42 pm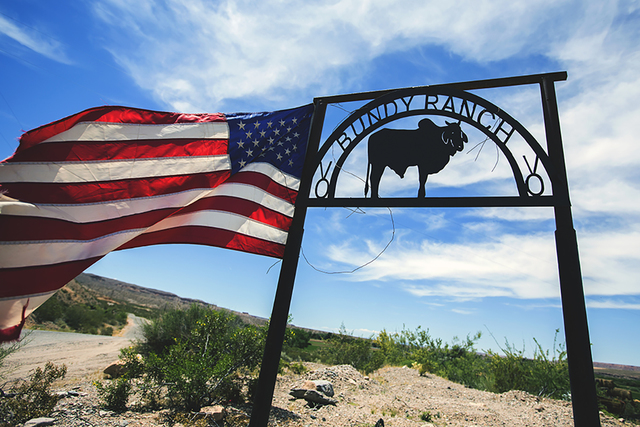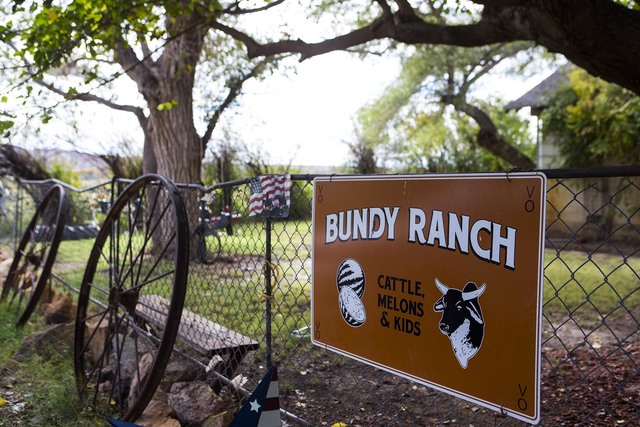 The possibility of a mistrial in the Bunkerville standoff case was amplified this month after defense attorneys received a scathing memo outlining sweeping allegations of misconduct by federal investigators and prosecutors.
According to the 18-page memo, obtained late Thursday by the Las Vegas Review-Journal but first viewed last week by defense lawyers, the government employees engaged in a host of policy, ethical and legal violations.
The document, dated Nov. 27, was penned by Bureau of Land Management investigator Larry Wooten, who had been tasked with assessing how the agency handled the 2014 armed standoff at Cliven Bundy's ranch in Bunkerville. Wooten previously testified before the federal grand jury that returned indictments against the Bundys.
In his whistleblowing memo, which Wooten sent directly to the U.S. Department of Justice as a "last resort," the investigator described pervasive misconduct by his fellow investigators, saying it reminded him of middle school. He argued that the behavior was so common and inappropriate that it could be "considered exculpatory and subject to trial discovery."
Prosecutors handed over the memo last week, prompting defense lawyers to file a motion early Monday to dismiss the case, which already had been delayed a week over concerns that prosecutors were not sharing evidence with the defense in a timely manner. The memo is sealed and not part of the public court record.
Wooten said he repeatedly tried to report the allegations to his supervisors, who largely dismissed his observations. In February, Wooten was removed from the investigation after complaining to the U.S. attorney's office in Nevada, according to the memo.
In reference to the ongoing Bundy case, Wooten said investigators openly referred to the Bundys and their supporters using several different profanities and sexually inappropriate terms. In an office presentation, Wooten's supervisor also included altered and degrading photos of the defendants, according to the memo.
'Clear prejudice'
Wooten went on to accuse agency officers of bragging about roughing up Dave Bundy, one of Cliven's sons, in April 2014, citing comments about the officers grinding Dave Bundy's face into the ground so much so that Dave Bundy had "little bits of gravel stuck in his face," Wooten said.
"The misconduct caused considerable disruption in our workplace, was discriminatory, harassing and showed clear prejudice against the defendants, their supporters and Mormons," Wooten wrote, later adding that, on two occasions, his supervisor asked him, "You're not a Mormon, are you?"
He added that, for a period of time, one of his supervisors "instigated" the monitoring of jail calls between the defendants and their wives "without prosecutor or FBI consent," though he noted that Steve Myhre, Nevada's acting U.S. attorney and the lead prosecutor on the case, quickly put a stop to the practice.
In the memo, Wooten also described misconduct separate from the Bundy case, which extended to "citizens, cooperators from other agencies and even our own employees."
He added that supervisors openly talked about other employees' mental health and often shared derogatory opinions of higher level supervisors, and he noted that he filed a separate formal complaint to the BLM in reference to those allegations.
In reference to when the U.S. attorney's office had Wooten pulled from the case, Wooten said a supervisor subsequently violated his privacy by ransacking his office and by seizing case files, investigative notes and personal documents, including medical records. Those items have not been returned, he said.
"I am convinced that I was removed to prevent the ethical and proper further disclosure of the severe misconduct, failure to correct and report, and cover-ups by (BLM) supervisors," Wooten wrote.
Wooten went on to accuse Myhre, the case's lead prosecutor, of relying on inaccurate talking points throughout his prosecution strategy and adopting a "don't ask, don't tell" attitude in reference to BLM misconduct.
Wooten added that, prior to the investigation, he held Myhre "in the highest of regards," but after Wooten's attempts to report sweeping misconduct went unheard and got him kicked off the case, he now believes Myrhe is clouded by "extreme" personal bias and "a desire to win at all costs."
"Not only did Mr. Myhre in my opinion not want to know or seek out evidence favorable to the accused, he and my supervisor discouraged the reporting of such issues and even likely covered up the misconduct," Wooten wrote.
The U.S. attorney's office in Nevada declined to comment Friday.
U.S. District Judge Gloria Navarro is expected to reconvene court at 8 a.m. Wednesday.
'Totally unusual' case
It remains unclear if the explosive memo provides the defense a clear path to a mistrial.
UNLV law professor Ruben Garcia, who teaches professional responsibility, said the allegations, if true, are possible ethical violations that the State Bar of Nevada may investigate.
But for the purpose of the pending trial, Garcia said the decision is up to the judge.
"She'll have to decide what is worthy of a dismissal, based on her standards and federal criminal standards," he said.
Veteran Las Vegas defense attorney Tom Pitaro said the more common approach in situations of late discovery is to grant the defense extra time to analyze the new evidence and adjust their strategy. But, he added, given the extensive allegations and applicable case law, "Who knows?"
"This case of course has become so unique — just totally unusual," he told the Review-Journal on Friday.
The 2014 standoff came after a yearslong legal dispute over grazing fees. Cliven Bundy had long contested the fees, which had been imposed for his continued, illegal use of federal land for cattle grazing.
In response, federal agents began rounding up and impounding the rancher's cattle, but stood down after Bundy and a group of armed supporters protested the roundup and forced a shutdown of Interstate 15, garnering national media attention. The charges Cliven Bundy and his sons currently face stem from the standoff.
"The purpose of this narrative is not to take up for or defend the actions of the subjects of this investigation," Wooten noted in the memo. "This investigation further indicated that instead of Cliven Bundy properly using the court system or other avenues to properly address his grievances, he chose an illegal, uncivilized, and dangerous strategy in which a tragedy was narrowly and thankfully avoided."
Contact Rachel Crosby at rcrosby@reviewjournal.com or 702-477-8301. Follow @rachelacrosby on Twitter.