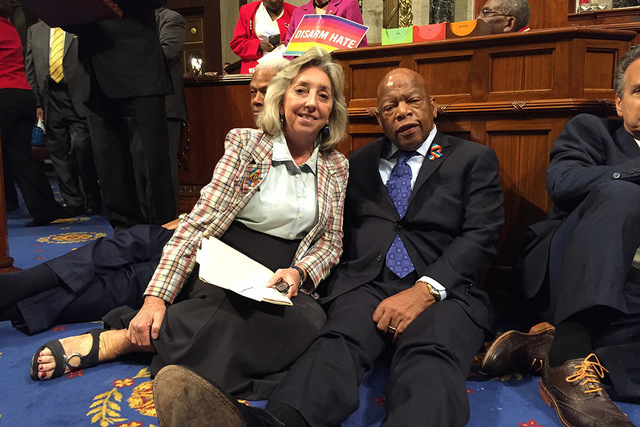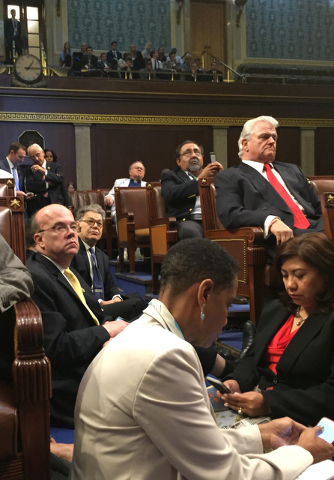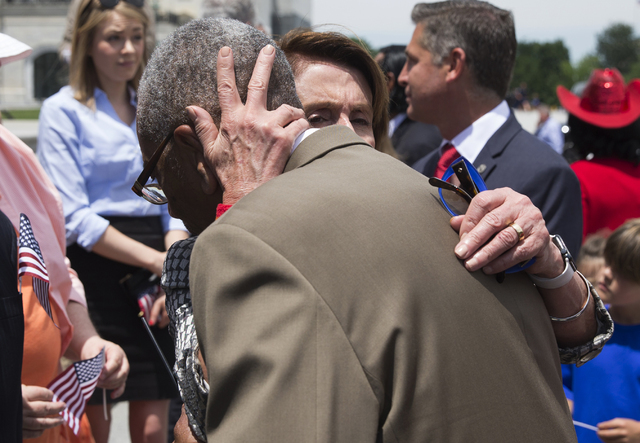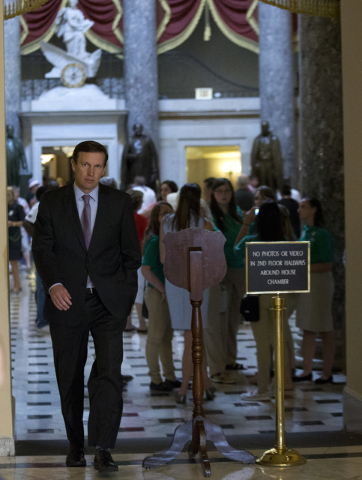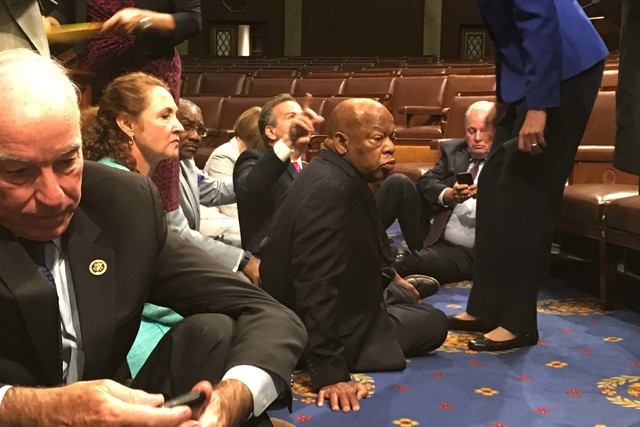 WASHINGTON — Rebellious Democrats staged an extraordinary all-day sit-in on the House floor Wednesday to demand votes on gun-control bills, shouting down Speaker Paul Ryan when he attempted to restore order as their protest stretched into the night.
The stunning and unruly scene was broadcast live to the world from Democrats' cellphones, feeds picked up by C-SPAN after Republicans shut down the network's cameras.
The sit-in was well into its 10th hour, with Democrats, including Rep. Dina Titus, D-Las Vegas, camped out on the floor stopping legislative business in the House, when Ryan stepped to the podium to gavel the House into session and hold votes on routine business.
Angry Democrats chanted "No bill, no break!" and waved pieces of paper with the names of gun victims, continuing their protest in the well of the House even as lawmakers voted on a previously scheduled and unrelated measure to overturn a veto by President Barack Obama.
Ryan attempted to ignore the outbursts and announce the business of the day, pounding down his gavel over shouting. "Shame! Shame! Shame!" Democrats yelled, but Ryan left the lectern and the voting continued. Then Democrats began singing "We Shall Overcome," still holding up the names of gun victims.
The scene presented a radical, almost shocking departure from the normal orderly conduct of the House. It was uncertain what would happen as the night stretched on. Republicans planned to attempt to adjourn the House, and hoped to present themselves as soberly attending to business and Democrats as disruptive.
Democrats said they would stay until Republicans yielded to their demands to hold votes on bills to strengthen background checks and prevent people on the no fly list from getting guns in the wake of last week's massacre in Orlando, Florida.
"Like an overwhelming majority of Americans and my Nevada constituents, I support commonsense reforms to our nation's gun laws," Titus said in a statement Wednesday. "This is about taking reasonable, responsible action to make our communities safer. With more than 108,000 Americans shot every year, our nation has mourned the loss of too many innocent lives as a result of gun violence."
As the sit-in progressed through the day, Sen. Harry Reid joined his fellow Nevada lawmaker on the House floor. Reid was joined by Sen. Bernie Sanders, I-Vt., and Chris Murphy, D-Conn., who had waged a nearly 15-hour filibuster last week to force votes in the Senate on gun legislation. Those votes failed Monday night.
"The American people are demanding Congress acts to stop the epidemic of gun violence plaguing our nation, and they support commonsense reforms to keep guns out of the hands of suspected terrorists and other dangerous criminals," Reid said in an emailed statement. "Republicans need to join Democrats in both houses of Congress and put the safety of innocent Americans ahead of the NRA."
Nevada Republicans looked at the sit-in as little more than political antics from the Democrats.
Rep. Cresent Hardy said such "political stunts aren't an adequate substitute for a clear strategy to defeat ISIS."
Greg Lemon, spokesman for Rep. Joe Heck, said the congressman agrees that reducing gun violence is a priority, "but the proposals being put forward currently are just being used to score political points."
"If we want to reduce gun violence we should get serious about mental health issues, fully funding the NCIS background check system, and prosecuting the straw-man buyers who help criminals get guns and those who are already prohibited from purchasing a firearm but still attempt to do so," Lemon said in an email Wednesday.
"Are they more afraid than the children at Sandy Hook?" asked Rep. Mike Thompson, D-Calif., referring to the 2012 shooting that killed 26 people, including 20 elementary school children, in Newtown, Connecticut. "What is so scary about having a vote?"
Rep. John Lewis, a veteran civil rights leader, asked what Congress has done, then answered his own question: "Nothing. We have turned a deaf ear to the blood of innocents. We are blind to a crisis. Where is our courage?"
Ryan dismissed the protest as "nothing more than a publicity stunt," and in an interview with CNN, made clear there would be no vote.
"We're not going to take away a citizen's constitutional rights without due process," he said.
The protest began around 11:30 a.m., interrupted briefly when Rep. Ted Poe, R-Texas, tried to start the House's work at noon. The customary prayer and Pledge of Allegiance went ahead, but Poe was forced to recess the House when dozens of Democrats refused to leave the well.
By evening, 168 House Democrats — out of 188 — and 34 Senate Democrats joined the protest, according to the House minority leader's office. One after another, they spoke of the need for gun control and talked of constituents who had been killed.
Scattered around the House floor were signs reading "Disarm Hate." Visitors watched from the galleries. A crowd of several hundred gun control advocates gathered outside the Capitol and cheered as Democrats addressed them.
Congress remains gridlocked over gun control, a divide even more pronounced in a presidential election year. The sit-in had the feel of a 1960s-style protest, as some lawmakers sat on the floor, others in their seats.
Republicans had staged a similar protest in 2008. Democrats controlling the House at the time turned off the cameras amid a GOP push for a vote to expand oil and gas drilling. Republicans occupied the floor, delivering speeches after then-Speaker Nancy Pelosi sent the House on its August recess. Pelosi ordered the cameras turned off.
Republicans ultimately forced the drilling provision to be attached to a stopgap spending bill.
C-SPAN, a cable and satellite network that provides continual coverage of House and Senate floor proceedings, does not control the cameras. They're run on authorization by legislative leaders.
Although the cameras were turned off Wednesday, lawmakers relied on social media to transmit video, using Facebook, Twitter and Periscope. C-SPAN broadcast live video streamed on Periscope and Facebook from lawmakers' accounts. Democrats posted the Capitol's main telephone number, which was overwhelmed, and urged constituents to call and request a vote. They also encouraged tweeting under the hashtag #NoBillNoBreak.
Las Vegas Review-Journal reporter Colton Lochhead contributed to this report.