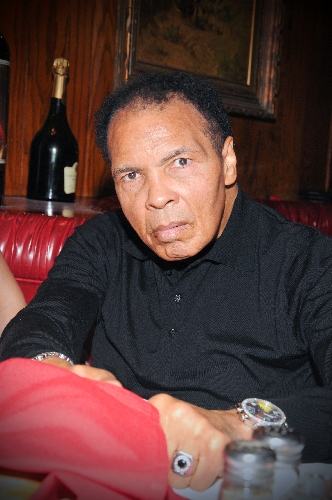 A dining booth that will be named after boxing icon Muhammad Ali is already pulling in business for the oldest Las Vegas steakhouse.
Diners have been requesting the now-famous booth at the Golden Steer since Ali showed up and ordered chicken soup the night before his 70th birthday tribute Feb. 18.
"We had someone who booked the Elvis booth but wanted to switch to the Ali booth," night manager Stephanie Steele said.
The Champ was with a group that included his daughter Rasheda, who ordered the soup, and asked that it be pureed. When chef Sergio Mendena came to the table to meet the three-time heavyweight champion, Ali didn't speak to the chef but his gesture said it all: he kissed the soup spoon, Steele said. Later, Ali took a quart of the soup back to his hotel.
In early 2001, while doing research for a book on Las Vegas, I stopped in and got a tour of the VIP booths from owner Joe Kludjian, who was nearing retirement.
Booth No. 6, he said, was the favorite of Rat Pack member Dean Martin.
Ali's booth will be No. 7, formerly the Natalie Wood booth. Someone stole her plaque, Steele said, and it wasn't replaced.
Kludjian pointed out the booth favored by legendary big-band leader and jazz trumpeter Harry James and his wife, World War II pinup queen Betty Grable.
"They never talked to each other," recalled Kludjian, who died in 2006.
Whenever baseball great Joe DiMaggio came in for dinner, he always requested a seat facing the door so he could see who was entering the restaurant, Kludjian said.
He and his staff were on pins and needles when one of the city's most-feared mobsters, Tony "The Ant" Spilotro, showed up on the same days as Las Vegas FBI chief Joe Yablonsky, who was turning up the heat.
"They would sit and glare across the room at each other," Kludjian said.
One of the Golden Steer's cocktail waitresses in the early 1970s was a college student named Rochelle Levine, who also shined shoes at the Steer. She's better known today as U.S. Rep. Shelley Berkley, D-Nev.
THE SCENE AND HEARD
A source with a history of delivering blockbuster inside information says there's a deal in the works involving a major Strip property and it would be a shocker. …
Best Las Vegas Oscar moments? "Rain Man," with Caesars Palace prominently in scenes, won four Oscars in 1988, with Dustin Hoffman capturing best actor honors and Barry Levinson winning best director. Nicholas Cage won best actor in 1995 as a suicidal alcoholic in "Leaving Las Vegas." Sammy Davis Jr. accepted the 1967 Oscar for best song ("Talk to the Animals") from Barbra Streisand for absent composer Leslie Bricusse. …
Luxor headliner Carrot Top's skinny new look is almost as startling as his old massively muscled look. A TMZ.com videographer caught up to the prop comic in Los Angeles the other day and told Carrot Top he was "looking buff." Carrot Top protested. "Buff? I've lost 30 pounds. Cardio. No weight lifting. Lots of cardio." Didn't like the old look, he added. "Didn't fit my style." …
Retired baseball slugger Frank Thomas is selling his Big Hurt Beer these days at N9ne Steakhouse in the Palms. Three and you're outta here! …
It's been five years since Las Vegas became the only non-NBA city to host the league's All-Star Game. Five years since celebrity blogger/hypemeister Robin Leach was slammed in the Los Angeles Times for a bogus story headlined: "Las Vegas Will Get NBA Team in 2007."
SIGHTINGS
Hockey legend Gordie Howe, signing N9ne Steakhouse chef Barry Dakake's celebrity shakedown door with "Mr. Hockey Hall of Fame 1972" on Friday at the Palms. Son Marty accompanied Howe. At another table: New York Jets quarterback Mark Sanchez.
THE PUNCH LINE
"Paris Hilton just released a music video for her new song, 'Drunk Text.' So, look out, Adele!" — Jimmy Fallon
Norm Clarke can be reached at 702-383-0244 or norm@reviewjournal.com. Find additional sightings and more online at www.normclarke.com. Follow Norm on Twitter @Norm_Clarke.