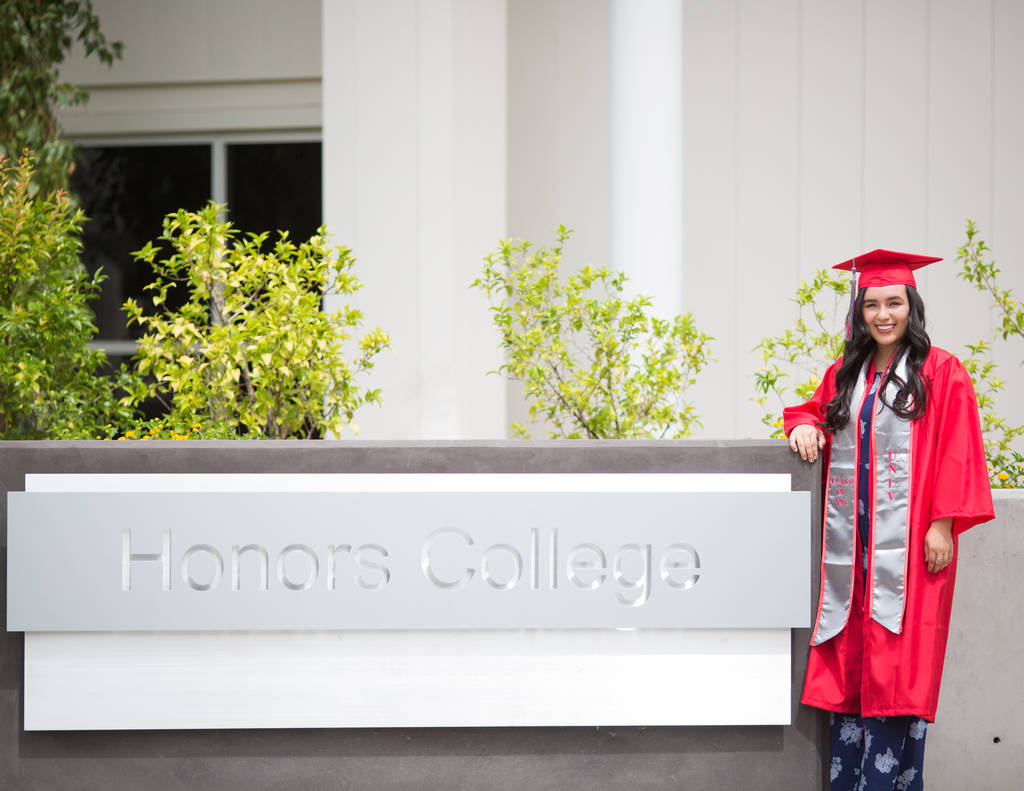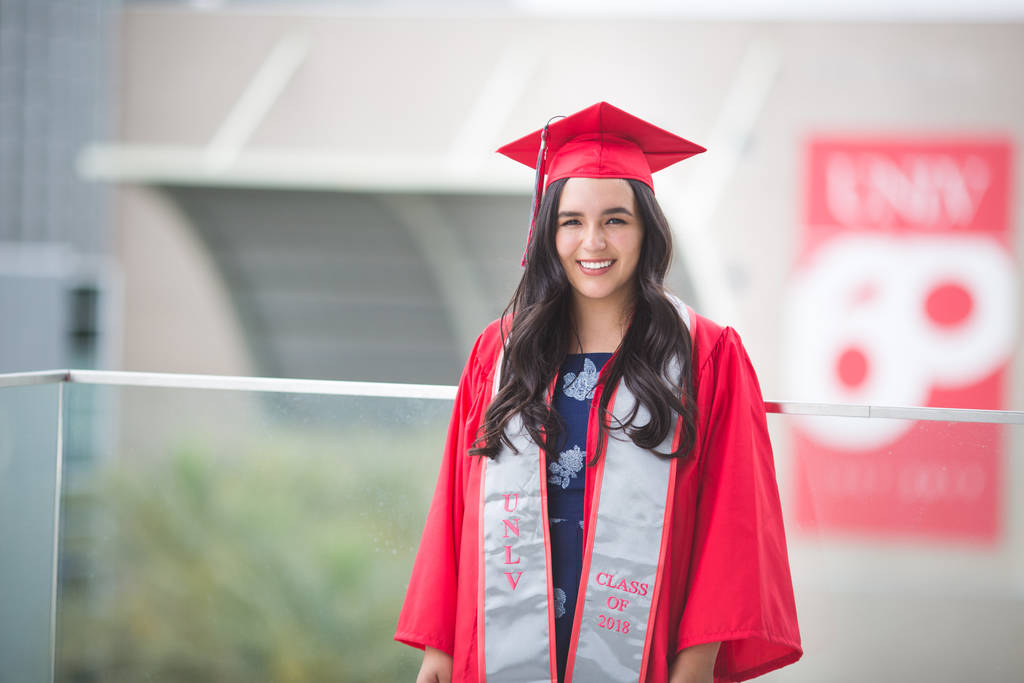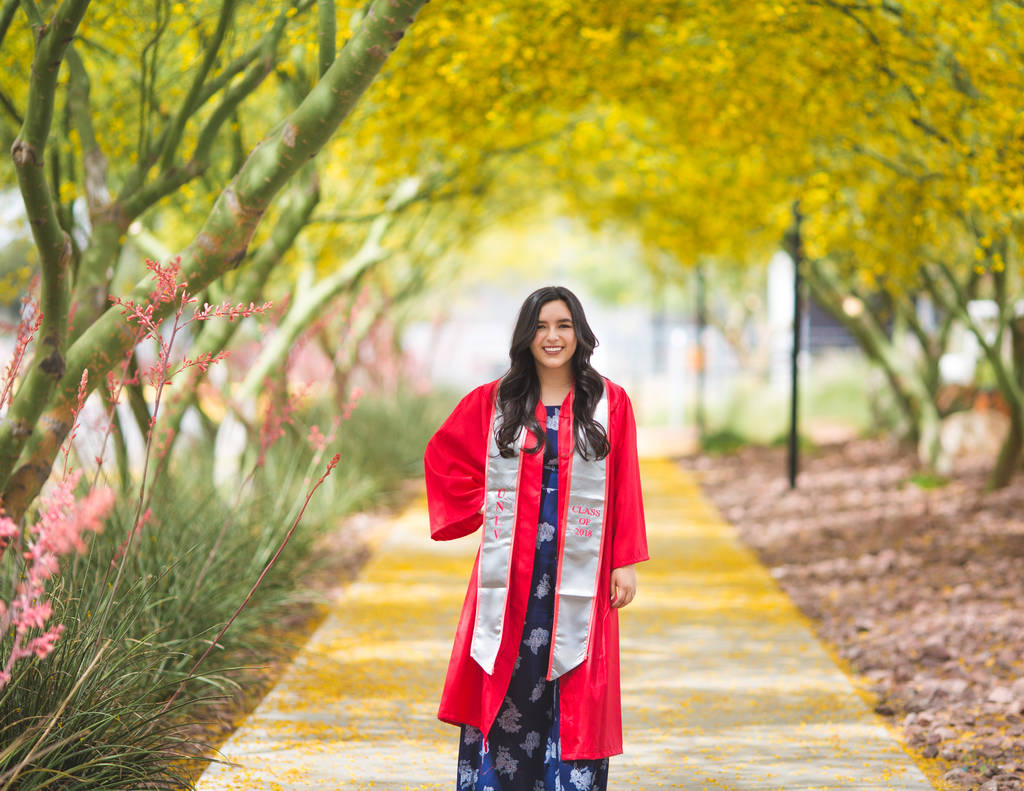 It all started with a conversation between siblings 10 years apart.
Charlotte Rosiak was 14 when her brother told her high school "wasn't a challenge."
" 'Wait until you get to the Honors College,' " Rosiak recalled her brother saying. " 'That'll be the challenge.' So I took him up on that offer."
Rosiak, now 16, graduated last week from UNLV with a degree in hospitality. She also graduated from the Honors College, the youngest student in this year's class.
"I always jokingly tell my brother, 'I'm catching up with you,' " Rosiak said with a laugh. "He's 26. Right now, he's in his last year of med school so he'll be graduating this year. He still has to do his clinical and residency, so hopefully I'll finish law school in time to beat him and finally win the bet."
Rosiak's collegiate journey started at 14 when she began classes at UNLV and soon after was admitted into the Honors College. She'd been attending high school in California and taking college classes at UNLV in the summer.
"High school wasn't much of a challenge," Rosiak said. "I wanted to find something new. I'm always keeping myself busy, always with a new challenge, a new approach. That's always been my motivation. Finding something new to challenge myself."
Realizing her disinterest in sports and all things athletic at a young age, Rosiak embraced her love for school early. Her excitement at continually learning new things has driven her education.
"Everyone's different in their own unique way," Rosiak said. "Some people love to play sports, some people are dedicated in different areas. For me, it was school — always putting myself into my studies, being dedicated, putting the time in — that's how I got here. I was always that student who would ask for more homework and everyone hated it. … Even if it's the most boring subject or most uninteresting thing, you pick up on things that maybe you'll find useful later."
With plans to become a lawyer, Rosiak has been accepted into the Boyd School of Law at UNLV based on her GPA and coursework. She's completed the work of four years in two, a rarity even for the average of-age college student, according to Dr. Marta Meana, dean of the Honors College.
"I told her she's going to get her law degree before she's legal," Meana said with a laugh. "But Charlotte is a force of nature. Nothing about her feels 16. You'd think you're talking to a 25-year-old woman. She is incredibly poised, unbelievably smart and driven like no one I've ever seen."
Rosiak's dedication to her studies is reflected in her GPA. Each semester, including summers, Rosiak took eight classes.
"That's an unbelievably difficult thing to do, period, and even more unbelievable is that Charlotte's done it with a 3.95," Meana said. "Although I do not recommend people try what Charlotte did, you have to acknowledge when you're in the presence of someone who's an exception."
Dan Bubb, a former professor of Rosiak's at the Honors College, said that in his 15 years in higher education, he's never had a student as young as Rosiak, but her intelligence sets her apart. She was never looked down upon or shy in class, he said, even surrounded by people several years older than her.
"I have to say it's rather remarkable," Bubb said. "I've had numerous conversations with her about her career, about what she wants to do and she's just such an intelligent and delightful person. Very kind, very friendly and she's very outgoing. She interacts with her peers very well. I can't say I've seen one instance where she didn't get along with someone."
Walking into the Honors College, Rosiak smiles and laughs as she interacts with fellow students and instructors. When asked if she was comfortable leaving high school and entering college, Rosiak said she considers herself "no different from the average 16-year-old."
"The people I know now, it's fun," Rosiak said. "I go out with friends all the time. I haven't been to prom yet, but I don't miss any of the high school stuff, and I don't have any regrets. I don't like to because it makes you think of the what-if's. … I'm proud of what I've accomplished and I'm thankful for everyone who's been behind me, supporting me, helping me along this journey."
Contact Mia Sims at msims@reviewjournal.com or 702-383-0298. Follow @miasims___ on Twitter.