Back-to-school shopping done by Las Vegas mom on a budget
Updated July 29, 2018 - 12:13 am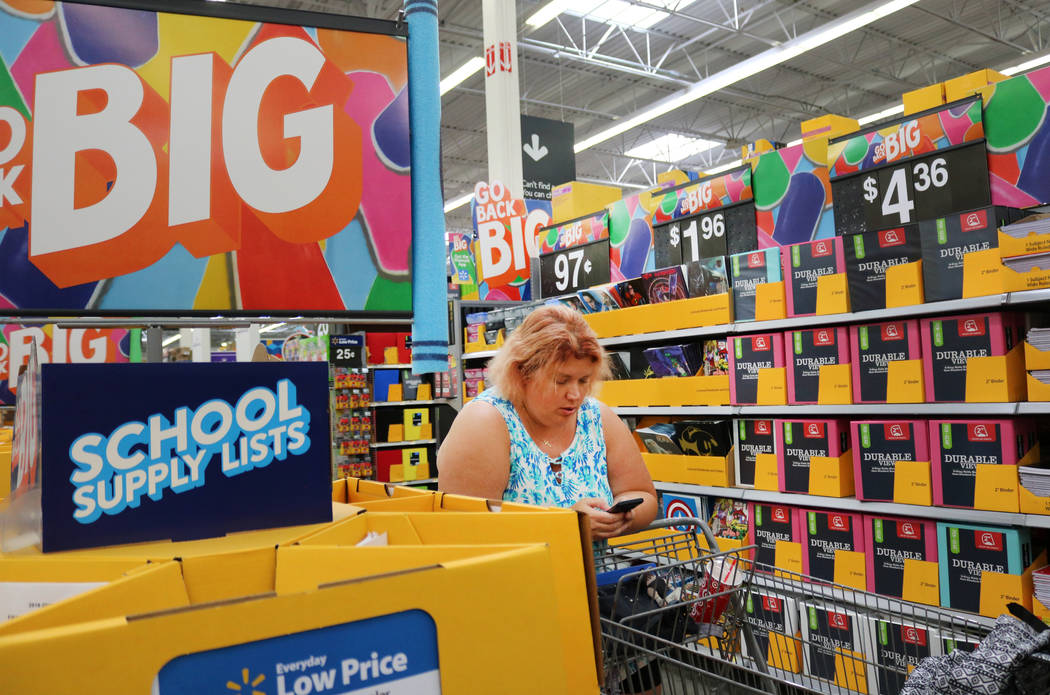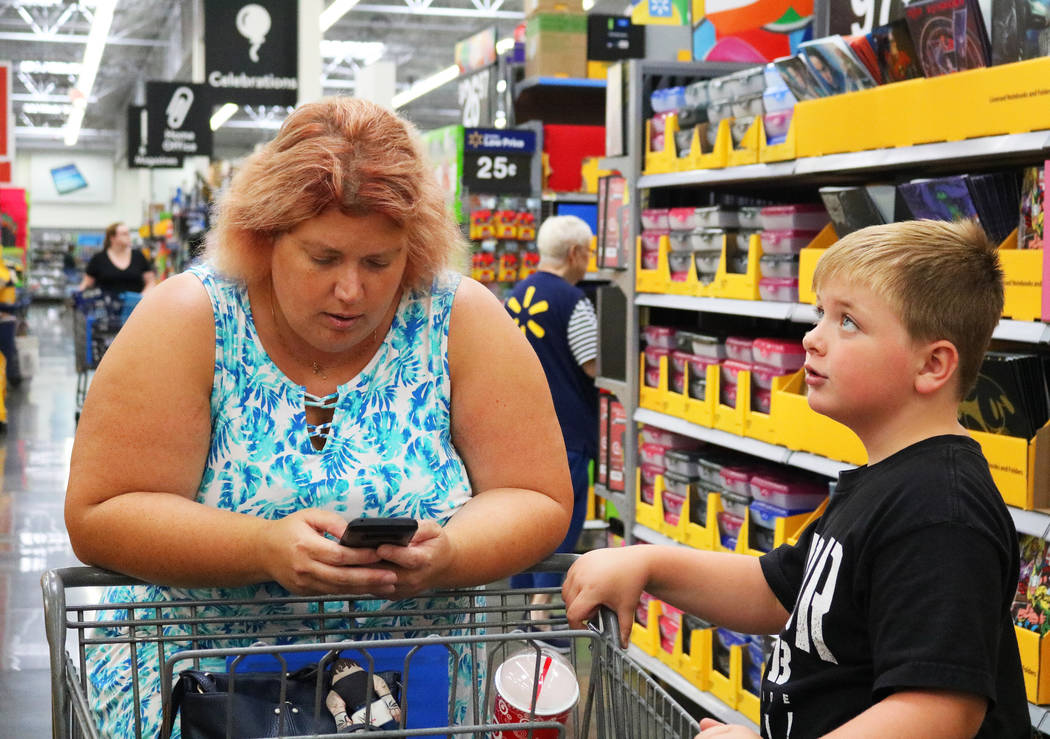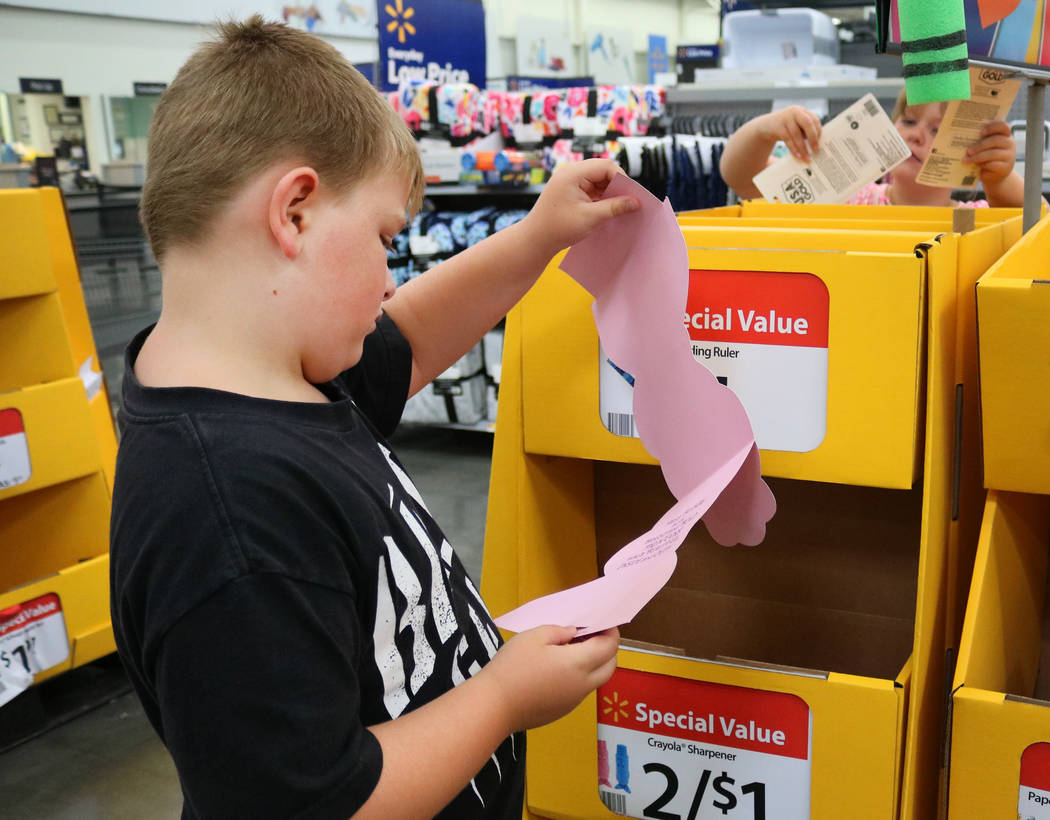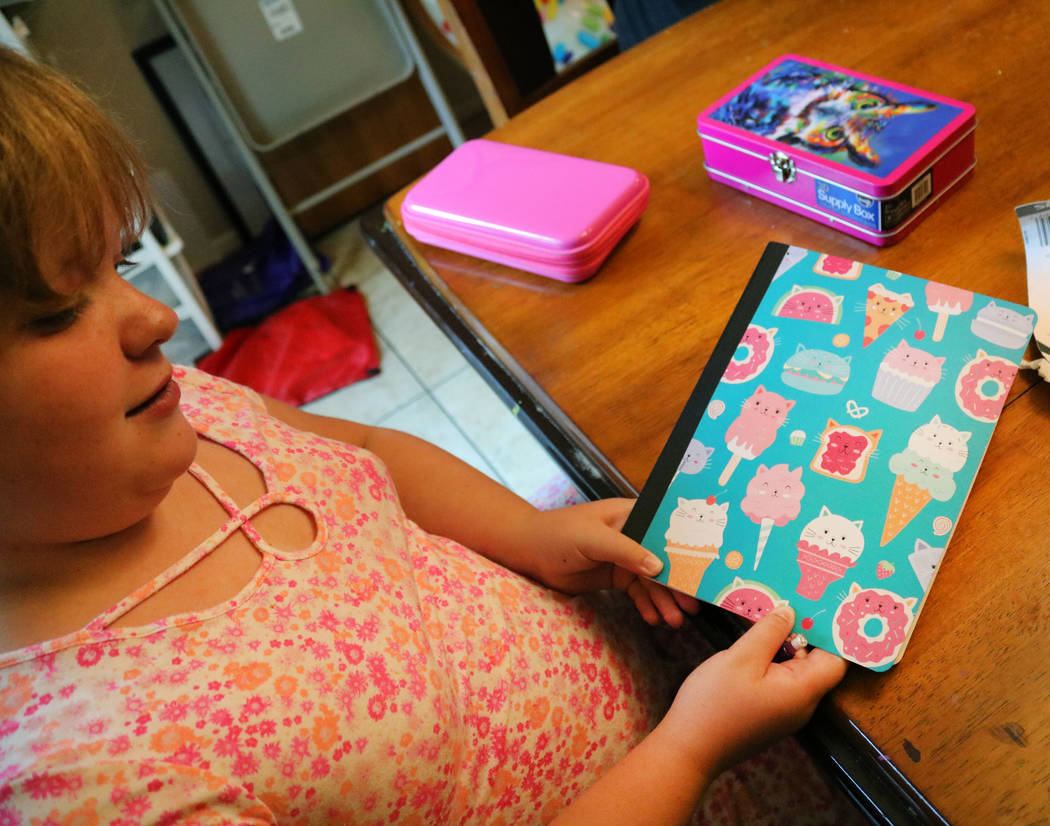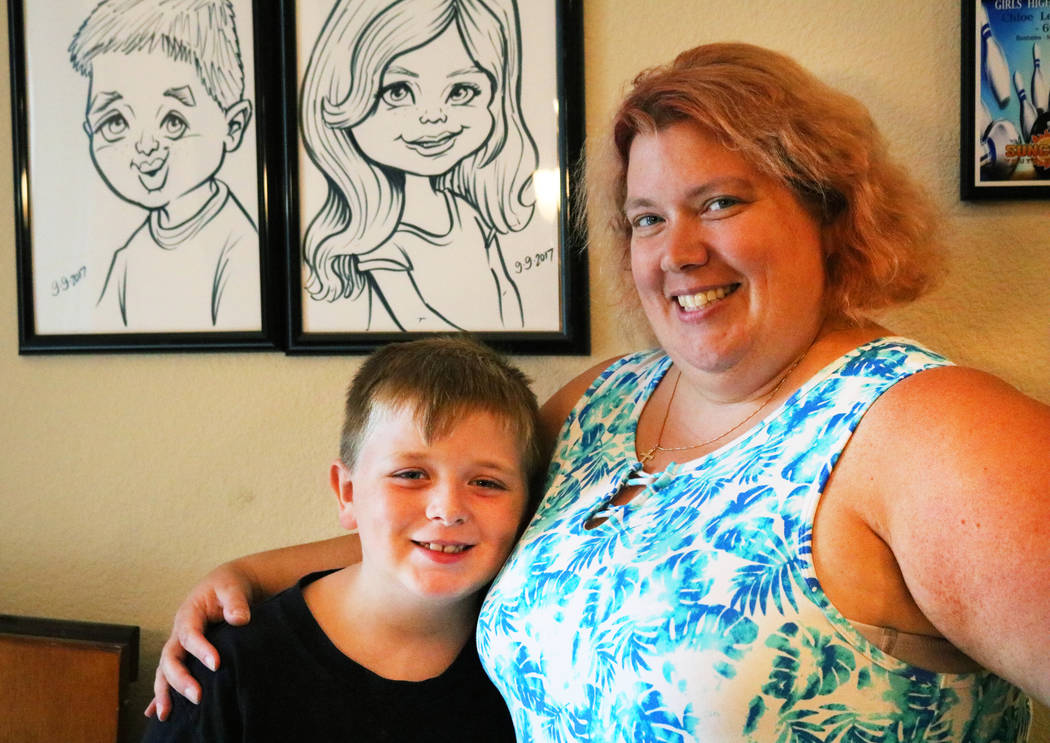 Back-to-school shopping can be a both exciting and daunting time for parents and children.
At big-box retail stores, cheerfully arranged backpacks hang on racks, and notebooks with colorful designs sit stacked on shelves, exuding the promise and potential of a new school year. But for those on a tight budget, fulfilling school supply lists can be a challenge.
The back-to-school shopping market is worth more than $80 billion, according to the National Retail Federation. On average, families with children in grades K-12 spend $684.79 on clothing and shoes, supplies and electronics.
For parent and teacher Laura LeBowsky, back-to-school shopping requires patience, planning and a bit of flexibility.
LeBowsky is a special education teacher at Gibson Middle School and mother of two elementary school children, Brady, 6, and Chloe, 8. The two are entering the first and third grades, respectively.
LeBowsky prepared for the annual back-to-school shopping excursion with a printed list of everything she needed, which sat on the family's dining room table in northwest Las Vegas on a sweltering afternoon in late July. It was less than three weeks before the first day of school, Aug. 13. She hoped to knock out most of the list in one afternoon with stops at Walmart and Target.
"I'm hoping to not go over $150," LeBowsky said. But she knows her kids, so she figured she might go over that.
"I'm like, if they want it, it's stuff for school," LeBowsky said. "They're going to use it."
Items on Brady's list included a backpack, pencil boxes, three pink erasers, two boxes of crayons, a ream of colored copy paper, a bottle of hand soap, a box of facial tissue and a box of sandwich bags.
For Chloe the list was similar, but hers included a white ½-inch-ring binder, four wide-ruled composition notebooks and earbuds.
Chloe was excited about the binder, since she had never had one before. Brady already knew he wanted something that wasn't on the list: a Pittsburgh Steelers notebook.
LeBowsky also shops for her classroom but buys things she needs as she needs them. LeBowsky is set to teach a new second class of kids with autism at her school this year, a first in her 17 years of teaching.
She gets $1,000 for supplies for the year, but it's much easier to buy things such as pencil boxes, bins and decorations with her own money, she said.
The trip
The first stop of the afternoon was a Target near LeBowsky's house.
The first item to end up in the cart was Brady's Pokemon-themed backpack, for $13.49. Next were lunchboxes, $7.99 each.
Chloe grabbed her four notebooks, priced at 50 cents each. Then there was the first splurge: an extra notebook with kitten faces in the shape of cupcakes, doughnuts and ice cream ($2.50).
After picking out a pencil case, glue, binder, erasers, wooden pencils, notebooks, sandwich bags and tissues, LeBowsky checked out. The total: $78.83 after tax.
Then it was on to Walmart.
Brady took the lead again, running to the paper supplies first. He dug through stacks of notebooks, looking for his Steelers-themed one. He found two of those ($1.97 each) and two Steelers folders (97 cents each).
"All right, you got your Steelers stuff that you don't even use for school anyway," LeBowsky said.
"But I'm going to use it," Brady said, jumping up and down with a smile on his face.
Chloe was in another aisle checking out backpacks. She decided on a black-and-white patterned pack for $14.88.
After grabbing markers, filler paper, a box of copy paper, crayons, scissors, and a couple of extra boxes of mechanical pencils that Chloe wanted, it was time to check out.
The total was $85.23 after tax, bringing the day's total to $164.06.
A few things on the list were still missing, such as the paper towels and soap on Brady's list. LeBowsky said she usually grabs those items at Sam's Club, where she can buy them in bulk and save money.
The day also didn't include new clothing or haircuts, and there were only a few items for LeBowsky's classroom.
After unpacking the day's shopping, LeBowsky said she didn't mind that she had a few more items to buy or that they had ended up with a couple of extra purchases.
"Costwise, it was what it was. They're the ones that have to go through school with it," LeBowsky said. "I would rather that they have something that they like and they're going to use."
Contact Madelyn Reese at 702-383-0497 or mreese@reviewjournal.com. Follow @MadelynGReese on Twitter.