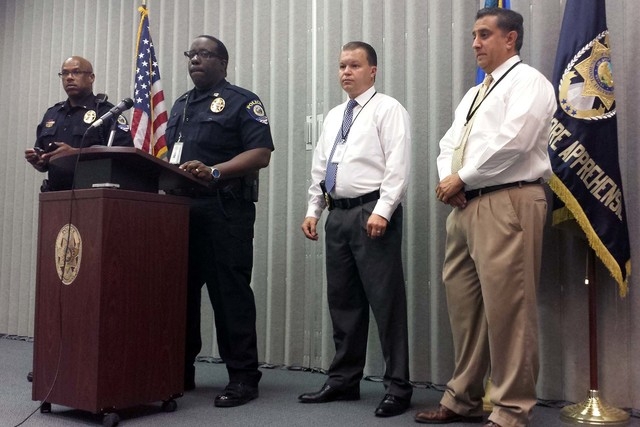 A medical emergency unrelated to a schoolyard fight put a Clark County seventh grader in a coma last week, Clark County School District police said Tuesday.
Few other details were released about the April 2 fight between two girls at O'Callaghan Middle School in the northeast valley.
Anti-bullying advocates took on the case and showed up at a hospital vigil for the 13-year-old hospitalized girl.
But school police Capt. Ken Young said Tuesday that bullying didn't play a part here. The girls had a "strained relationship" on- and off-campus, he said, but he didn't describe their interactions beyond that.
Several accounts by students who witnesses the fight, however, contradict the district's findings. Sixth-grader Jacob Green said that the girl who was hospitalized had a seizure midway through the fight. Green also said that students were videotaping the fight.
Other contradictions include the time of the fight. Young said the fight lasted less than a minute, but students interviewed last week said the brawl was about five minutes long, and that onlookers had gathered around to encourage it.
Young emphasized that both girls punched and pushed each other, and neither were hurt from the fight itself, but students interviewed said they saw one girl "knee" the other girl in the back of the head just before she had a seizure.
No video of the fight has surfaced, according to school police. The fight happened in a surveillance camera blind spot in the school's high-traffic quad during a lunch break.
Police are talking to more than a dozen students who saw the fight, Young said, but he believes it happened too quickly for them to take video with their phones.
The girl's condition wasn't immediately available Tuesday, but Young said the girl was still alive and "under doctors' care."
Both girls are suspended from school, Young said. The girls could face expulsion or criminal charges. School police have been working closely with Las Vegas police and the Clark County district attorney's office throughout the investigation.
Even though Young downplayed violence as a key factor for the girl's hospitalization in this case, he said that it's still important for parents to be diligent in discouraging kids from fighting. He also said students should tell school staff instead of just being spectators.
Young also said the number of school fights reported has gone up slightly this year. He did not cite specific data.
Most Clark County middle schools don't have full-time officers on campus. But 10 middle schools are part of a pilot program that uses school police officers to serve as security and to teach about safety. O'Callaghan is not one of them.
School police Lt. Darnell Couthen said that there is increased security at O'Callaghan while the fight is investigated.
Review-Journal writer Tom Ragan contributed to this report.
Contact Kimber Laux at klaux@reviewjournal.com or at 702-383-0391. Find her on Twitter: @lauxkimber.