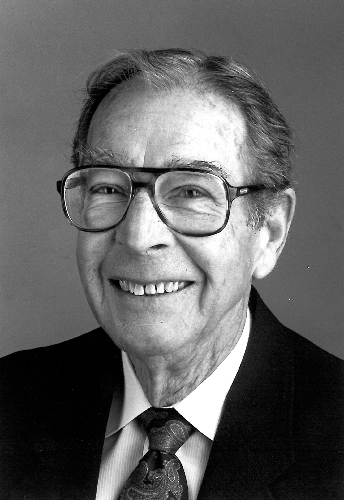 Despite the fact that his namesake elementary school is several miles away from Henderson, where he made his name as a politician and a businessman, Robert Hallock "Hal" Smith was a regular visitor to the school until his death in 2006.
He and his wife, Tina, came for special events and to see the kids, often with their Siberian husky Moki. Moki was adopted as the school's mascot, and the students are called the Smith Huskies.
Smith was born in Mitchell, S.D., on Feb. 9, 1917. His family moved to Washington state when he was 3. After graduating from high school, Smith moved to Southern California to attend college, eventually attending Pasadena City College, the California Institute of Technology, La Salle University and the U.S. Naval War College.
In the late 1930s, with a degree in aeronautical engineering, he was a pilot working on aircraft design until World War II, when he joined the U.S. Navy and earned the rank of captain, serving in that war and the Korean War.
Smith was married in 1940, and he and Tina moved to Henderson in the early 1950s. He was a partner and manager of Henderson Builders Supply and later was vice president of Nevada operations for Prudential Securities.
He is best remembered as a longtime Republican politician, serving two terms in the state Assembly from 1967 to 1975 and the Nevada Senate from 1989 to 1995. Two of the elections he was in were so close that they were disputed.
In 1970, his loss to Arthur Espinoza by 10 votes was reversed after Smith successfully argued that a faulty voting machine had cost him votes. Following that incident, a law was passed allowing a new election in the case of loss or destruction of ballots. That law was called into play during the next election when Smith lost by a handful of votes to Jack Jeffrey, and it was determined that a voting machine had the wrong punch card in it for 90 minutes, which kept around 375 voters from casting a ballot for either candidate. Smith lost the revote but returned to the legislature 15 years later.
"I've been married longer than most of these legislators have been alive," Smith quipped in a 1989 Associated Press interview. "I'm old enough to be the father of half of them."
In the gap between his times in the legislature, he served on the state Board of Education. He was defeated for re-election for the board in 1984 by Lonnie Hammargren.
"He was a truly great man," Hammargren said. "We had different ideas, but I really respected him so I didn't run against him, I just ran for me. He did some very important things for our community, and the state is better for him having worked so hard for us."
During his political service Smith was known as an expert on water issues, and he was appointed by President Gerald Ford to serve as a member of a bistate commission to preserve Lake Tahoe.
He also was part of a team that worked to have money from federal taxes on slot machines earmarked for Nevada schools.
He served on many boards, committees and in fraternal organizations, including the Henderson Charter Commission, the Western States Water Council and the Civil Service Board.
Hal Smith Elementary School, 5150 E. Desert Inn Road, was dedicated on Feb. 9, 2001. Sherri McPherson, the school's office manager, and Jacquelyn Chiles, the registrar, have been with the school from its groundbreaking.
"He was a really terrific man." McPherson said of Smith. "He was here a lot when he was alive, even near the end when he had to use an oxygen tank."
McPherson and Chiles have worked for the Clark County School District for 27 years, and they have worked together for most of that time.
"Mr. Smith was very dedicated to the school," Chiles said. "He was interested in the children's education and also had a wonderful sense of humor. Mrs. Smith still comes to visit us sometimes. It's great to still have that connection to the school's namesake."
Contact Sunrise/Whitney View reporter F. Andrew Taylor at ataylor@viewnews.com or 702-380-4532.
Naming Las Vegas
The history behind the naming of various streets, parks, schools, public facilities and other landmarks in the Las Vegas Valley will continue to be explored in a series of feature stories appearing in View editions published on the first Tuesday of every month. If you're curious about how or why something got its name, post a comment on our Facebook page, facebook.com/viewnewspapers, or email sblust@viewnews.com. Thanks for reading View.