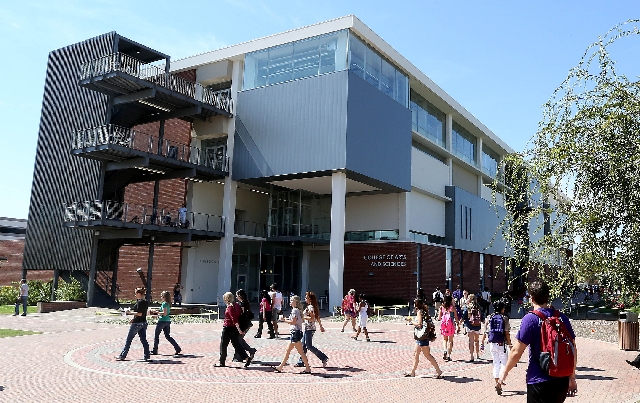 Nevada's high school graduation rates remain among the lowest in the nation. Preliminary findings released in November by the Education Department put Nevada's graduation rate at 62 percent for the 2010- 11 academic year. In contrast, Iowa, Vermont and Wisconsin are near 90 percent.
In June , Clark County School Superintendent Dwight Jones reported progress in the public school system with an increase in the graduation rate from 59 to 65 percent . But for some Southern Nevada parents, that progress is not enough.
Faith-based schools offer education and graduation alternatives to Clark County's public schools , and Southern Nevada has a growing number of faith-based schools that educate children from preschool through high school. Although annual tuition fees can start at $5,000 and increase to more than $15,000, depending on the school, the curricula and individualized attention are attractions for some parents.
Solomon Schechter Day School
Solomon Schechter Day School of Las Vegas is a kindergarten through fifth-grade school . The Schechter network of schools extends to 20 states and two Canadian provinces .
"The Solomon Schechter school at Temple Beth Sholom began nine years ago with K-1 classes and has grown to K-5," CEO Beth Miller said. "With low student/teacher ratios, Solomon Schechter ensures differentiated teaching for each of its students based on their level of academic achievement."
Its mission statement , in part, states that it " … provides an outstanding secular education in a dynamic Jewish setting."
"An integral part of our curriculum is immersion in Jewish history and the Hebrew language that enriches both Jewish tradition and general studies to prepare students for higher education in schools of their choice," Miller said.
"I love this school because the teachers keep parents informed and involved in the education of their children, not just in their secular and Jewish education, but in their behavior and social interaction with others," said Nancy Kane, a parent and volunteer at school. "I am a believer in the public school system. I worked as a public school teacher for 10 years but teacher/student ratios at Solomon Schechter Day School make a big difference in the educational achievement and parent involvement at this school."
Solomon Schechter Day School is a member of and accredited by the Pacific Northwest Association of Independent Schools.
"Member schools of PNAIS do not discriminate on the basis of race, color, religion, gender, disability, national or ethnic origin …" either in their admission process or hiring practice, Miller said.
The school has expanded by word-of-mouth referrals that continue to push growth of the school. Teachers are hired based on their excellence as teachers — some from the public school systems, some from private schools.
"There is very little turnover in the teaching staff," Miller said.
"There are many highly qualified teachers looking for jobs because of the struggling economy," Kane said.
GV Christian School
Pastors Gary and Meg Morefield started GV Christian School in 1990 as a preschool with the first kindergarten program in 1993.
"Pastor Morefield and his wife found that many working parents in their community were searching for an affordable, loving and safe child care facility for their children," said Deborah Ingalls, its elementary principal .
In 1993, the pastors opened a day-care center for 3- and 4-year-old s. This beginning led to the creation of a kindergarten through fifth-grade school. Eventually more grades were added, and in 2014, a six-student 12th-grade class will graduate. Four of the six began their education at GV Christian School; all six plan to go to college.
"In 2006, K-12 had 440 students, along with 235 preschool children," Ingalls said. "GV Christian School is a Christian-based private school focused on preparing students for admission to a four-year college of their choice.
"The heart of GV Christian School is in its Christian beliefs and teachings," she added.
American Heritage Academy
American Heritage Academy is a kindergarten through 12th-grade school managed by headmaster Laurel Beckstead. Its website at ahalv.org offers insight to the philosophy, parental interest and quality education available in a school of 175 students with 20 teachers that blends prayer and faith into academic teaching.
American Heritage Academy's approach to education was reflected in 2010 when kindergarten through eighth-grade students placed in the top 10 percent nationally in the Iowa Test of Basic Skills that measures student achievement. American Heritage Academy uses the Iowa Test of Basic Skills for feedback for teachers, who individualize education .
Individual attention for students such as their son is key, said Jay and Lisa Hofer, parents of an American Heritage Academy student. That attention is not available in public schools, they said.
"We are a small nonprofit private school and exposure to the values we espouse here at AHA is greatly appreciated," Beckstead said. She added, the academy's teachers "… are passionate about education and understand how children thrive academically, socially and mentally in a positive educational environment."
With a student/teacher ratio of 8 to 1, individuation and Iowa Test of Basic Skills scores prove that the academy has a lot to offer .
Faith Lutheran
Faith Lutheran Middle School and High School offered a curriculum for grades six though 12. CEO Steve Buuck, a Marquette University doctorate, came to Faith Lutheran in 2008 as its high school principal and became CEO in June 2011.
Buuck offered a brief description of the school's growth .
"The school began with sixth- and seventh-grade classes in 1979, expanded to K-12, and graduated its first high school students in 1985," Buuck said. "We moved to Summerlin in 1998 to become the largest Faith Lutheran school in the United States.
"We are not simply a private school," he said. "We are a Christian school that delivers both a Christian and academic education that graduates students who have gone on to Yale, Duke, NYU, Dartmouth, West Point and many other fine American universities. … Half of Faith Lutheran's student body is Christian, but all are enrolled in Christian classes that are part of Faith Lutheran's standard curriculum."
Its teachers come from across the United States. "Science positions are the most difficult to fill," Buuck said. "We look first to our 10 Concordia Universities for our faculty, but also hire excellent Christian faculty from the local market.
"We hire the best teachers we can find but I use faith as an eminently persuasive recruitment tool," he said.
Faith Lutheran is popular in the Las Vegas area, in part because it has state-of-the-art facilities.
"Faith Lutheran Middle School and High School is an 'Apple' school; i.e., all middle school kids are given iPads and all high school students are given MacBooks."
The campus includes a theater that is used for faith-based services but is outfitted for fine arts productions. Buuck said, "Ninety-seven percent of the class of 2012 is going to college. In grades six, seven and eight, our middle school boasts (Iowa Test of Basic Skills) scores in the 90th percentile of other schools in the nation."
GRAND CANYON UNIVERSITY
Grand Canyon University, a Christian school of higher education located in Phoeni x, recently visited Buuck because of a possible interest in locating a campus in Las Vegas.
Grand Canyon University was founded by Southern Baptists in 1949 in Prescott, Ariz. In 1951 the school moved to Phoenix. In the early 1990s, Grand Canyon University severed ties with the Baptists and became nondenominational.
"We are looking at a number of cities, including Albuquerque, Las Vegas and Tucson," said William Jenkins, vice president of Grand Canyon University, regarding the possibility of a campus in Las Vegas. Based on projected growth, a new location would create "up to 1,000 jobs over the first five years," he said.
Grand Canyon University offers bachelor's, master's and doctoral programs through seven colleges (education, nursing, business, fine arts and production, arts and sciences, sports business and theology).
"We do not differ significantly from UNR, UNLV or from faith-based schools like Bob Jones University or BYU," Jenkins noted. "As a Christian school we have chapel service every Monday morning and a second service Tuesday evening but neither service has mandatory attendance requirements. All students are required to take a Christian world view course with voluntary chapel services offered twice a week."
In describing student enrollment, Jenkins said, "Nearly 50 percent of our students at the Phoenix campus enroll in sciences: pre-med, pre-pharmacy, pre-physician assistants and nursing."
A significant difference in Grand Canyon University from most universities is that average class sizes are 20 students or less.
Grand Canyon University offers both campus and online classes. "Full-time faculty on campus is 109; full-time faculty online — 121," Jenkins said.
There are 6,500 students on the Phoenix campus and another 45,000 online.
"We have 97 degree programs and we are regionally accredited by the (Higher Learning Commission). Published tuition is $16,500 per school year," Jenkins said, adding that " … we have a very generous institutional scholarship program, primarily based on a student's GPA, that results in the average student paying $7,800 … comparable to most public universities."