Henderson college to offer state's first bachelor's degree in deaf studies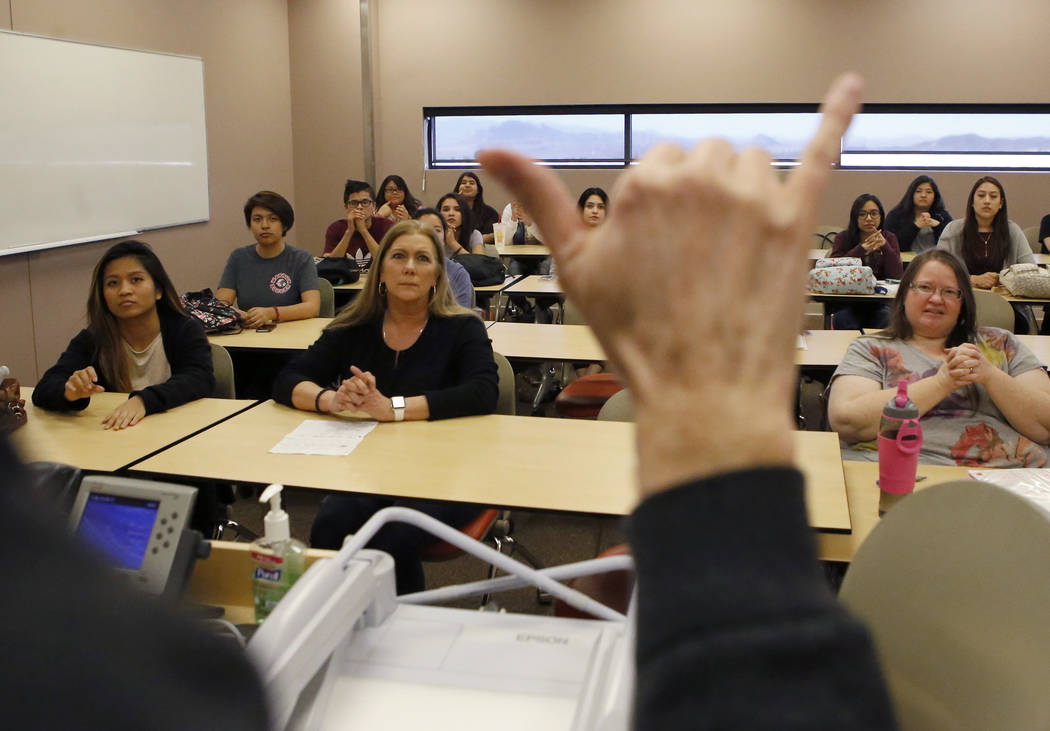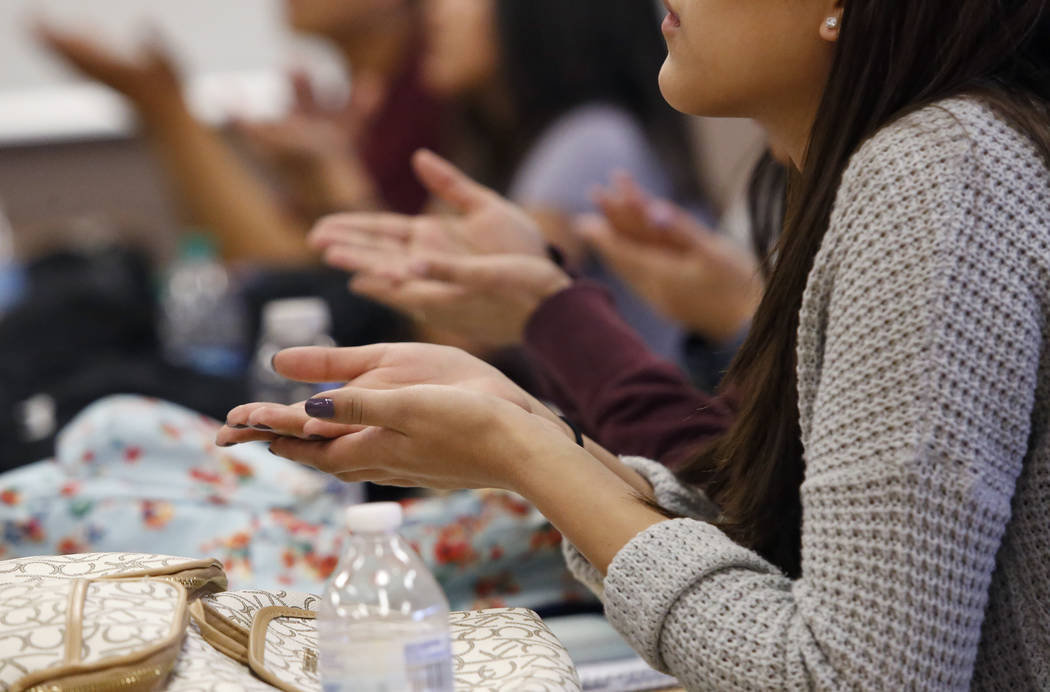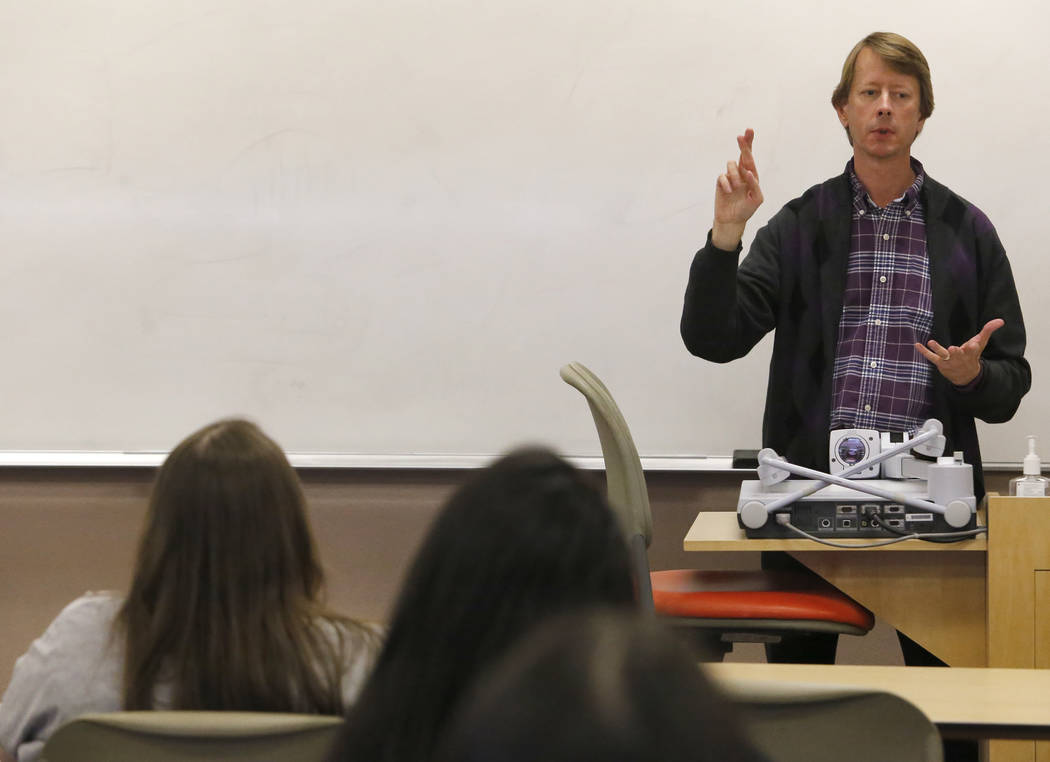 Isaiah Rashad paused in the midst of his performance to hand a water bottle to concertgoer Kourtney Dean.
She responded with a smile and spoke not a word.
Dean gestured using American Sign Language during a "Voice-OFF" gathering Tuesday night at Nevada State College in Henderson.
"We have these socials, two or three times a month," ASL Club President Moee Turbin said. "It's just a time for all students from different levels of ASL to get together and practice."
The energy in the room Tuesday night mirrored the passionate drive by students who advocated for three years to increase course offerings in sign language and deaf culture at the college.
It led to the creation of a deaf studies minor. Now, students will be able to take a deeper dive into the subject's cultural context with a bachelor's degree in deaf studies — the first in the state.
"It's an amazing feeling," said Christina Barron, a senior at NSC who led the student movement. "It's a very proud moment for myself and others who have all been a part of this journey."
The Board of Regents approved the new degree on March 2, but a protest organized by Barron in 2013 set the wheels in motion several years ago.
"The petitioning gathered over 200 signatures," Barron said. "We definitely had our voices heard."
Barron was first inspired to advocate for a deaf studies major after taking her first sign language class with professor David Kelsey.
"When I found out my instructor was deaf, I was really excited because I knew it was going to be a full immersion experience," Barron said. "With the passion he shared through teaching, he really inspired me, and I wanted more of it."
GROWING POPULARITY
According to Dr. Gregory Robinson, an associate professor of English, deaf studies has become the second-most popular minor on campus, growing from 38 students in spring 2016 to 93 students this semester.
"I think we would not have gotten this far if they hadn't been diligent and completely committed to advocating for the program," Robinson said.
In addition to the support from students, Dr. Bill Vicars, former coordinator of the deaf studies program at Sacramento State University, who has 25 years of experience in designing and running such curricula, assisted the college in the program's creation.
"The deaf studies program at NSC has every indication of becoming very successful and being of strong benefit to the region," Vicars said in an email interview. "The courses, structure and instructional approach all seem very well thought out."
While some students might want to pursue a career as an interpreter, Robinson said he believes a majority will combine the skills learned with another major, such as criminal justice, speech pathology or education.
Beyond academics, Robinson said the new major might help create a more welcoming environment for deaf students at the college and across Nevada. Doing so, Robinson said, includes improving access to interpreters for doctor's appointments, legal services and events.
"Deaf culture works best when there's a fairly sizable group who can speak the same language," he said.
The final step — before the college recruits new students and adds more full-time faculty — is to receive accreditation approval from the Northwest Commission on Colleges and Universities. Robinson said it should take fewer than 90 days.
"I'm very excited that students are motivated to learn my language to be able to interact with me and to interact with my culture," Kelsey said.
Contact Natalie Bruzda at nbruzda@reviewjournal.com or 702-477-3897. Follow @NatalieBruzda on Twitter.