Jessup's departure from UNLV brings clarity to muddled situation
Updated April 4, 2018 - 10:04 am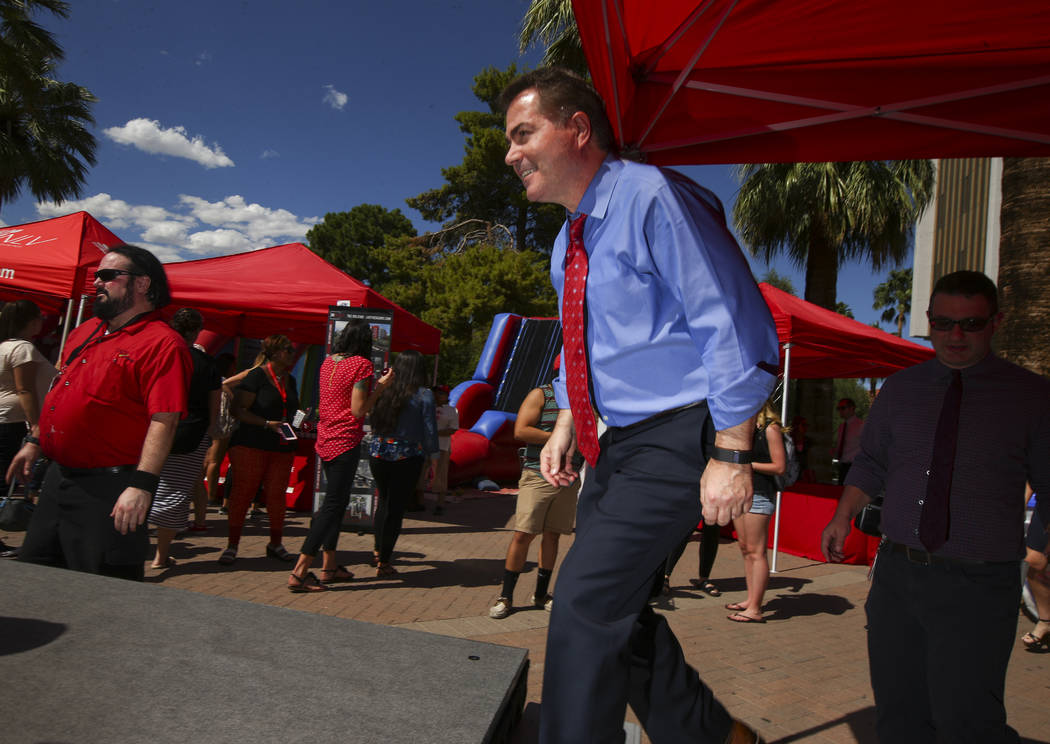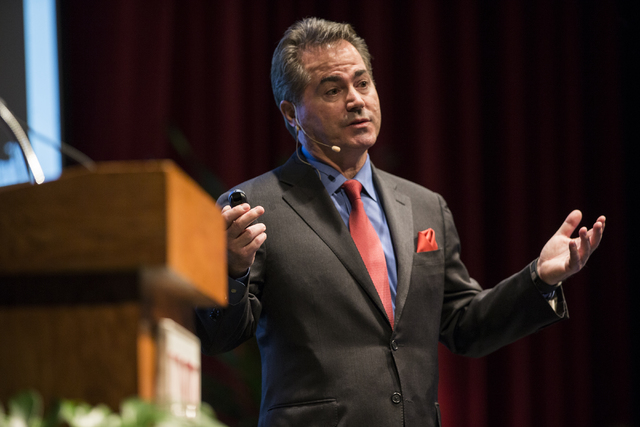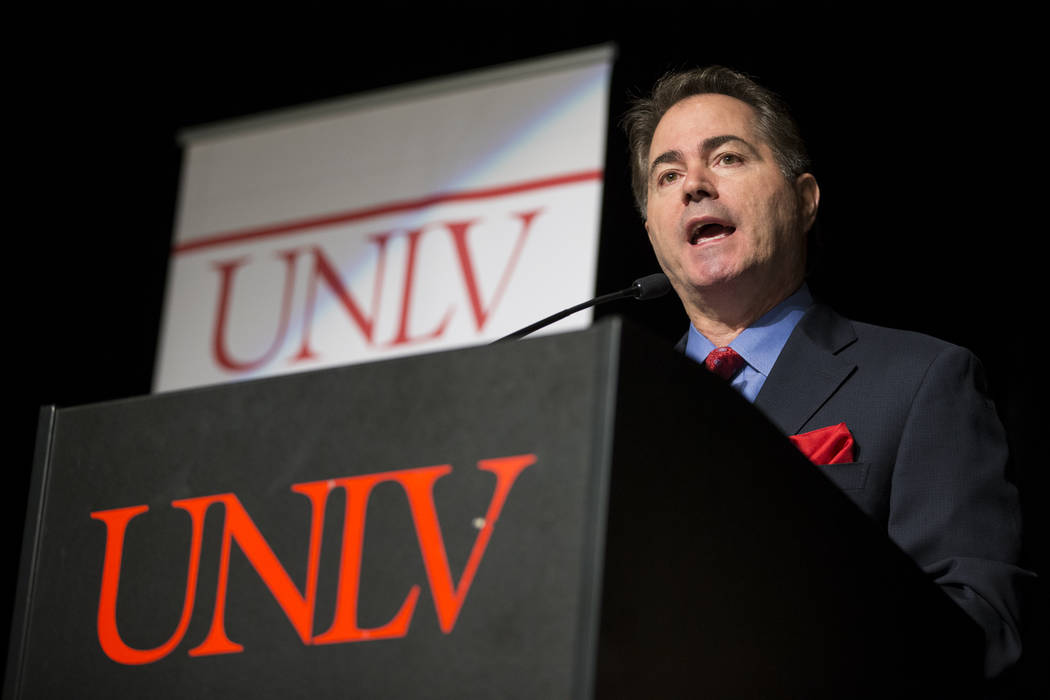 The announcement that embattled UNLV President Len Jessup will leave the school paints a clearer picture of the weeks of speculation, rumors, claims of misleading media reports and dialogue in the local Las Vegas business community.
Jessup, 56, confirmed Tuesday that he is leaving UNLV to serve as president of Claremont Graduate University in Claremont, California. His first day on the new job is July 1.
Jessup expressed his love for UNLV while also outlining the prestige of the seven-institution Claremont consortium.
"This is a bittersweet decision for both Kristi and me given the true love we have for UNLV and the enormous amount of love expressed over the past several weeks from thousands of colleagues and friends — both on and off campus," Jessup said.
The announcement came in a three-page letter to the campus community, three weeks after he teased his departure in a prior campus message, and three weeks after media reports that he was being forced out with about two years remaining on his five-year contract.
Nevada System of Higher Education Chancellor Thom Reilly said the March 14 email confirmed a conversation the two of them had on March 5, when Reilly said he first learned of Jessup's frustrations and his intent to leave.
"We had no conversation about him leaving prior to that," Reilly said.
Battling the regents, chancellor
In his first message to the campus community, Jessup called the media reports "misleading" but acknowledged he was looking for other opportunities amid tensions with some members of the state Board of Regents.
A week later, Reilly announced the creation of a chief operating officer position for the university. Reilly cited "operational deficiencies" at UNLV as the catalyst for his decision.
Even with the latest announcement, Reilly said those operational deficiencies still need to be fixed, and that his next step is to work with university leadership on what the role might look like. He and Jessup met last week to discuss the scope of the new position, but its job description, permanence, and salary are still to be determined, Reilly said.
"The intent is still to address those issues that have been identified," Reilly said, adding that he and Jessup have had "forthright and professional dialog(ue) about those concerns for several months, including by way of his annual performance evaluation."
In Tuesday's letter, Jessup again cited NSHE's governance structure as being a hindrance to long-term sustainability for any president. He said the past nine months have been fraught with "increased antagonistic, invasive, and consistent interference and animosity consistently expressed on behalf of the regents by various regents and the chancellor."
Differing accounts
On March 16, Jessup said the Board of Regents, through Chairman Kevin Page and Reilly, "unequivocally stated its desire to bring my tenure to a conclusion, either through termination or by my resignation." He said he then instructed his attorneys to contact NSHE's attorney regarding a separation agreement. He also retained the services of O'Reilly Law Group.
"Events over the last several months have clearly signaled that the regents and the chancellor have decided upon a vision and implemented a management structure for UNLV that is inconsistent with what I believe is in the best interests of UNLV," Jessup said. "I have expressed my disagreement consistently and have, unfortunately, been met by personal and professional attacks by the chancellor and some regents, unfounded and unjustified opinions, and media 'leaks' that appear to be calculated to damage not only me but UNLV and the UNLV Foundation; and, by implication, all of those organizations and individuals who give so generously of their time, talent, and resources to benefit UNLV and our UNLV community.
"This is intolerable and unacceptable and has created a working environment that is not productive for me or my staff who, among other issues, have had to deal with on-going direct interference by individual regents and others on their behalf as I and my staff continue to attempt to carry out our responsibilities," the statement continued.
Jessup has not responded to multiple requests for comment.
" … While such may have been personally satisfying, it would not have served the best interest of UNLV—an interest I hold paramount," he said.
In a statement, Page disputed Jessup's version of events, saying that there are "several significant factual inaccuracies" in Jessup's letter.
"As chair of the Board of Regents, I am constrained by board policy and the open meeting law from engaging in a debate or discussion of the issues outside of a properly noticed public meeting," Page said in the statement. "Further, the board itself may only act in a properly noticed public meeting, and no individual regent, including the chair, may speak for the board. The board will address these concerns at the appropriate time in accordance with the open meeting law, and its policies and procedures."
Community members react
Within hours of Jessup's announcement, local business and community leaders expressed disappointment and frustration.
"I'm embarrassed for the state of Nevada, and the system we have in place which is aimed at destruction rather than any progression," said Kris Engelstad McGarry, whose Engelstad Foundation has given tens of millions of dollars to UNLV. "As a donor, it really only solidifies how we feel about academic and the role of gifting."
The Engelstad Foundation pulled its $14 million gift to the university's new medical school last month after Jessup said he was looking for a new job. Engelstad McGarry said the foundation will be even more diligent with how it grants money to UNLV.
"Our options for giving outside the state are innumerable," she said. "I have no desire whatsoever to give anything to this university system as long as this Board of Regents system is intact."
She said a collective of donors is working to push for an effort to restructure the board in the 2019 legislative session.
"There's no putting the genie back in the bottle," she said. "We will continue to expose them for the fraud that they are."
Local business leader Jenna Morton called Jessup's news "disappointing."
"I feel that we have made a good deal of progress in some really significant areas, and change like that interrupts progress," Morton said.
Michael Brown, president of Barrick USA, said the news is a double loss for Nevada, saying that Jessup's wife, Kristi, has always been a great ambassador for UNLV.
"We lose her, too," he said. "It's a two-to-nothing score for us, unfortunately. They're going to be very lucky to have him."
Regent Cedric Crear said he would not respond to requests for comment. Regents Allison Stephens refrained from commenting, saying that Jessup has threatened litigation. Trevor Hayes, one of Jessup's biggest critics on the Board of Regents, wished Jessup well.
"I hope President Jessup proves to be a good fit for CGU and that they enjoy a long and prosperous relationship, which is the same as I wish for UNLV and its next president," Hayes said in a statement.
Morton called the positive dialogue that has been generated in the community in the past few weeks surrounding Jessup's job performance "too little, too late." However, she said that dialogue is a sign that the community wants to be engaged in the future of UNLV.
"As a community, we've grown a lot too," she said. "We value our university system, and we want it to be the best it can be."
Brown said Barrick USA will continued to be involved with UNLV. Later this month, for example, Barrick is hosting a geologic symposium at the university.
"Our commitment is strong with UNLV and we'll work through this," he said.
Jessup said he will be at UNLV through the May commencement ceremonies. In the letter, Jessup also outlines "notable accomplishments" that have occurred at the university under his tenure, including the launch of UNLV's new medical school and the university's hosting of the final 2016 presidential debate.
Search firm with UNLV ties
According to a community memo on the university's website, Claremont Graduate University began the search process to identify a new president last summer. The memo says that the ideal candidate would lead the school for "at least the next five years."
Because it's a private school, CGU's personnel searches are confidential.
Claremont used the search firm Storbeck/Pimentel & Associates in Los Angeles to conduct the search. It's a firm that UNLV has used in past leadership searches. In a Feb. 1 community memo on CGU's website, the chair of the search committee said the firm's outreach efforts have included "contacting presidents, provosts, vice-presidents for research, deans, and directors at public and private research universities across the country."
In a message to the CGU community, Presidential Search Committee Chair Donald Baker and CGU Board of Trustees Chair Tim Kirley said the trustee vote was unanimous in favor of Jessup, whom they praised as "a gifted administrator" and "practicing scholar."
What made the selection process run smoothly and effectively, Baker and Kirley said, "was the combination of Len's outstanding record of achievements with a warm and intellectually open nature that will bolster the character and traditions that CGU has fostered since its founding in 1925."
Contact Natalie Bruzda at nbruzda@reviewjournal.com or 702-477-3897. Follow @NatalieBruzda on Twitter.
Jessup Letter April 3.18 by Las Vegas Review-Journal on Scribd
RELATED
Las Vegas business leaders defend embattled UNLV president
Business leaders, boosters have much to say about UNLV's Jessup
Role of new UNLV COO unclear despite announcement of new position
Amid tension with Jessup, chancellor creates COO post at UNLV
With Jessup's future in doubt, instability returns to UNLV
Job-protection provision in UNLV donation questioned
Donor to pull $14M donation after UNLV president says he will leave
Did you know?
Claremont Graduate University in Claremont, California was founded in 1925. The university enrolls more than 2,000 students in graduate education and research. By comparison, UNLV enrolls more than 30,000 students.
CGU is part of the The Claremont Colleges — seven member institutions that form one center of learning in southern California. The group includes five highly ranked undergraduate liberal arts colleges and two graduate-level institutions. The Claremont Colleges is modeled after Oxford and Cambridge. The seven independent institutions are situated within a square mile.