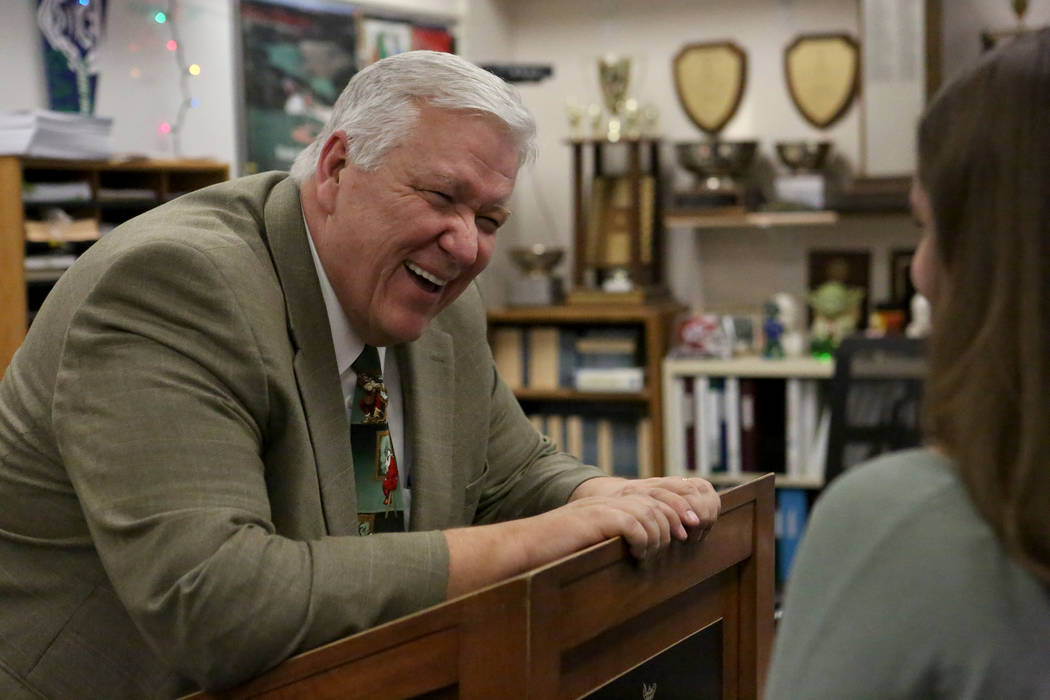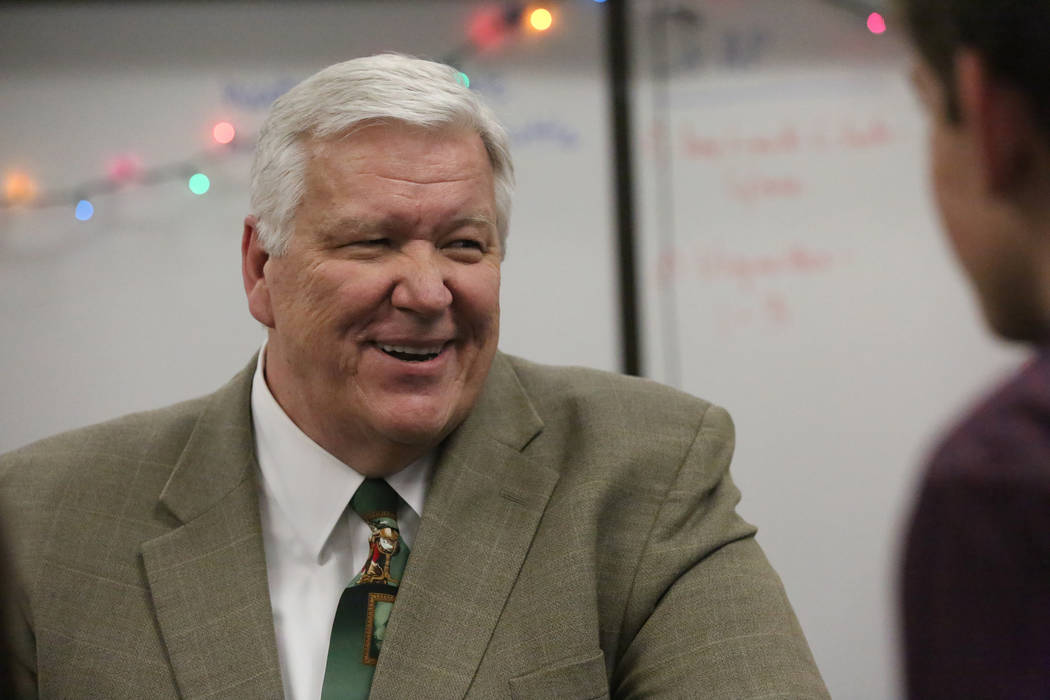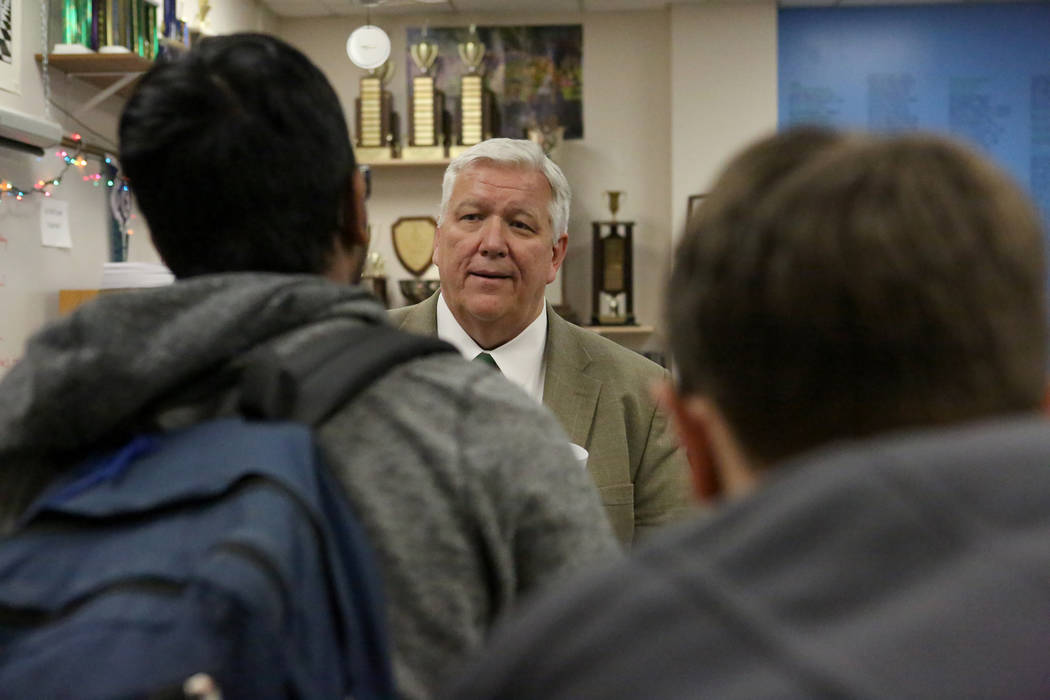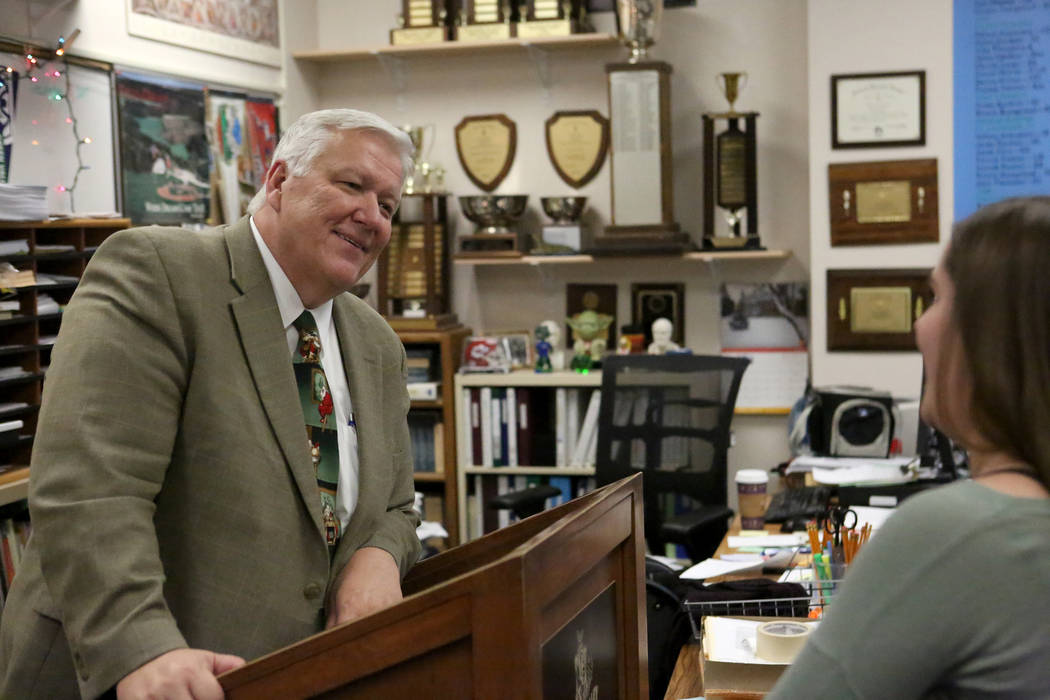 When Scott Ginger applied to work at the new Green Valley High School in 1991, he thought he'd coach sports.
Instead, his degree in television — labeled as speech on his Iowa State University diploma — caught someone's eye and he was offered a job as the Henderson school's speech and debate teacher. He said "yes" without hesitation.
That accidental career path has turned into a 27-year run at the school, teaching speech and debate for all but two years. He also met with wife, Sandy, a fellow district employee, through the parent of one of his speech and debate students.
It wasn't always easy. In his first year, none of his students won ribbons or medals in competitions.
But Ginger refined his teaching style and worked hard to inspire his students. In the years since, they've won 16 state titles. Trophies and ribbons dot the room from competitions. One of the walls is painted blue and stenciled with the names of students who have won competitions. He calls it the "Wall of Distinction."
The newest honor, however, landed squarely on his shoulders. Ginger was named the 2017-18 Nevada Educator of the Year this month by the National Speech & Debate Association. He now is in the running for the national educator of the year, to be named in June.
The week before the holiday break, several of Ginger's former students visited his classroom to tell current students about the benefits of the class and how it helped them in college.
"It's really an asset for you," said Paige Houston-Hencken, a former student of Ginger's now attending Baylor University in Waco, Texas.
Part of something bigger
Milena Palor, a student at the University of Utah, talked about a presentation she had to give in a business communication class. Most of her fellow classmates were nervous, she said, but the skills she learned in Ginger's classes kept her calm and collected.
Other students discussed how Ginger's class helped them make new friends in college, network with professors and teaching assistants and zip through research papers, skills they say other students don't always bring to college.
It's the kind of testimony that keeps Ginger inspired. Soon to be 60 (on the last day of the year), Ginger's at the point in his career where his first set of students have kids in high school now. One of the students in his class this year found his aunt's name on the Wall of Distinction.
"You're part of something that's really big and important going on," he said.
Ginger said his job is to teach the whole child. He tries to teach them to be be aware and remember that, whether they know it or not, they are constantly communicating. He wants them to notice how their communications are being received and interpreted. Important skills in competition, yes, but also in life.
Students teaching students
Ginger, who teaches about 90 kids from mixed grades each year, said he decided to try a new strategy after going winless in the debate competitions that first year. He decided to identify students with strong skills in certain areas of debate to help teach fellow students.
He saw immediate results, though it took about six years to win the first state title.
"We tried to build," he said. "Then we finally hit it."
As an example of how the student teaching technique worked, Ginger pointed to Ember Smith, a sophomore economics major at UNLV who is on the university's debate team. She was one of the strongest policy students he'd seen, so he used her to help teach his next set of students.
The beauty of the approach, he points out, is that Smith probably learned some of it from someone who was in the class before her.
Speaking to Ginger's current students, Smith talked about how 20-page research papers have become a breeze thanks to speech and debate. But she also mentioned another skill she picked up.
"I've become a lot more aware of the world around me," she said.
Contact Meghin Delaney at 702-383-0821 or mdelaney@reviewjournal.com. Follow @MeghinDelaney on Twitter.