Some worry budget cuts will end autism treatment programs
March 13, 2011 - 12:02 am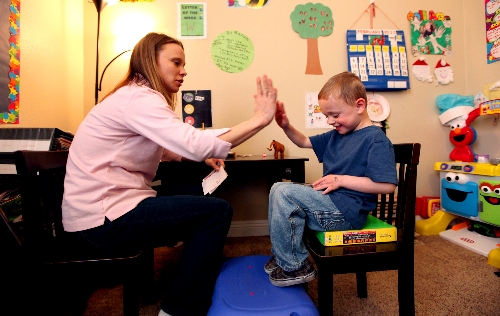 "OK, let's try to work on that last part again."
Meg Crandy, a tall teenager with shoulder length brown hair, confidently leads the chorus rehearsal for a Desert Pines High School theater production.
"One, two, three, four," the 17-year-old junior says, smiling and nodding as a dozen young men and women launch into a tune from "Zombie Prom."
When Meg was diagnosed with autism more than 14 years ago, Jan Crandy never believed her daughter's life could turn out this way.
She remembers a toddler whose brain didn't fit the world, a tiny girl seemingly destined for a life of fear and pain and institutionalized living.
Meg was a little girl without any vocabulary, who screamed and gestured wildly to communicate. She carried a big spoon so she could stare at her reflection.
Apparently afraid of faces, Meg never made eye contact. She often would fall to the floor and shriek whenever strangers came around, sometimes so agitated she would throw up, or bang her head on the ground. The sound of a vacuum or a blender produced panicked howls, and she flapped her arms and then covered her ears.
"We could never really go out in public with her," Jan Crandy recalled last week as she sat in her northwest Las Vegas home.
Then her parents enrolled her in intensive treatment, one-on-one, in their home, for 30 to 40 hours a week. Specialists basically retrained her brain using a protocol known as Applied Behavior Analysis, or ABA.
Experts say that kind of early intervention gives autistic children the best chance at an independent life, but it costs about $40,000 a year.
"At first, she screamed through a lot of that treatment," Jan Crandy said. "But it ended up working. Her IQ went from under 70, or in the mental retardation range, to 104, about average. She gets A's and B's in regular classes.
"She's testified before the Legislature on getting insurance carriers to cover autism. And, most importantly, she's going to live an independent life. "
The story of Meg Crandy's transformation has spread over the years to the parents of autistic children throughout Nevada. Success stories such as Meg's are the reason why Gov. Brian Sandoval's proposed cutbacks to state programs to help autistic children are being met with dismay by parents of children with special needs.
Many parents, frantic to give their child a chance at a productive life, take out second mortgages, work two or three jobs, cash in life insurance policies, get gifts from extended family and still fall far short of funds for one-on-one treatment.
Unlike many states, Medicaid in Nevada does not provide treatment for autism. Neither do many insurance plans.
The state aid of $1,500 a month, or $18,000 a year, that parents can receive before their child is school age, can be a life changer. Hundreds of parents are on waiting lists for the two state programs which target children with autism.
"I want my son to be as normal as possible, and what the governor's proposing could end that," said Kelly Upp, whose 5-year-old son, Tyler, has made great strides as a result of one-on-one Applied Behavior Analysis treatment.
Tyler now is only one month behind children of his age in cognitive development.
"Without state funds, we can't do it anymore," Upp said. "I wanted him to be caught up and ready for public school in the fall. Now I'm afraid he'll regress."
BUDGET CUTS
Sandoval's proposal for balancing the budget without raising taxes eliminates one autism program, which serves 174 children. That move would save the state $800,000. The program already had lost its federal funding of $1.4 million. The budget also cuts $800,000, or 25 percent, of the funding for a second program, which now serves 110 children. Less than 90 children could be helped under that scenario.
Under both programs, parents can get up to $1,500 a month to pay for treatment, with money dropping to less than $800 as the child grows older.
"We should be giving more children help, not less, particularly when you consider we have thousands of children with autism in Nevada," said Jan Crandy, a member of the Nevada Commission on Autism Spectrum Disorders. "It's going to cost us much more not to provide it. Millions and millions of dollars."
Research has found that prevalence of autism is about 1 in every 110 births in the United States, translating to about 6,000 youngsters with autism in Nevada today.
Almost half the children with autism who received extensive early intervention go on to lead independent lives as adults, according to a 1987 study by autism expert Ivor Lovaas.
Without that treatment, more than 90 percent will need lifelong support from taxpayers, which can run up to $6 million per individual, experts say.
A third state program that serves children with many different special needs, including the autistic, would see an increase under Sandoval's budget, from $22 million to $24.5 million by 2013. It's an early intervention program providing up to seven hours of therapy a week for children up to age 3, but not necessarily Applied Behavior Analysis treatment.
Two bills in the Assembly, one sponsored by Melissa Woodbury, R-Las Vegas, and the other by James Ohrenschall, D-Las Vegas, would keep funding in place for the same number of autistic children. So far, neither has said how they would pay for that. Woodbury also has introduced another bill that would track the effectiveness of autism programs.
The Legislature passed an Ohrenschall-sponsored bill last session to force insurance companies to guarantee treatment of children with autism, particularly in the critical early years. But those mandates don't apply to about 40 percent of plans, which fall outside the purview of state regulation.
Among the plans that can ignore the law are those covering some government workers and collective bargaining trusts.
TIGHTENING THEIR BELTS
Some parents, like Kelly and Jason Upp, struggled to pay for their autistic child's treatment and hung on till the insurance bill took effect in January.
"We found out our insurance is one that doesn't cover autism treatment," said Kelly Upp, whose husband works as a bellman at the Palazzo. "We've gone through all our savings and our (extended) family has done all they can. We've had to go bankrupt. And now with the governor saying funding would be cut out of our state program, we feel like we've got hit with a one-two knockout punch."
Many Las Vegas parents can't afford early intervention one-on-one therapy for their children and rely on federally mandated special education programs provided by the Clark County School District. Youngsters as young as 3 can receive six hours of class time five days a week from teachers and therapists trained in Applied Behavior Analysis techniques.
Cynthia McCray, director of a team that coordinates services for students with disabilities, said the district has 2,875 children with autism.
About a fourth of those students are preschoolers who work with a special education teacher and two aides in a class of no more than eight children.
Whenever possible, McCray said, a teacher will try to work one-on-one with a youngster. From kindergarten on, autistic children are in classes with up to 11 children with a teacher and at least one aide. A few autistic students in the district, less than 100, get temporary assistance in their homes if their behavior is so challenging they need additional help beyond the school day.
EARLY TREATMENT
As with all professionals who work with children with autism, McCray says early treatment intervention "is the key."
Autism experts point to a study by Lovaas, a UCLA psychology professor who developed the one-on-one ABA treatment. The study showed the treatment was effective in "reducing inappropriate behavior and in increasing communication," according to U.S. Surgeon General's Report on Autism. His study also showed that about 47 percent of children treated in this intensive method achieved normal intellectual and educational functioning.
In that 1987 study, children who received Applied Behavior Analysis treatment did so for more than two years. But by 1996 Lovaas wrote that an appropriate therapy would include six to 12 months of one-on-one ABA treatment. However, Lovaas stressed that because each child is different some may require more time. Tyler Upp already has received three years of one-one-one ABA treatment. Meg Crandy received more than two years.
"Unfortunately, no school district in the United States can afford to give one-on-one ABA treatment to hundreds of youngsters," Jan Crandy said. "That's why it's critical that funding be gotten through insurance, Medicaid, state support or somehow for this kind of therapy. I know the Clark County School District has wonderful special education professionals — I think the world of Cynthia McCray — because of the way my daughter has turned out. They're doing an excellent job with her. But without that one-on-one she was able to get before she started school, there's no way she would have turned out as well."
Dawn Friedel, a special education teacher who works with autism students at Beatty Elementary School, said she hopes funding comes through so more parents can get one-on-one therapy for their children at home. Even with an aide, Friedel said, it can be difficult to get a class of autistic children focused.
"I see a difference in kids who have home therapy," she said.
If they don't have therapy at home, it makes it harder for her to control the class.
INCREASING NUMBERS
The Clark County School District has seen a huge increase in children with autism, said McCray, who oversees the programs for children with autism out of a $328 million special education budget that also goes toward 12 other programs, including those for the deaf and blind and for children who suffered traumatic brain injury.
"The growth of autism in this district has tripled in four years, absolutely tripled," she said. "When I first came in the district 10 years ago, we had 400 kids with autism. … It just kind of has grown with leaps and bounds and we have to add new staff and new programs."
Nationwide, the number of children with autism has risen 57 percent since 2002. It is unclear how much of the increase in children with autism is due simply to improved awareness and diagnosis of the disorder, researchers say, although some studies suggest that could explain as much as 40 percent of the increase.
The growing number of children with autism, plus the specter of growing long-term taxpayer support for those who do not receive early intervention, spurred the fight to make Nevada one of 11 states to mandate health insurance coverage, said Ralph Toddre, president of Sunbelt Communications, which owns KSNV-TV, Channel 3.
It is imperative that Americans find a way to ensure ABA early intervention for youngsters, said Toddre, who has two children with autism.
He is the founder of the Autism Coalition of Nevada and a member of the Nevada Commission on Autism Spectrum Disorders.
"The cost without it will be far too exorbitant for society, both in human and financial terms," he said.
Jeff Sell, vice president of public policy with the Autism Society of America, said the health care program passed by Congress last year mandates that all private insurers cover autism treatment, including early one-on-one intervention.
But unformulated regulations and legal challenges to the program's constitutionality could hold up for years what he said "could be a godsend to parents of children with autism."
During the recession, states that had covered some treatment for youngsters with autism through Medicaid are cutting back on programs, Sell said.
While some states may help hundreds of youngsters and their families through Medicaid, those state often have thousands on a waiting lists for aid.
Many states find themselves in the same quandary as Nevada. Although the state has mandated that insurance carriers cover autism treatment, many are not under state regulation and can ignore the law, Sell said.
"What research has found is that for every one dollar spent on autism treatment this year, you save seven dollars in three or four years. But public officials don't often look very far ahead to the good that treatment will do. "
LEARNING BY REPETITION
Anne Horton is a tutor who works with Tyler Upp at his home in southwest Las Vegas.
She is part of a team trained in Applied Behavior Analysis treatment methods that works with Tyler. Once a month, specialists analyze his behavior, fine tuning a plan to change and acquire behavior.
Unlike other children, Horton said, most children with autism aren't able to simply imitate what others do in their environment.
For instance, most children may learn to wash their hands simply by watching their father or brother or sister do it. But for an autistic child, that task must be broken down into small steps that are learned through constant repetition.
Visual, verbal, physical and modeling prompts are used to help a child acquire skills. A therapist, for example, may have to place a hand over a child's to assist the child to turn the tap on.
Repeatedly, the child gets tickles or hugs or tangible awards such as a favorite toy for turning the tap on, wetting hands, putting soap on hands, rubbing hands, rinsing hands and drying hands with a towel.
"It can take quite a while to learn how to do what other people think would be easy," Horton said.
On a recent day, Horton worked with Tyler to distinguish between a question and a statement.
"'Who did you go with?'" she reads from a paper. "Is that an ask or a tell, Tyler?"
"I don't know, Anne. I need help."
"OK, point to the first word," she prompted, indicating "who."
"Oh, it's an ask," Tyler said.
Even though their children get one-on-one therapy at home, some parents have turned to the few private schools in the Las Vegas Valley that offer one-on-one therapy.
One such school is Cumorah Academy in northwest Las Vegas, which opened a section of the school to 16 children with autism last fall.
For $1,000 a month, a student gets one-to-one or two-to-one Applied Behavior Analysis therapy from specialists.
"The $1,000 a month per student doesn't come close to covering the costs," said Karena Fisher, owner of the school. "But there are parents here who say they'll continue to make up the difference fundraising. I hope it can be done."
Terry Spiekes said he prays he can keep his two daughters at the school despite the cuts for autism funding in the governor's budget.
Spiekes quit his management job to care for his daughters, and his wife, a nurse, is bringing home the only paycheck.
"Right now, we can afford this school because we get money from the state to get therapy for my daughters at home," Spiekes said.
"If we lose that money, we'll have to just pay a therapist to come to our home and drop this school. The at-home therapy is more important right now. My kids need to learn how to live."
A CHANCE TO DREAM
Meg and Jan Crandy worry about the fate of other children with autism when they hear about the governor's funding cuts.
"There was a time when the only way Meg could find peace was hiding under my desk. Or she would take 10 baths a day," Jan Crandy said. "I know other kids are suffering the same way. Now she finds joy doing her schoolwork or hanging out with friends."
Meg called her early struggles with autism "like going through a battlefield every day."
"I was like a sad little bird trapped in a cage just wanting to get out. It was a little hard for me at first, because I felt pretty isolated. Not all children were nice to me. … Just because someone's different doesn't mean you have a right to pick on the kid."
Other autistic children need the chance, Meg said. "They need a chance to dream to do great things just like normal kids do. All kids need to get as much therapy as they can to live up to their potential.
"Look at me. Years ago, nobody would have thought I would become a jeweler or a disc jockey. But I will. And probably nobody thought I would have been asked to sing the national anthem at the school assembly. But I did.
"And you know what I did? I nailed it."
Review-Journal reporter Benjamin Spillman contributed to this report. Contact reporter Paul Harasim at pharasim@reviewjournal.com or 702-387-2908.
What is autism?
Autism is a complex developmental disability that typically appears during a child's first three years.
"It is the result of a neurological disorder that affects the normal functioning of the brain, impacting development in the areas of social interaction and communication skills. Both children and adults with autism typically show difficulties in verbal and non-verbal communication, social interactions, and leisure or play activities," according to the Autism Society Of America.
The following symptoms are most common: unable to coo by 12 months; doesn't point or gesture by 12 months; does not say single words by 16 months; does not say two or more words by 24 months; loses some social skills or language abilities.
Other characteristics may include: displaying tantrums for no apparent reason; avoiding eye contact, preferring to be by him or herself; insisting on things always being the same; prolonged repetitive play; inappropriate attachments to objects; exhibiting inappropriate laughing; indulging in self injurious behavior when upset and an overall difficulty interacting with others.
Researchers are seeing a stunning increase in autism. The number of cases reported is up 57 percent in the past 10 years. But it's not clear how much of the increase is simply due to improved awareness and diagnosis.
Some studies have suggested that as much as 40 percent of the rise in autism cases might be explained by broader diagnostic definitions and by heightened awareness of the condition. Still, that leaves 60 percent of the increase unaccounted for.
Many scientists focus on the environment as a cause, suggesting that the factors contributing to autism occur during pregnancy or in the months immediately following birth. Diet or infection interacting with a particular genetic makeup in a woman may be causative culprits, experts say.
At one point, there were almost hysterical fears that the MMR vaccine, an immunization shot against measles, mumps and rubella, caused autism. But recent studies have shown the concern to be unjustified.
Paul Harasim/Las Vegas Review-Journal