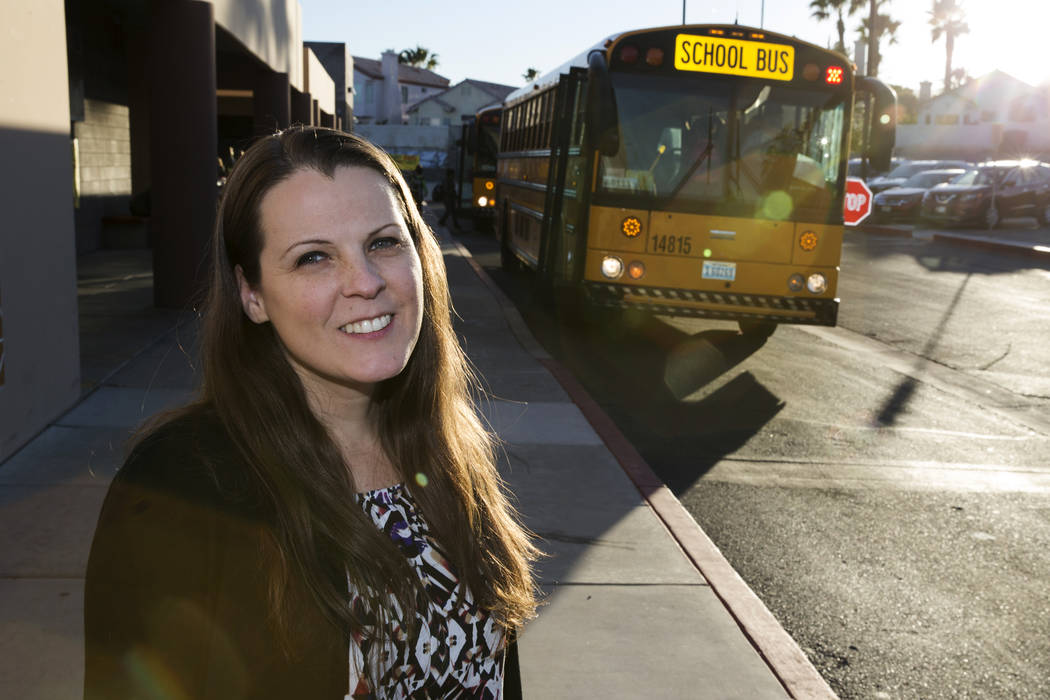 By her own account, Clark County School Board trustee Lola Brooks shouldn't have graduated from high school.
A troubled teen raised by an impoverished single mother in Florida, she remembers frequently getting into trouble.
"I missed a lot of school," said Brooks, 41, who represents the Summerlin area of District E. "The time that I was on campus my senior year was spent mostly in (in-school suspension)."
Her behavioral problems, she said, stemmed from the unstable environment in which she grew up — one that had her mother and two sisters hopping around from house to house, taking advantage of the move-in specials that housing complexes offered new renters.
The typically quiet trustee's unusual path from at-risk student to School Board member could serve as both a source of inspiration and a cautionary note for equally troubled kids in Clark County.
"Largely, you are going to be the person who predicts your success," she told Burk High School students who urged the board to save the day program for at-risk students in October. "Whether you go to this school or you go to one of the other alternative schools, your success is going to be determined by your work and your perseverance."
Barely graduated
Brooks, who's just completing her first year in public office, grew up with two sisters, mostly in Lakeland, Florida, as her mother scrambled to keep the family afloat on annual earnings of about $20,000.
She remembers falling and cutting her hand on glass when she was 7. She needed stitches, she said, but her mother didn't have enough money to take her to the hospital.
"'I only have three dollars,'" she recalls her mother telling her. "'So (if) I take you to the hospital then I'm going to have to actually put gas in the car, and that's going to be the last three dollars that this family has for like a week.'"
Instead, her mother removed the glass shard, wrapped her hand in a dish towel and taped it up.
Brooks said her stepfather was around for much of her childhood, but his relationship with her mother turned abusive.
"That's another reason that we moved," Brooks said. "If it wasn't eviction, it was sometimes they broke up and then you'd have to have a place to live."
Brooks is the only child in her family to graduate from high school. She attributes that to stability she finally found in the 10th grade, when she consistently attended the same school. Her older sister didn't experience that, she said, and her younger sister became pregnant in junior high school.
But she doesn't give herself all the credit for climbing out of poverty, saying she was very lucky.
"Every teacher in the school knew that I had problems," she said. "I was very respectful though, and teachers, even though I missed way more days than was allowable to get credit, they passed me anyways."
Higher education
For months on the School Board, the public didn't hear more than a peep from Brooks.
That's the opposite of the outspoken go-getter that her friends describe.
"She's got a really quirky personality," said Diana Equipado, who worked with Brooks as a waitress on the Strip for about nine years. "It's hard to describe, she's just crazy. She speaks her mind a lot, she doesn't hold back at all."
Brooks, who moved with her husband to Las Vegas in 2002, took 10 years to complete her bachelor's degree while waiting tables. Then she tacked on a master's degree in social work.
Her past experience has certainly shaped her opinion as a School Board member.
She considers education as an equalizing factor for those in poverty and knows the disadvantages that beset families that don't understand that.
Brooks has to walk a fine line to balance her public responsibilities and career. She works for the Beacon Academy charter school as a student data analyst, yet serves on a board dedicated to traditional public schools. The board was fiercely against the controversial Achievement School District initiative, which paired underperforming district schools with charters.
But Brooks brushes aside the rivalry, arguing that both charters and traditional public schools need to work together to do what's in the best interest for all students.
"A lot of these students that come to especially the school that I work at, it's not like they come here with a clean slate — they come from other schools and they come with their own unique set of challenges," she said. "If schools were able to address those challenges, then the need for charter schools wouldn't exist."
Brooks, who has a 10-year-old son in the district, has slowly grown into her role as trustee. She said the district must reach out to families in poverty more regularly and not only hear the voices of those who regularly attend School Board meetings.
"If we don't do more for those families then we're probably never going to see real meaningful change in education," she said. "But to do that, we actually have to meet people where they are, and we have to address the concerns that they actually have."
Contact Amelia Pak-Harvey at apak-harvey@reviewjournal.com or 702-383-4630. Follow @AmeliaPakHarvey on Twitter.
"When people overcome adversity sometimes they ascribe that to some kind of greatness within themselvesand sometimes it's really just a series of lucky breaks … You had a support system that was able to help you out when you actually needed help. You didn't have any major illnesses. You didn't have a child, (but) you could've just as easily had a child. I think that all of that kind of lined up for me." — CCSD Trustee Lola Brooks