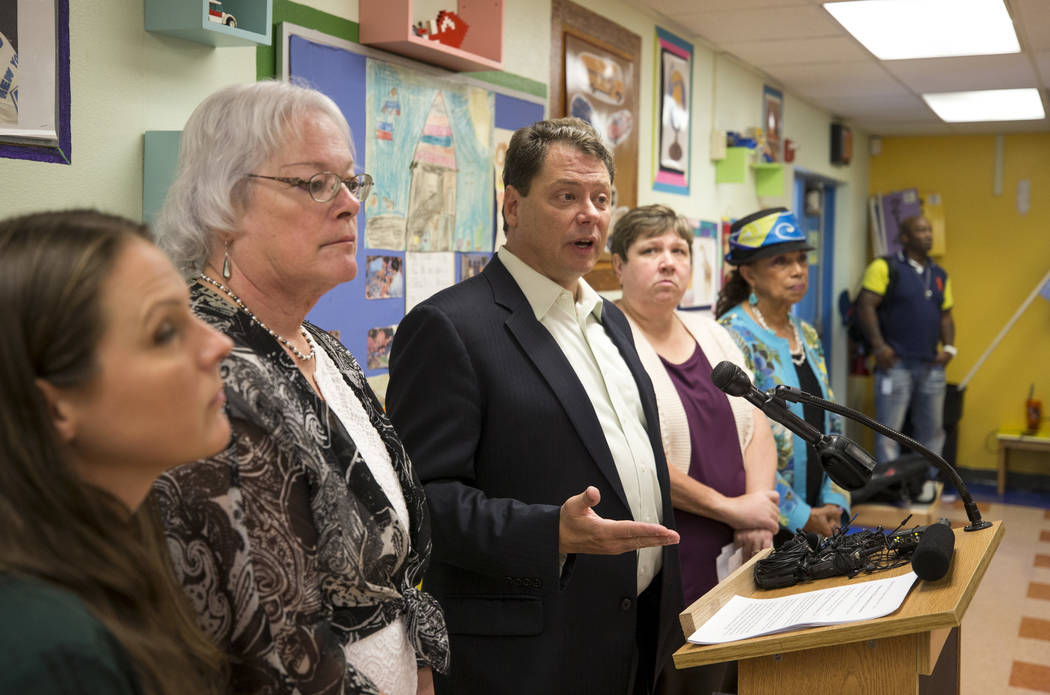 The administrators union is calling for the appointment of an interim Clark County School District leader to replace Superintendent Pat Skorkowsky, who is at the center of a growing budget deficit crisis.
The shortfall recently led to a temporary hiring freeze and most likely means widespread layoffs.
A letter from Stephen Augspurger , executive director of the Clark County Association of School Administrators and Professional-Technical Employees, claims that Skorkowsky either knowingly concealed or failed to remain informed about the deficit until July — after the School Board sent its final budget for fiscal 2018 to the state.
"The Superintendent failed to inform the Trustees of the growing deficit, even when he knew it was developing, which caused there to be serious concerns regarding budget transparency," states the letter sent Wednesday to the School Board. "Whether done with intent or not, he misled the elected Trustees."
The letter also touched on a growing concern about the district's bond rating, which is determined based on the district's financial health and affects its ability to borrow money for long-term projects.
Painting a financial picture
"The Superintendent's financial mismanagement will negatively impact the District's bond rating, will diminish the District's credibility with potential bond investors, and will add significantly higher costs to new school construction," the letter states.
Some within the district have wondered whether its financial status may have been presented in a better light — before the deficit was officially announced — to bond rating agencies, in order to receive a favorable bond rating. Though Fitch downgraded the district's bond rating earlier this year, Moody's maintained its rating of A1, the fifth-highest rating in the agency.
Trustee Kevin Child said he has asked administration whether a different financial picture was presented to Moody's, but has not received answers.
"I'm going to ask for a special board meeting on this budget stuff," Child said. "Because again, there's still pages missing, and we still haven't had the whole story."
Chief Financial Officer Jason Goudie, however, said the ending fund balance is only one of two major funding sources that bond rating agencies consider.
While the district has $30 million less than expected in this year's ending fund balance — money left over as a kind of reserve — Goudie noted that the district has about $165 million more in its debt service reserves than statutorily required.
"Because of the fact that we have been unable to build the ending fund balance for a number of reasons, we utilize the capital reserve funds or the debt service fund to enable us to show financial stability," Goudie said.
A spokesman for Moody's said in an email that the agency is aware of all the recent news surrounding the deficit and that the district remains within the range of the agency's expectations for an A1 rating.
Skorkowsky fought back against the unions criticizing his leadership in his retirement announcement last week. He plans to retire when his current contract expires in June.
"They can't just stand there with their hand out all the time, and coming to the table without solutions," he said. "They must come forward with real solutions about how to deal with these issues. They can't resort to nasty personal attacks."
In response to the letter from the administrators union, he told the Las Vegas Review-Journal on Wednesday, "We have to get past the adult issues and focus on what's best for kids."
In a memo sent to administrators on Wednesday, Skorkowsky announced that the second round of budget cuts — which will be presented to the School Board on Thursday — will not affect schools' individual budgets.
Trustee support for Skorkowsky
While in rough relations with two trustees — Child and Chris Garvey — Skorkowsky seems to have the support of the other five.
"I think Pat is doing a great job, and he's in the middle of the reorganization, getting the reorganization pushed through," Trustee Carolyn Edwards said. "For cohesion I think it makes sense to let him finish out his contract."
Skorkowsky plans to retire when his contract expires in June.
Edwards noted that appointing an interim superintendent would mean ending Skorkowsky's contract and would have to include a buy-out — the costs of which would be astronomical.
From bad to worse
The situation surrounding the deficit — first estimated at $34.5 million — has grown from bad to worse. Last estimated at $50 to $60 million, the shortfall has left administrators scrambling to find $70 to $80 million in budget cuts as the district already has begun its fiscal year.
The Police Officers' Association has argued that it may face cutting positions in the midst of an officer shortage. The district Police Department was last required to eliminate $975,000, but as with other departments, more cuts may come.
"The district thinks 34 cents per day is too much to spend on your child's safety," the association stated, referring to its $20 million budget, "and they have asked the Clark County School District Police Department to plan for further cuts that will impact the safety of your children."
Contact Amelia Pak-Harvey at apak-harvey@reviewjournal.com or 702-383-4630. Follow @AmeliaPakHarvey on Twitter. Reporter Meghin Delaney contributed to this report.
Open meeting law complaint
The administrators union also filed an open meeting law complaint on Wednesday, alleging that five trustees violated the law by gathering at the superintendent's retirement announcement.
Trustees Linda Young, Deanna Wright, Linda Cavazos, Lola Brooks and Carolyn Edwards all were invited to Pat Skorkowsky's press-filled announcement last week, while Kevin Child and Chris Garvey were not. The complaint against the five attending trustees claims they gave their tacit consent to Skorkowsky's decision by omission rather than commission.
"This meeting was not noticed properly," the complaint states. "There was no proper agenda published but a statement was released to the public just prior to the meeting of the Board. This was not a social function but a gathering of the Board and their chief executive officer."
Board President Deanna Wright said in a text message to the Review-Journal that there was no violation, "plain and simple."