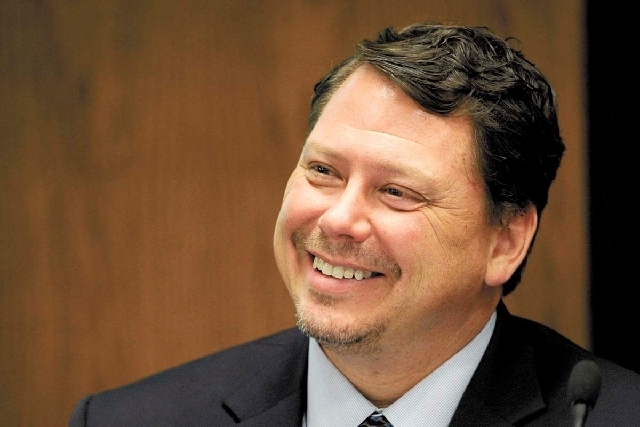 Awarded a $260,000 annual salary on Thursday, new Clark County School District Superintendent Pat Skorkowsky joins the ranks of Nevada's highest-paid public employees and the nation's highest-paid district superintendents.
Although he's never led a school system, the Clark County School Board unanimously agreed to pay Skorkowsky about the same annual salary as his predecessor, Dwight Jones, who was Colorado's education commissioner before taking over the Southern Nevada district ranked fifth-largest in the nation. The district has about 311,000 students.
Jones, who was hired in 2010 and resigned for family reasons in March, earned a $270,000 salary.
Skorkowsky has 25 years in the district as a teacher, principal and academic manager, but has no previous superintendent experience. He served seven months as Clark County deputy superintendent of instruction before being named interim superintendent in mid-March. The School Board appointed him permanent superintendent on June 3 after one impromptu interview and without considering other candidates.
Thursday marked a raise of $64,700, or 33 percent, for Skorkowsky, who earned $195,300 a year as interim superintendent. A year ago, as deputy superintendent, he earning $144,000.
Despite being given about the same salary as Jones, Skorkowsky's contract won't be an "exorbitant cost to the district" like that of Jones, board member Erin Cranor said.
When hired in 2010, Jones received a $270,000 salary and $88,000 in annual perks, which has drawn criticism from the public and board members. Perks included $15,000 for relocation, a $700 monthly car allowance and $660 a month to offset the costs of participating in community events.
"I don't want to see another Gucci contract," board member Lorraine Alderman has said in reference to Jones' benefits.
Skorkowsky will receive some of those same benefits – a $700 monthly car allowance, $600 a month to offset costs of participating in community events and $4,000 for professional development. But his perks will total $19,600, about a quarter of Jones' perks.
Board members debated salary Thursday, with President Carolyn Edwards declaring opposition to other board members' suggestions of a $270,000 salary, considering salaries of the nation's other largest district heads. The nation's largest school system, New York City Department of Education, a system of more than 1 million students pays its leader a $212,614 salary. The nation's second-largest district, Los Angeles Unified, pays its leader $330,000, and Chicago Public Schools pays its leader $250,000. The districts closest in size to Clark County – Miami-Dade and Broward county public schools in Florida– each pay their leaders $275,000.
Skorkowsky agreed to take $260,000 but said he would "push for" a three-year contract — which he ended up receiving — as was drafted in his negotiations with board members Edwards and Patrice Tew.
Contract length was the greatest point of contention, with board member Linda Young – the only dissenting vote – lobbying for a one-year contract.
"I think we need to take small, incremental steps to see how things are working," she said.
"We do need to check if we're on course," agreed Cranor, pointing out that the contract calls for annual evaluations of Skorkowsky.
And the School Board can replace Skorkowsky at any time without penalty, Edwards noted.
Board members Tew and Lorraine Alderman were absent Thursday.
Contact reporter Trevon Milliard at tmilliard@reviewjournal.com or 702-383-0279.
BASE SALARIES* FOR SOME OF NEVADA'S HIGHEST-PAID PUBLIC EMPLOYEES
$385,000 – Christopher Ault, University of Nevada, Reno, football coach
$334,000 – Katherine Olivier, University of Nevada, Las Vegas, women's basketball coach
$320,000 – Neal Smatresk, UNLV president
$314,000 – Marc Johnson, UNR president
$304,000 – David Carter, UNR men's basketball coach
$281,000 – Pat Mulroy, Southern Nevada Water Authority general manager
$278,000 – John White, UNLV executive vice president and provost
$270,000 – Dwight Jones, former CCSD superintendent
$190,000 — David Rice, UNLV men's basketball team
*Base pay represents public funding for annual salaries and does not include other supplements and benefits.
Source: Transparent Nevada, 2012