Vegetable gardens a healthy hit with Clark County students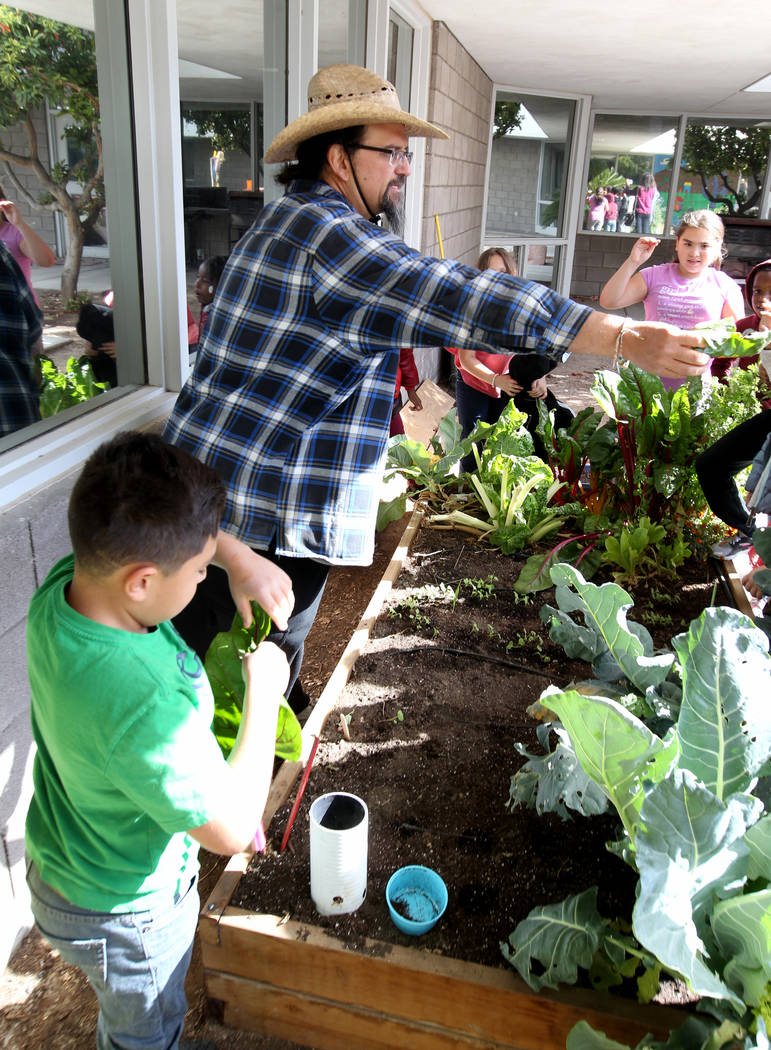 Enrique Garcia has kids at Woolley Elementary screaming for broccoli.
The farmer with Garden Farms of Nevada visits the Las Vegas school once a week, tending to its five garden beds and offering students lessons on healthy food choices.
"I can get them to try everything," Garcia said. "I have kids all over the valley eating radishes and tomatoes like they're apples."
Now the vegetable gardening effort will grow in more ways than one. Woolley Elementary is among 28 Clark County School District schools that received a total of $230,000 in gardening grants this year under a program approved by the Legislature in 2017. Award amounts varied from roughly $3,900 to $9,900 per school, according to the district.
That's great news for first-grade teacher Tony Bailey, who led the effort to get the fresh produce drive off the ground. Last year he raised $9,000 in six months, which helped build some of the growing beds and pay for Garcia's services.
The result: students walking home with huge radishes, Bailey said, and peering through windows to get a glimpse of the vegetables in the courtyard.
Bailey is hoping to build three more beds with the roughly $9,900 the school received through the grant.
The money, set aside for Title I schools with high levels of poverty, also has an educational purpose. At Woolley, third-graders clamoring for ruby-red chard also learn about sustainable agriculture, diet and nature.
Statewide, the grant awards amounted to $410,000 for 48 schools. Another round of funding will award $205,000 for fiscal 2018-19.
Contact Amelia Pak-Harvey at apak-harvey@reviewjournal.com or 702-383-4630. Follow @AmeliaPakHarvey on Twitter.
Schools receiving grant money
Antonello Elementary
Bracken Elementary
Carson Elementary
Dearing Elementary
Detwiler Elementary
Edwards Elementary
Gehring Elementary
Gragson Elementary
Hancock Elementary
Harris Elementary
Herr Elementary
Hollingsworth Elementary
Charlotte and Jerry Keller Elementary
Long Elementary
Lowman Elementary
May Elementary
McCall Elementary
Sunrise Acres Elementary
Tate Elementary
Robert Taylor Elementary
Gene Ward Elementary
Watson Elementary
Wilhelm Elementary
Woolley Elementary
Becker Middle
Orr Middle
Sierra Vista High School
Western High School