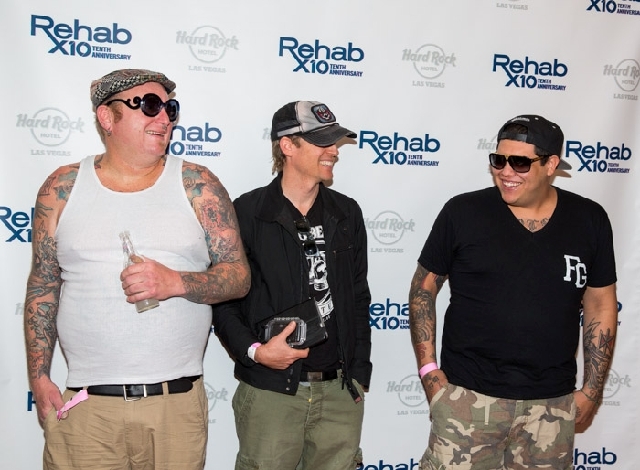 Here's the bare truth about Vegas dayclubs: You love them if you're young. (Singer Rome Ramirez, 25, does.) You may not enjoy them if you're not so young. (Hello, David Spade, 49.)
In April, Ramirez's band, Sublime with Rome, rocked the Rehab pool in the Hard Rock Hotel. His verdict: Hell yeah.
"Everyone's all in their bikinis and getting wet," Ramirez says. "Thousands of half-naked women around you — drinking and dancing. It's a good life."
Sublime with Rome performs by a pool again this Saturday night — at Mandalay Bay Beach ($56).
Ramirez says drinking and dancing in the water is actually the best way for fans to optimize the band's party experience. But of course he would say that. He's a young guy who gets paid to sing at these pools:
"It's not like I go to Vegas for statistics meetings. I go there to rock and roll and have fun with my friends."
As for Spade, he favors dayclubs in theory.
"I'm all for the pool," Spade says. "Those places are packed. Everyone is spending all their money and their life there. So Vegas is working on all cylinders.
"But when my head is ringing with a hangover, and I just need a little chill time, I don't need Rihanna cranked at the highest decibel at 8:15 a.m., when I'm screaming at my waitress to bring me an orange juice, and she says, 'You want a bottle of Patron? It's only $1,200.' And I go, 'Oh, why didn't you say so?' "
Spade pretends that his best all-time Vegas moment was this:
"When someone didn't shriek when I took my shirt off at the pool. It's a common occurrence."
Spade is back in Vegas this week to perform stand-up Friday-Saturday at The Venetian ($73-$186).
Spade has been rocking a mustache and a little beardy thing for a while now. How come?
"Believe me, I don't want it. I just look more horrible without it," he jokes. "I look even more like a molester without the mustache, if possible."
Spade has spent the summer as the co-star of the $150 million-grossing comedy, "Grown Ups 2."
Ramirez has spent the summer touring and helping Enrique Iglesias. He co-wrote Iglesias' new single "Turn the Night Up."
"He's so cool," Ramirez says. "His music has to hit him, or else he won't do it. He doesn't need the money. He doesn't need the fame. He's got the hottest chick in the world (Anna Kournikova), and all the dough you could need. He does it because he loves music."
Iglesias is a joker. Years ago, he told me he sometimes lied in interviews for the fun of it.
And two years ago, Iglesias was on stage in Australia when he told the crowd, "I have the smallest penis in the world. I'm serious."
I told Ramirez about that quote, and he laughed pretty hard.
"That's him. He loves to (play) around."
Doug Elfman's column appears Mondays, Tuesdays, Thursdays and Saturdays. He also writes for Neon on Fridays. Email him at delfman@reviewjournal.com. He blogs at reviewjournal.com/elfman.