High winds, heavy snow closes roads into Mount Charleston area
December 25, 2008 - 4:53 pm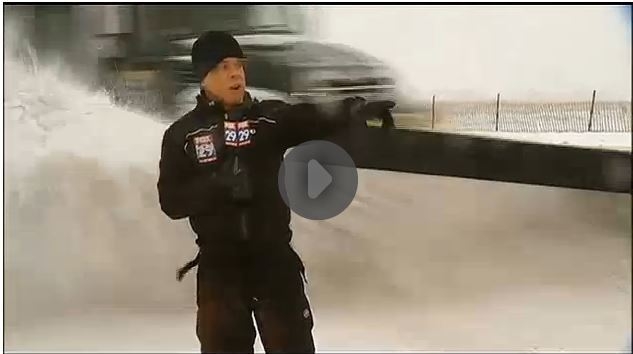 Winter weather played havoc in the mountains and the Las Vegas Valley on Christmas.
Mount Charleston residents could walk in a winter wonderland as snowstorms blanketed the countryside in fluffy white.
Driving in a near blizzard was not so wonderful, though.
Heavy snowfall and gusts up to 90 mph prompted authorities to close state routes 156 and 157 on Thursday to all motorists except residents going into Mount Charleston. Some who drove the mountainous routes slid off the snow-coated roads, though no injuries were reported.
Snowplow driver Mike Guerino said he had never seen such a fierce snowstorm in the 20 years he's cleared roads in this area.
"Not with this severe of a wind," Guerino said. "There's no visibility."
By Thursday morning, more than 40 inches of snow had fallen on Mount Charleston in 10 days, the most recorded in December since storms dumped 50 inches in 1992.
Forecasts called for 12 to 18 inches of snow Thursday, which would make this the area's snowiest December since officials began keeping records for Mount Charleston in 1981.
Meanwhile, valley residents got a wet Christmas, punctuated by intense winds.
Winds reached 50 mph in Indian Springs, 42 mph in Henderson and almost 40 mph in North Las Vegas, said Andrew Gorelow, National Weather Service meteorologist.
Las Vegas recorded milder gusts of 33 mph that were strong enough to uproot a chain-link fence and fling it in the middle of Charleston Boulevard near Red Rock Country Club.
The stray fence blocked traffic in both directions. A pedestrian who tried to remove it suffered minor injuries when the wind blew the fence into him, police said.
Blustery weather will persist through today, Gorelow said.
The valley has gotten a record amount of snow for December Ð 3.6 inches Ð and above average rainfall, Gorelow said.
A cold front was expected to blow in late Thursday, he said. Temperatures will drop to freezing both tonight and Saturday night.
But you can look forward to the weather warming into the high 50s in the coming week, a range that's more normal for this time of year, Gorelow said.
"Once this system blows through, it will get much better," he said.
Contact reporter Scott Wyland at swyland@reviewjournal.com or 702-455-4519.
Video