Las Vegas court filing: Wynn wanted sex with waitress 'to see how it feels' to be with a grandmother
Updated February 5, 2018 - 11:50 pm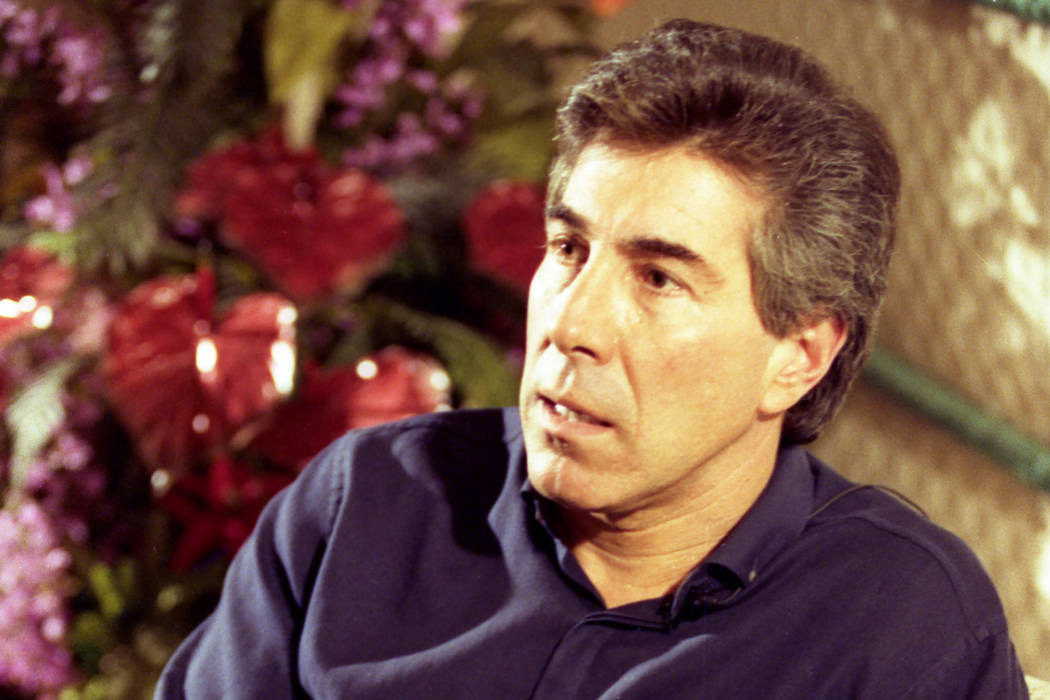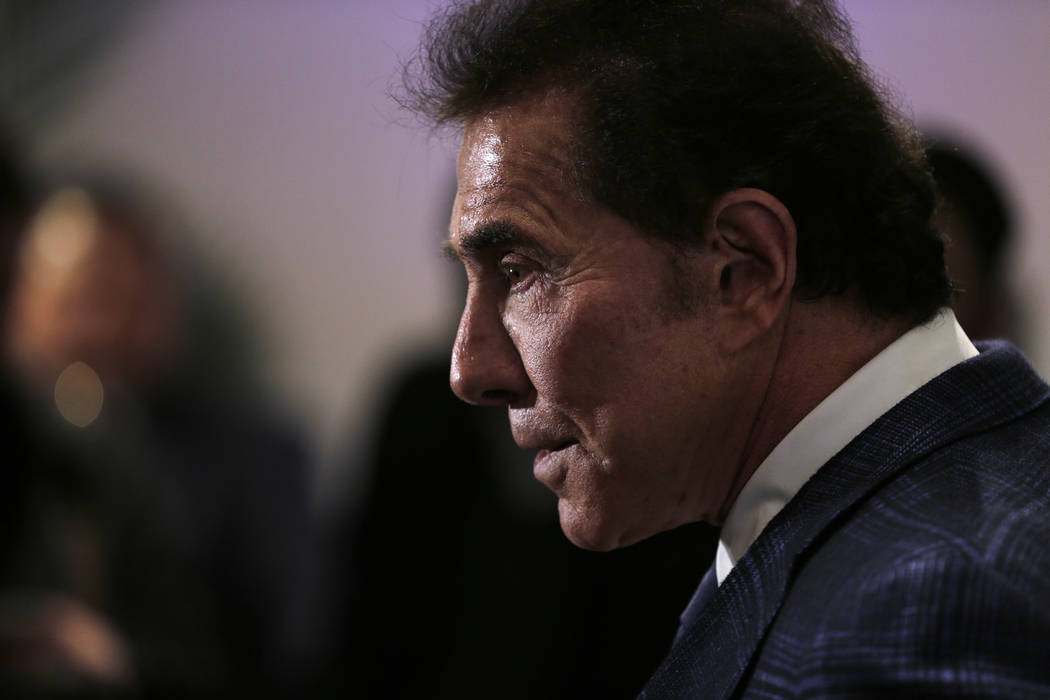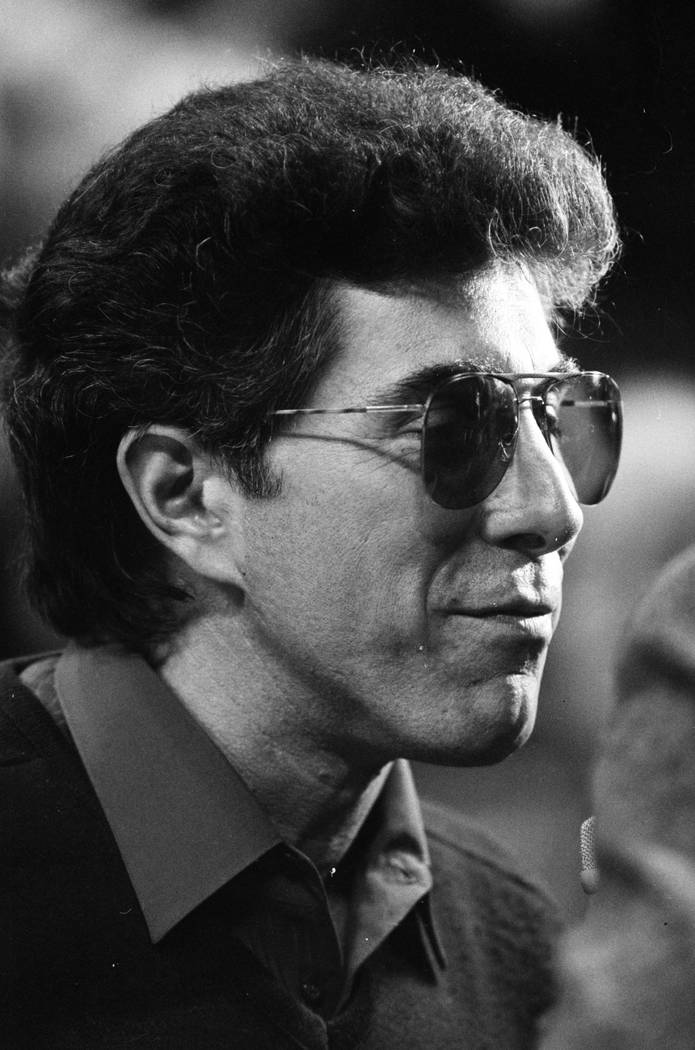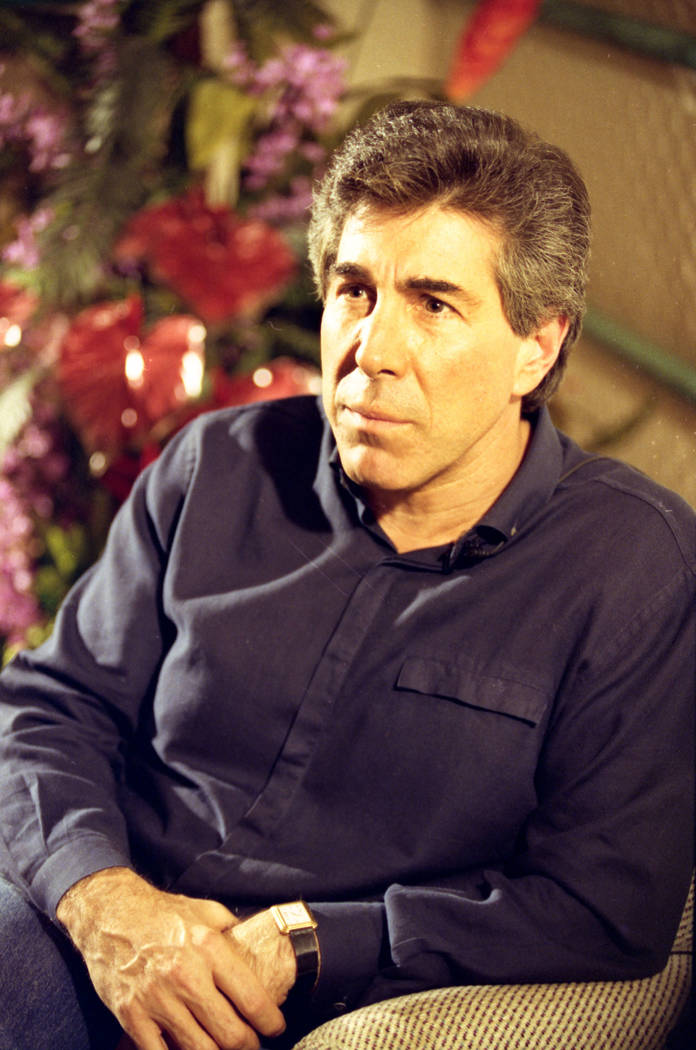 Billionaire casino developer Steve Wynn faced allegations of pressuring a waitress into sex about 30 years ago, allegedly telling his employee he had "never had a grandmother before" and wanted "to see how it feels," according to a court document and interviews with multiple sources.
Wynn, the CEO of Wynn Resorts, was accused of sexual misconduct by several employees in a Wall Street Journal story published last month. Wynn has denied the allegations in the Journal report, which claims Wynn pressured a manicurist into sex and later paid her a $7.5 million settlement.
A previously undisclosed court filing details additional allegations against Wynn at the time he ran The Mirage. These claims are being reported here for the first time. The allegations were the subject of a Review-Journal article that was written in 1998, but the newspaper ordered the report not be published.
The story was based on documents that were part of a federal lawsuit brought by 11 Mirage waitresses who claimed Wynn told servers they did not look good in their uniforms. A Mirage policy required the women to lose weight if they had gained more than 6 pounds since they were hired.
One of the other plaintiffs in that case, Earlene Wiggins, disclosed the sex allegations in response to questions, called interrogatories, from Mirage lawyers. The responses are sworn and part of the court record. Wiggins died in 2006.
The grandmother, who is now 75, spoke with the Review-Journal last week on the condition that her name not be used. At the time she worked at The Mirage, she was a single mother supporting eight children. Her supervisor told her she had to meet Wynn's demands to keep her job, according to her account and a sworn statement by Wiggins.
In the interview, the woman confirmed the details of her interactions with Wynn and said she had sex with him on multiple occasions and endured sexual harassment for about a year beginning in the late 1980s.
"I did it willingly, because I felt like I had to," she told the Review-Journal. "I didn't really want to. I was afraid for my job."
'Acquiescence is not consent'
Indiana University law professor Jennifer A. Drobac, who specializes in sexual harassment, said the woman was coerced into sex if she believed she could lose her job.
"Acquiescence is not consent," Drobac said, adding that courts have made that distinction. "Even if someone goes along, it doesn't mean they're willing and enthusiastic."
Wynn, 76, has not responded to multiple requests from the Review-Journal for an interview. He provided a statement to the Wall Street Journal in response to other allegations: "We find ourselves in a world where people can make allegations, regardless of the truth, and a person is left with the choice of weathering the insulting publicity or engaging in multiyear lawsuits. It is deplorable for anyone to find themselves in this situation."
The woman, who was then in her late 40s, said Wynn made a sexual advance upon learning that she had just become a grandmother. The court record mirrors this allegation. Wiggins said in the sworn statement that the waitress tried to rebuff Wynn.
"You have so many new and young girls to choose from, and you know having sex with you makes me feel terrible," the unidentified grandmother told Wynn, according to the sworn statement from Wiggins. "Why don't you just leave me alone?"
Wynn reportedly responded that he had never had sex with a grandmother, court records allege.
Three other waitresses who were part of the lawsuit told the Review-Journal last week that the unidentified grandmother had recounted her story to them shortly after Wynn allegedly made the comments.
"I remember telling him I don't like it," the grandmother said last week.
Despite her protests, she said the harassment by Wynn continued.
Twice, the woman said, Wynn walked by her and slapped her butt in passing in front of customers and other staff as she was working on the casino floor.
"That was embarrassing for me," she said.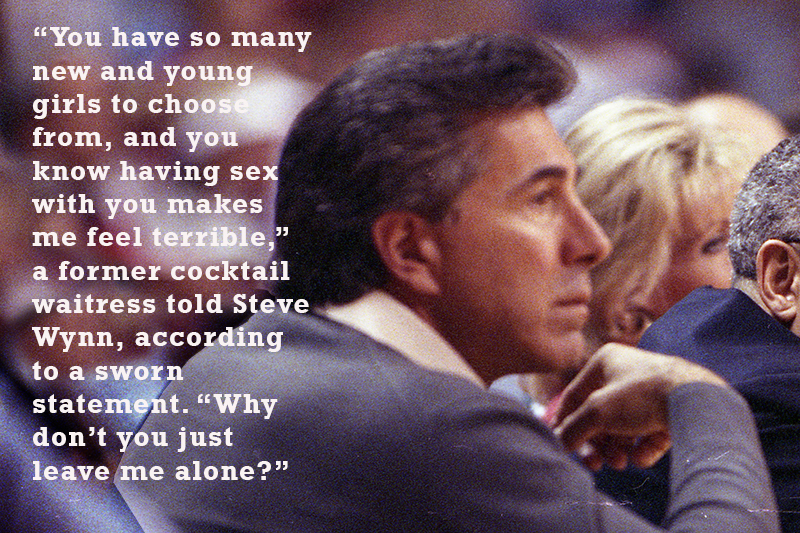 Wynn often singled her out to bring him drinks even if he was in another server's section, she said.
"'I have eight children to support. I need this money. And it's not right for the other cocktail waitresses,'" she said she told him. "He only laughed. That's what he does — laugh."
'I felt so uncomfortable'
Eventually, after one of her shifts, Wynn told her he wanted to talk to her and invited her into a hotel room, she said.
In the room, they talked, she recounted. According to the woman, Wynn then asked her for oral sex, which she says she performed on him. After that, the two had sex on multiple occasions, she said.
"He didn't force me or anything, but I did go," she said. "But I felt so uncomfortable."
During each encounter, the woman said she tried to find an excuse to avoid Wynn like saying she was embarrassed.
"But nobody would know," Wynn said, according to the woman.
"'Yes, they would," she remembers saying. "You're doing this in front of everyone."
The Mirage, built by Wynn but now owned by MGM Resorts International, was a luxurious new resort at the time and promised high wages for servers. Each time in the room, she said she told Wynn she was afraid to lose her job.
"And he said, 'Nothing will happen to you,'" the grandmother said.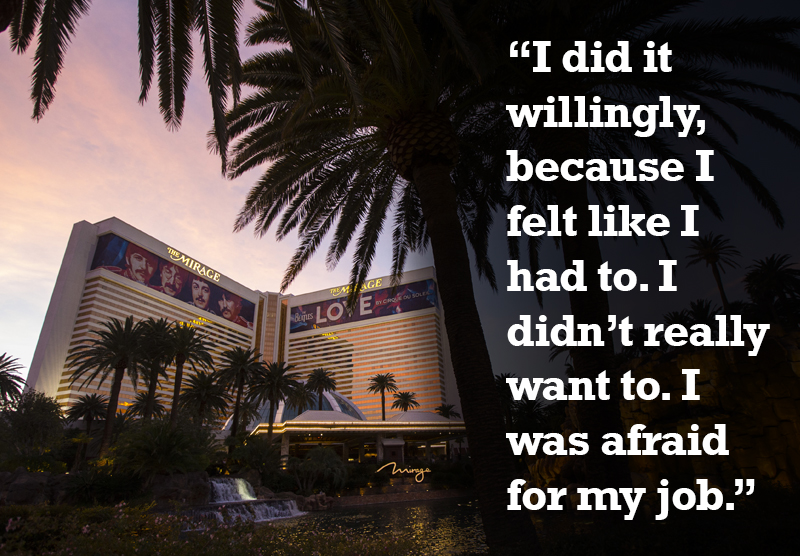 Drobac, from Indiana University, said Wynn's assurances may have carried less weight because the unidentified grandmother was coerced by her immediate supervisor.
"People in power often say things that are not reliable," she said. "They do something different when they don't get what they want."
By 2003, The Mirage had settled all of the claims brought by the 11 waitresses. Most of the settlement terms were undisclosed.
The grandmother said she never filed a complaint about her sexual encounters with Wynn and would not have known how to do it.
"I didn't even think about it," she said. "To me, that's how it was. To me, it was normal."
Review-Journal staff writer Meghin Delaney contributed to this story. Contact Arthur Kane at akane@reviewjournal.com. Follow @ArthurMKane on Twitter. Contact Rachel Crosby at rcrosby@reviewjournal.com. Follow @rachelacrosby on Twitter.
See all the Review-Journal's coverage of the Steve Wynn story.