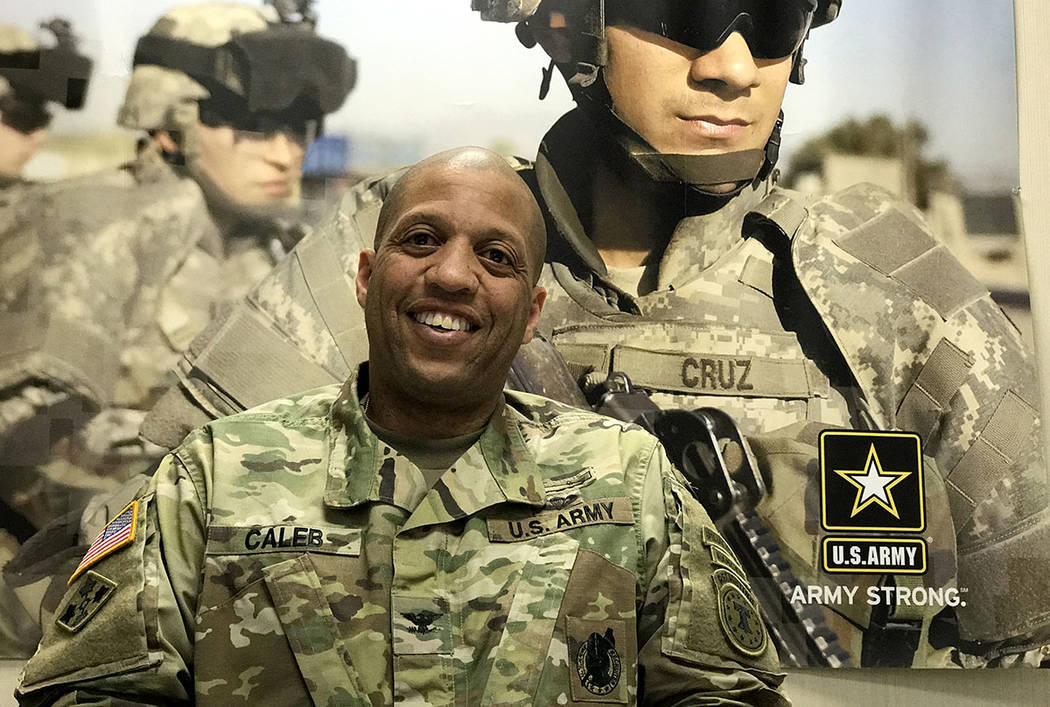 As the U.S. military enters the 16th year of the global war on terrorism, Army Col. Earl D. Caleb's task is becoming ever more challenging.
Caleb commands the Army's 6th Recruiting Brigade in North Las Vegas. His job, along with some 1,900 Army personnel and civilians under his command, is to ensure that the service has the numbers and talent it needs to fight America's enemies, wherever they may be.
It hasn't always been this way.
When the Army needed soldiers for the Vietnam War, the federal government did what it had always done over the past century: draft able-bodied young men to fill the ranks.
But because the draft was so unpopular for a war that Congress never declared, the Army shifted gears and became an all-volunteer force, following into line with the other U.S. service branches — the Air Force, Navy, Marines and Coast Guard.
Testing limits of volunteerism
In the post-9/11 era, however, having to continually recruit men and women is testing the limits of volunteerism and forcing the U.S. armed forces to rely more heavily on National Guard and reserve components.
Caleb, who oversees Army recruiting over a wide expanse that extends from Southern California north to Alaska, east to Salt Lake City, and as far west as Hawaii, Guam, Japan and South Korea, faces a high bar this year. The brass in Washington has expanded the goal for his region from 11,099 recruits in 2012 to 14,600 this year, not counting 2,600 targeted for the Army Reserve. Nationwide, this year's mission is to recruit 68,500 soldiers for the regular Army and 14,600 for the reserve.
The mission is daunting because the 6th Recruiting Brigade missed its goal four times in a row before finally meeting it last year, under Caleb's watch.
But Caleb, 48, said he is confident that young Americans in search of a better future will continue to answer the call.
He said he presents the Army as a job opportunity that also offers the chance to secure an affordable college education, not just a stint in the armed forces.
"We are not just here to place people in the Army," said the infantry officer from Cheyenne, Wyoming, who himself served six combat deployments — three in Iraq, two in Afghanistan and one in Somalia. "We're part of the community. We are ambassadors for the Army."
And he has a number of attractive incentives to drive home his points, including $40,000 bonuses for 45 occupational specialties and two-year enlistment opportunities.
"Theoretically with a two-year enlistment option you could create your own opportunity where you don't go directly to college," he said recently. "You get the sense that you're serving your country and you create a way to finance it without student debt."
The post-9/11 G.I. Bill has resulted in 340,000 student-veterans earning college degrees or higher education certificates.
Caleb said the all-volunteer Army remains a viable model because unlike during the 1960s and early 1970s, serving doesn't conjure negative connotations.
Not a 'last resort'
"We don't want people to think it's a last resort because it isn't," he said, referring to recent high school graduates who can gain computer skills and high-tech job experience in the Army. "It's a first resort based on some of the things you can do whether from a cyber aspect or from a leadership aspect. The opportunity is available."
One of the biggest problem for recruiters from a numbers standpoint is that a majority of young men and women — more than 70 percent — don't qualify for military service. The biggest disqualifier is obesity, at 31 percent, followed by low aptitude scores, 9.5 percent.
Another is that recruiters are increasingly asking members of the same families to serve.
Unlike previous eras when a wide cross-section of American families were affected by the draft, 79 percent of current Army recruits have a family member who served, said Caleb, who followed his father's footsteps in the military.
That model is difficult to sustain, he said.
"As we move forward that pool of veterans continues to decline year after year just because less of the U.S. population serves in the United States Army," he said.
"So the model where it is a family business is going to get to a point where it is not sustainable. And that creates another challenge strategically because we're America's Army, not my Army," Caleb said. "It's your Army, America's Army."
Contact Keith Rogers at krogers@reviewjournal.com or 702-383-0308. Follow @KeithRogers2 on Twitter.
DRAFTEE NUMBERS BY WAR ERAS
Before the all-volunteer Army took hold in the 1970s, the draft was used to put soldiers in the ranks during major conflicts over the past 100 years:
World War I, 1917 to 1918: 2,810,296
World War II, 1940 to 1946: 10,110,104
Korean War, 1950 to 1953: 1,529,539
Vietnam War, 1964 to 1972: 1,857,304
— Source: Selective Service System