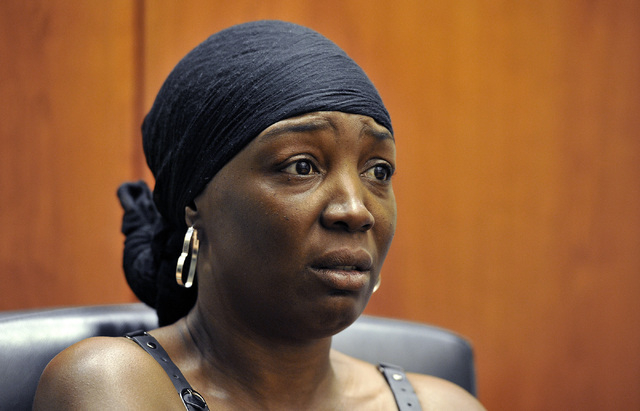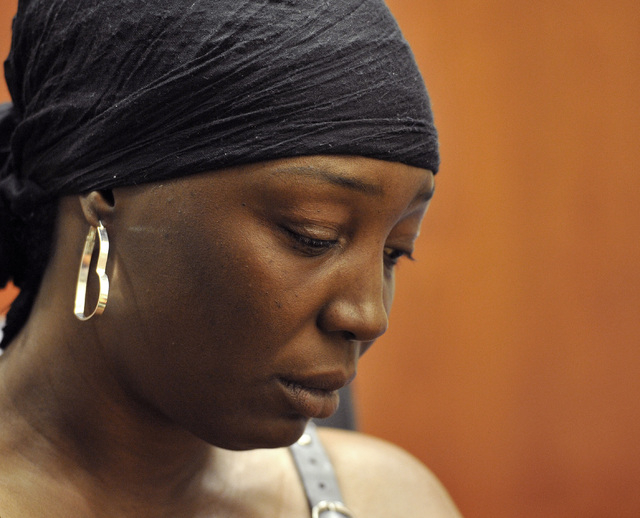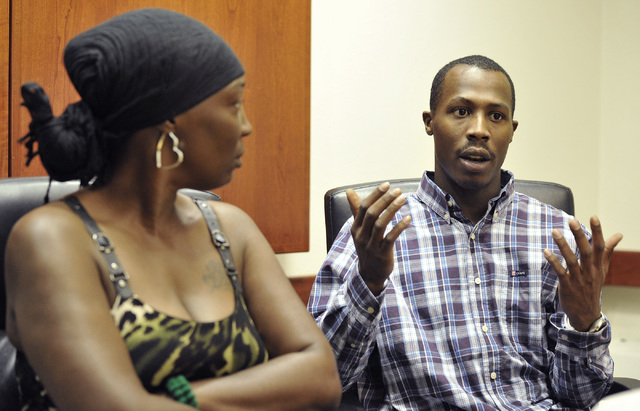 A week after her son was shot and killed by police near Red Rock canyon Tracy Meadows has more questions than answers.
Why was he walking along the highway 20 miles outside of Las Vegas when he was supposed to meet his brother the night before? What crime prompted officers to try to arrest him?
But most of all she wonders why her son, D'Andre Berghardt Jr., 20, was killed.
"What did he do? What did he do, that he's not breathing right now?" Meadows, who lives in Los Angeles, said in a tearful interview at the Review-Journal Friday afternoon. Meadows was joined by Berghardt's half-brother, Adrian Meadows, and Jacob Hafter, the family's Las Vegas lawyer.
"That's the only question that I can't seem to get past. Whenever I wake up in the morning and that question comes into my head, so do the tears. So do the heartache. So do the pain. What did he do? No matter how you try to twist it up, I can't come up with a reason as to what he could have done to make you shoot him nine times."
Berghardt was shot and killed near Red Rock Canyon National Conservation Area on Feb. 14 after Bureau of Land Management rangers responded to call about a pedestrian impeding cyclists along state Route 159.
A video filmed by bystanders and obtained by the Review-Journal shows the lengthy altercation with rangers, who tried pepper spray, batons and Taser stun guns to subdue Berghardt, who carried a suitcase and bedroll but did not appear to have a weapon. They were unable to arrest him.
The situation escalated after Nevada Highway Patrol trooper Lucas Schwarzrock arrived several minutes into the confrontation. Berghardt ran from the officers and tried to open the doors of two cars, authorities said.
The video later showed the rangers holding Berghardt on the ground. But he fought them off, pushed Schwarzrock away and climbed into the trooper's patrol car. Moments later, a ranger is shown firing several times into the car, killing Berghardt. The BLM said the second ranger, not visible in the video at that point, also fired after Berghardt reached for the trooper's AR-15 rifle, which was secured in a locked gun rack.
Eight or nine shots can be heard.
Meadows, 41, said she doesn't believe her son was grabbing for a rifle.
"We believe that he was trying to protect himself. They maced him, they kicked him, they Tased him. His body's in pain," she said.
Adrian Meadows, 21, said his brother tried to get into other cars before jumping into the police car. That proved he was scared and trying to escape, not searching for a weapon, he said.
"I think he was just trying to get his focus right," he said.
Tracy Meadows said she didn't understand why three officers couldn't take her son into custody without killing him.
She said she wondered what officers said to Berghardt when they approached him. Did they ask if he was OK, or whether he was lost? Or did they treat him like a criminal? she asked.
"I think that maybe they approached the situation in a negative way to make him respond the way he did," she said.
Berghardt was a social drinker and marijuana user, she said, but didn't use hard drugs and had no history of mental illness. Witnesses who spoke to the Review-Journal and other media outlets reported Berghardt asking cyclists for water shortly before police arrived.
"The only thing I could find that might have been wrong with D'Andre is he was in the desert, thirsty. Probably hungry," she said. "Other than that, 'Dre should have been in his coherent, right mind."
The BLM has refused to identify either officer, but said one ranger has 17 years of law enforcement experience and the other is a nine-year veteran.
Both Tracy and Adrian Meadows said they hadn't watched the whole video. It's too painful, they said. Adrian Meadows said he's glad it exists, and the truth is on tape.
"The world is going to get to see my brother for who he was," he said. "Because he can't speak back for himself now."
The Las Vegas Metropolitan Police Department is leading the investigation into the incident, with assistance from Highway Patrol and the FBI. Earlier this week Metro asked for the public's help in determining how Berghardt arrived at Red Rock canyon.
Tracy Meadows disputed comments from Berghardt's father, who told the Review-Journal that his son took a bus to Las Vegas after a fight with his mother.
There was no fight, she said. She had pushed Berghardt, who lived with his mother, to go to Las Vegas, where she hoped he'd live with his brother and find a job.
"D'Andre wasn't thrilled about coming to Vegas but he wasn't working (in Los Angeles)," she said. "At first he didn't want to go but (after) talking to him and putting a little pressure on him, he changed his mind."
Berghardt was supposed to meet his brother at Bally's casino on Feb. 13, the night before he died. He never arrived.
Adrian Meadows called Metro to report his brother missing, but was told to wait 24 hours, he said. He called back the next day about 6 p.m., hours after the shooting. Metro told him they had no information on Berghardt in their system.
"By this time, he's dead," he said. Notification came the next day from the Clark County coroner's office.
Tracy Meadows couldn't believe the news. Her son was kind and never violent, she said.
He helped take care of his aunt, Meadows' sister, who is battling advanced breast cancer. He took his aunt to chemotherapy treatments, ran errands for her and made sure every-day household issues didn't bother her, she said.
"I'm sure these are things that mothers say about their children every day, but I know my son. He was respected. We have people that are not even blood-related to us that can't stop crying," Tracy Meadows said.
She acknowledged Berghardt was charged with theft in Los Angeles in 2012, but said that also proved his character — Berghardt's younger brother stole a pair of jeans from a store and Berghardt took the blame, she said.
His younger brother was still in high school and had been in trouble before, she said. Berghardt didn't want his brother to be kicked out of school.
"He said, 'Mom, I'm grown. They can't do too much to me,'" she recalled.
Hafter, the attorney, said the family isn't yet contemplating a lawsuit.
"Our focus right now is starting the healing, the grieving, getting through that. And letting the authorities do their job in investigating this. I think at this point it would be improper to make any conclusions," he said.
Their focus is raising money for Berghardt to be taken to Los Angeles for a funeral. Wells Fargo opened a fund in his name, Tracy Meadows said.
"I'm not prone to begging, but this is what's going on with our family right now," she said. "I just want my son to be buried… I just want him out of this place. I just want him away from here."
She said Berghardt survived a rough upbringing in a tough neighborhood only to be gunned down by police. That baffled her, she said.
"I would have expected it from thugs in the streets before I expected it from my own government," she said. "No matter how I rake my brain, I can't find a logical excuse for taking that life. Even if he were not my son.
"But he was my son."
Contact reporter Mike Blasky at mblasky@reviewjournal.com. Follow @blasky on Twitter.