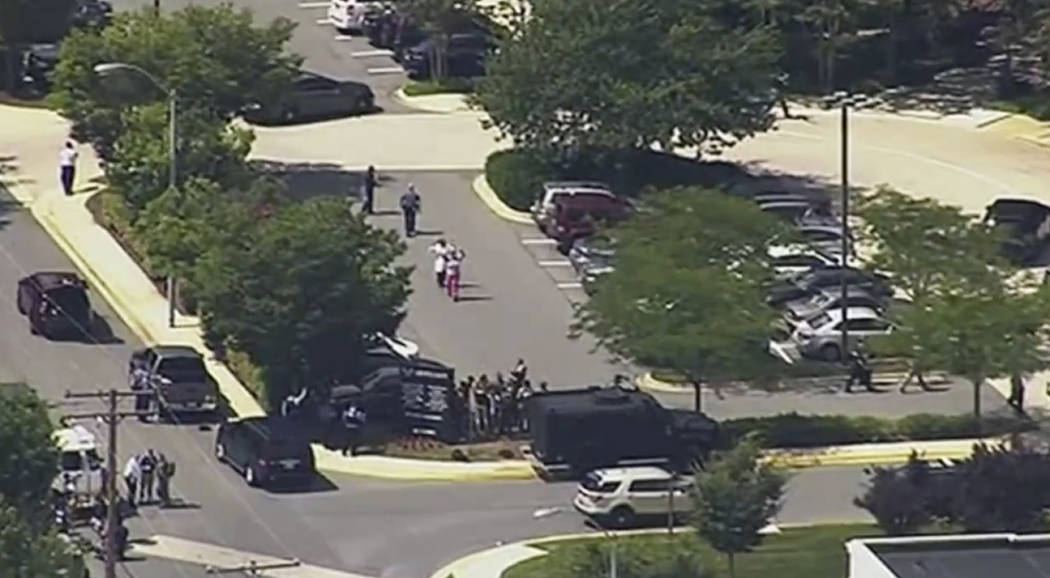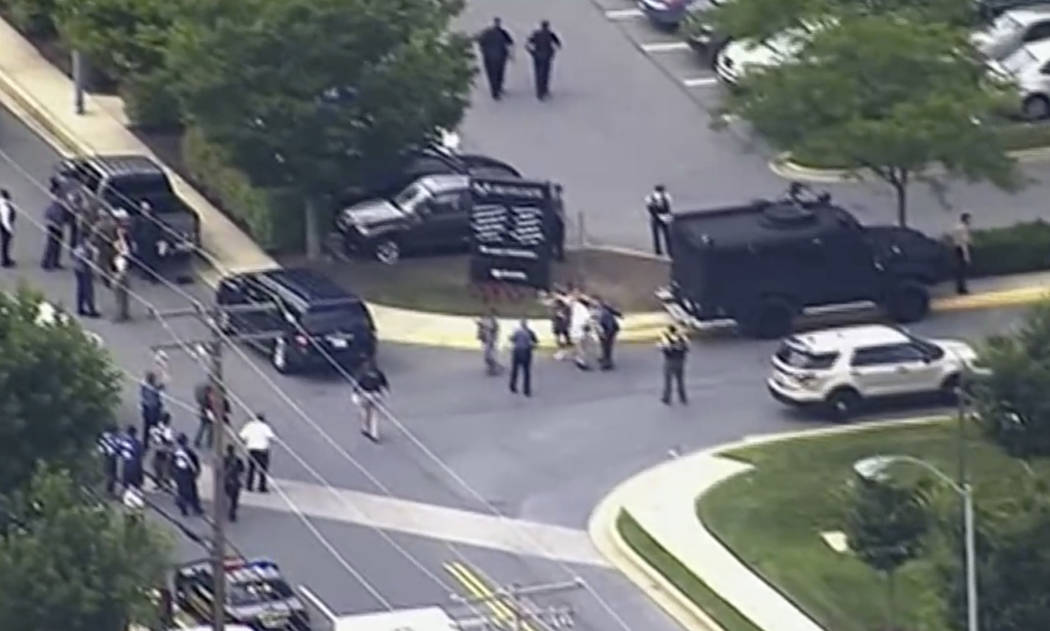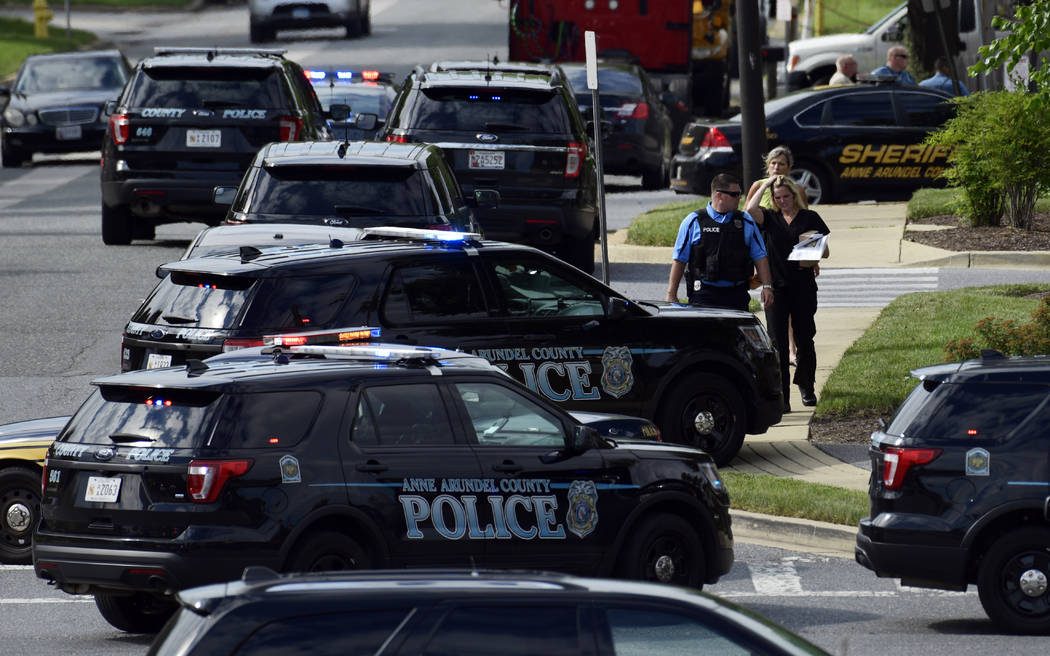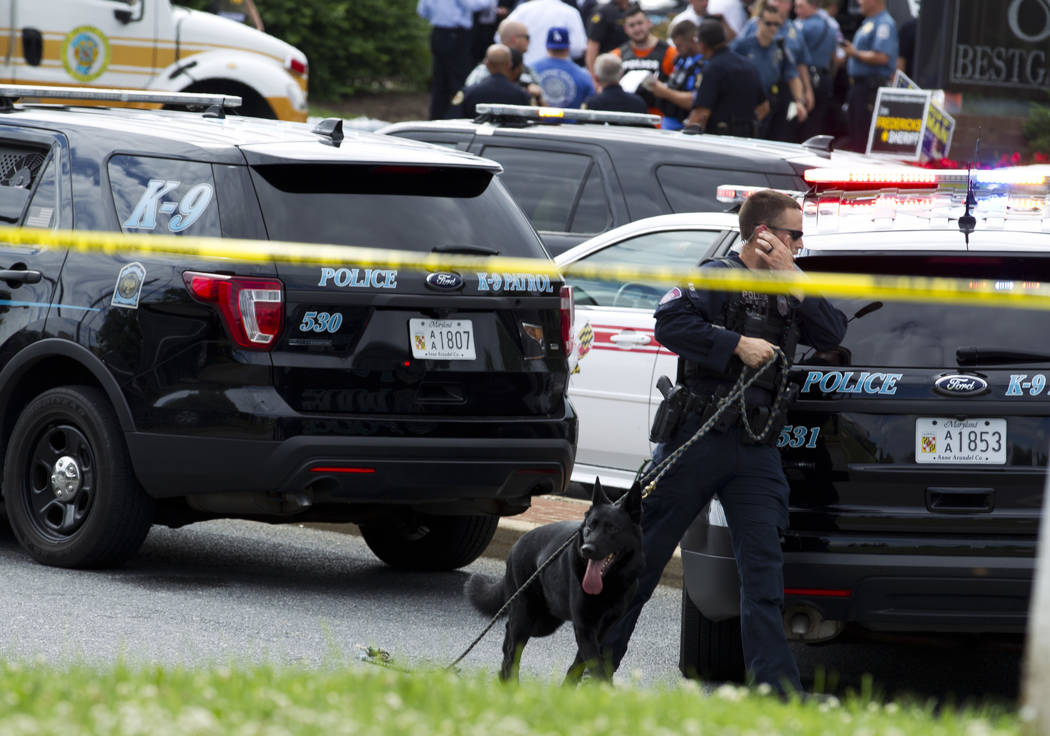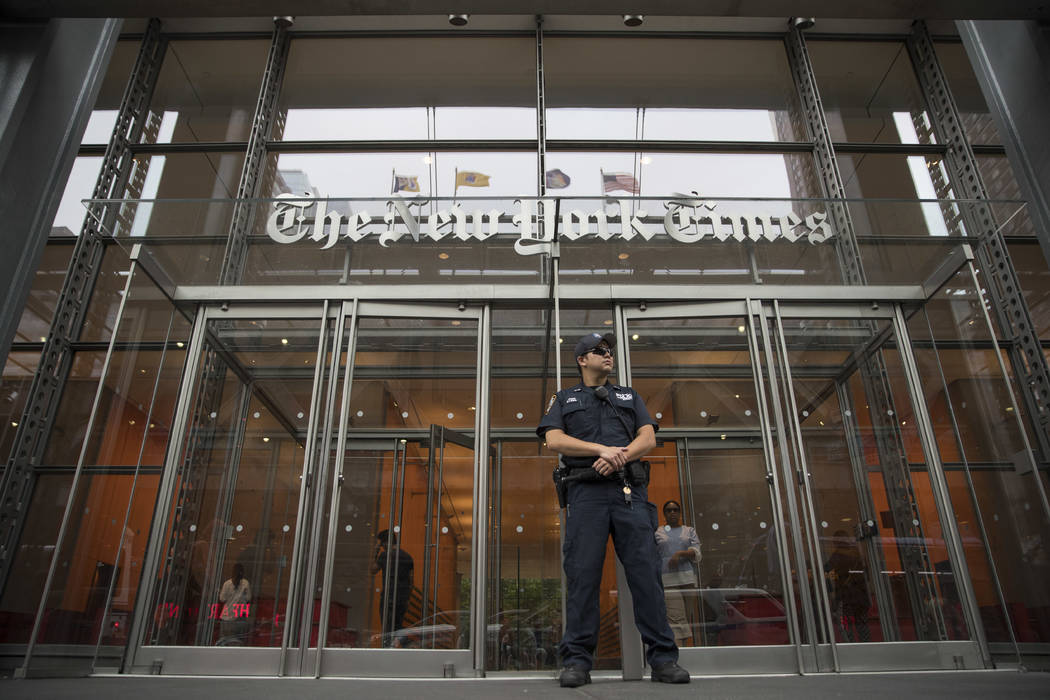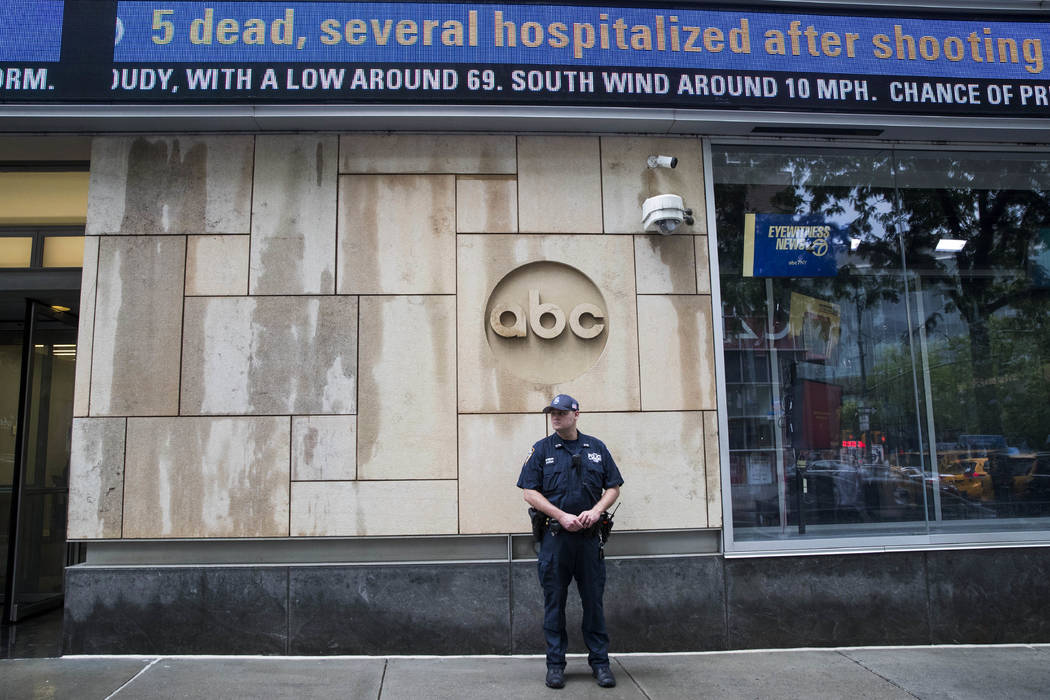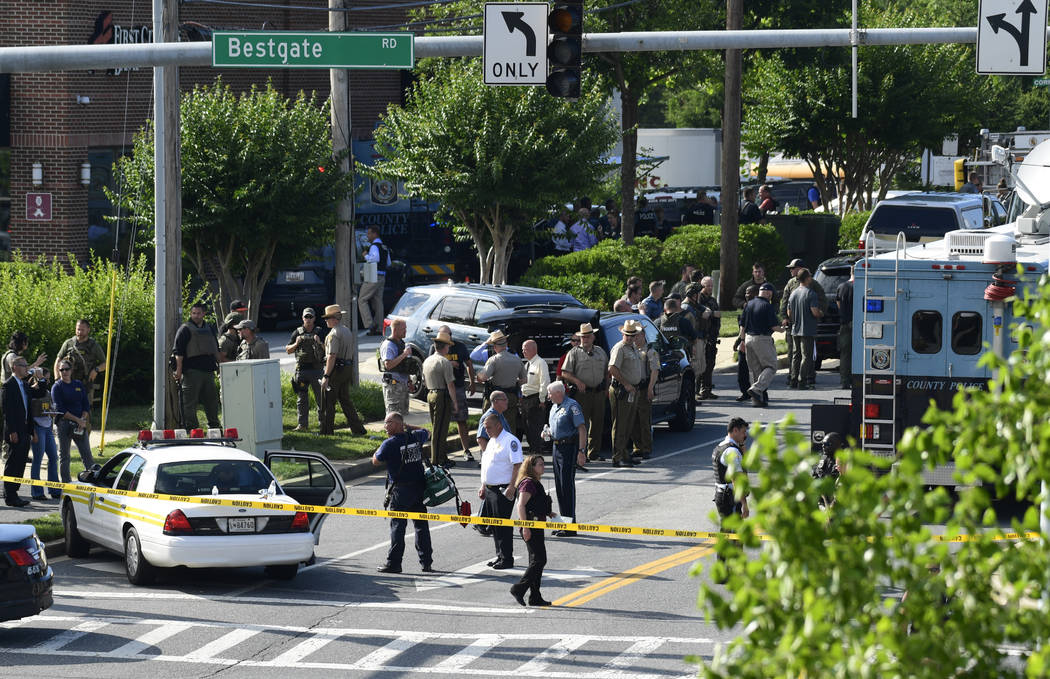 ANNAPOLIS, Md. — Five people were killed and others injured when a lone gunman shot through a glass door of a newspaper in Maryland's capital and opened fire in the newsroom Thursday.
Anne Arundel County police disrupted the shooting, arriving within 60 seconds and entering the office of The Capital Gazette after receiving a call of an active shooter shortly after 2:30 p.m.
One suspect, described as a white male in his late 30s and a resident of Maryland, was in custody and was being interrogated by investigators. Police did not release his name.
Multiple media reports, citing law enforcement sources familiar with the investigation, identified the suspect as Jarrod W. Ramos, a 38-year-old Laurel, Maryland, man with a longstanding dispute with The Capital Gazette.
A man with the same name had unsuccessfully sued the newspaper and a former reporter, Eric Hartley, for defamation. Hartley is a former Las Vegas Review-Journal staff writer.
Newspaper staff took to social media to relay news of the tragic event.
"There is nothing more terrifying than hearing multiple people get shot while you're under your desk and then hear the gunman reload," reporter Phil Davis wrote on Twitter.
There is nothing more terrifying than hearing multiple people get shot while you're under your desk and then hear the gunman reload

— Phil Davis (@PhilDavis_CG) June 28, 2018
"Gunman shot through the glass door to the office and opened fire on multiple employees. Can't say much more and don't want to declare anyone dead, but it's bad," Davis tweeted.
Police said it was a targeted attack, and they have not ruled out a vendetta against the newspaper, which had received recent threats on social media that indicated violence.
"This was a targeted attack on The Capital Gazette," Acting Anne Arundel County Police Chief William Krampf said. "This person was prepared to come in today. This person was prepared to shoot people.''
The gunman was armed with a shotgun and smoke canisters, police said.
Police could not confirm published reports that the suspect had mutilated his fingertips and was identified by facial recognition.
Krampf said the suspect was still being interrogated late Thursday. Police were working on search warrants to enter his Maryland residence.
"The shooter has not been very forthcoming, so we don't have any information yet on motive," Anne Arundel County Executive Steve Schuh said. "To my knowledge, there was no verbal aspect to the incident where he declared his motives or anything else, so at this point we just don't know."
Police said three people were also injured in the incident and were being treated at local hospitals.
Lt. Ryan Frashure said no gunfire was exchanged between police and the suspect when they arrived and stopped the shooting incident.
Schuh credited the quick response of arriving law enforcement officers for preventing further deaths and injuries.
"It could have been a lot worse," Schuh said.
President Donald Trump, Vice President Mike Pence and Maryland Gov. Larry Hogan were briefed on the shooting and offered condolences to the victims of the latest mass shooting incident.
"I want to praise the local officials who responded so well and perhaps saved other peoples' lives by getting there while the thing was taking place," Hogan said.
Governor Larry Hogan released the following statement on today's shooting in Annapolis: pic.twitter.com/C0cRBmf8Ot

— Governor Larry Hogan (@GovLarryHogan) June 28, 2018
Police cruisers and law enforcement officers blocked off tree-lined streets near the newspaper office in the historic city just an hour from the nation's capital and home to the U.S. Naval Academy. Police said SWAT team members evacuated 170 people from the building.
The shooting — which came amid months of verbal and online attacks on the "fake news media" from politicians and others — prompted New York City police to immediately tighten security at news organizations in the nation's media capital.
At the White House, spokeswoman Lindsay Walters said: "There is no room for violence, and we stick by that. Violence is never tolerated in any form, no matter whom it is against."
The newspaper is part of Capital Gazette Communications, which also publishes the Maryland Gazette and CapitalGazette.com.
In an interview with The Capital Gazette's online site, Davis said it "was like a war zone" inside the newspaper's offices — a situation that would be "hard to describe for a while."
"I'm a police reporter. I write about this stuff — not necessarily to this extent, but shootings and death — all the time," he said. "But as much as I'm going to try to articulate how traumatizing it is to be hiding under your desk, you don't know until you're there and you feel helpless."
As investigators tried to piece together what happened, photojournalist Josh McKerrow shared his unshakeable resolve to keep The Capital Gazette publishing for his Annapolis community, tweeting: "There will be a Capital Friday."
Chase Cook, a reporter, was more blunt. He tweeted: "I can tell you this: We are putting out a damn paper tomorrow."
— Capital Gazette (@capgaznews) June 29, 2018
Contact Gary Martin at gmartin@reviewjournal.com or at 202-662-7390. Follow @garymartindc on Twitter. The Associated Press contributed to this report.
Former Review-Journal reporter harassed
A man named Jarrod W. Ramos had unsuccessfully sued The Capital Gazette and Eric Hartley for defamation.
Hartley later worked at the Las Vegas Review-Journal in late 2014 through 2015, covering the city of Henderson.
A Twitter account, @EricHartleyFrnd, believed to belong to Ramos, used Hartley's altered image as its avatar. Several posts from the account harassed Hartley while he worked at the Review-Journal, as well as other staffers, including Michael Hengel, the paper's editor at the time.
Several attempts to reach Hartley on Thursday were unsuccessful.
— Las Vegas Review-Journal
Police identify victims
Officials have released the names of the five people killed in a shooting at a Maryland newspaper.
Lt. Ryan Frashure of Anne Arundel County Police read the names at a news conference Thursday night, hours after the shooting at The Capital Gazette.
They are: Wendi Winters, John McNamara, Gerald Fischman, Rebecca Smith, and Rob Hiaasen.
Winters was the special publications editor. McNamara was a writer. Fischman was editorial page editor. Smith was a sales assistant. Hiassen was an assistant editor and columnist.
Hiaasen was the brother of best-selling novelist Carl Hiaasen, a longtime columnist for the Miami Herald. Carl Hiaasen said his family "was devastated beyond words" by the senseless killing of his brother. "He was the most remarkable person. So gifted and talented and dedicated to journalism," he said, his voice choked with emotion.
— The Associated Press