9 Americans reportedly hurt in Brussels terror attacks — VIDEO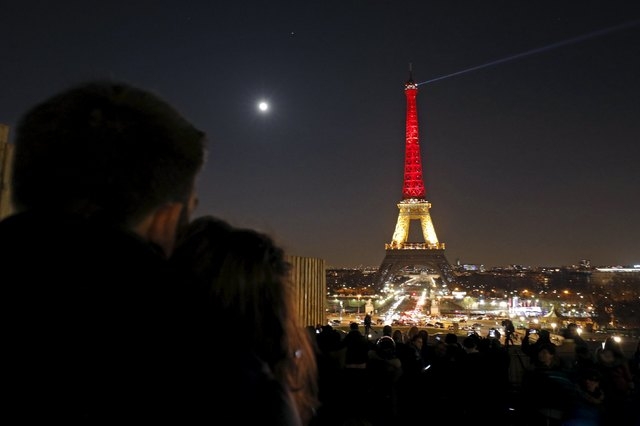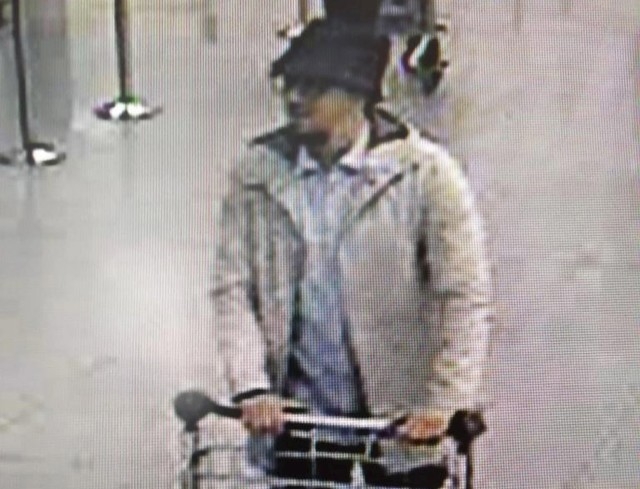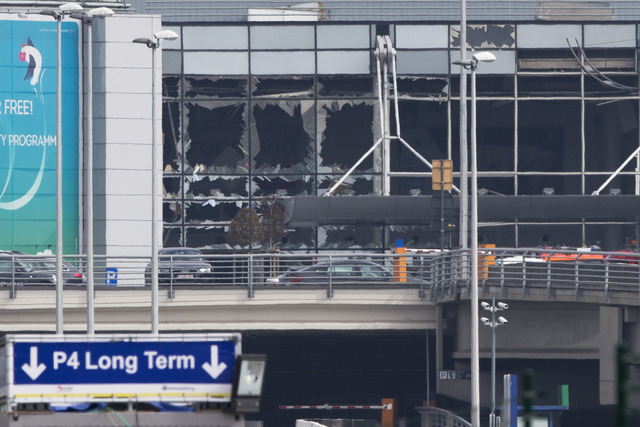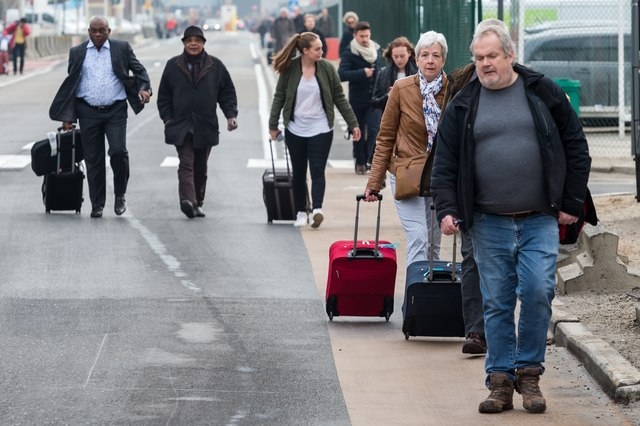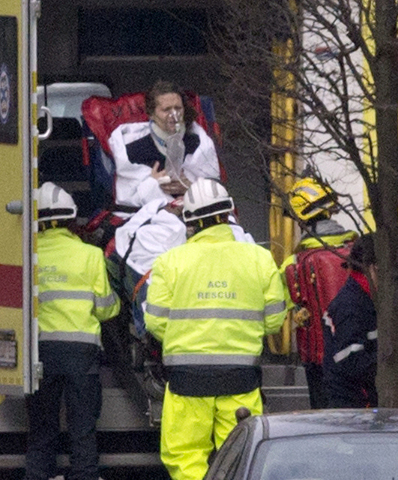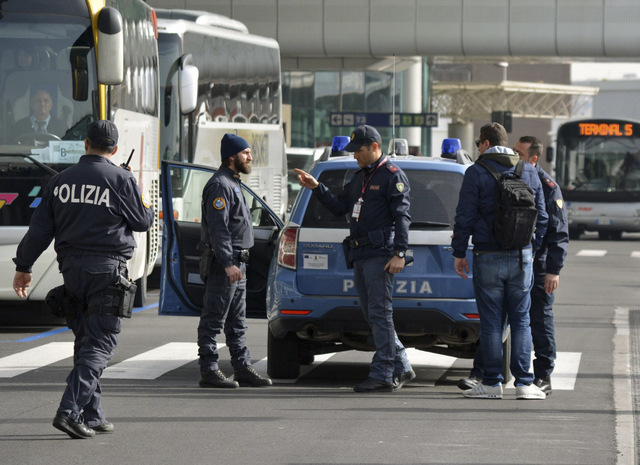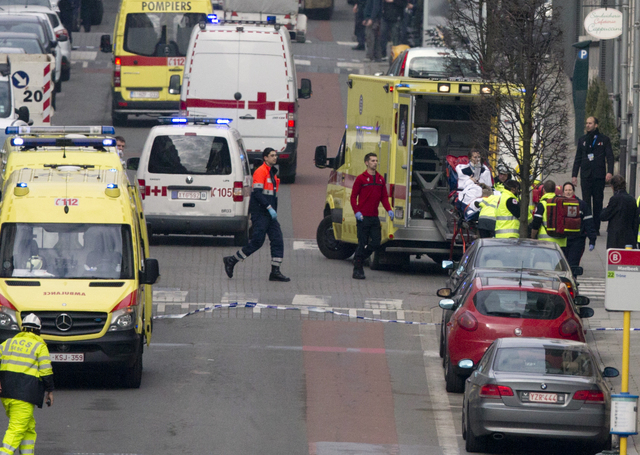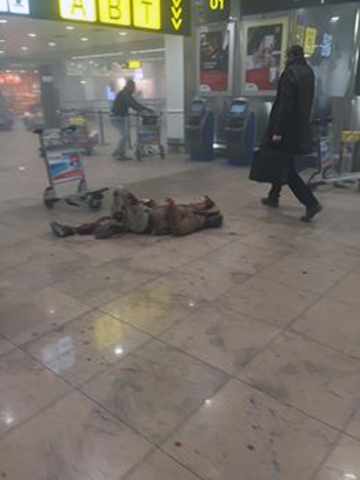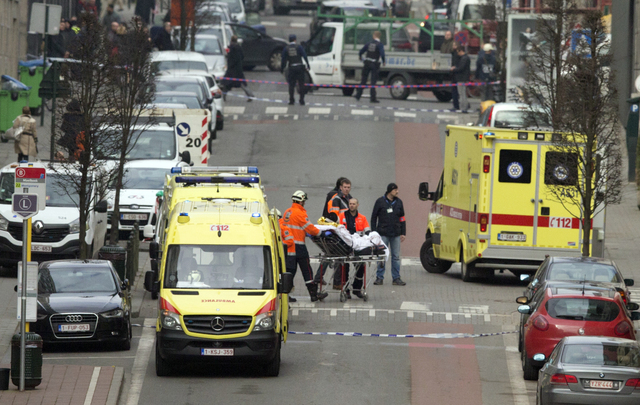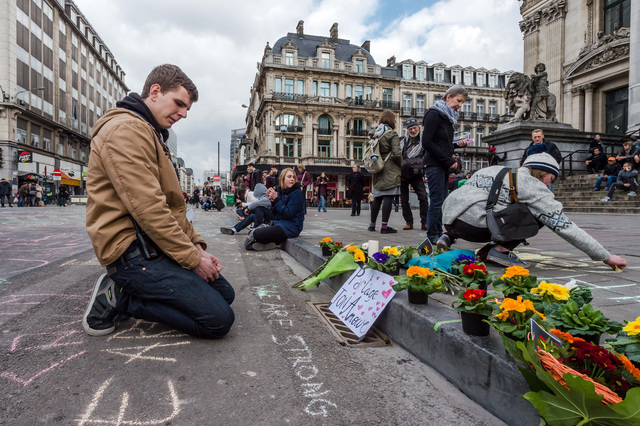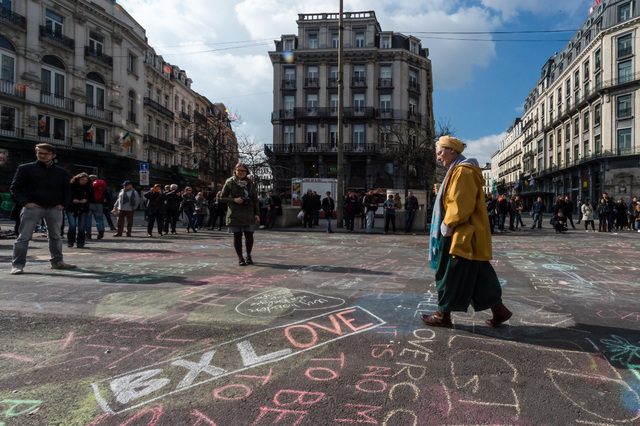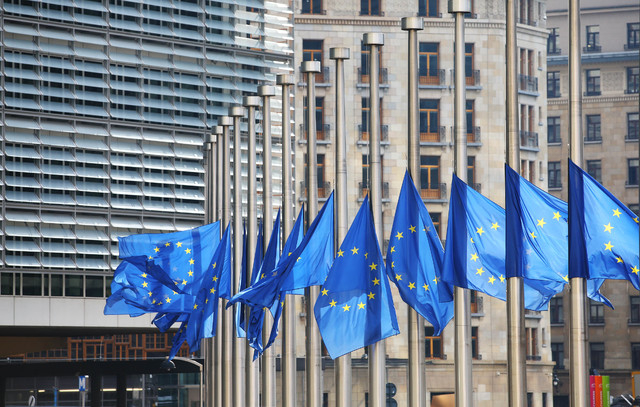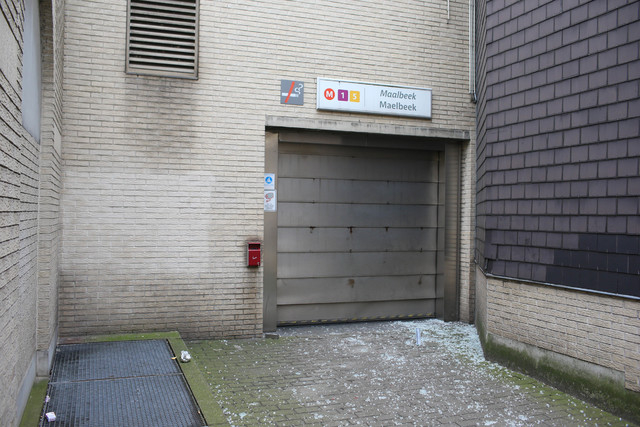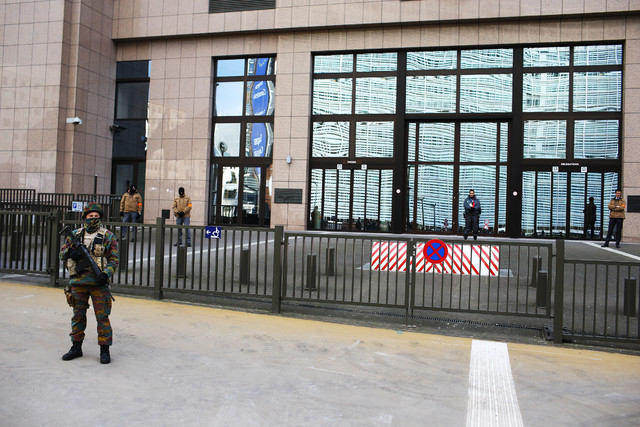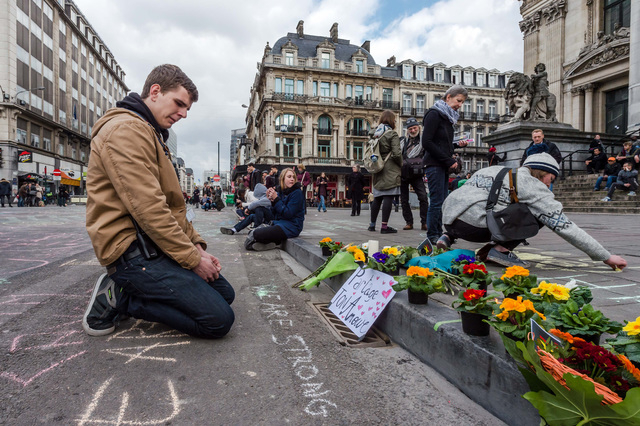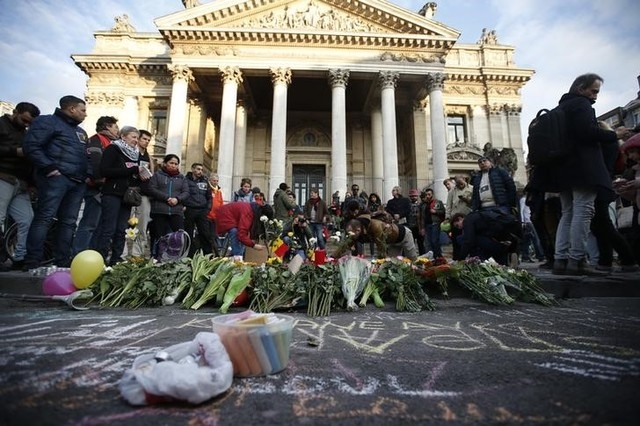 WASHINGTON — Nine Americans were injured in suicide bomb attacks on Brussels airport and a metro train on Tuesday, ABC News reported on Twitter.
The ABC News report did not give further details.
Four Mormon missionaries from Utah and a U.S. Air Force member and his family were among the Americans hurt in the deadly bomb attacks, government and church officials have said.
Islamic extremists struck Tuesday in the heart of Europe, killing at least 34 people and wounding 230 more in back-to-back bombings of the Brussels airport and subway that again laid bare the continent's vulnerability to suicide squads.
The atmosphere in Belgium has been tense for months, with the authorities warning of possible threats and pursuing terrorists. Tuesday's attacks followed on the heels of last week's capture of Europe's most wanted man, Salah Abdeslam, in a bloody raid in Brussels.
"We were fearing terrorist attacks," Belgian Prime Minister Charles Michel told reporters Tuesday. "And that has now happened."
After Tuesday's attacks, Belgian state broadcaster RTBF reported that Belgian authorities carried out midday raids in a search for people linked to the attacks. Several witnesses told CNN they'd seen police special forces combing through the northeast Brussels neighborhood of Schaerbeek, cordoning off a train station there.
Investigators found a nail bomb, chemical products and an ISIS flag during a house search in the neighborhood, Belgium's federal prosecutor said in a statement.
Belgian police released a notice that includes a photograph of a suspect "wanted (for) terrorism" and asks the public, "Who recognizes this man?"
Federal Prosecutor Frederic Van Leeuw said the man is one of three shown in surveillance images pushing airport luggage carts alongside each other. Two of them "probably carried out suicide attacks," he said, while the third — the one in light clothing, glasses and a hat — "is actively being searched for."
The "working assumption" is that the attackers came from the network behind November's massacres in Paris, which left 130 dead, Belgian security sources said, while cautioning it is very early in the latest investigation.
A Belgian government representative told CNN that 20 people died at the Maelbeek metro station and 130 were wounded, plus 10 more were killed and 100 wounded at Brussels' international airport.
As it has for other terrorist attacks in Europe, Asia and Africa, ISIS embraced all the assailants. Its claim noted that Belgium is "participating in the international coalition against the Islamic State." Belgian warplanes flew 796 sorties and launched 163 airstrikes over Iraq from September 2014 to July 2015, according to the U.S.-led anti-ISIS coalition, and were set to resume these operations this summer.
Johan Verbeke, Belgium's U.S. ambassador, insisted Tuesday that his country will remain an active participant in the coalition, saying, "There is no way that intimidation will be rewarded."
But just as Belgium plans to continue its anti-ISIS operations, the extremist group may not be done attacking that country and others. One Twitter post widely circulated by prominent ISIS backers featured the words, "What will be coming is worse."
A senior U.S. official thinks it's no coincidence that ISIS would want to strike in Brussels, home to the headquarters of NATO and the European Union.
"They are trying to make an international statement," the official said. "They aren't stupid."
Belgium is no stranger to terror. A U.S. counterterrorism official said, "The Belgians have been sitting on a ticking time bomb," given all those who have gone from the small European nation to Syria and Iraq to join ISIS, then possibly come back home.
Still, these facts don't take away the shock and horror of those who lived through Tuesday's carnage.
"You cannot believe it; you cannot believe it," said Jef Versele, who was in the airport's departure hall when bombs exploded there. "It was so insane. Not in my backyard."
One of the two airport explosions happened outside security checkpoints for ticketed passengers and near the airline check-in counters, an airline official briefed on the situation said.
The subway station blast happened in the Brussels district of Maelbeek, near the European Quarter, where European Union institutions are based.
Richard Medic, who arrived at the metro station shortly after that explosion, wasn't surprised by the carnage after all that Europe has gone through recently, including November's massacre in Paris that ISIS claimed responsibility for.
"I think, after the Paris attacks, we were assuming something like this would happen," the Brussels resident told CNN. "And it was a matter of time."
Yet Versele, the airport witness, said he thinks Belgians should not hole themselves up.
Instead, he said, they should continue to live their lives and travel "to prove that we're not afraid of those who have done (the attacks)."
Belgian authorities bolstered security after Tuesday's attacks, including shutting down all Brussels metro stations and evacuating the city's airport.
This comes as the terror threat level in Belgium went up to four — its highest. That step-up means army soldiers can be sent onto the streets to meet security needs.
No flights will go into or out of Brussels Airport until at least noon Wednesday, according to Belgium's crisis center.
Amid the special precautions, investigations and sadness, including three days of national mourning, Belgium's Prime Minister offered a resolute message to those who supported and cheered the attackers.
"To those who have chosen to be barbarous enemies of freedom, democracy and fundamental values … we remain united as one," Michel said. "We are determined to defend our freedoms and to protect our liberties."
NATO, the military alliance that calls Brussels home, increased its own alert level and expressed solidarity with Belgium.
"This is a cowardly attack, an attack on our values and on our open societies," NATO Secretary General Jens Stoltenberg said in a statement. "Terrorism will not defeat democracy and take away our freedoms."
As in other places — as far away as New York, Washington, Chicago and Los Angeles in the United States — British authorities ordered an increased police presence at ports, airports, Tube stations and international train stations, according to Prime Minister David Cameron.
Eurostar, a high-speed railway that goes to England and France, noted a number of schedule and other changes, including canceling service between London and Brussels.
Throughout France, 1,600 more police hit the streets after the Brussels attacks, French Interior Minister Bernard Cazeneuve said.
"I express my entire solidarity with the Belgian people," French President Francois Hollande tweeted. "Through the Brussels attacks, the whole of Europe has been hit."
That sentiment was echoed by Belgium's Michel during what he called "a dark time for our country."
"More than ever, I call on everybody to show calm, but also solidarity," the prime minister said. "We are facing a difficult, challenging time. And we should face up to this challenge by being united."
Jeffrey Edison was near the gate, several hundred yards from where the explosions occurred. He didn't hear the blasts but "suddenly saw" 200 to 300 people rushing toward him from a security checkpoint.
Anthony Barrett watched it unfold from his hotel across from the terminal building.
"When I opened the curtains and looked out, I could see people fleeing," he told CNN, some of the wounded being carried out on stretcher after stretcher, others on luggage carts.
About an hour later, during the tail end of Brussels' rush hour, another blast went off at the Maelbeek metro station.
For several hours Tuesday, everyone in Belgium was urged to stay inside. That advisory was lifted around 4 p.m., though the country's crisis center urged all citizens to "remain vigilant."
One question is for how long. Another is what this has to do with Belgium's other suspected terrorists like Abdeslam, who reportedly told investigators he was involved in last fall's Paris terror attacks that ISIS also claimed responsibility for.
The Belgium-born French citizen was arrested in the Brussels suburb of Molenbeek on Friday. On Tuesday, Belgium's Prime Minister deflected a question about whether there's any link between the Brussels attacks and Abdeslam's capture, saying it is too early to tell.
Three intelligence officials in Iraq told the AP that they had warned European colleagues last month of IS plans to attack airports and trains, although Belgium wasn't specified as a likely target. The officials, who monitor activities in the IS stronghold of Raqqa, Syria, said Brussels may have become a target because of the arrest of Abdeslam.
One of the officials — all of whom spoke on condition of anonymity because they were not authorized to talk about their knowledge of IS operations — said Iraqi intelligence officials believe that three other IS activists remain at large in Brussels and are plotting other suicide-bomb attacks.
European leaders already struggling to cope with a wave of migration from the war-torn Middle East said they must rely on better anti-terrorist intelligence work to identify an enemy that wears no uniform and seeks the softest of targets. They emphasized that Europe must remain tolerant toward Muslims as they seek to identify those on the violent extremist fringe.
Leaders of the 28-nation EU said in a joint statement that Tuesday's assault on Brussels "only strengthens our resolve to defend European values and tolerance from the attacks of the intolerant."
The U.N. lead official for Middle East refugees, Amin Awad, warned that Europe faced an increasing risk of racist retaliation against Muslim immigrant communities. "Any sort of hostilities because of the Brussels attack or Paris attack is misplaced," Awad said.
Reflecting the trauma of the moment, Belgian officials offered uncertain casualty totals at both the airport and subway. Police conducted controlled explosions on suspicious abandoned packages that ultimately were found to contain no explosives.
The government said at least 11 people were killed at the airport and 20 on the subway, where the bomb hit an enclosed train car. Later, a security official said the overall death toll had risen to 34, without providing a breakdown of where.
In the airport, video posted on social media showed people cowering on the ground in the wake of the blasts, the air acrid with smoke, windows of shops and the terminal entrance shattered, and fallen ceiling tiles littering the blood-streaked floor.
Some witnesses described hearing two distinct blasts, with shouts apparently in Arabic from at least one attacker before the second, bigger explosion.
Zach Mouzoun, who arrived on a flight from Geneva about 10 minutes before the airport blasts, told France's BFM television that pipes ruptured, sending a cascade of water mixing with victims' blood.
Marc Noel was about to board a Delta flight to Atlanta. The Belgian native, who lives in Raleigh, North Carolina, said the first blast happened about 50 yards (meters) from him. "People were crying, shouting, children. … It was a horrible experience," he said.
A random decision to pause in a shop to buy a magazine may have saved his life. Otherwise, he said, "I would probably have been in that place when the bomb went off."
Anthony Deloos, an airport worker for Swissport, which handles check-in and baggage services, said the first blast took place near the Swissport counters where customers pay for overweight bags. He and a colleague said the second blast struck near a Starbucks cafe.
Deloos said a colleague shouted at him to run as the blast sent clouds of shredded paper billowing through the air, and "I jumped into a luggage chute to be safe."
Passengers on other trains said many commuters were reading about the airport attacks on their smartphones when they heard the subway blast. Hundreds fled from stopped trains down tunnel tracks to adjacent stations. Many told stories of having missed the bomb by minutes or seconds.
Brussels Mayor Yvan Mayeur said more than 100 were wounded in the subway blast. Rescue workers set up makeshift first aid centers in a nearby pub and hotel.
"It was panic everywhere. There were a lot of people in the metro," said commuter Alexandre Brans, wiping blood from his face.
Political leaders and others around the world expressed their shock at the attacks.
"We will do whatever is necessary to support our friend and ally Belgium in bringing to justice those who are responsible," U.S. President Barack Obama said, ordering American flags lowered to half-staff through Saturday.
Belgium's king and queen said they were "devastated" by the violence, describing the attacks as "odious and cowardly."
After nightfall, Europe's best-known monuments — the Eiffel Tower, the Brandenburg Gate and the Trevi Fountain — were illuminated with Belgium's national colors in a show of solidarity.
The Islamic State group has issued an updated communique taking credit for the Brussels attacks and threatening other countries taking part in the anti-IS coalition.
The statement promises "dark days" for countries allied against the Islamic State, threatening that "what is coming is worse and more bitter."
The communique was published in Arabic and French, and an English translation was provide by the SITE Intelligence Group, which monitors jihadi websites.
IS also released photos purportedly showing its fighters in Syria giving out candy to children to celebrate the Brussels attacks, according to SITE.
CNN, Reuters and The Associated Press contributed to this story
Related story
3 Mormon missionaries from Utah injured in Brussels attack
Here's what the 2016 presidential candidates are saying about Brussels