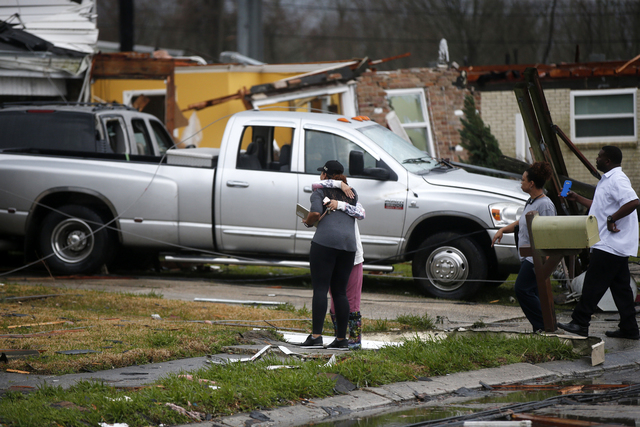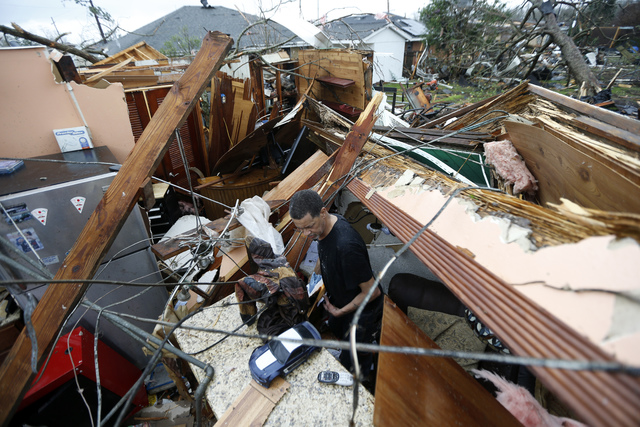 BATON ROUGE, La. — At least six tornadoes tore through New Orleans and other parts of Louisiana on Tuesday, injuring 13 people as the storm roared across highways and streets, tearing down trees, power lines and homes, officials said.
The storm system destroyed numerous buildings and homes in New Orleans and in suburban areas of Baton Rouge, according to the National Weather Service website.
At least 13 people were hurt, hospital officials said.
Governor John Bel Edwards declared a statewide state of emergency that said at least six tornadoes damaged dozens of homes and left thousands without power.
Eight people were treated for minor injuries at New Orleans East Hospital on Tuesday including a woman who was nearly seven months pregnant and was in stable condition, hospital spokeswoman Caryn Battiste said.
University Medical Center in New Orleans also received five injured people but details on their conditions were unknown, hospital spokeswoman Siona LaFrance said.
Nearly 50,000 customers were without power in Louisiana, with more than 10,000 of them in New Orleans, according to Entergy New Orleans Inc spokeswoman Kacee Kirschvink.
Nancy Malone, communications director for the Red Cross of Louisiana, said damage was reported in about six parishes, or territorial districts, where the Red Cross was assisting first responders.
"While this was not expected, communities in southeast Louisiana have been affected numerous times in the last 12 months. Here we are again," Malone said.
A string of tornadoes struck in February 2016 and major flooding hit the region in August, when more than 60,000 homes were damaged or destroyed in 20 parishes. That flooding marked the state's worst disaster since Hurricane Katrina in 2005.
Again, please stay away from tornado damaged areas. Keep the roads clear for emergency responders. Lots of downed power lines and debris.

— NWS New Orleans (@NWSNewOrleans) February 7, 2017
The National Weather Service cautioned residents to remain sheltered to avoid flying debris and tornado-damaged areas.
"Keep the roads clear for emergency responders. Lots of downed power lines and debris," the weather service's New Orleans officer said in a posting on Twitter.