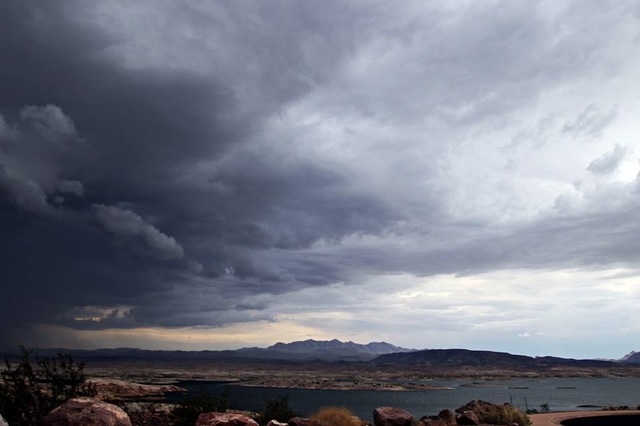 KANSAS CITY, Mo. — A severe storm system that swept through a large swath of the Midwest damaged hundreds of buildings and injured a dozen people in one Missouri city, whose mayor expressed amazement Tuesday that no one was killed.
The Storm Prediction Center in Norman, Oklahoma, received reports of more than 30 tornadoes in Kansas, Missouri, Iowa and Illinois late Monday and early Tuesday. The storm also brought huge hailstones and powerful winds as far south as the Ozark Mountains in Arkansas, where a post office and church were damaged, and as far north as Wisconsin, where trees were downed.
In Oak Grove, some 25 miles east of Kansas City, Missouri, 483 homes sustained some type of damage, along with 10 to 12 commercial buildings, said Sni Valley Fire Protection District Chief Carl Scarborough. Twelve people were treated for non-life-threatening injuries, he said.
"It looks like the injuries are minimal so, based on some of the damage I've seen, it's rather amazing" that no one died, Oak Grove Mayor Jeremy Martin said in a Tuesday morning press conference.
Mike Hicks, 52, said he and his family were watching the progression of the storm on the television at home.
"That's when the window blew out," he told The Kansas City Star Tuesday morning.
In Smithville, Missouri, between 60 and 70 homes were damaged or destroyed, Police Chief Jason Lockridge said Tuesday. The damage will be "well north of seven figures" in the town of around 9,000 residents about 25 miles north of Kansas City. No serious injuries were reported.
Across the state line, one hangar was destroyed, at least five others were damaged and airplanes were flipped onto their sides at the Johnson County Executive Airport, in Olathe, Kansas, according to Trent Pittman, the county's assistant director of community preparedness. The airport's control tower wasn't damaged.
Pittman said dozen of homes were damaged in the nearby suburb of Leawood, where trees and power lines are down. No injuries were reported in either location.
Oak Grove opened its Civic Center Monday evening for residents displaced by the twister but no one stayed overnight, said Sherri Odell, a spokeswoman for The American Red Cross of Western Missouri.
The National Weather Service plans to assess the existence and strength of tornadoes in the area.
In Smithville, Daniel Mason and his wife, Grace, hid in their basement when the storm hit. He told the Star he watched through his back door as lawn furniture flew into the air and then a sudden quiet and "a long five minutes"
In Iowa, where hurricane-force winds were reported, the Muscatine Fire Department said several homes and businesses were damaged Monday night as power lines were knocked down. The weather service said tornadoes were reported in Clinton County, and a service employee reported sighting a twister southwest of the Davenport Municipal Airport in Scott County. A suspected tornado damaged a school in the south-central Iowa community of Seymour.
A likely tornado also touched down northwest of the Twin Cities in Minnesota, damaging buildings, trees and power lines.
The storm system was weakening as it moved to the east but the Storm Prediction Center said parts of Louisiana, Mississippi and Alabama could see severe thunderstorms Tuesday.