Woman shares details of survival after 250-foot plunge off cliff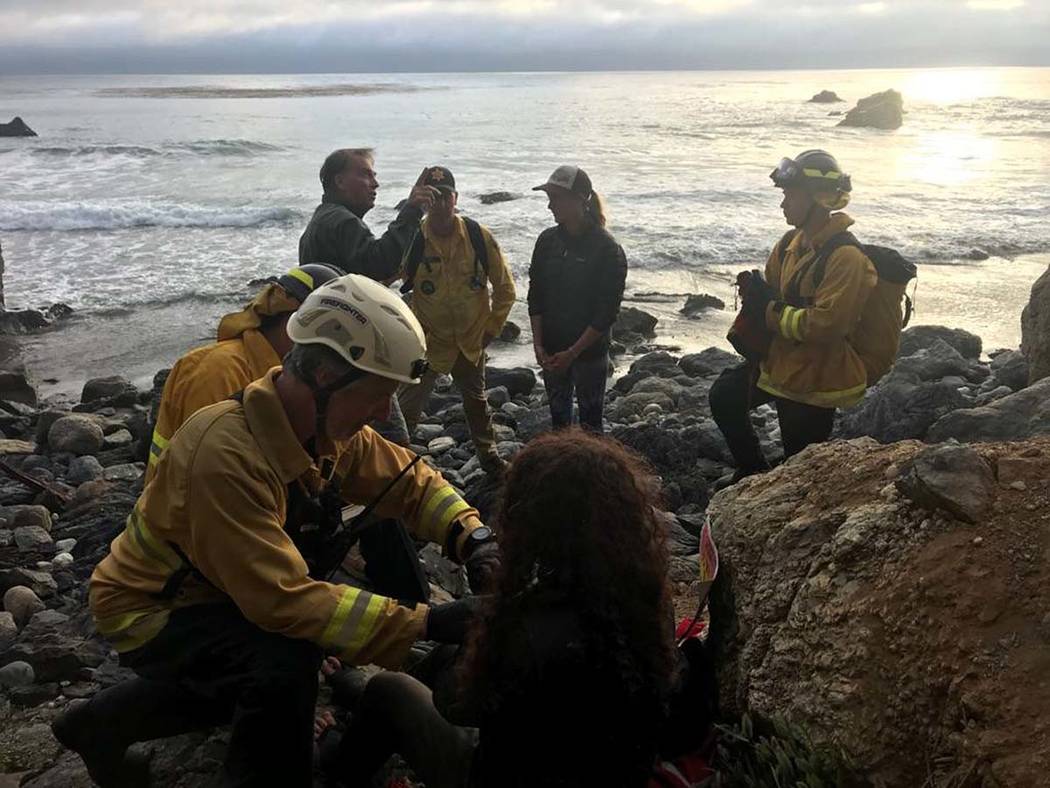 LOS ANGELES — A self-described beachcomber says it was her luckiest find yet: A woman who survived a 250-foot car plunge off a cliff and a week stranded on a remote California beach.
"We freakin' love that beach and we're so glad she's alive," Chelsea Moore said Monday as she described the afternoon last Friday when she and her husband found 23-year-old Angela Hernandez of Portland.
Hernandez had been driving to her sister's home in Lancaster, near Los Angeles, on July 6 when a small animal crossed in front of her, causing her to swerve and lose control of her car, she wrote from her hospital bed Sunday in a Facebook account.
"The only thing I really remember after that was waking up," Hernandez wrote. "I was still in my car and I could feel water rising over my knees. My head hurt and when I touched it, I found blood on my hands."
Hernandez said she broke a window of her car, jumped into the ocean and swam ashore. She fell asleep on the beach and realized what had happened after she woke up.
Moore, 34, and her husband Chad, 31, of Morro Bay were camping above an oceanside cliff in the rugged Big Sur area of Monterey County when they decided to climb down a cliff to a remote beach to find some good surfing and fishing spots — and a little adventure.
"We're avid beachcombers. We get excited about sea glass and abalone shells," Moore said.
Instead, they came on a car bumper and a short time later spotted a rusty and wrecked Jeep. Nobody was in it.
The couple took the license plate to show authorities. They also saw items scattered around that they also collected, among them, a poster for the Rock and Roll Hall of Fame in Ohio, Moore said.
"In my head, I thought that maybe someone had died and we would give these items to the next of kin," she said. "We both agreed that there weren't survivors."
But just in case, they walked further along the beach.
After another quarter-mile, the Moores heard a cry for help, and then another.
Then they saw Hernandez.
"She was really happy and she wasn't sure we were real," Moore said. "She told us we were the first people she had seen in days but she didn't know how many days exactly. We told her we were going to help her and get her off that beach."
Hernandez had two black eyes and burst blood vessels in her eyes.
"Her clothes were in tatters. Her socks were in scraps" and she was shoeless, Moore said. "She was very wet. At high tide there's no beach. She said sometimes she'd been sleeping and she'd wake up at night with waves smacking her."
"I found a high spot I was able to climb up to and found myself there almost every day," Hernandez wrote. "I could see cars driving across the cliff and felt like if I could yell just loud enough, that one could hear or see me. That's all it would take to make it back to my family. Just one person noticing me."
By the third day, she made her way back to her wrecked car, found a 10-inch radiator hose and eventually used it and her hands to collect water.
Hernandez said she developed a daily ritual of walking the beach in search of new high ground, screaming for help at the top of her lungs and collecting fresh water.
Everything changed on Friday, when Hernandez woke up and saw a woman walking across the shore.
"I thought it was a dream," Hernandez wrote.
While her husband stayed with Hernandez, Moore raced and sloshed her way through water and poison oak, scrambled up a rugged cliff trail to the top to get help from the camp's host and brought back down a pack of food and clothing.
"She chose a peanut butter granola bar. We wrapped her in blankets … tried to keep her comfortable and talking."
Hours later, rescuers were able to take Hernandez back up the cliff and helicopter her to a hospital.
"We're just really lucky beachcombers," Chelsea said. "She's the hero."
Moore and her husband spoke to Hernandez and her sister by phone in the hospital on Sunday night.
"She told us she wants to name her kids after us," Chelsea said. "We're like equally in awe of each other. It's kind of cool."