Yosemite's flood risk creates problems for springtime visitors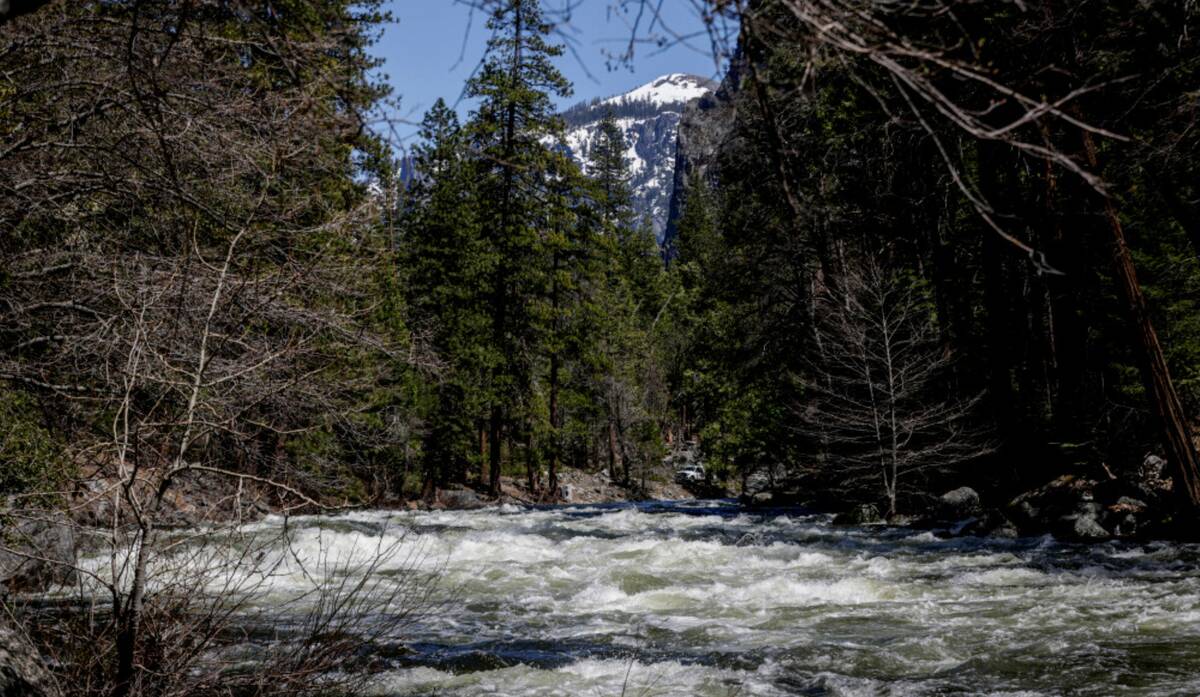 TWIN BRIDGES, Calif. — After winter storms dumped massive amounts of snow on California's mountains, visitors to the state's famed Yosemite National Park can catch a glimpse of rushing streams, scenic waterfalls and hillsides covered in white.
But some views will be off limits starting late Friday as the park temporarily closes much of the famed Yosemite Valley due to a forecast of flooding amid rising spring temperatures.
Warming weather is quickly melting huge amounts of snow that accumulated in mountains from a series of epic winter storms. Across California's fertile San Joaquin Valley, temperatures are expected to climb into the mid-90s through Saturday, and a flood warning was in effect for rivers, creeks, streams and low-lying areas in Fresno, Kings and Tulare counties, according to the National Weather Service in Hanford.
High temperatures speed up the pace of the snowmelt, especially when nighttime temperatures no longer dip below freezing.
This week's temperatures are 15 degrees higher than normal for this time of year, but are expected to cool next week, said Bill South, a meteorologist at the National Weather Service in Hanford.
"We're going to go from highs in the mid-90s on Saturday to highs in the upper 60s on Tuesday," South said.
The eastern section of Yosemite Valley will stay shut at least until May 3, and reservations for campgrounds and lodging in the eastern valley are being canceled and refunded, park officials said. Other sections including western Yosemite Valley will remain open.
South urged visitors to the Yosemite area to stay alert as the Merced River, which runs through the park, is expected to rise as the snow melts. But next week's forecast is expected to help.
"Next week, when it cools off, there won't be as much snowmelt nor as much flooding," South said.
'Looking pretty good'
Downstream from the Lake Tahoe region, people on Friday were flocking to enjoy a day of recreation along the American River, which was swollen from the melting snow. Some were dipping a toe in the chilly waters that were a sharp contrast to the warm weather.
Residents in low-lying areas near the rising rivers in Kings County have been placing sandbags on their properties and moving items to higher ground to prepare. With cooler weather expected, some have breathed a sigh of relief, said Kings County Supervisor Doug Verboon.
"There is no immediate concern, and I believe the cold weather next week is going to really help us out," Verboon said. "Right now, the anxiety has been reduced and I think we're looking pretty good."
California's state climatologist said earlier this week that the state's communities won't likely see imminent flooding from this week's heat wave as upstream reservoirs can accommodate the inflow of melting snow.
But with so much water coursing through rivers that flow out toward the Pacific Ocean and feed an agricultural basin that has been reconverted into a vast lake, officials have warned that a breach in a levee could cause flooding, regardless of temperatures. The Kings River is off limits due to swift-moving water as more water has been released upstream from the Pine Flat Reservoir to make way for melting snow, Verboon said.
That reservoir is expected to receive three times its capacity in water over the coming months due to the massive snowpack. Residents in Kings County's Island District have reactivated a crisis network to help each other prepare for potential flooding, and the nearby city of Corcoran is adding to the top of a levee to try to keep water out.
The winter rain and snowstorms were welcomed by California's parched cities and desperate farmers, who have been grappling with intense drought for several years. But a series of atmospheric rivers flooded farms and covered a large agricultural basin typically used for wheat and tomatoes with the now-reemerged Tulare Lake.
Elsewhere in California, some lakes are still covered with ice. Thousands of anglers are expected to head out this weekend for the eastern Sierra trout season opener, but only a handful of lakes will be open due to public safety concerns including fast-moving streams, shore ice and flooded access roads, the state Department of Fish and Wildlife said.
"Fishing experiences this year are likely to be different," the agency said in a statement.